Blog Articles
Filter your results
Top Posts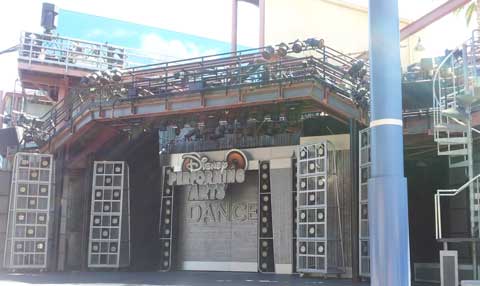 posted by Kimberly Fidler
Get Away Today's Group Department was recently invited to the Disneyland Resort to experience Disney Performing Arts firsthand
. Not only did we get to go behind the scenes and see where the Disney Performing Arts programs and workshops take place, we also got to see where the actual Disney performers warm up and practice - because they're right by each other!
Disney Performing Arts can really be separated into two broad categories:Onstage (performances) and Workshops.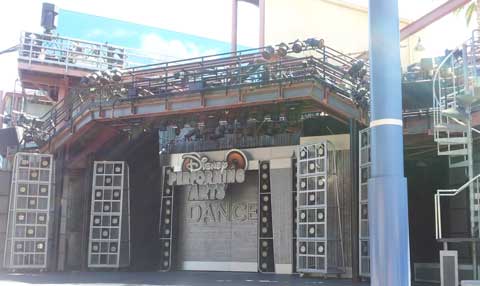 Disney Performing Arts Onstage
:
Performers have a choice (subject to availability) of performing at Disney California Adventure Park or Disneyland. The stage for Disney California Adventure Park is located in the Hollywood Pictures Backlot area, near Monsters Inc. Mike & Sully to the Rescue! The current stage in Disneyland is near Carnation Plaza, but that will soon be closed to make room for an expansion of Fantasyland. We were able to go behind-the-scenes and see construction being done on the new Disney Performing Arts stage, which will be located in Frontierland, tucked in near the Big Thunder Ranch Barbeque. Groups are expected to begin performing on the brand new stage (which looks like it will be awesome) this summer. Dance groups, choir concert groups, show choir groups, vocal jazz groups, jazz bands, full orchestra groups, string orchestra groups, concert bands, and marching bands all have performing opportunities as part of the Disney Performing Arts program. Our Get Away Today Group Department will give you the details for the performing requirements (minimum and maximum participants, ages, costumes, etc.)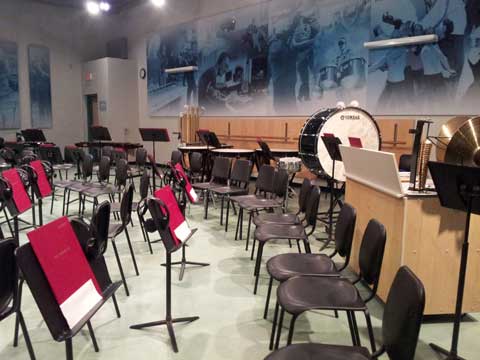 Disney Performing Arts Workshops:
The Disney Performing Arts Workshops give students incredible and unique opportunities to learn from the very best performers in their field, because Disney only deals with the best. A wide range of workshops are available for all types of dance, choir, instrumental, and theatre groups. Bands, orchestras, and choirs can have the opportunity to learn new skills then have their progress recorded and applied to Disney animation in a Soundtrack Session. Dancers can take master ballet, jazz, hip hop, and/or tap classes. Theatre students can take a number of workshops including Academy Acting, Improvisational Acting, Careers in Costuming, and even a Puppet Lab. Almost all of the art emphasis' offer an Auditions and Careers Workshop giving participants the opportunity to experience what a real world audition would be. In fact, because the Disney Performing Arts Workshops take place in the same area as Disney's actual Entertainment team, there have been occasions where a real Casting Director will come in to view the Workshop and hand select a couple Workshop Participants to come to an actual Disney audition! Obviously, that can't be guaranteed with any Workshop, but what an amazing possibility! Another little know fact about the Disney Performing Arts Workshops is that they are incredibly accommodating, flexible, and customizable. If by chance there isn't an exact fit for your performing arts group, let us know. We will contact Disney Performing Arts and see what they can arrange for your group - that's actually how the Careers in Costuming Workshop was created!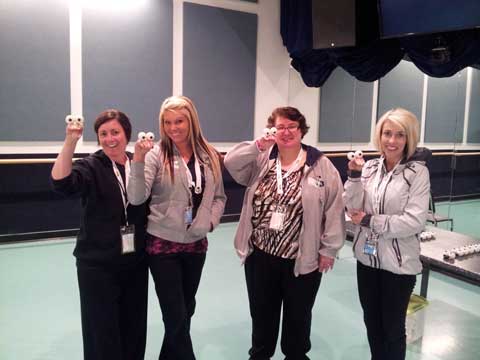 One definite highlight of our trip was the opportunity to take part in a Disney Performing Arts Workshop with a Disney Performing Arts Clinician. None of us had ever worked with puppets before, so we truly did not know what to expect or what we were doing. Our clinician (who had recently worked on the new Muppets Movie) was so engaging and made us all feel at ease. We began with some simple (OK, they just looked simple) puppeteering exercises then picked out our puppets. We were able to select from very basic puppets (essentially sock puppets) up to more complex puppets with moving parts (moving mouth, arms, and eyes). After familiarizing ourselves with our new puppet friends, we tried making our puppets walk and talk into a camera (again, harder than it looks!) and finished the lab by creating a puppet music video. I don't now when our Group Department has laughed as hard or had as much fun! After completing the Disney Performing Arts Puppet Lab, our Group Department can all say that we have a new found respect for Puppeteers - and want to learn more! We would enthusiastically recommend the Puppet Lab to ANY performing arts group!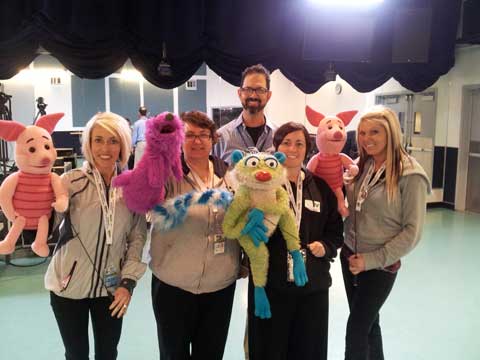 Disney Performing Arts 1 or 2-day tickets include one performance opportunity which will take place at either Disneyland or Disney California Adventure Park. Workshops can be added for a minimal charge with a 1 or 2 day ticket. Tickets for 3 - 6 days in length include both one performance (again in Disneyland or Disney California Adventure Park) AND one workshop. Groups staying 3 - 6 days can add on additional workshops (which we would totally do!) for a minimal charge as well. To really get a full Disney Performing Arts experience, we highly recommend at least a 3-Day ticket so your group can not only perform and participate in a workshop, but so they can experience all of the world-class, second-to-none entertainment at the Disneyland Resort.
Now, here are just a few things you need to know about Disney Performing Arts before you go:
Disney Performing Arts Tickets include much more than the standard Disneyland Resort Park Hopper Tickets, but cost much less! Performing Arts Groups truly learn, experience, and save more! Our Group Department will give you all of the discount pricing details based on your group.
You must apply to participate. Get Away Today's Group Department will walk you through this step and submit your application for you, making it a very simple process.
We will request a date for your workshop and performance, which will be confirmed ahead of time. Because of the exciting and ever changing entertainment schedules, you won't get your exact workshop and performance times until three weeks before you travel. We highly recommend not scheduling any other activities that day (not that you need anything else when you're at the Disneyland Resort).
The sooner you apply, the better. Our Group Department recommends planning at least six months in advance to have the best selection of Onstage and Workshop dates, plus get the best hotel rates. If you are thinking of going sooner than that, be sure to call our Group Department (888.943.2929) ASAP and we'll take care of your group!
Get Away Today's Group Department can't wait to help you book your Disney Performing Arts trip! We have all of the inside information and would love to help you figure out which workshop(s) would be best for your group. We'll also give you all the details on group sizes, ages, and any other requirements. We also help you find the most affordable group accommodations and have really easy group payment options. Call Get Away Today's Group Department at 888.943.2929 to begin booking your Disney Performing Arts Group trip today!
Also, if you live in Northern Utah and are part of a Performing Arts Group and would like to learn more about the Disney Performing Arts, we'd love to have you come to a special presentation in Salt Lake on April 20, 2012! Space at this exclusive event is limited, so call our Group Department at 888.943.2929 to RSVP today!
Learn about Disney's YES (Youth Education Series) Programs by clicking here.
Learn about what's coming to Disney California Adventure Park this summer by clicking here.