Blog Articles
Filter your results
Top Posts
posted by Kimberly Fidler
Since it's Friday the 13th, we thought it would fun to spotlight some of the spooky things you can do year round in one of our favorite vacation destinations: Southern California. Here are five super fun and eerie things to do in Southern California in honor of Friday the 13th:
Disneyland Park
's Haunted Mansion: This classic Disneyland attraction is home to 999 ghosts, goblins, and ghouls in the middle of New Orleans Square. You'll climb aboard your doom buggie before witnessing hitchhiking ghosts, waltzing spirits, and graveyard ghouls. During the holidays (normally late September through the beginning of January), Jack Skellington and his cryptic cohorts take over the Haunted Mansion and Haunted Mansion Holiday begins. Both versions of the Haunted Mansion are fantastically, frightfully fun!
Knott's Berry Farm
's Ghost Town: Based on California's Calico ghost town, Knott's Berry Farm's version features artifacts and structures from years and places long since abandoned. You really feel like you've stepped back in time with blacksmith, woodcarving, glass-blowing, and other yesteryear demonstrations. A Calico Saloon Show, a replica gun shop, an authentic General Store, and a Geode Shop all add to the ghost town's authenticity.
Universal Studios Hollywood
's House of Horrors and Revenge of the Mummy - The Ride :
Universal Studios is known for its terrifying films. The only thing more terrifying is when the films come to life at
Universal Studios Hollywood
. Universal's House of Horrors makes nightmares come true with a dark, twisted, windy terror maze jam packed with your most feared characters from the scariest films ever made. (This was actually way too scary for me last time I went, but if you like to scream your head off, you'll love it!) Revenge of the Mummy - The Ride is the world's largest (and scariest) in-door roller coaster that sends you screaming through scarab beetles, warrior mummies, and ancient Egyptian curses. Both are perfect to celebrate Friday the 13th!
Hotel del Coronado
: If you're looking for some real life supernatural sightings, check-in to the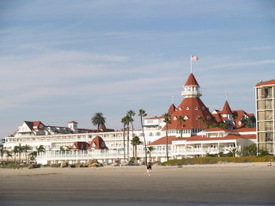 Hotel del Coronado
, one of the world's most famous resorts. Built in 1888 without firm construction plans, the hotel was constantly being revised and added to, making it one of the most unique hotels in the country. Making it even more unique is that it has hosted a number of famed politicians, artists, celebrities, and one guest who checked-in, but never checked out. It is claimed that the ghost of Kate Morgan has been haunting the property since her death at the hotel in November of 1892. Since then, many paranormal experiences have been reported, so many so that there has been an official book written by the
Hotel del Coronado
's Heritage Department documenting the Hotel's and Kate Morgan's history.
San Diego Ghost Tour:
San Diego
is one of the most popular vacation destinations in the world, but it's not just popular with the living.
San Diego
is considered the most haunted city in the West by paranormal experts. You can take a Haunted San Diego Ghost Tour, which begins in Old Town San Diego. You'll travel to some of San Diego's most haunted locations including the Gaslamp District, San Diego's oldest graveyard, and view the Haunted Whaley House, one of the most haunted houses in America!
We hope you have a spooktacular Friday the 13th full of only good luck! One way to be sure you have some good luck is to book your next vacation with Get Away Today. Check out some of our favorite scary Southern California spots on your vacation and have a frighteningly great time!