Blog Articles
Filter your results
Top Posts
Recent Posts
posted by Kimberly Fidler
TODAY IS THE DAY THAT CARS LAND OPENS! One of the reasons we're so excited is because this billion dollar re-construction project and 12 acre expansion has been five years
in the making! Get Away Today was invited to attend an exclusive red carpet premiere and sneak preview of the official Cars Land opening inside
Disney California Adventure Park at the Disneyland Resort
.
The events kicked off Wednesday evening with an exclusive party in Cars Land. Get Away Today along with some Disney and Hollywood stars walked the red carpet into Radiator Springs! They got to see the en-"tire" park lit up in a sea of neon lights.
On Thursday morning, Jennifer Dunyon, VP of Communications for Get Away Today, was able to go back into Cars Land for a special media preview. As you'll see from the pictures, Cars Land has a completely different ambiance during the day than at night. Both are wonderful and you'll want to be sure you plan enough time to spend some daylight and nighttime hours in Cars Land. During the media preview she was interviewed by multiple TV and radio stations. (
You can watch her Cars Land segment on Studio 5 by clicking here.
)
Then, finally, this morning, Jennifer was invited to attend the special Grand Opening Ceremony hosted by two Disney greats: Bob Iger and Mickey Mouse! The event was kicked off with a high energy performance given by Disney's Newsies. Following the performance Bob Iger spoke to the crowd and thanked them for being part of the Disneyland Resort's history and went through some of the park's transformations. He explained that this grand re-opening of Disney California Adventure Park will "transport guests to the magical times and places where Disney stories and characters come to life." Before announcing the park's opening, all of the Disney California Adventure Park's Cast Members came together in song and dance. You can watch the video here:
Jennifer captured the festivities and new areas of the park in pictures. Lots of pictures. Here are some of the best... We think they'll make you pretty excited to start planning your Disneyland vacation!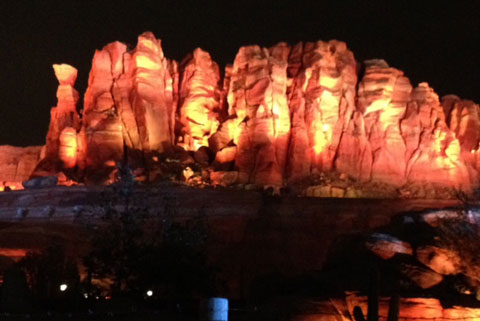 Radiator Springs lit up at night. Radiator Springs Racers is so huge it takes up six acres of Cars Land!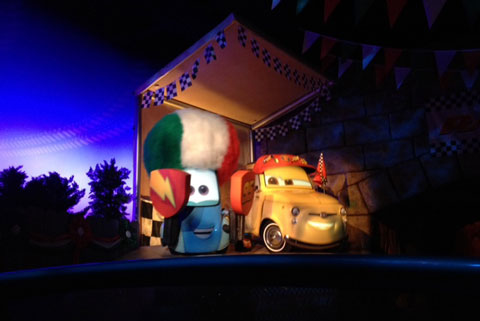 In addition to sending racers speeding around a red rock track, Radiator Springs Racers takes guests on a storytelling adventure.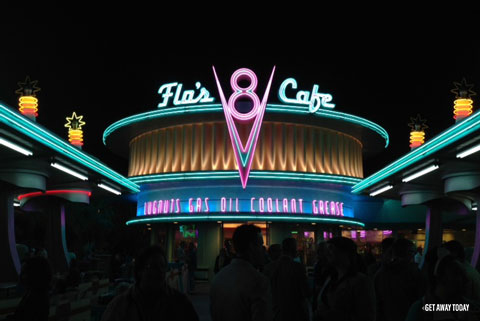 Flo's Cafe at night - they serve delicious home-style cookin'.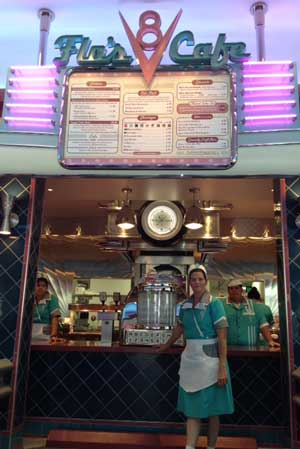 Here's a shot of Flo's from the inside. Don't you feel like you've stepped back in time?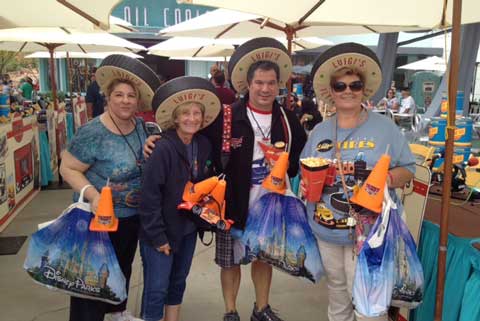 Here is a group that knows how to do Cars Land the right way! We love the tire hats and traffic cone drinking cups!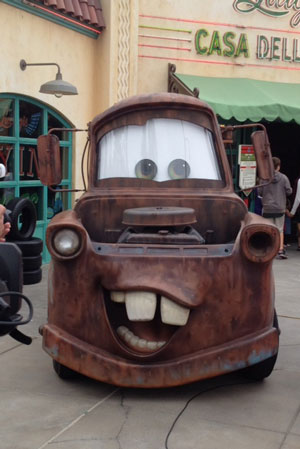 Tow Mater and his buddy Lightning McQueen drive all around Cars Land interacting with guests.
Lightning McQueen is looking sharp for his Cars Land premiere!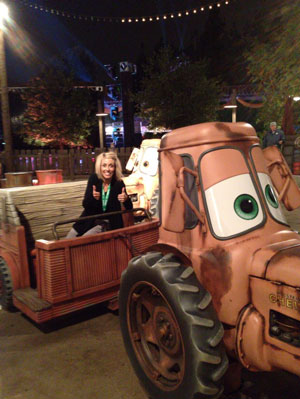 Jennifer loved riding her own baby tractor on Mater's Junkyard Jamboree!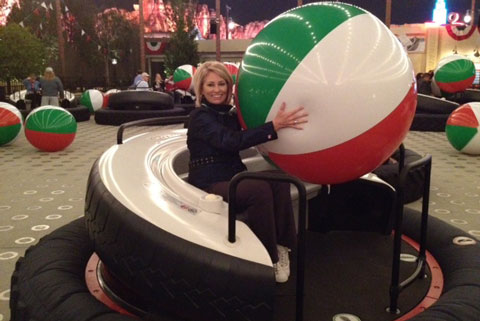 Julie Smith, CEO and Founder of Get Away Today, had a "ball" on Luigi's Flying Tires!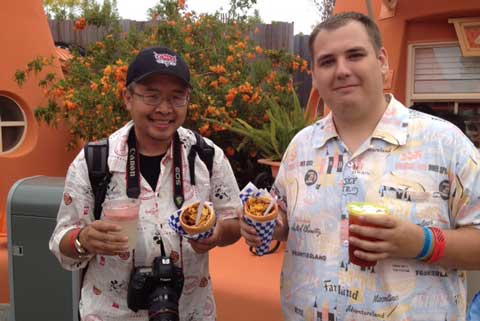 These Disney Fans Love the cone shaped cuisine from the Cozy Cone Motel. Here they're enjoying Chile Con(e) Queso and some strawberry lemonade.
We'll be continually posting
new pictures
and doing giveaways on our
Facebook page
, so be sure to "Like" us and follow us to be in the know. We'll also be posting
new Cars Land, Buena Vista Street, and other Disneyland Resort happenings
here on our blog, so be sure to follow us! And remember, Get Away Today is YOUR
Disneyland Resort expert
. We give you all of the inside information and the very best travel deals!