Blog Articles
Filter your results
Top Posts
Recent Posts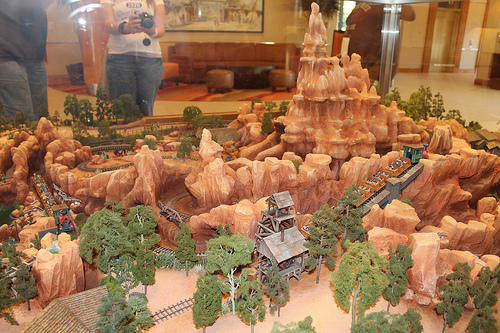 posted by Kimberly Fidler
The Disneyland Hotel is arguably the most magical place to stay when vacationing at the Disneyland Resort. We send thousands of families to the Disneyland Resort each year and without doubt, one of our
most popular hotels is the Disneyland Hotel
. It also happens to be my #1 pick for hotels in the Disneyland Resort area, especially after its multi-million dollar renovation. I put together my top 10 list of reasons (in no particular order) why I think
the Disneyland Hotel makes the perfect hotel for any Disneyland Resort vacation:

Three themed towers:
The Disneyland Resort has always been all about theming. Three towers make up the guestroom section of the
Disneyland Hotel
. While the guestrooms in the towers feature the same decor, each lobby and has its own theme paying tribute to the original Disneyland land it represents. Artwork, furniture, and extra special touches were carefully selected for each of the towers and you feel like you have walked into an extension of each land. The Frontier Tower lobby features a replica of Frontierland in Disneyland with an exact replica of Big Thundermountain Railroad. The Fantasy Tower offers weary travelers a seat in a tea cup similar to those found at the Mad Tea Party and the Adventure Tower displays memorabilia from the original Adventureland.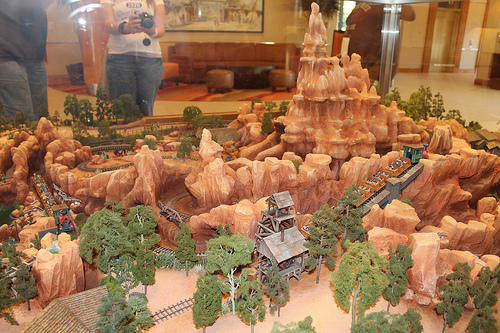 Magical headboards:
I love a themed guestroom when I stay at a hotel and none compare to the
new rooms at the Disneyland Hotel
. The main attraction in the room is the custom headboard that plays "When You Wish Upon a Star" while fireworks light-up over a carved Sleeping Beauty Castle.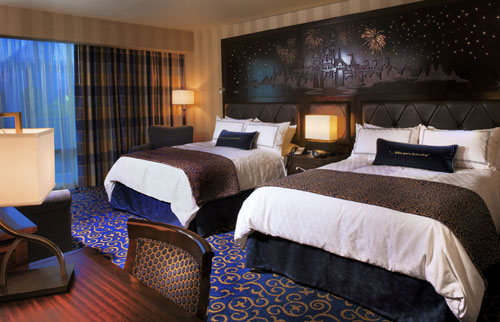 The beds are incredibly comfortable, the bathrooms are spacious, and overall, they are fantastic guestrooms!
Location:
There is nothing like waking up and already being AT Disneyland. You are steps away from Downtown Disney where you can catch the real Monorail into Tomorrowland. Or, you can head over to
Disney'sGrand Californian Hotel & Spa
and use the exclusive entrance into Disney California Adventure Park. Or, of course, you can just walk through Downtown Disney and use the main entrance to either Disneyland or Disney California Adventure too. Then, if you need to take your kids back to the hotel for a mid-day nap or splash in the pool, you're right there. Everyone wants to make the most of their time on vacation, and staying at the Disneyland Hotel is a definite way to maximize fun and relaxation.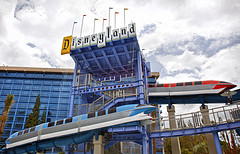 Monorail water slides:
All of the Hotels of the Disneyland Resort feature themed pools, but my favorite is the Monorail Water Slide pool at the
Disneyland Hotel
. Again, paying homage to classic Disneyland, the Monorail slides are such a huge part of the atmosphere that it's just as much fun to sit near the pool and hang out as it is to race down the slides.
Trader Sam's Enchanted Tiki Bar:
When the Disneyland Hotel did their remodel, one of my favorite additions to the property is Trader Sam's Enchanted Tiki Bar, inspired by the Jungle Cruise. It's great during the day, but it really comes to life at night. Tiki torches line the perimeter overlooking a cozy outdoor fire pit and the Monorail Slides as island music plays - and that's all before you step in the door! Once inside, you chose from yummy small plates and themed drinks like the Shipwreck and the Uh Oa - complete with over-the-top theatrics. It is a must for any Disney vacation.

Goofy's Kitchen:
No vacation to the Disneyland Resort is complete without
Disney Character Dining and Goofy's Kitchen
is the quintessential Character Dining experience - of course located in the
Disneyland Hotel
. While you don't have to be a guest at the Disneyland Hotel to dine here, it sure makes it nice to just roll downstairs in the morning for fun-filled breakfast! Goofy's Kitchen is a kid's dream come true with all sorts of "goofy" creations like PB&J Pizza, Mac & Cheese Pizza, Mickey shaped waffles, an ice cream sundae bar, and dirt and worms. Adults will appreciate the cook-to-order omelet station, a lovely salad bar, and other delicious options.
Goofy's Kitchen
is non-stop fun with character interaction. You never know who will be around, but I've seen Aladdin, Rafiki, Snow White, and Pinnochio to name a few. Plus, where else can you join Goofy doing the Macarena?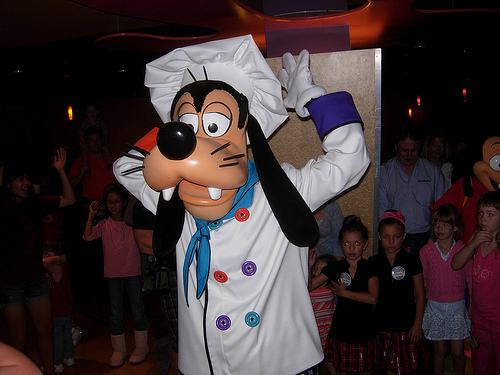 Extra Magic Mornings:
One of the best perks of staying at the Disneyland Hotel (or the other Disneyland Resort Hotels) is that you get early entry EVERY morning of your stay! All of our 3-day or longer Disney tickets include one early entry that can be used at Disneyland on Tuesdays, Thursdays, Saturdays, or Sundays, which is great. However, when you stay on property, you don't have to pick a day - you get early access every day of your vacation that it's offered as long as you have a valid park ticket.

Exclusive early entrance to Disney California Adventure Park:
In addition to extra Magic Morning early entries into Disneyland, as an exclusive benefit, on Mondays, Wednesdays, and Fridays, you get early access to Disney California Adventure - including the new Cars Land! That alone is worth it to me! Plus, if you travel by Sept. 29, 2012, you get early access into your choice of Disneyland or Disney California Adventure Park every day - for Disneyland Resort Hotel guests only! Just show your room key, and you get in to your choice of park a full hour before it opens to the public.
Exclusive Hotel Perks:
When you check-in to the
Disneyland Hotel
, you have access to all sorts of amenities. Special tours and experiences change regularly available exclusively to Disneyland Resort Hotel guests. Some past examples have included private early entrance shopping experiences into select Downtown Disney stores and an early morning power walk through Disney California Adventure Park. As as guest, you also have access to special amenities (additional charges apply) at
Disney's Grand Californian Hotel & Spa
including child care at Pinnochio's Workshop and treatments at Mandara Spa.
Disney Extras:
When you stay at the
Disneyland Hotel
, you are completely immersed in Disney's storytelling. The nighttime show and firework music is piped in through your TV, the Disney Princesses tell bedtime stories to your kids on a special Disneyland Hotel TV channel, you can schedule a wake-up call from Mickey Mouse, and there's so much more!
For the ultimate Disneyland vacation, there is no better place to stay than the Disneyland Hotel. With Get Away Today's specials, our
Disneyland Hotel vacation packages
are the most affordable around. Be sure to book your
Disneyland vacation at the Disneyland Hotel
today!

Check out these other great articles:
Disneyland Hotel New Room Tour
A Get Away Today Agent's Personal Experience at the Disneyland Hotel
Watch Jen appear on Fresh Living from Cars Land
World of Color Feature on USA Today