Search
Featured Posts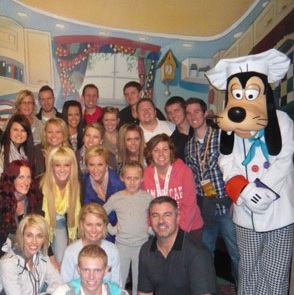 posted by Danielle Gibson

Our reservations specialists' enthusiasm is contagious—and it's definitely something you want to catch! Keep reading for agent Danielle's favorite FAM trip highlights:

"The FAM was a once in a life time experience! I absolutely love my job! It was great to be able to see and experience what we are offering guests. It was great to learn what the hotels offer and experience their hospitality. In Anaheim we stayed at the Disneyland ® Hotel, which I thought was so magical! There are hidden Mickeys everywhere and we could see the fireworks right outside our window! The hot tubs and pools were also a great way to relax and rejuvenate after a lot of walking at the Parks.

While visiting Disneyland ® Park and Disney's California Adventure™ Park we were also treated to a VIP tour, which allowed us to get on the rides immediately and learn lots of cool things about Walt Disney and the Parks! Downtown Disney is a fun little area and is a great place for getting your souvenirs.

We were able to experience Universal Studios Hollywood, which was awesome! I highly recommend the Studio Tour! It was really cool to see where all the movies were made, and hear some cool things that happened while they were being filmed. Knott's Berry Farm has lots of really fun roller coasters. Some of them are pretty extreme! We also went to LEGOLAND. It is amazing to me how they can build all that's there out of LEGOS! That takes some serious talent!

Next we went down to San Diego and stayed at the Catamaran, which has an awesome view of the bay. They also have a great hot tub and pool! While in San Diego we went to Old Town; all the little shops are really fun! We were also able to try out the awesome Speed Boat Tours, where two people are able to take their own speed around the bay, which I definitely recommend doing! Our experience at the San Diego Zoo was really fun, and it is one of the best Zoos I have ever seen! They have so many cool animals there! We also went to SeaWorld, and we were able to see the killer whale show! That was really fun and so cool to see all the amazing tricks they were taught!

This trip is one of the best trips I have ever taken!

Danielle"