Universal's Volcano Bay is the newest theme park at Universal Orlando Resort. At this water theme park, thrills and relaxation flow in perfect harmony.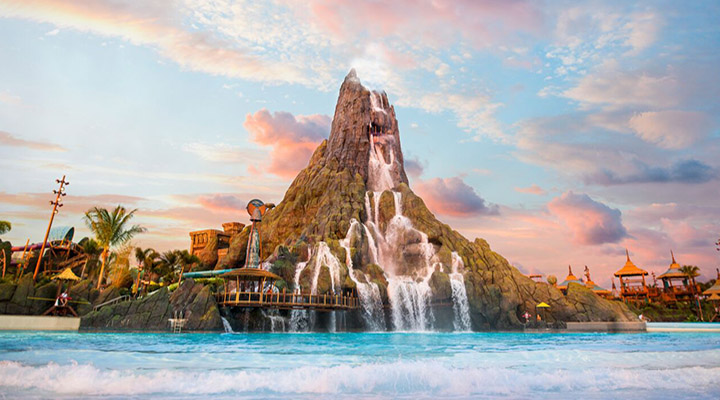 Universal's Volcano Bay
Water is Life. Life is Joy. That's the philosophy celebrated at Universal's Volcano Bay water theme park, one of three theme parks at Universal Orlando Resort. It's the carefree attitude the fabled Waturi islanders have embraced on their Pacific isle for centuries. Now you can live the Waturi way at this park where thrills and relaxation flow in perfect harmony.
With the power of the TapuTapu™ wearable and water proof bands, there's nothing between you and a full day of fun. It's an all-new kind of paradise, just steps away from everything Universal Orlando Resort has to offer.
With virtual lines for water slides using your TapuTapu™, a wave pool of epic proportions, and a winding lazy river that takes you through an active volcano, you're bound to have a water park experience unlike any other. At Universal's Volcano Bay, you can have as much action or relaxation as you wish!
The Volcano:
At the heart of the island stands Krakatau™, the mighty Fire and Water Volcano. Towering 200 feet above the tropical landscape, Krakatau™ streams waterfalls during the day and fiery lava effects at night. Inside the cavernous volcano the Waturi people dare you to brave a variety of heart-pounding water slides.
Krakatau™ Aqua Coaster:
Honorary Waturi can experience the power of Krakatau™ on this amazing ride. Four-person canoes slide upward through the mists and into the dark twists and turns within the volcano before emerging with a plunge through a shimmering waterfall.
As a tip, you'll want to make sure you're in the virtual line for the aqua coaster early in the day. It's incredibly popular, and if you wait too long to ride, ride times may not be available.
Wave Village:
Wave Village is the first of three villages guests encounter at Volcano Bay. This peaceful escape overlooks the sparkling waters of Waturi Beach at the base of the volcano. Additionally, you can rent one and two story cabanas.
Cabana rentals are available directly through Universal Orlando Resort and include towel rentals, a locker, bottled water, a breakfast platter with fresh fruit and pastries, and more. You'll also have your own cabana attendant who will bring your food and beverage orders to you at your cabana. You can also make TapuTapu™ reservations from your cabana without going to each attraction. It is truly a VIP way to experience the park.
River Village:
The second of three villages in Universal's Volcano Bay, River Village has fun for people of all ages, including the very youngest Waturi. The River Village features Kopiko Wai Winding River™, the Tot Tiki Reef™ play area and other fun slides for younger kids.
Rainforest Village:
The third village you'll discover in Universal's Volcano Bay, Rainforest Village stretches along the shores of an action-packed river and features the perfect mix of relaxation and exhilaration. Raft slides, body slides and white water rafting are here. Sun worshippers can also bathe at the Puka Uli Lagoon™, a pool made for relaxation.
Universal's Volcano Bay has first of its kind technology on its attractions, and also uses TapuTapu™ a wearable wristband technology that works as a placeholder in line for the most popular slides throughout the park. Simply go to the slide you want to ride, tap your band, and you'll get a return time. When it's your turn to come back and ride, your band will buzz. While you're waiting, you can hit the wave pool, float the lazy river, grab a snack, or soak up some rays on the beach. You can also look for "Ride Now" slides that let you ride immediately without losing your place in another virtual line.
The bands also allow you to make charges with the touch of your wrist. You can attach a credit card to your TapuTapu™ through the Universal Orlando Resort app to pay for locker rentals, or food at any counter service restaurant. The wristbands are given to guests to use for the day, but must be returned to Universal's Volcano Bay™ before leaving.
Another thing you'll appreciate at the water park is that life jackets and tubes are available, plentiful, and included with your park admission. Better yet, on slides that require tubes, the tubes will be at the top waiting for you; no need to carry one up flights of stairs!
Universal's Volcano Bay is the perfect place to spend a hot summer day, or any day really, at Universal Orlando Resort.
We're excited to enhance your experience across Universal with the latest local health and safety guidelines. Learn all you need to know by visiting "Universalorlando.com/safetyinfo
Disclaimer:
Universal elements and all related indicia TM & © 2021 Universal Studios. All rights reserved.