Universal's Volcano Bay™ is the newest theme park at Universal Orlando Resort™. At this water theme park, thrills and relaxation flow in perfect harmony.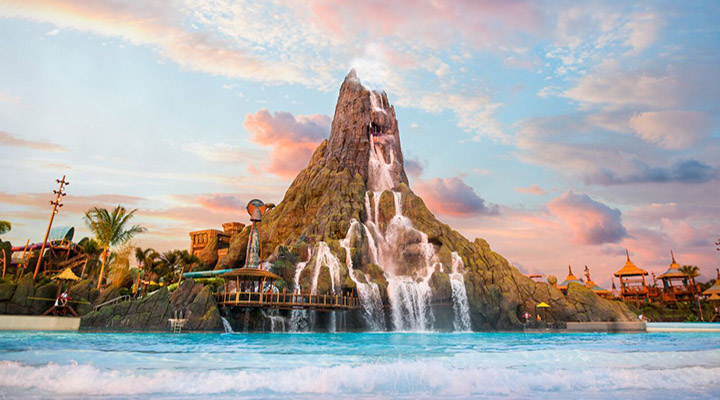 Universal's Volcano Bay™
Water is Life. Life is Joy. That's the philosophy celebrated at Universal's Volcano Bay™ water theme park. It's the carefree attitude the fabled Waturi islanders have embraced on their Pacific isle for centuries. Now you can live the Waturi way at this park where thrills and relaxation flow in perfect harmony.
With the power of the TapuTapu™ wearable, there's nothing between you and a full day of fun. It's an all-new kind of paradise, just steps away from everything Universal Orlando Resort™ has to offer.
The Volcano:
At the heart of the island stands Krakatau™, the mighty Fire and Water Volcano. Towering 200 feet above the tropical landscape, Krakatau™ streams waterfalls during the day and fiery lava effects at night. Inside the cavernous volcano the Waturi people dare you to brave a variety of heart-pounding water slides.
Krakatau™ Aqua Coaster:
Honorary Waturi can experience the power of Krakatau™ on this amazing ride. Four-person canoes slide upward through the mists and into the dark twists and turns within the volcano before emerging with a plunge through a shimmering waterfall.
Wave Village:
Wave Village is the first of three villages guests encounter at Volcano Bay™. This peaceful escape overlooks the sparkling waters of Waturi Beach at the base of the volcano. Additionally, you can rent one and two story cabanas.
River Village:
The second of three villages in Universal's Volcano Bay™, River Village has fun for people of all ages, including the very youngest Waturi. The River Village features Kopiko Wai Winding River™, the Tot Tiki Reef™ play area and other fun slides for younger kids.
Rainforest Village:
The third village you'll discover in Universal's Volcano Bay™, Rainforest Village stretches along the shores of an action-packed river and features the perfect mix of relaxation and exhiliration. Raft slides, body slides and white water rafting are here. Sun worshippers can also bathe at the Puka Uli Lagoon™, a pool made for relaxation.
Universal's Volcano Bay™ has first of its kind technology on its attractions, and also uses TapuTapu™ a wearable wristband technology that works as a placeholder in line and also allows you to make charges with the touch of your wrist. The wristbands are given to guests to use for the day, but must be returned to Universal's Volcano Bay™ before leaving.
Universal's Volcano Bay™ is the perfect place to spend a hot summer day at Universal Orlando Resort™.
Face coverings and temperature checks will be required for all guests. For important safety information at Universal Orlando Resort™, visit Universalorlando.com/safetyinfo
Disclaimer:
Universal elements and all related indicia TM & © 2019 Universal Studios. All rights reserved