Christmas morning is quickly approaching. Excitement is in the air. Luckily, it is not too late to put together an amazing vacation package to give to your family on Christmas morning! Picture your family together - sailing the sea on a beautiful cruise ship, snorkeling in Hawaii, zooming through the desert landscape of Cars Land or having lunch with the Princesses at Disneyland! We can help make it a reality! Here are three fun ways to present your vacation surprise to your family on Christmas morning.

Balloon Pop Puzzle

It is hard to go wrong when a huge pile of balloons is part of the plan! The Balloon Pop Puzzle is a fun way to add action to your Christmas morning vacation surprise.
You will need:
Balloons
Paper Letters (Download here)
Pin and Pin Cushion
Balloon Surprise Note (Download here)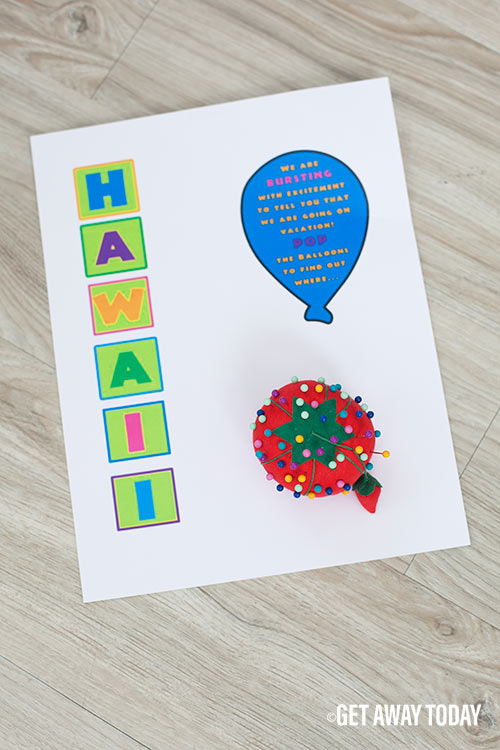 First, create letters that spell out where you are headed on vacation. I used Hawaii. Cut each letter out and insert it into a balloon.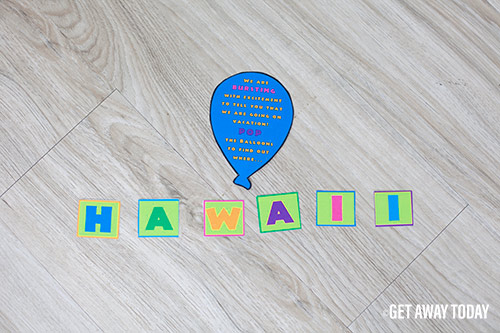 Fill all of the balloons with air and place them around the Christmas tree. I filled the balloons using an air compressor. It made the process of filling 50 balloons easy and I didn't get light headed. If you have one, use it! The more balloons you can fill, the better. Really go for it.

Then, print out the balloon surprise note and put in on top of a pin cushion with some pins. You can wrap this in a little box if you want. It says, "We are BURSTING with excitement to tell you that we are going on vacation. POP the balloons to find out where we are going..."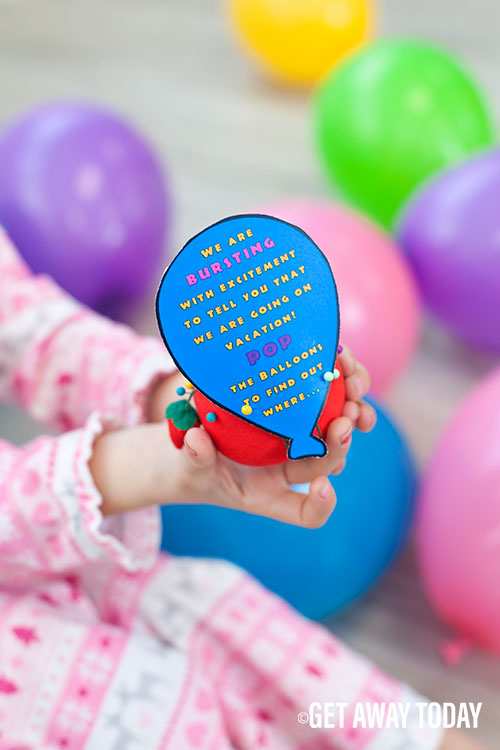 Let each of your kids have a pin and they can go wild popping balloons. It is one fast, fun, balloon popping frenzy. (Be careful if you have small children that might put the balloon pieces in their mouth.)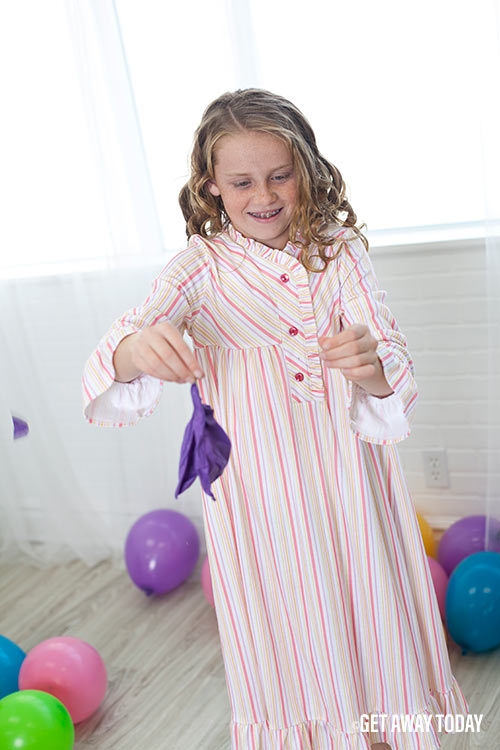 Once all of the balloons have been popped, have your kids collect the paper letters. They will have to hunt for them in all of the latex scraps.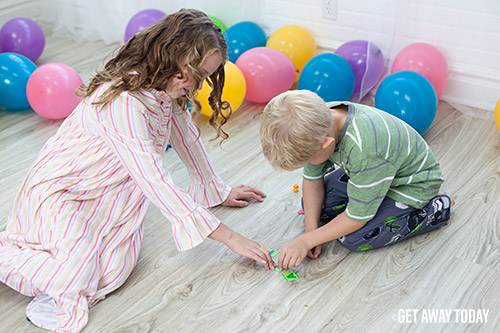 The final part of the puzzle is to figure out what the letters spell. In our case, they spelled HAWAII. No matter where you go, this activity is certain to add loud crazy fun to the vacation surprise.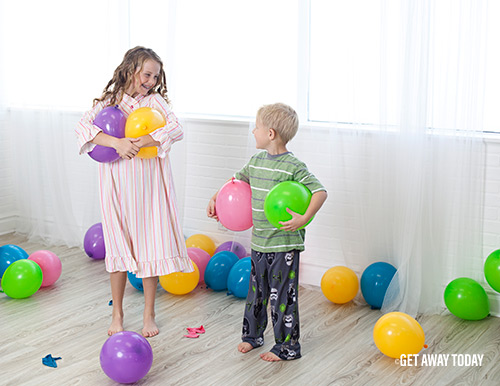 Beach Umbrella Scavenger Hunt

If you are giving a tropical vacation, this Beach Umbrella Scavenger hunt is a festive way to reveal the vacation surprise. Your children will get to hunt for hidden umbrellas on the Christmas tree and then use a special code to decipher where they are going on vacation!

You will need:
Paper Umbrellas
Tape
Vacation Poem with Code (Download here)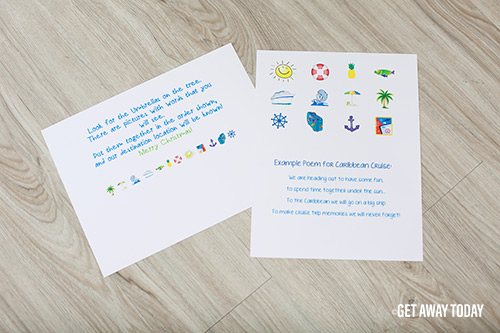 Unfold the paper umbrellas. You can find them at craft stores or the dollar store. Print out the cute Cruise Ship symbols provided, and cut them out so each symbol is its own square. Make sure to keep them in order! (You can find the order pattern on the Vacation Poem.)

I made up a poem announcing a Caribbean Cruise. It says,

"We are heading out to have some fun,
to spend time together under the sun!
To the Caribbean we will go on a big ship.
To make cruise trip memories we will never forget!"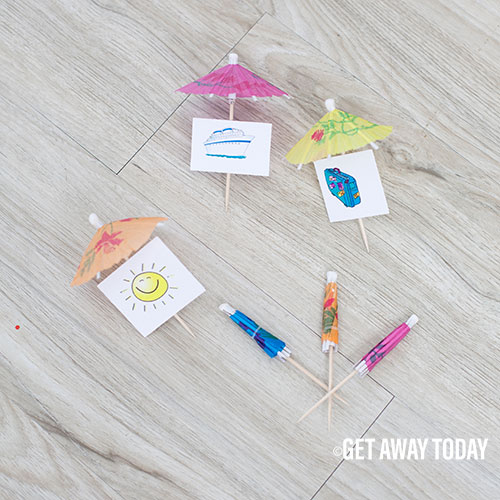 If you are going on a cruise, you can use this poem. If you have another fun vacation destination in mind, just make adjustments so it fits your vacation surprise. Break up the poem into sections and write it on the back of the cruise ship symbols. Tape the paper squares onto the umbrellas.

You can either place the umbrellas on their own little Vacation Tree like this: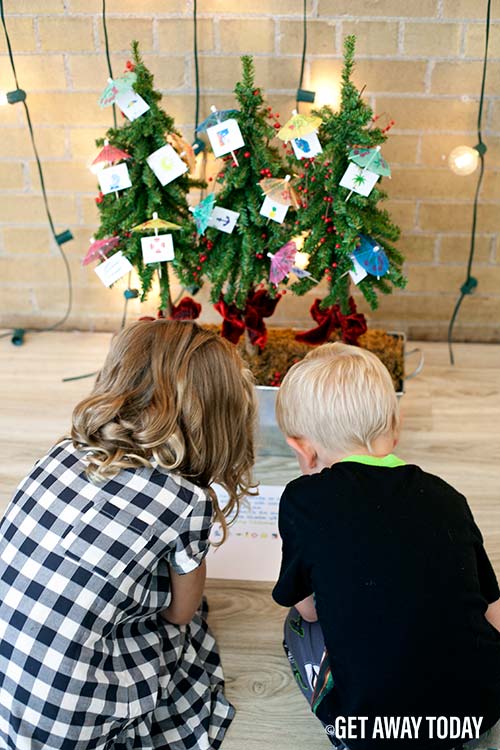 Or, hide them on your Christmas Tree to make it more challenging.

On Christmas morning, let your kids unwrap the Vacation Poem. It has instructions for the hunt and shows the picture code so they know what order to put the clues in. Once your hunters find all of the umbrellas, they will have to use the "code" to put all of the pictures in the correct order.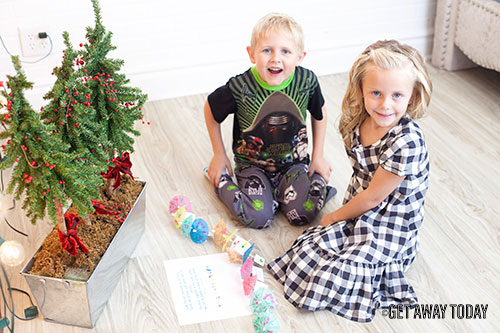 When they turn over the papers it will reveal the vacation surprise!

Rapunzel's Hair Maze

There is so much fun to be had when a little bit of Disney magic is involved. Let your kids follow the trail of Rapunzel's golden hair through your house. It will lead them to a special vacation surprise! For this project you will need:

Yellow Yarn
Rapunzel Notes (Download here)
Rapunzel Doll (optional)
Start by printing off the Rapunzel Notes. Cut them out and attach the starting note to the beginning of the yarn.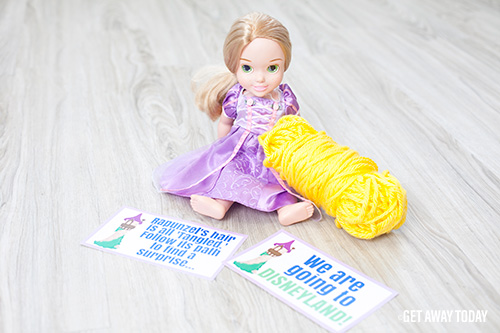 You can present the beginning of the maze however you want. Attach it to a tiny Christmas tree, wrap it in a present that has a hole so the yarn can trail out, or attach it to their bedroom door!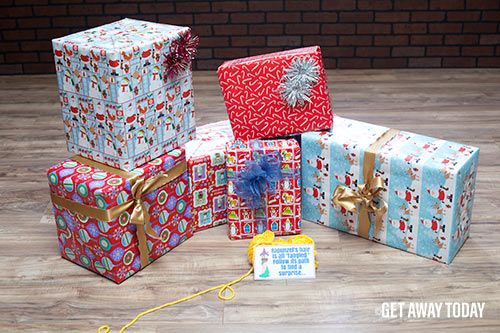 Wrap the yarn around the room and string it throughout the house. It can lead them up and down the stairs and even outside if it's not too cold!
Once they reach the end of the trail of "hair" Rapunzel will be there to announce their vacation surprise...they are going to Disneyland!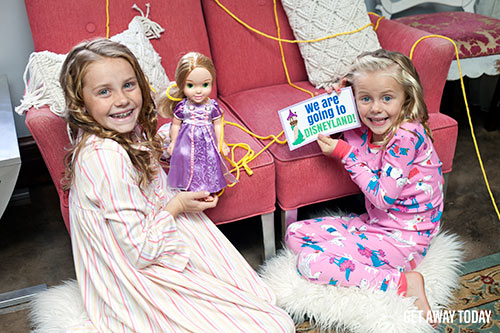 You could wrap Rapunzel in a gift box to add an extra element of fun to the reveal of their vacation surprise. The gift could also include a DVD or other Tangled movie gear. Be creative and have fun.
When you give the gift of a vacation, you are giving memories that will last a lifetime! We hope these ideas sparked some creativity. If you are still looking for the perfect gift for your family, we're here to help! Book any of our fabulous destinations or
Disneyland packages
online or call our vacation experts at 855-GET-AWAY! We'd love to help you plan this year's Christmas vacation surprise.