It may be the middle of summer, but that won't stop Frozen fun from hitting Disney's Hollywood Studios in full force. The snowy excitement kicks off this Saturday, July 5 and continues through Monday, September 1. Here's a brief overview of what's awaiting your family at Walt Disney World this summer: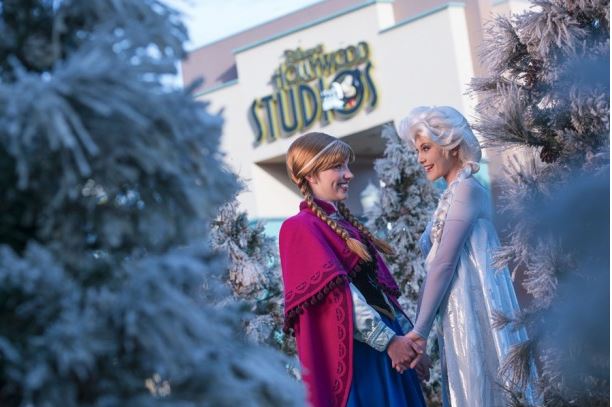 Image credit: Disney Parks Blog ©Disney
Olaf on Summer Vacation
– Now Olaf knows what Frozen things do during the summer... they vacation at Disney's Hollywood Studios! Everyone's favorite snowman chimes in throughout the day to keep everyone updated on all his summery adventures. Take-along Olafs are available for purchase throughout the park, perfect for photo opps. Tag your Olaf posts like this: #OlafSummerVacation and your pictures could appear in that day's grand finale!
Anna and Elsa's Royal Welcome
– Elsa and Anna make their way down Hollywood Boulevard in a horse-drawn sleigh at 11:00 a.m. daily as part of their goodwill tour of neighboring kingdoms. Kristoff, skaters, skiiers, ice cutters and more join the snowy sisters in a special moment at the Sorcerer's Hat Icon Stage.
For the First Time in Forever:
A "Frozen" Sing-Along Celebration – Take a break from the summer sun and step into the air-conditioned Premiere Theater for some fun with your Frozen friends. Anna and Elsa join the Royal Historians of Arendelle to retell the unique history of their Kingdom and sing everyone's favorite songs from the hit film.
Wandering Oaken's Trading Post & Frozen Funland
– Oaken and his cousins have created a Frozen Funland filled with cold weather activities, unique photo opportunities, and more. Watch ice skating demonstrations, or slap on a pair and hit the ice yourself. Ice skating is an additional $10/half hour, subject to change. You'll also find the "Do You Want to Build a Snowman?" play area, exclusive Frozen themed merchandise, and special Frozen-inspired drinks and snacks.
"Coolest Summer Ever" Dance Party
– Each night at 5:30 p.m. each day, a "cool" dance party begins around the Sorcerer's Hat Icon Stage. This party features a DJ, live band, and more playing a mix of rockin' Frozen songs mixed with other favorites!
"Frozen" Fireworks Spectacular
– The only way to end a fantastically Frozen day is with a fantastic fireworks display. Anna, Elsa, Kristoff, and Olaf kick-off the show nightly at 9:45pm at the Sorcerer's Hat Icon Stage. Note: the Frozen fireworks display will NOT take place on August 23, so please plan accordingly.
The Frozen fun melts away after September 1, so you'll want to book your Walt Disney World Resort vacation now!
Call our vacation experts at 855-GET-AWAY.
Everything is current at time of posting,