Cook delicious, easy, and cheap homemade meals while on vacation! When we travel, we think about all of the exciting things about it – visiting new places, staying in wonderful hotel rooms, and eating out!
Eating out always seems exciting at first, but often times after a few days of eating out, my body starts to feel it, and so does my wallet! My family and I start to crave some of the simple meals we make at home.
If you are looking for an affordable option other than heavy restaurant meals, fast food and greasy pizza, consider cooking some delicious, easy meals right in your hotel room! It's a great alternative to ordering room service or eating out every night. If your hotel room has a kitchen, it's already equipped with dishes and supplies. If not, a quick stop at the store to stock up on paper goods should be all you need. Lots of Disneyland visitors make a stop at the Target located on Harbor Boulevard - just a mile from Disney's main entrance.
Here are 3 simple "cooking on vacation" ideas, whether you are headed to a hotel with a full kitchen, partial kitchen, or no kitchen at all.
Yummy French Dip Sandwiches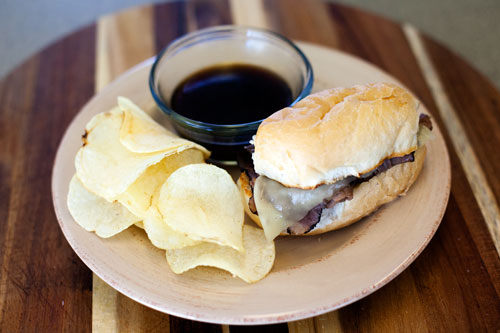 One option is to take a small crock-pot on vacation with you. For these French dip sandwiches, you can use the crock-pot to heat up your Au Jus dipping sauce right in your hotel room. Buy the Au Jus gravy packet, bakery rolls, deli roast beef and provolone cheese fresh from a local grocery store. Add a bag of chips and you have a warm, wonderful homemade dinner! If you don't want to take a crock-pot on vacation, you can heat up your Au Jus sauce in the hotel room coffee pot.

Delicious Panini Sandwiches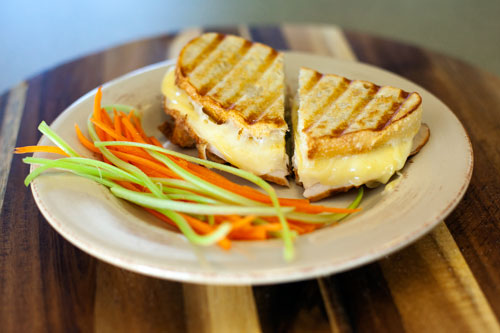 Another thing we love to take on vacation with us is our Panini grill. It can be used for so many great meals, including one of our very favorites - Sourdough Turkey and Cheese Paninis. Simple and delicious! Bakery sourdough can be found at the local grocery store, along with turkey deli meat and various cheeses. Just spread some butter on the outside of your bread slices and create these delicious hot sandwiches with your Panini grill right in your hotel room. Pair with some fresh vegetables and Bon Appetit! If you don't want to bring your Panini grill on vacation, you can make these sandwiches with tinfoil and the hotel room clothes iron.
Delectable Bean Burritos
If you have a hotel room with a stove-top, your possibilities are endless! My family loves Mexican food – and an easy choice on vacation is bean burritos. Heat up the beans and tortilla shells on the stove-top, and serve with your favorite taco toppings and voilà – you have a homemade meal. Ready rice and chips and salsa make the perfect companions. The
Residence Inn
,
Homewood Suites
and
Staybridge Suites
are just some of the hotels that offer full kitchens. Many of these hotels even offer free grocery shopping service and will have your order delivered straight to your room - you just pay for your groceries! You can search for hotels with kitchens with our filter on our
Disneyland area hotels page
, or call our agents at 855-GET-AWAY.
Enjoy traveling and cooking along the way! You'll have jealous hotel neighbors, happy kids and more money in your wallet!

Check out these other great blog articles:
Vacation Snacks: Buy Before You Go
7 Ways to Save Money For Vacation
DIY Disney Vacation Savings Jar Tutorial