Play this adorable I Spy at Disney game with your family to see how many classic Disney scenes and things you can spot as you spend a happy day at the parks.
How do you know when you have arrived at Disneyland or Disney World? There is a certain special feeling that comes with walking into the park gates. Happy music, beautiful landscaping, festive cast member costuming and yummy smells provide total immersion into a picturesque land. Main Street U.S.A. is one of the happiest streets on Earth.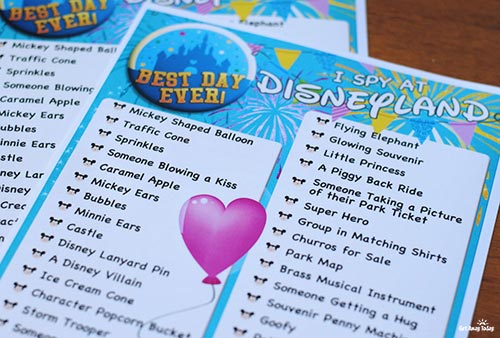 There are a lot of little things that make being at Disneyland or Walt Disney World so special. I love seeing bubbles floating through the air. I enjoy watching people add a little bounce to their step as they walk along to the upbeat music. It makes me happy to see a little kid with a giant Mickey Mouse shaped balloon tied to his or her wrist. I could peek through shop windows filled with festive caramel apples and character shaped treats all day long. All the little iconic Disney moments add up to one incredible experience.
I Spy at Disney Game - Free Printables and Downloads
This I Spy at Disney game incorporates those magical Disney moments and items that make a day at Disney so unique. Download your preferred version below.
I Spy at Disney Game Downloads and Printables: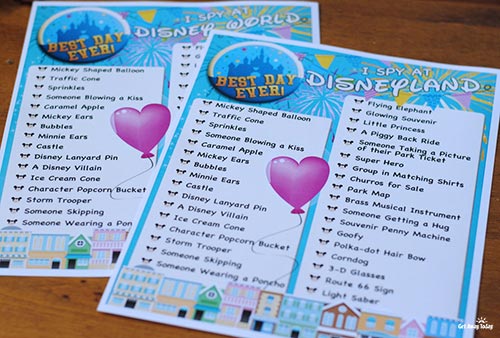 There are a few ways to use the I Spy at Disney game printable. One idea is to print it onto paper and have it with you on your Disney day. Bring along a pen and cross off the little Mickey heads as you find the items on the list. It is a fun way to keep kids engaged while waiting in line for an attraction or to stay entertained while waiting for a parade to start.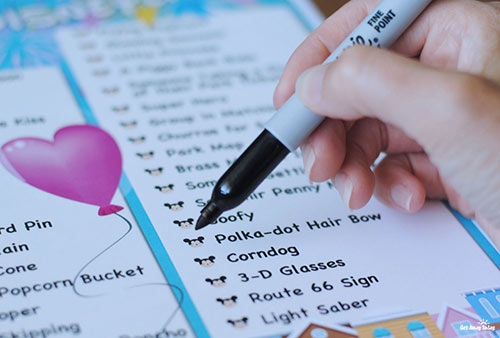 Another idea is to save the digital file to your phone. The downloadable mobile version is a little bit different than the print file. You can keep the image handy on your device and refer to it thought the day. The digital version is easy to bring along, because you have your phone with you already!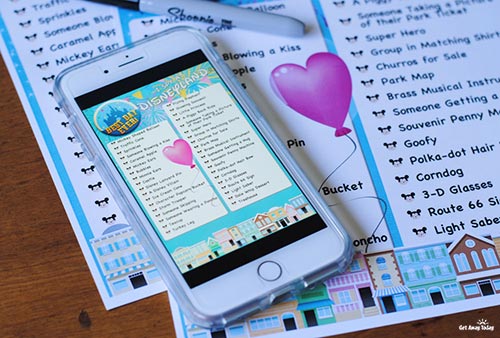 There are some fun little editing options on phones that let you draw right onto a file. So, pull out your digital pen and cross of the items as you find them.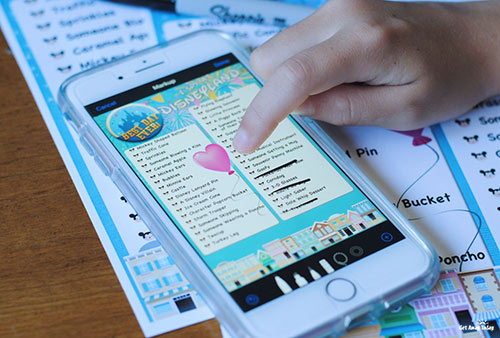 What are your favorite things to spy at Disneyland or Walt Disney World? I love looking for all those little things that really add to the Disney magic. Especially since there is always something going on at the Disney Parks! Disney magic flows year-round. My most favorite thing to spy while I'm at Disneyland is my children's faces. They have huge cheesy smiles as we enter the gates. The adoration in their eyes when they meet their favorite Disney character is photo worthy for sure. Excitement is written across their faces as we cruise through their favorite rides and try out new ones! Their expressions are filled with wonder and joy as we view the night sky lit up with fireworks. I spy happiness written on their faces all day long. Nothing compares to it.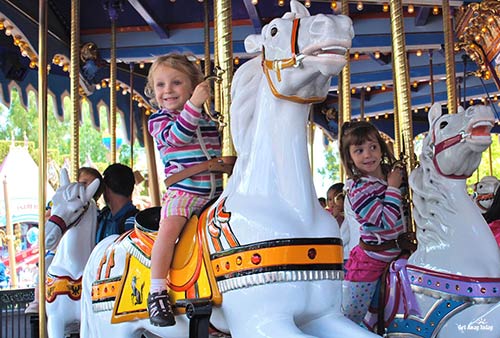 I hope you have fun with this I Spy at Disney game as you make happy memories with your family at the Disney Parks!
To start planning your next Disneyland or Disney World vacation, get in touch with Get Away Today. You can book any of our Disney packages online or give our travel experts a call at 855-GET-AWAY. With the best discounts and insider tips in mind, we'll make sure it's a trip you won't be able to forget.

Check out more Disney inspired crafts: