"OMG! We had the most wonderful time. Forever memories were definitely made. My son and his fiancé were both injured by a hit & run driver in March and both have bravely faced multiple surgeries and subsequent financial challenges. We wanted to give them a "happy time" reward before they face their next round of surgeries.

The staff at the Clarion Hotel were wonderful. They gave us a room next to the elevator for convenience. They gave us free parking in the handicapped area. The concierge set up very affordable electric scooter rental instead of their wheelchairs ($35/day at the hotel instead of $50/day at the park). A local restaurant (at a different hotel) gave my son someone else's credit card back and the hotel desk staff arranged locating the card and exchanging the cards! It was great to have a hot breakfast in the morning before we took off. There is an ART shuttle stop right in front of the hotel (and they can load the scooters). The room was a standard hotel room but it was very clean; extra pillows, blanket, towels, even extra hangers. But it was the service of the friendly staff that really made our stay a joy.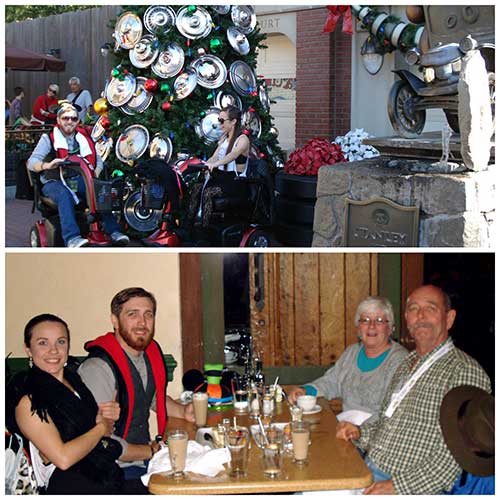 The advance reservations at the Blue Bayou and Wine Country restaurants made such a difference. Thank you for those kind of tips and assistance. We had more time for together experiences because of your help to smooth the way. Other people just couldn't believe we the package we got for such a reasonable price. We bragged you up a bit. Get Away Today customer service ROCKS!

Thank you soooooo much for making a wonderful holiday experience for us.

-Renee, Robert, Rachel and Bill :)"
"I just wanted to say what a great experience I had working with this company. We booked a family trip to Disneyland this spring, but some things came up and we needed to cancel. I was dreading making the call because I thought I would be pressured into either keeping the trip or have to go into great detail about why we were cancelling. Instead I got extremely fast and extremely friendly service. When we are ready to book again, I will definitely book through you and I will recommend Get Away Today to everyone. Thanks so much.

-Michelle S."
"We were so impressed with the service we received through your company. We highly recommend your travel agency to others!

Sincerely,

The Ochinang Family"
At Get Away Today, our goal is to provide every guest with the best customer service possible. We have the greatest customers, each with their own unique story, who all deserve wonderful vacations. If you ever need anything before, or even during, your vacation, give us a call and we will take care of everything. Then when you get home and are ready to go back to the Happiest Place on Earth, you can check out our
Disneyland packages
online or call our Disney experts at 855-GET-AWAY.

Check out these other guests experiences: