We've been having the best time on our 18th Annual FAM trip in Southern California. After some fun on the sunny beaches of San Diego and Huntington Beach, it's time for us to head to our most popular destination, Anaheim. Make sure to follow along so you can enter all the fun giveaways and see even more of our great hotel partners.
Our group said goodbye to the Hyatt Regency Huntington Beach this morning after a wonderful breakfast and one last walk on the beach. We hopped onto a shuttle and headed for Anaheim, ready to meet with our hotels. It was hard to say good-bye to such an incredible hotel right on one of the world's best beaches, but luckily, we knew we were in for a good time!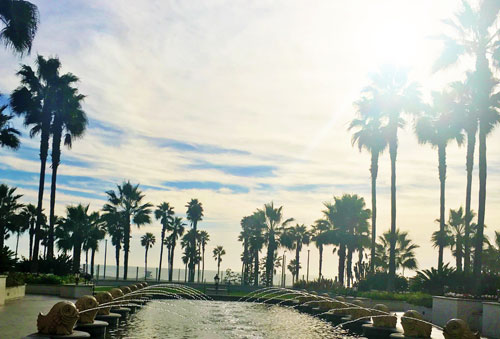 Once we got to Anaheim we walked to each of our hotel destinations, which cements the fact that this is very much a walking destination. Anything you will need is all within a short walk!
The first hotel stop was the Best Western PLUS Stovall's Inn. This is a great value property that includes continental breakfast and fun animal-themed topiary garden. It's less than a mile from the park too!
We took a short walk to the Best Western PLUS Pavilions next. This is another great option for families looking to save since it doesn't have any parking fees and kids eat free with paying adult at the Denny's next door.
Our group stopped for lunch and a tour of the Anabella Hotel next. We loved the food and the Spanish-mission style of this hotel even more. It's a beautiful property within walking distance of Disneyland and the comfy rooms are a plus! Even better is when you can take advantage of their 4th night free promotion available on select dates.
The next stop was Castle Inn & Suites. We are never disappointed when we visit the fun staff at the Castle Inn! Your kids will love staying in a "real" castle and the staff makes sure every guest feels like royalty. This is a great hotel choice if you want to be close to the park without paying a ton, especially if you happen to get your 3rd night free on select dates! These free nights get booked early, so you'll want to lock-in your lowe price as soon as possible. Don't miss out on your chance to save even more by winning a 2-night stay!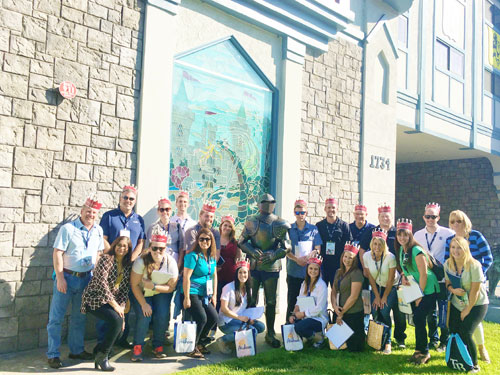 Enter to win a 2-night stay at the Castle Inn & Suites here:
We headed over to tour the Best Western Anaheim Inn next. This is a top choice for families who want to save while still being right across from the park and getting free breakfast daily. It's no wonder this hotel is one of our fastest to sell out!
Our next visit was the Del Sol Inn. This is another family and budget friendly option right across the street that offers standard rooms, kids rooms and continental breakfast.
After a short walk, we stopped by the Best Western PLUS Park Place Inn for a quick tour. This hotel not only offers great rates and continental breakfast, but it is within walking distance and has suites available for larger families as well.
The Tropicana Inn was our next stop and one of our most popular across-the-street options. It is not only one of the closest hotels, but also has a large swimming pool and spacious rooms. Their family suites are some of the largest in the area since they are made of two standard rooms connected with a kitchen in the middle.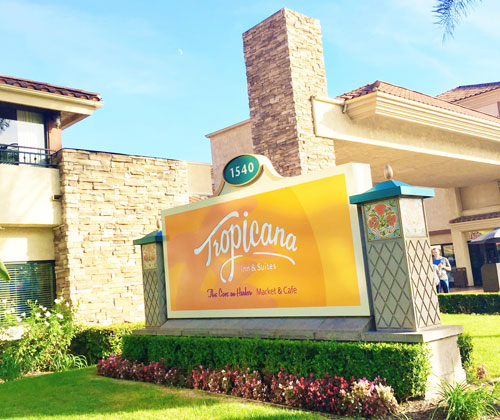 The Tropicana also announced that they are remodeling with a modern and "tropical" theme. We got to get a special sneak peek and they are awesome! You can see that new theme starting next year. You could even see it for free if you win our next giveaway! Enter here for your chance to win a 2-night stay at the Tropicana Inn & Suites:
We headed next door to tour the Anaheim Camelot Inn & Suites, another hotel right across from Disneyland's entrace. The best part of this hotel is that their pool is on the fourth floor and has a great view of the fireworks. Your family will love that each room has a mini-fridge and microwave, plus they offer suites that fit up to seven for larger families as well. Not to mention, we love the quaint cottage look. It feels like an extension of Fantasyland!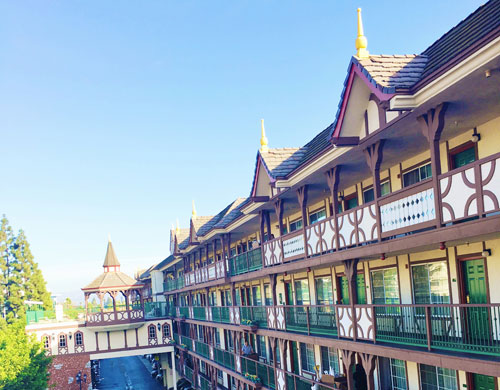 Don't miss your chance to win a 2-night stay at the Anaheim Camelot Inn & Suites by entering here:
Next on our walk of Harbor Boulevard was the Fairfield Inn Anaheim Disneyland Resort. On top of its great location, our staff loves that each room has a single sofa sleeper and mini-fridge. Get Away Today guests also get the added perks of free parking and free in-room wifi.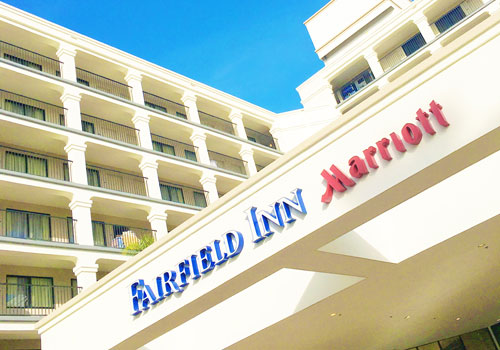 Also, there's a really cool reason why we can't show you any of their rooms. The hotel is also scheduling another renovation! They try to remodel every two years for both their standard and themed rooms to keep everything fresh and fun. Their Disney-themed rooms are great if you're looking for some extra magic.
Speaking of extra magic, we are giving away a 2-night stay! Enter here to win a 2-night stay at the Fairfield Inn Anaheim Disneyland Resort:
We stopped at the new Holiday Inn Express & Suites Anaheim Resort Area for a quick tour next. This new hotel is only a short walk from Disneyland and includes a free breakfast on top of their spacious modern rooms.
Our next hotel stop was the Quality Inn & Suites Anaheim Resort. This is a budget-friendly hotel that is an easy walk from the park. All the rooms have a fridge and microwave, plus a continental breakfast is included daily.
We made our final stop at the Disneyland Hotel where we will be staying for the next two evenings. Yay! The Disneyland Hotel is easily one of the most amazing places to stay on your Disneyland vacation. You could say, it is just our cup of tea!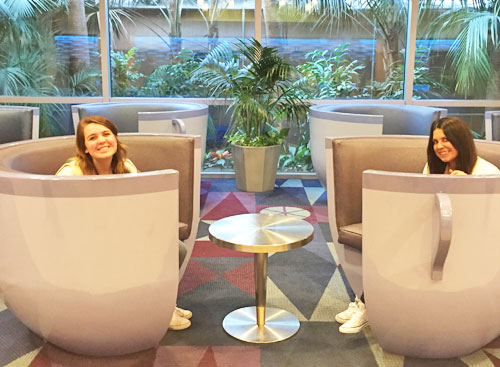 You not only get a fabulous hotel with unrivaled service, you also get tons of extras that keep you surrounded with Disney magic for your whole vacation. We love the Sleeping Beauty Castle headboard that actually lights up and plays music. Talk about magical.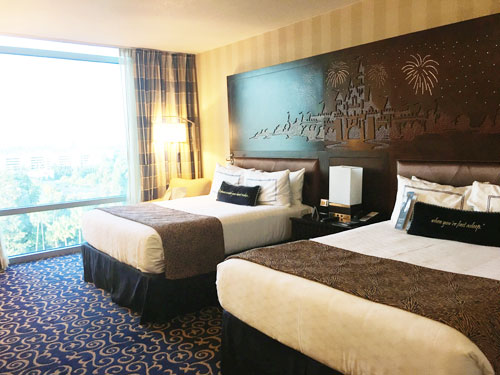 After checking-in and freshening up, we visited the top floor of the Disneyland Hotel to see the exclusive Blue Sky Suite. Here we were treated to an amazing dinner. The room used to be used as an actual sleeping space by the GM of the hotel, but since the Disneyland Hotel renovation, is now used as a beautiful meeting space. The view looks over the pool of the Disneyland Hotel and might just have the greatest bathroom of all time. The Blue Sky Suite is really a special treat.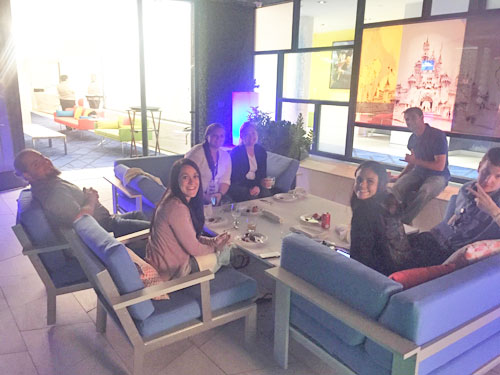 After the incredible meal, we took our first steps into the Disneyland Resort to see the showing of the original World of Color in Disney California Adventure. This show is one of the best of all time! If you are looking for a roller coaster of emotions, look no further than the World of Color. Our staff is so excited they brought the original show back. It's our personal favorite! You have to visit Disneyland to see the magic of color, light, water and fire that is simply spectacular. Only Disney can put on a show like it!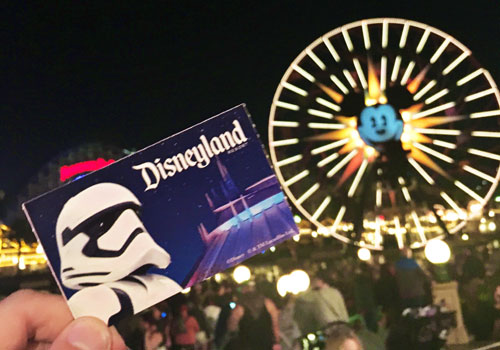 We love getting a first-hand look at all the hotels and attractions we have to offer. We hope you are enjoying following along and seeing a behind-the-scenes view of some of your favorite destinations.
If you need any help booking your Disneyland vacation, we have some great agents available at our office. They are only available for limited hours (9 AM - 5 PM MST), but you can book all of our Disneyland packages online. Don't forget to take advantage of our online only promo code: FAM2016 to save an additional $20 off your new Southern California vacation package booked during our trip.
Check back in tomorrow to hear about our second day in Anaheim and how much fun we had at Knott's Berry Farm! Plus, don't miss any of our giveaways.