"The security attendant at the airport told me that UEA stood for Utah Escapes to Anaheim! What a wonderful escape it was for my family! I took my daughter, her husband and my three young grandchildren to Disneyland. Thanks to Get Away Today everything was even better than I had hoped. The hotel (
Anaheim Marriott Suites
) was perfect. Our every need was met. The children are ages 5, 4, and 18 months, so we appreciated having a crib in our room within minutes of arriving. The breakfast in the hotel was a wonderful buffet. It was great to have a shuttle to Disneyland and have our tickets taken care of. All arrangements had been made by the staff at Get Away Today. I appreciated a call by them to see if we needed anything.
I will definitely use their help next time I travel.
-Martha R."
"Here's our SUPER happy family at another Disney trip thanks to GetAwayToday. We had so much going at Halloween time. Mickey's Halloween party was a blast!!
Thanks!
-Brett M."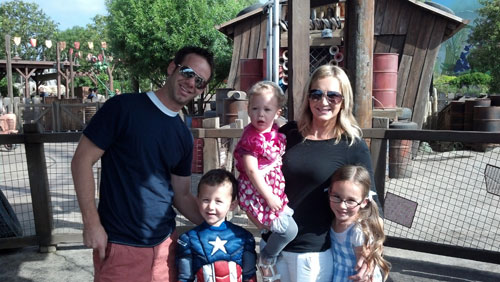 "Our family has been booking with you guys since my oldest was two years old. We have only had a couple little issues throughout all of the years, and every time we have had anything come up, you have always taken care of us quickly and with great customer care. My family and I just returned from Disneyland for our second trip this year to California, and one thing we learned this year was that some of the hotels we never would have given a chance, ended up being really nice. We normally stay at the hotels with a living room and kitchen so that the family has a lot of room, and cuts down on costs of eating out, but honestly the convenience of being right across the street from Disneyland is a winner in my thoughts, plus the
Howard Johnson's
pool is amazing. We can't thank you enough for taking such good care of us, and always doing so.
-Sabrina E."
No matter the time of year you travel, or the hotel you choose, Get Away Today is here to make sure that each vacation your family takes is the best ever! Our Disney Vacation Experts are here every step of the way from the first time you call to your happily ever after. Book your next
Disneyland vacation
online or call our agents at 855-GET-AWAY.

Check out what other guests are saying about Get Away Today:

Happy Halloween Vacations
Get Away Today Helps Happy Vacations Happy
Wonderful Vacations With Great Pictures
Firsthand Get Away Today Customer Service Experiences