We have had the best time starting our 18th Annual Southern California Trip in San Diego! Our partners have gone above and beyond to show us the amazing hotels, parks and beaches of the county. Before heading to our most popular destination (hint...it has to do with a mouse), we made sure to spend some time in Carlsbad and Huntington Beach this weekend. We hope you are enjoying following our trip.
Our first stop of the day was the beautiful Catamaran Resort & Spa where we had a great breakfast. The Catamaran sure knows how to make an impression.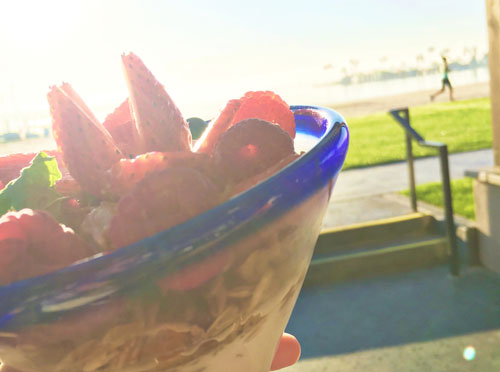 This hotel is right on Mission Bay and across from Mission Beach. Their location can't be beat and their grounds are stunning. The Catamaran also holds luaus on the beach during the summer that make you feel like you are in Hawaii. Their tropical pools and clean rooms make this a wonderful choice for your San Diego vacation.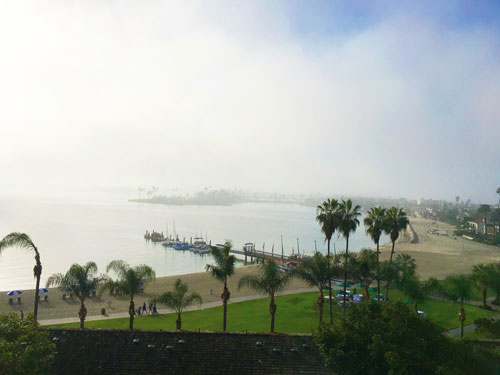 The Bahia Resort Hotel is the sister hotel to the Catamaran and right across the bay. You can meet their resident seals, take a dip in the Mediterranean pool or walk along the beach. These are only a few of the reasons our staff loves the Catamaran and Bahia!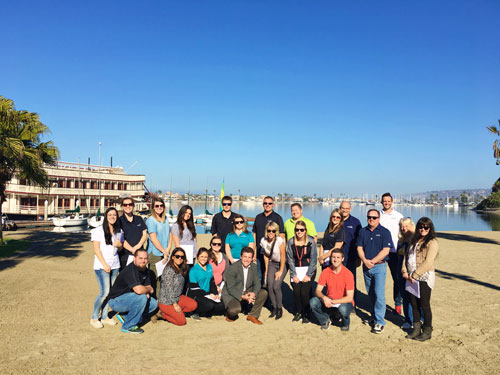 Our group stopped by to tour the USS Midway next. The USS Midway Aircraft Carrier Museum is voted the #1 thing to do in San Diego as well as the #1 museum in San Diego. It makes sense with San Diego being the #1 patriotic city in America! They have an self-guided audio tour as well as videos and flight simulators for the whole family. It's a must-see attraction for your family and you can save on tickets by purchasing them through Get Away Today.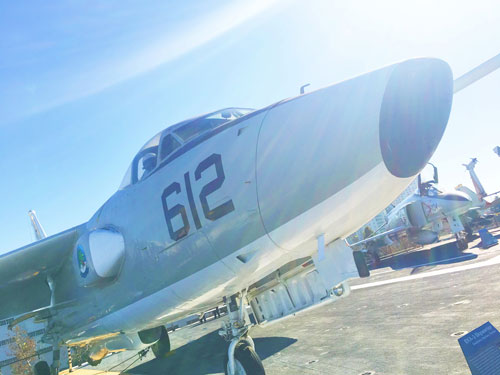 Don't forget to enter for a chance at winning a family 4-pack of USS Midway Museum & Flight Simulator Tickets:
After saying goodbye to the USS Midway, we took our bus to Carlsbad. If you plan on taking a nap on this drive, think again. The ocean views are too beautiful to sleep through!
Our first stop in Carlsbad was the La Quinta Inn & Suites Carlsbad, a great option for those looking to travel on a budget. The rooms are comfy and the daily continental breakfast helps you save.
Next, we visited the Ramada Inn Carlsbad, a property we are newly working with come 2017. We are so excited to be adding more great hotel options to our Carlsbad destination!
We headed to the Homewood Suites Carlsbad next. This is another family-friendly hotel that offers suites with full kitchens. They provide a complimentary shuttle to anywhere five miles of the hotel, too - including LEGOLAND.
Our next stop was the The Cassara Carlsbad, Tapestry Collection by Hilton, one of our favorites in Carlsbad. It has a pool with splash area for kids, plus a pool for adults only. Don't forget the ocean views, famous flower fields, or gorgeous guest rooms either. This is a beautiful property that will make you feel like a VIP since they have less than 100 rooms.
We're helping you feel even more important by giving away a 2-night stay too! Enter here to win a 2-night stay at The Cassara Carlsbad, Tapestry Collection by Hilton:
The last hotel stop of the day was the Sheraton Carlsbad Resort. We had a delicious dinner after touring the spa-like resort. The hotel has an amazing pool area and its own private entrance into LEGOLAND.
Speaking of LEGOs, we ended our night by checking in to the LEGOLAND Hotel. Everything is awesome and full of surprises at this resort. Make sure to ride the elevator a few times (you'll see why) and take advantage of the hot breakfast buffet every morning. Our staff loved our themed rooms with extra amenities, doing the treasure hunt and playing at the hotel all night long. You'll also get early access to the LEGOLAND park, so this is the perfect place to stay for LEGO lovers.
Sunday Funday couldn't get any better than waking up at the LEGOLAND Hotel. After a great breakfast, we got to take advantage of the early hour access and visit LEGOLAND. Whether you're exploring a lost kingdom, riding a dragon or practicing your ninja skills, your family will love this park. It's perfect for all miniature builders, dreamers and big-kid LEGO lovers!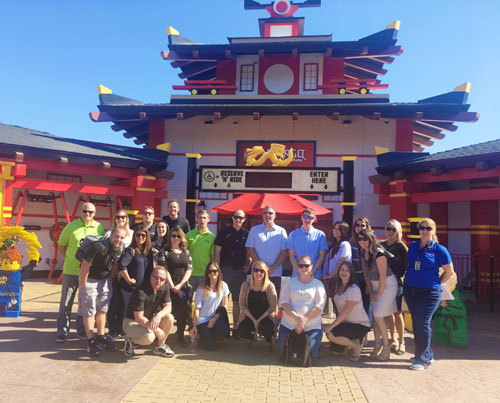 We're giving away two sets of family 4-packs so that you can see for yourself how great this park is. Enter to win one of two family 4-packs of LEGOLAND/Sea Life Aquarium Hopper tickets:
After a fun afternoon of LEGOs, we said goodbye to Carlsbad and took another bus to Huntington Beach. It was another ride that none of us slept through, with all the amazing views of the ocean to keep us wide awake.
Once in Huntington, we checked in to the Hyatt Regency Huntington Beach for the night. This is a gorgeous luxury hotel right across the street from the Pacific Ocean. The resort has an on-site grocery shop, multiple restaurants, two pools and three waterslides. You can't ever go wrong with a Hyatt Regency and this one definitely proves that. This is the perfect hotel for your family vacation if you want just the right mix of beach and theme parks. Or, just the beach.
Plus, you can get your fourth or fifth night free (depending on room type and dates) when you book with Get Away Today. There's no reason not to book your next beach vacation here when you can save so much!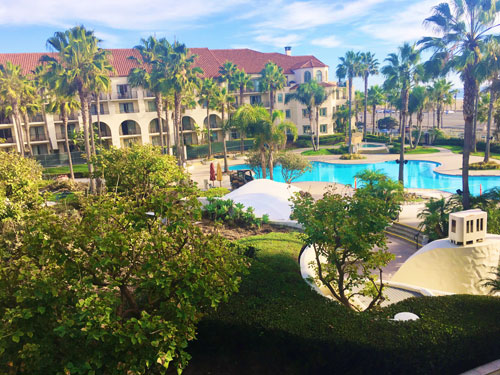 Our group spent the evening exploring Huntington Beach and relaxing before our whirlwind of hotels in Anaheim begins. Make sure to follow the blog and check our Facebook and Instagram for immediate updates. You won't want to miss any of the fun giveaways!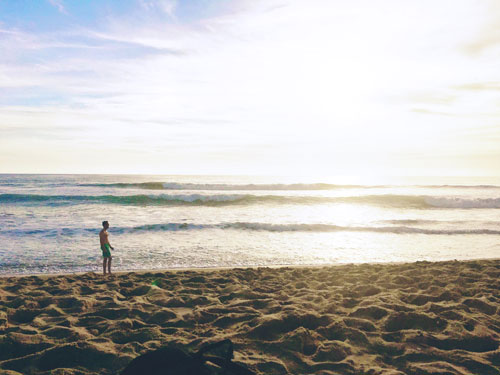 Don't forget that you can save even more for this week only! Use our exclusive online promo code: FAM2016 for $20 off any Southern California vacation package booked online. If you do need assistance, our office hours are 9 AM - 5 PM MST Monday - Saturday so our great agents can still help over the phone.