La Mirada is a city about eight miles from Disneyland Resort in Anaheim, and two miles from Knott's Berry Farm in Buena Park. This makes it a great hotel for families who plan to experience both theme parks while on a California vacation. Our
Holiday Inn La Mirada
review will let you know what to expect when you choose this hotel for your next trip.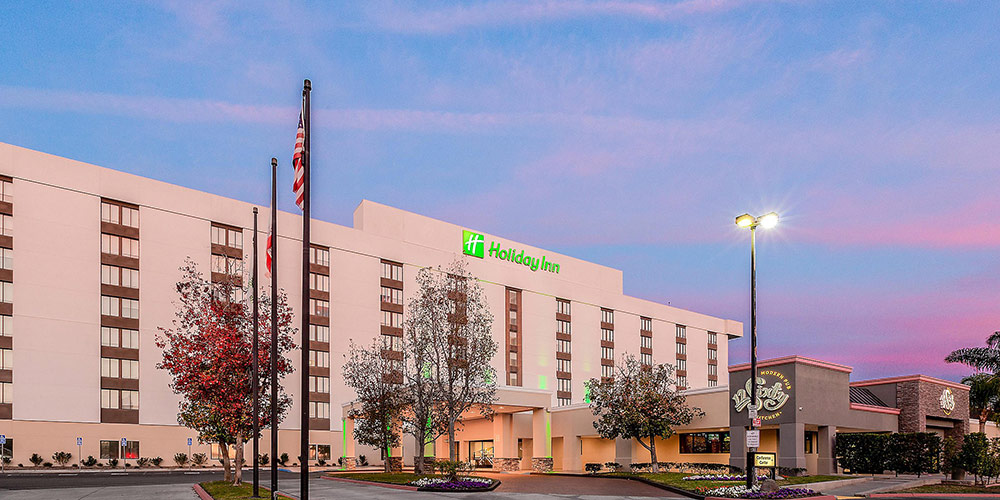 Photo courtesy of Holiday Inn La Mirada
Holiday Inn La Mirada Review
Since Get Away Today offers discount packages that combine multiple theme parks, planning a Disneyland and Knott's Berry Farm vacation has never been easier! Read our Holiday Inn La Mirada review to see why this is an ideal choice for your family.

Holiday Inn La Mirada Review - Rooms
When you book Holiday Inn La Mirada as a Get Away Today guest, you can request a 1 King Standard or 2 Double Bed Standard room. Newly renovated in 2018, you will enjoy the comfort of fresh new accommodations and furnishings. The 1 King Standard room will sleep up to five guests; it offers a pullout sofa for additional sleeping and a roll away cot can be requested from the front desk for a nominal charge.
A 2 Double Bed Standard room can also sleep up to five guests with two Double beds and an optional roll away cot. The soft tones of the room, storage options and workspace are a welcoming sight after a fun-filled day of adventure in nearby Anaheim or Buena Park. Enjoy your home away form home at Holiday Inn La Mirada for as long as you're in town. With either room request at this Holiday Inn, a crib can be requested at no additional charge. You are also welcome to request connecting rooms and, depending on availablility, the hotel will do its best to grant the request.

Photo courtesy of Holiday Inn La Mirada
Holiday Inn La Mirada Review - Amenities
In the comfort of your room at Holiday Inn La Mirada, you can enjoy amenities such as free Wi-Fi, cable TV, a coffee maker and a microwave. If you'd like the use of a mini fridge, you may request one from the front desk, and there is a $10 daily charge. In your room you also have access to video games and can rest easy at bedtime by pulling closed the blackout curtains. The bathroom in each Standard room has a bathtub, making it easier to help little ones scrub clean after being slathered in sunscreen and enjoying a day outside. On the property you can take advantage of the heated outdoor pool and hot tub as well as an exercise room.
Other in-room amenities at Holiday Inn La Mirada include toiletries and accessories such as an iron and ironing board, a phone and a clock for those early-morning Disneyland wake up calls!

Photo courtesy of Holiday Inn La Mirada
Holiday Inn La Mirada Review - Dining
Being no novice travelers, we know you're probably most interested in whether or not Holiday Inn La Mirada amenities include a complimentary breakfast. We're happy to report that when you book the Holiday Inn as a Get Away Today guest you can enjoy a free, full breakfast every morning courtesy of the in-house restaurant. Is there any better way to start your day than with food you don't have to prepare yourself? We argue that there isn't! It's also a big money-saver as the average breakfast at a restaurant in or around Disneyland Resort could cost anywhere from $30 - $40 for a family of four. Those daily savings will add up quickly, and we may or may not officially recomment you use that money on churros instead.
Holiday Inn La Mirada's restaurant, 12 Sixty Modern Pub and Kitchen, "features farm fresh to table selections from local sources," which means you can enjoy food fresh from California itself. The Pub boasts wines and micro brews, and room service menus are available.

Photo courtesy of Holiday Inn La Mirada
Holiday Inn La Mirada Review - Location
About two minutes away from Holiday Inn La Mirada, you'll find In-N-Out Burger. Six minutes down the road you can grab a bite at Pita Paradise or stop at La Rubia Restaurant Sante Fe. On your way South from La Mirada toward Anaheim, you'll encounter a number of places to eat such as Denny's, McDonald's and Starbucks.
Holiday Inn La Mirada is conveniently located just off the highway, offering easy access on and off so you can head to Disneyland Resort and beyond. Additionally, the hotel offers a complimentary shuttle to and from Disneyland Resort. It will also take you to Knott's Berry Farm if that's part of your vacation. The shuttle runs approximately every 10 minutes to take you the eight miles from La Mirada to Anaheim's most-famous and magical theme park.
Holiday Inn La Mirada Review - Overview
With its newly-renovated rooms, complimentary breakfast and free shuttle service to and from Disneyland Resort, Holiday Inn La Mirada is a great choice for families traveling to Anaheim. You'll be close to numerous Anaheim area attractions at this family friendly resort and you'll feel right at home.
Book Holiday Inn La Mirada with Get Away Today
It's never too early to book your next Disneyland Resort vacation! You can book for as low at $175 down with our Layaway Plan, and make flexible payments on your vacation package up until five days before you travel. Make Holiday Inn La Mirada a part of your family travels this year or next and add theme park tickets to places like Disneyland or Knott's Berry Farm. You can see all our discount vacation packages online, or book directly with an agent by calling 855-GET-AWAY.