Picking the
perfect hotel for your Disneyland vacation
can be difficult and sometimes rather stressful. I am here to give you a few tips to picking the hotel you and your family will absolutely love, without worrying if you are going to pick the correct hotel or not.
First, you are going to want to figure out your budget. Our hotels are divided between value, moderate, and deluxe. Value hotels are going to be very basic, as well as the very least expensive. Hotels such as the Clarion Hotel, the Castle Inn, and The Del Sol Inn are value hotels. Moderate hotels are going to be a little bit nicer with the possibility of more amenities and accommodation options. Some examples of moderate hotels are the Ayres Inn, the Fairfield Inn, and the Holiday Inn Anaheim Resort. Deluxe hotels kind of speak for themselves. They are really nice and sometimes at a higher price. Hotels such as any of the Disneyland properties, the Embassy Suites, and the Sheraton Anaheim Hotel are all in the deluxe category. Keep in mind, that oftentimes we'll run Free Night Specials, so our deluxe and moderate hotels end up costing less than a value hotel! Just because a hotel is in a certain category, doesn't mean that you're necessarily paying more or less than you would for a hotel in a different category.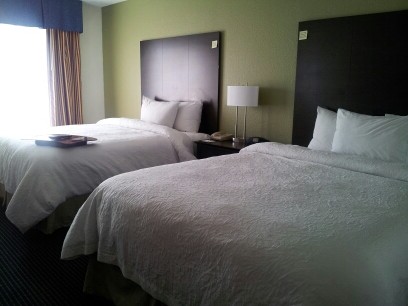 Standard room at a moderate hotel. (Hampton Inn)
The second thing you are going to want to look at is the room type. Most hotels offer standard rooms with two queens, two doubles, or one king bed. Most standard rooms only allow up to five people in the room with existing bedding. This means you're not guaranteed a roll away bed, and some hotels don't even offer roll away beds. If you are traveling with five, unless three of your travelers are quite little, you may not be comfortable in a standard room. At Get Away Today we sell a lot of one-bedroom suites which will allow up to six people and two bedroom suites that will allow seven or eight guests. Picking your room size, in my opinion, is one of the most important things to look for because that is where you are sleeping and you want to make sure you are sleeping comfortably.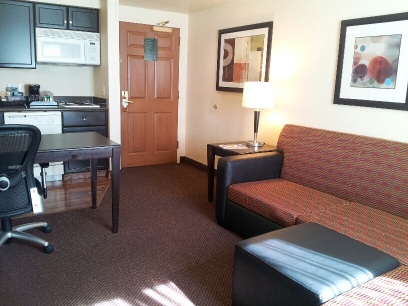 Living room in one-bedroom suite. (Homewood Suites
)
Distance from the park is one of the top things people look for in a hotel. Some people like to be within walking distance, while others would prefer to stay at a nicer hotel a little bit further away for around the same price. Other than the Hotels of the Disneyland Resort, a few of the hotels walking distance are the Del Sol Inn, Best Western Park Place Inn, Tropicana Inn, Fairfield Inn, Castle Inn, and the Carousel Inn. If you are looking at a hotel that is not walking distance, most will offer a shuttle called the Anaheim Resort Transit. We sell discount passes for the ART Shuttle, where adults get two days of shuttle free, plus kids nine and under ride free! You can also park at Disneyland for about $15 per day.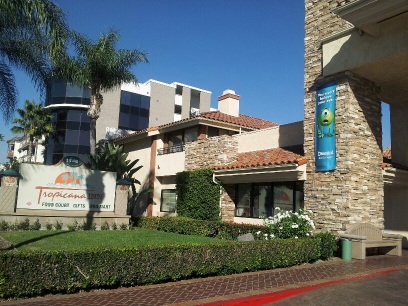 Tropicana Inn, one of the closest off-property hotels to the Disneyland Resort.
There are of course a few other things to look for; does the hotel offer a free breakfast of any sort? If so, are you OK with a continental breakfast, or would you prefer a full buffet? Is there a microwave and/or refrigerator in the room? Does the hotel offer a free shuttle? Does the hotel charge for parking? These features can certainly save money, and oftentimes our hotels will offer free breakfast, shuttle, and/or parking exclusively for Get Away Today guests for extra savings. Once you decide how important these features are to you, you'll be much better prepared to select your ideal hotel for your vacation.
I hope this information helps you pick your perfect
Disneyland area hotel
! You can also call our reservation experts at 855-GET-AWAY for help booking your reservation or any questions you may have.

Check out these other great blog articles:
Exclusive ESPN Zone Gift Card for Get Away Today Guests
Disneyland Tips for Traveling with Small Children
Top 12 Tips to Save on Vacation
20 Things to Do at the Disneyland Resort When it's Crowded