Suites are one of the best options when traveling with a large group. A little extra space and privacy goes a long way while on vacation! Our Radisson Suites Buena Park review will share other benefits of this hotel near Disneyland, which is available to book with Get Away Today starting April 1, 2019.
Photo courtesy of Radisson Suites Buena Park
Radisson Suites Buena Park Review
Get Away Today has partnered with Radisson Suites Buena Park in the past, and we are so excited to be working with them again as of this spring. Read this Radisson Suites Buena Park review to see why this is one of the many hotels near Disneyland we love.
Radisson Suites Buena Park Review - Rooms
Radisson Suites Buena Park has a spread of 200 suites, offering about 500 square feet per room. When booking with Get Away Today, you can choose between a one bedroom with a King sized bed or a one bedroom with 2 double beds. Each room option also provides a sofa bed in a separate living space for additional guests, and a crib can be requested for use at no extra cost. Maximum room occupancy is up to six guests, making the Radisson one of many hotels near Disneyland that is a good choice for large groups.
The rooms at Radisson Suites Buena Park have muted tones and plush bedding so you can wind down in comfort after a long day of adventure. The separate living and sleeping spaces make it easy for younger kids to tuck into bed a little earlier, while other members of the family can chat in the other room about the highlights of the day. Or use one room to get some work done in peace and quiet while the rest of the family relaxes with a show in the other room.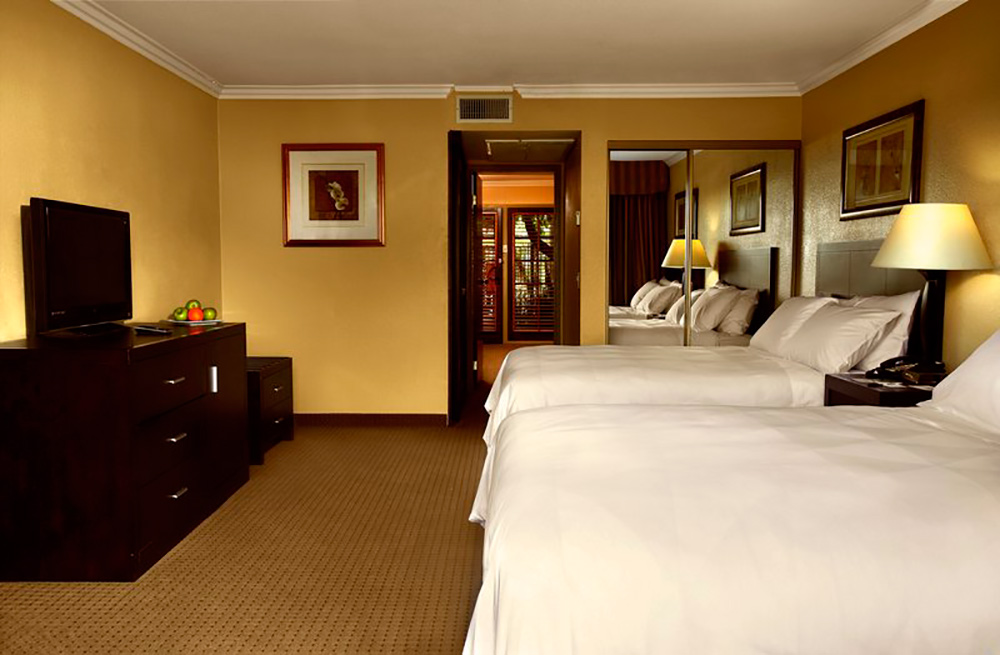 Photo courtesy of Radisson Suites Buena Park
Radisson Suites Buena Park Review - Amenities
As a guest of Radisson Suites Buena Park, amenities in your room will include a coffee maker, a mini fridge and a microwave. Those small appliances make preparing simple food a breeze, and are another way to save money on a Disney vacation. The Radisson also offers free parking, which is a savings of $12 per night. Other amenities include free wi-fi, cable and pay-per-view in each room. For guests who want to be outside to enjoy the California sunshine, there is an outdoor pool and hot tub at Radisson Suites Buena Park. If you don't get enough steps in walking around the Disneyland Resort during your vacation, there is also a fitness center at the hotel so you can put in some miles on the treadmill.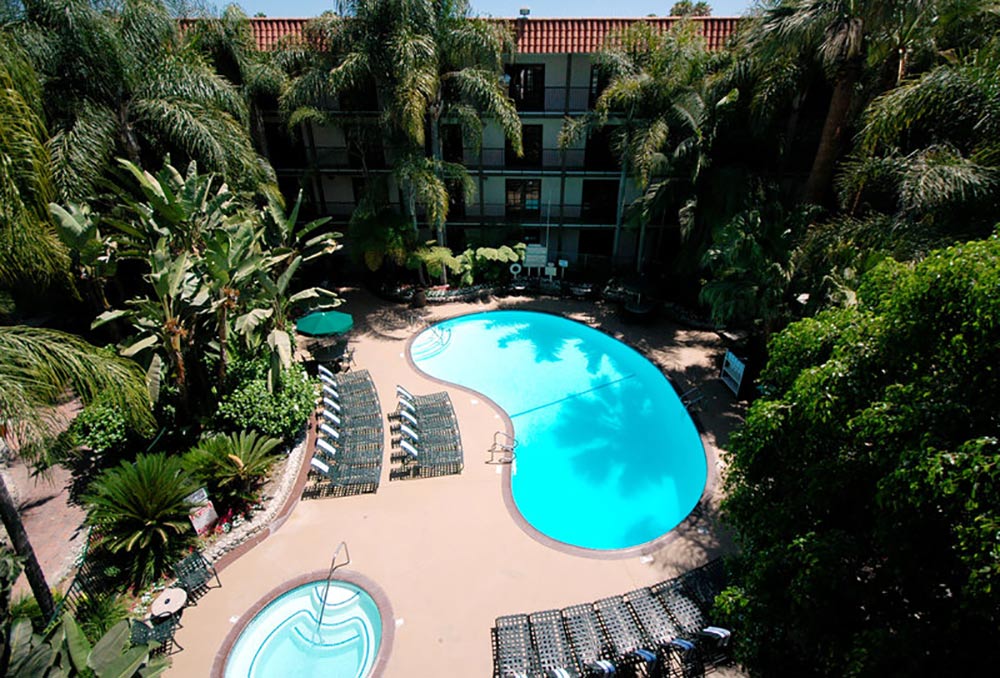 Photo courtesy of Radisson Suites Buena Park
Radisson Suites Buena Park Review - Dining
When you book a stay at the Radisson Suites Buena Park, you can enjoy a complimentary full breakfast each morning from 6:30 - 10a.m. daily. This breakfast buffet is the perfect way to start the day and save money when traveling. Breakfast for four people can add up quickly, so it's perfect to eliminate that expense completely by staying at the Radisson! For lunch and dinner at the hotel, you can head to the Radisson's in-house restaurant, the Flora. Flora Restaurant offers light snacks and meals throughout the day so you can enjoy Southern California foods in a casual dining setting or via room service. The Flora has seating for children, as well as a kids' menu, ensuring the whole family can enjoy meals together. There's also a lounge for adults to kick back and enjoy drinks. At nearby Buena Park Downtown, you can also enjoy meals at local seafood restaurants like The Kickin' Crab, get fresh fruity drinks from Surf City Squeeze or have something familiar from Chili's.
Radisson Suites Buena Park Review - Location
If you love to shop, the aforementioned Buena Park Downtown is just one (1) mile from the Radisson Suites. With 900,000 square feet of shops to choose from, you'll find all your favorites, plus things unique to Southern California. Radisson Suites Buena Park is walking distance to Knott's Berry Farm, America's first theme park (1.1 miles) where you can meet characters like Snoopy or hang at the water park. It's also close to Medieval Times ( .1 mile), which has an Anaheim Resort Transportation (ART) stop for convenience. Also less than half a mile from the Radisson is Pirate's Dinner Adventure, an immersive dining experience that's fun for the whole family. Radisson Suites Buena Park is less than eight (8) miles from Disneyland Resort, putting you close enough to all the action that you should be able to get there in minutes, whether you take ART, Uber or Lyft. Remember the movie Angels in the Outfield? It was filmed at… you guessed it… nearby Angel Stadium! If you want to catch a game, the Radisson Suites Buena Park is just nine (9) miles away from the Stadium. This hotel is definitely ideally situated in Anaheim!
Radisson Suites Buena Park Overview
We hope we have sufficiently illustrated the perks of booking a stay at Radisson Suites Buena Park. From its spacious suites and amenities to its prime location as a hotel near Disneyland, the Radisson should definitely be considered for your next Southern California vacation! Keep in mind it is also conveniently located to a number of other attractions so even if you are not doing Disney, you could choose the Radisson for easy access to Knott's Berry Farm, sporting events, shopping and more. You really can't go wrong no matter what you decide to do when you're in Cali!
Photo courtesy of Radisson Suites Buena Park
Radisson Suites Buena Park - Book With Get Away Today
If you have any questions about Radisson Suites Buena Park, please feel free to give us a call at 855-GET-AWAY. Our agents are ready to tell you all they know about hotels near Disneyland based on their own personal visits. For discount Disneyland tickets, you can see all our options online, or book over the phone. Get Away Today is not just the leading wholesale seller of Disneyland tickets, but a provider of vacation packages to some of the best vacation spots around the world. We would love to help make your vacation dreams come true!