03/17/2020 | By Livia Taylor
Blog Results (2)
Thu Aug 18 2016 | Kimberly Fidler
If there's one candy item in the Harry Potter universe that is completely iconic, it is the Harry Potter chocolate frogs. We found and share some of the most realistic Harry Potter chocolate frogs that you can make at h...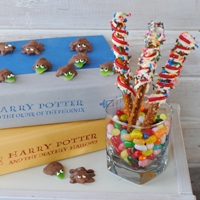 Tue Dec 08 2015 | Adelle Belnap
Wizarding World of Harry Potter is coming to Universal Studios Hollywood on April 7, 2016! We are anxiously counting down the days when we'll be able to walk through the gates of Hogsmeade and into the magical world of ...