03/17/2020 | By Livia Taylor
Blog Results (2)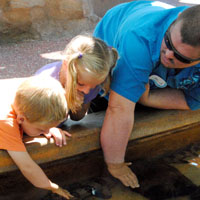 Mon Sep 22 2014 | Adelle Belnap
If you are visiting SeaWorld San Diego (and we think you should), you will notice major changes have taken place to the park's main entrance. Earlier this year SeaWorld introduced a brand new attraction called Explorer'...
Thu Sep 26 2013 | Adelle Belnap
This fun Shark Hoodie Tutorial, inspired by SeaWorld San Diego, is perfect for those looking for a simple way to take a bite out of their Halloween costume list! DIY Shark Hoodie What makes the Shark Hoodie so awesome? ...