Anything can happen when traveling, so it's best to always be prepared. Find out why we think In A Pikle is the best travel accessory to have you prepared for anything life may throw at you while you're on the road... or in the air, or on a cruise ship. You get the idea!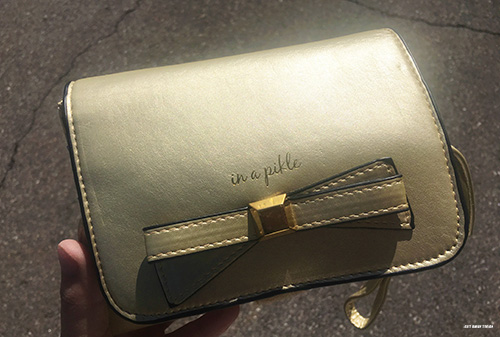 Have you ever been traveling and run into a little (or big) bump in the road? It can be hard to prepare for any bumps that may occur, but we've found the best travel accessory to help; In A Pikle bags. These small bags offer space for essential items that will help with any of life's situations.
They are just as great for everyday life as they are for traveling. You can find more information (and purchase your own) at inapikle.com. To show you why we love these bags so much, In A Pikle provided one at no cost to us to give away to one of you! All opinions expressed are 100% our own, and we think you'll agree...
Here's why we think the In A Pikle is the best travel accessory:
1. You can hold so much in these little bags! The In A Pikle bags are compact, all while providing a ton of storage for your upcoming travels. You'll feel prepared for any situation without having the burden of carrying around another large bag.
2. It's what's in the In A Pikle bag that really makes it the best travel accessory. You can fit items like tissues, hand sanitizer, rubber bands, sewing kits, spot remover pens, medicine, first aid supplies and even more. Need to fix a popped button on your shirt? Done. Have to fix your glasses in the middle of a flight? Done. You get the picture; almost any situation can be solved with the In A Pikle. It's why their tagline makes perfect sense; In A Pikle helps you "dill" with it, no matter what "it" is.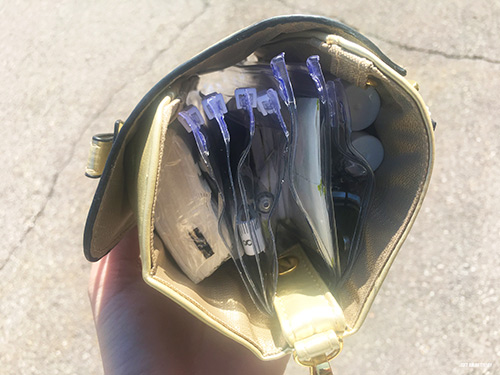 3. A great part about the In A Pikle is that it's completely customizable. You can fill the pockets with your own need-to-have items or choose from In A Pikle's numerous pre-made packs and singular items. The price point isn't bad, either. You can get packs of certain items for around $8 or singular items for as low as $1. That's a steal when you think about how much you had to pay at the gas station or convenience store for an emergency item on your last vacation!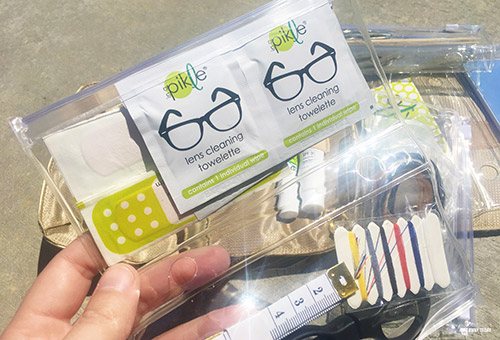 4. It's cute! The In A Pikle bags resemble miniature versions of usual wallets and purses, with designs for every taste. The Relish Pikle in Gleaming Gold was our favorite design. Add a wristlet or one of the credit card pocket inserts and you can even use it as your wallet while traveling. The design versatility is just another reason we think it's the best travel accessory for your upcoming vacation.
5. Last but not least, we think In A Pikle is the best travel accessory because it's TSA compliant. How many times have you left something at home because it wouldn't get through airport security as a carry-on item? The worst is when you really ended up needing that item, too. All items that In A Pikle makes to be included in the bag will easily get through airport security as a carry-on item. They even offer nail polish, perfume and other bottles to be filled with your favorite brand - all sized to be TSA compliant. Flying is always easier when you know you have what you need at hand, not packed in the luggage sitting at the bottom of the plane.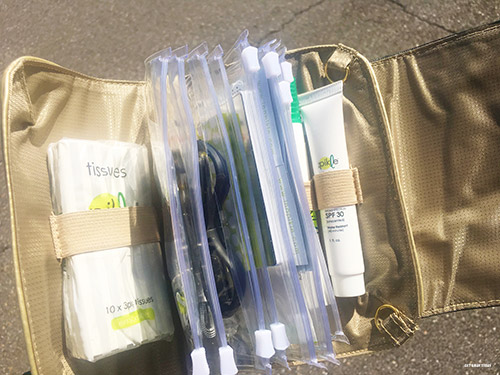 It's easy to see why we think the In A Pikle is the best travel accessory, no matter whether you are flying or driving. Since we loved In A Pikle so much, they've offered to let us share that love with our readers by doing a giveaway. One lucky winner will win their Pikle of choice. To enter, click on the link below by Friday, June 9th.
The winner will be announced on Monday, June 12th. Good luck! If you can't wait and want to purchase one now, visit inapikle.com. You'll be able to browse their large selection of designs and accessories. So, do you have an In A Pikle bag? Have you traveled with it before? Let us know below!
The In A Pikle bag is the best travel accessory for any type of vacation. Whether you're going on a cruise, on a road trip, flying around the world or going to Disneyland, the In A Pikle will make it easier on you. We can make it even easier, by helping you book your vacation! With the best prices and best service, you know you'll be taken care of before, during and after your vacation. Book any of our destination packages online or by calling our travel experts at 855-GET-AWAY.

Check out these other great articles: