A little bit retro, a little bit Mission style, The Garland Hotel is a lush gem in downtown Los Angeles. Its location just one mile from Universal Studios Hollywood is one of many reasons we love this hotel for business trips and family vacations.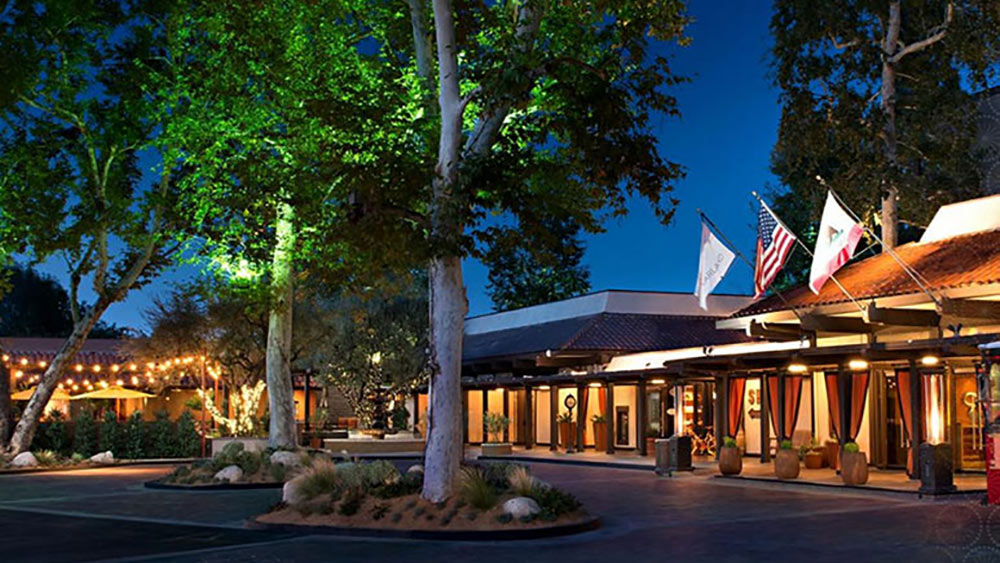 Photo courtesy of The Garland
The Garland Review
The Garland resides on seven acres of property that caught the attention of actress Beverly Garland and her husband Fillmore Crank in the 1970s. They fell in love with the locale and decided it had to become a place where loved ones could gather. Thus The Garland Hotel was born.
The Garland Review - Rooms
Get Away Today guests who stay at The Garland Hotel can choose either a One King or two Queen room. You'll be greeted with vintage flair and warm tones in either room, each of which will comfortably sleep up to four guests. A rollaway bed can be requested for an additional fee.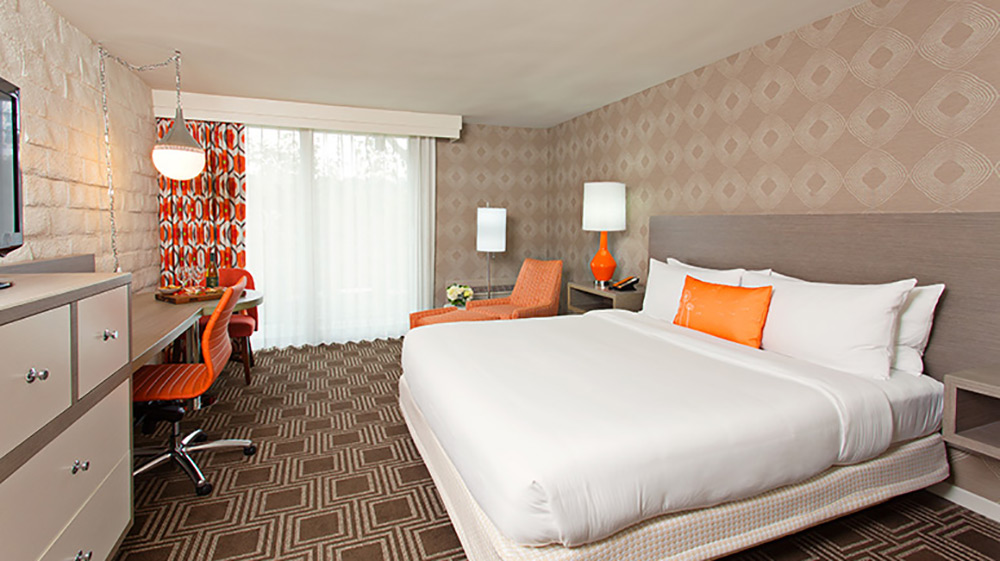 Photo courtesy of The Garland
The Garland Review - Amenities
The Garland offers a free shuttle to take guests to and from nearby Universal Studios. The schedule is subject to change, but in the morning it typically leaves the hotel every hour, beginning at 7:30am. Be sure to check with the hotel's front desk to enquire about catching the Universal shuttle, or using it for transportation to the metro station.
Each room in The Garland boasts a balcony, allowing for casual indoor-outdoor living during your stay. Other amenities include a coffee maker and fridge. There is complimentary Wi-Fi, cable and and in-room video game at The Garden. And for those who dread doing laundry upon returning home from vacation, there is access to on-site laundry. There's nothing better than returning from a trip and being able to just dump the contents of your suitcase back into drawers because everything is already clean.
Photo courtesy of The Garland
Onsite at The Garland is not only an outdoor pool, but a wading pool as well. For those who like to sneak in a bit of exercise while on vacation, there is also an exercise room.
The Garland Review - Dining
In house restaurant The Front Yard offers seasonal LA-inspired dining for breakfast, lunch and dinner at The Garland. Brunch is available on Saturdays and Sundays, and reservations are recommended for The Front Yard. To enjoy room service or The Front Yard to-go, simply call and make arrangements. Both the general hotel menu and the to-go menu have dishes for grown ups and kids alike. The Lobby Bar in The Garland offers additional dining options, including drinks by the outdoor pool.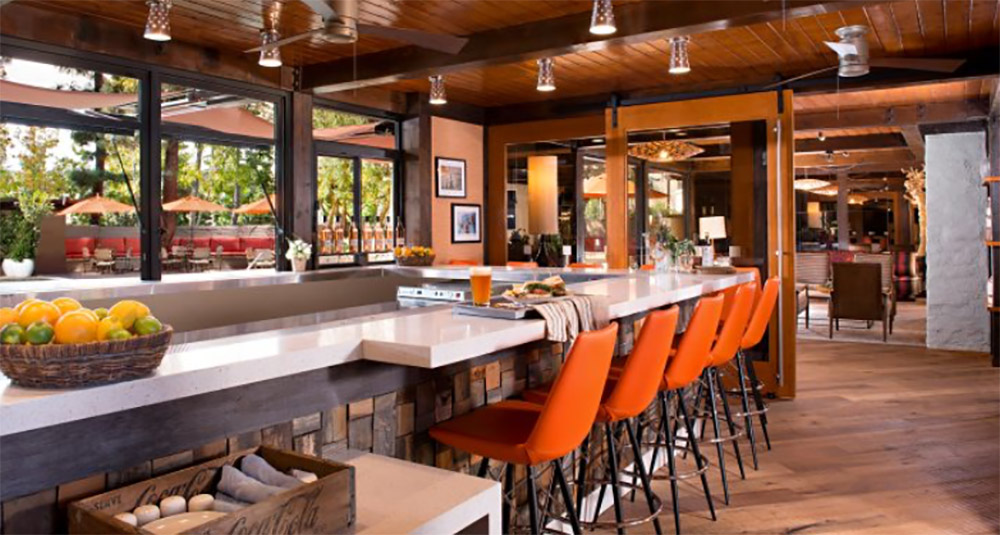 Photo courtesy of The Garland
The Garland Review - Location
The Garland is ideally situated in North Hollywood, putting you close to iconic California eateries such as In-N-Out. During your stay at The Garland you'll also have your pick of restaurants including Sushi Dan, Ramen Jinya and Malbec. As mentioned, The Garland hotel is one mile from Universal Studios and two miles from Universal CityWalk. For those looking for adventure in the great outdoors, The Garland is about three miles from Lake Hollywood Park, three miles from Fryman Canyon and under five miles from Cahuenga Peak. You'll find a variety of hiking and biking trails for the novice and experienced hiker alike.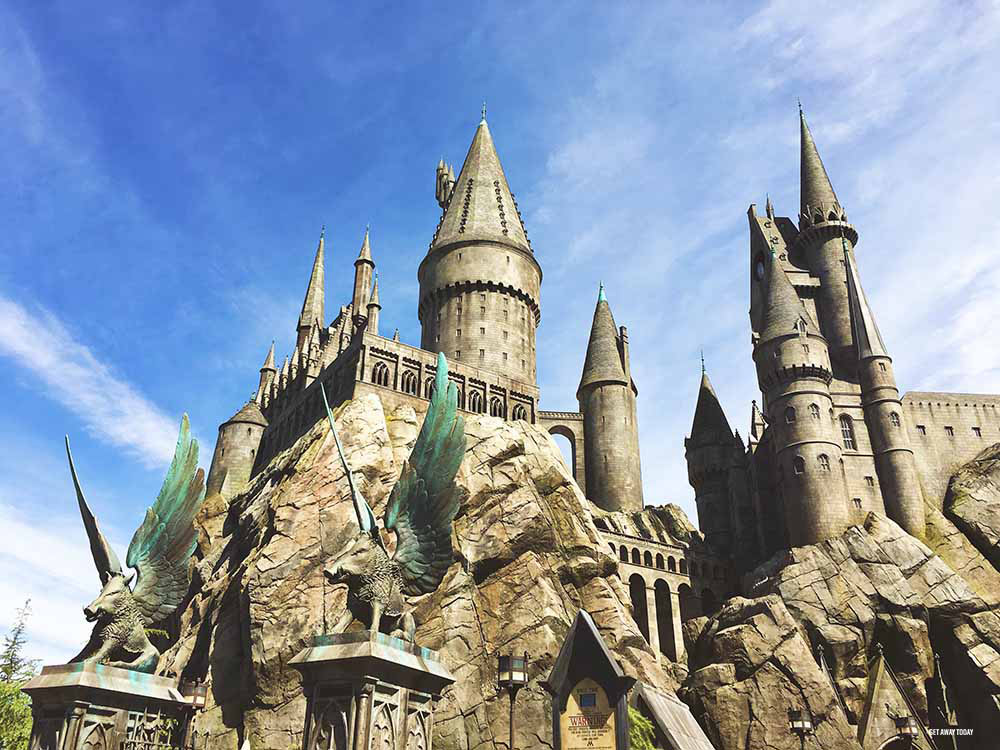 The Garland Overview
There is a $24 parking fee to be aware of at The Garland but the unbeatable rates offered with Get Away Today will make it worth the expense. Being able to take the free shuttle and avoid parking at Universal Studios is still a savings of about $25 per day. If you're into 1970s style with modern amenities and services, then The Garland is the right choice for you.
Book The Garland with Get Away Today
Get Away Today offers discounted rates for The Garland online or you can call an agent at 855-GET-AWAY. Make it a package deal with Universal Studios tickets, and reserve your whole vacation for just $175 at time of booking. You'll lock-in current savings, and have up until five days before you travel to pay in full. It's a great way to budget for any vacation, and the Layaway Plan is interest-free. We would love to help you experience this retro, exquisitely themed hotel on your next trip to Southern California!