We are having so much fun on our 2017 FAM trip! Make sure to read today's recap to learn all about where we went, what we saw and what we gave away on Thursday.
If you've been following along, you know we are on our annual FAM trip, where we get to really experience our hotel and ticket partners. On top of learning valuable information, we're also doing more than forty giveaways - one of our biggest years yet! Make sure to keep checking our Facebook and Instagram pages for even more chances to win. And, in case you missed them, you can find our previous recaps here:
On Thursday, our team was lucky enough to visit more hotels and Knott's Berry Farm. Some of us even braved the dark to experience Knott's Scary Farm! Plus, we gave away even more hotel stays and theme park tickets. Here's a quick rundown of our day:
We woke up bright and early to shuttle to the Anaheim Marriott, where a delicous breakfast was awaiting us. After enjoying the meal and talking with our contact, we were able to take a tour of the deluxe property. The spacious rooms and indoor/outdoor pool were two of our favorite things. Plus, the free parking and location right next to the Convention Center are perks you can't beat! Touring the Anaheim Marriott was such a great way to start the day.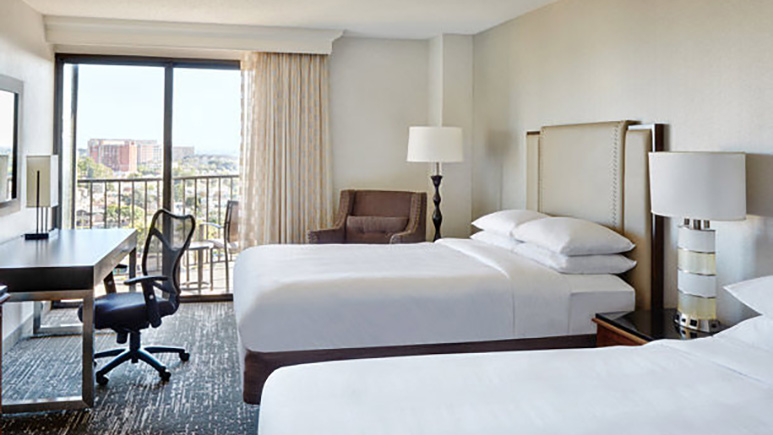 After, our group took a short walk to the Hilton Anaheim. We love recommending this hotel to guests looking for deluxe accommodations near the Convention Center. On top of the beautiful rooms, the Hilton Anaheim offers an outdoor pool and spa deck, state of the art fitness center and five on-site dining options. With so many amenities at your fingertips, you really only have to leave to visit the park. It's easy to see why we recommend it to so many families!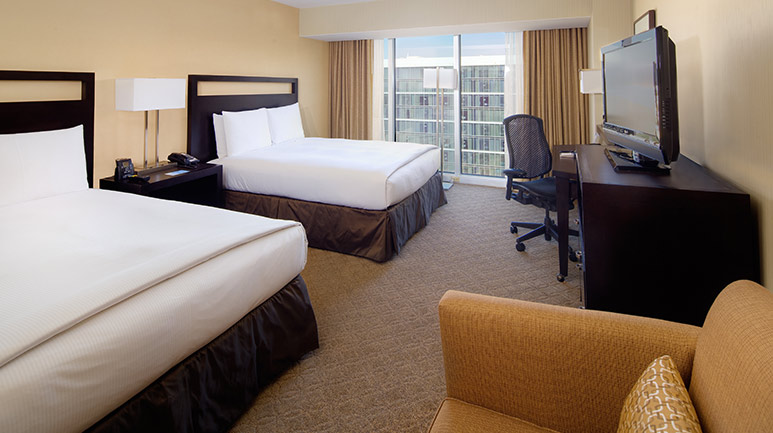 Since we were in the Convention Center area, we visited the Residence Inn at Anaheim Resort/Convention Center next. Our tour just confirmed everything we love about this all-suite hotel, including modern suites that fit up to eight, full kitchens in every suite and a rooftop pool that even has a splash pad for kids. Also, we learned that we're the ONLY partner that can sell these fabulous kids suites. We love a Get Away Today exclusive!
When you book with Get Away Today, you get the added benefit of reduced parking and a free full breakfast buffet each morning. It's only a short walk from Disneyland as well, making it a great choice!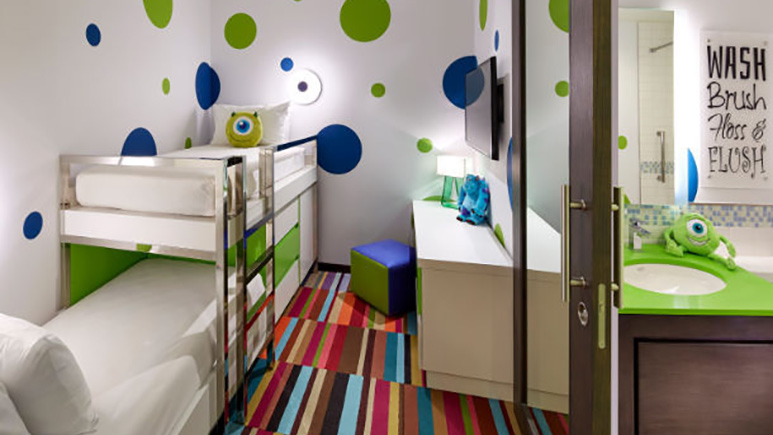 Then our group visited the Springhill Suites at Anaheim Resort/Convention Center right next door. You can find studio suites here as well as kids suites that fit up to seven. Plus, there are microwaves in every rooms and free hot breakfast served daily. Our favorite part is the rooftop pool with a fireworks view. There's no better way to spend your first night then relaxing in the pool as the sky lights up before your eyes!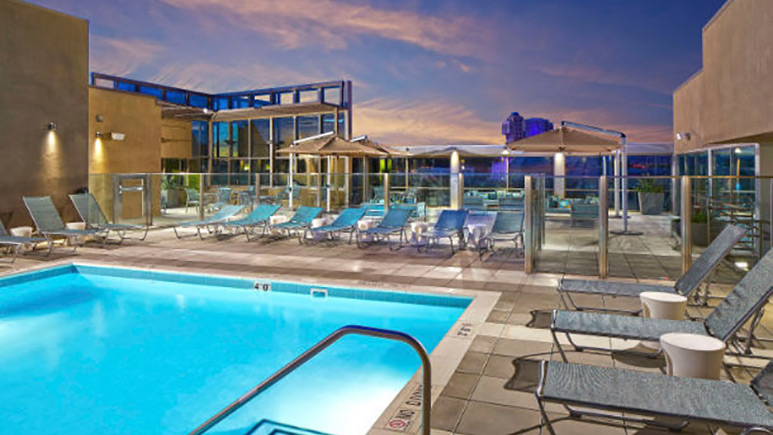 The Portofino Inn & Suites was our next hotel visit. During our tour, we were able to see the standard rooms and kid suites as well as the pool and lobby. All looked great and we especially loved the kid suites since they sleep up to six and offer separation between the kids area and main room. If that wasn't enough, the fact that the Portofino is only a short walk from Disneyland makes it a great choice for your next stay!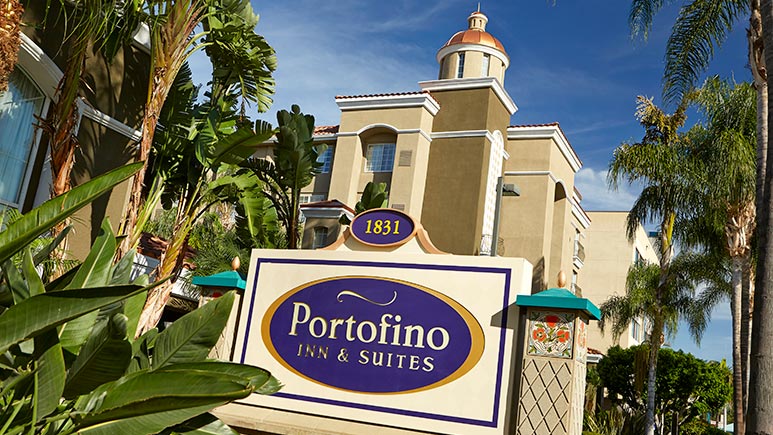 We headed to the Sheraton Park Hotel for our next hotel tour. This deluxe property has always been a guest favorite and we could see why. The oversized accommodations, Olympic sized swimming pool and on-site dining options are just a few of the reasons we love recommending the Sheraton Park Hotel. When you book with Get Away Today, you get free parking too - a huge bonus!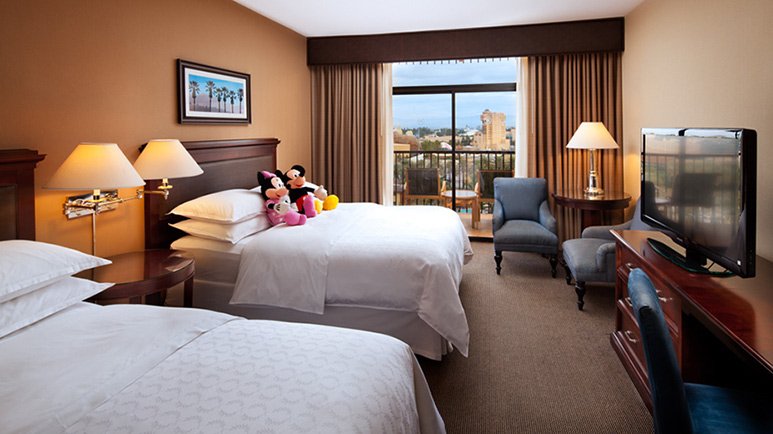 The Hyatt Place at Anaheim Resort and Anaheim Cortona Inn & Suites were our next stops. Our team loved being able to explore the spacious accommodations and amenities offered at each.
Our last stop before lunch was the Sheraton Garden Grove Anaheim South. The modern accommodations, 24 hour heated pool and in-house restaurant are just some of the things we loved during our tour. When you throw in the fact that you get free parking, a free shuttle to Disneyland, and your 4th night free on select dates, it's a no brainer!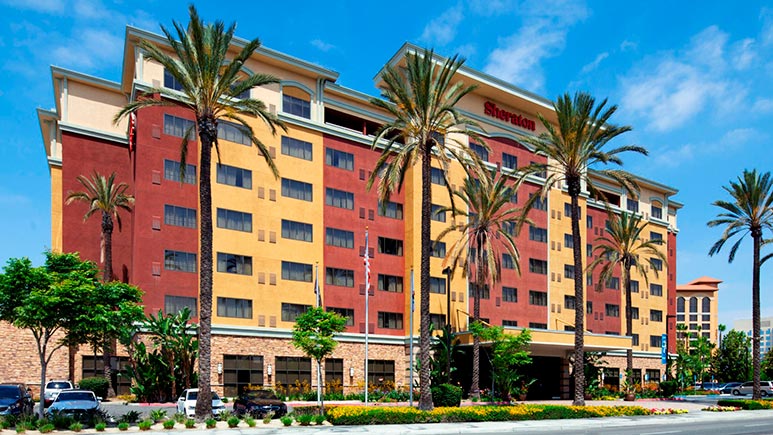 For lunch, we were treated to a gourmet meal at the California Grill inside the Anaheim Wyndham Garden Grove. On top of the amazing restaurant, the Wyndham offers so much more. Spacious guest rooms, an outdoor pool, free breakfast buffet, free parking and complimentary shuttle to Disneyland (shared with the Sheraton Garden Grove) are some of our favorite reasons to stay here.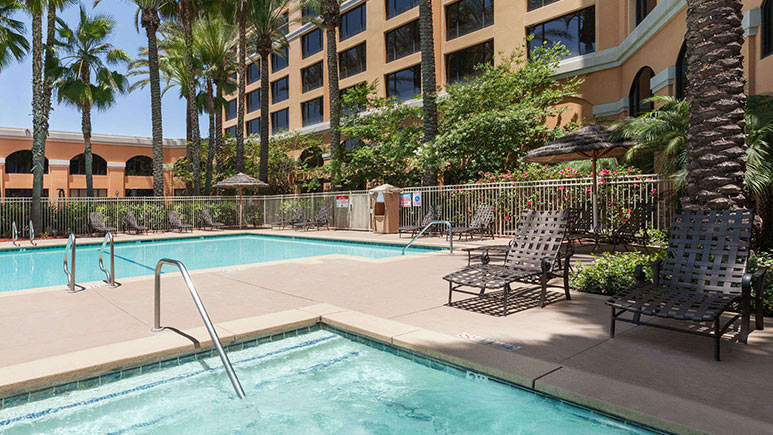 After our bellies were full, we took the shuttle to our next stop: Knott's Berry Farm. Our staff had a blast riding the extreme coasters, snacking on Boysenberry treats and exploring Camp Snoopy. The most daring of our group rode as many coasters as they could within the hours we spent there. The rest of us enjoyed it all, from the family-friendly attractions to the shows and boardwalk-esque games. Knott's Berry Farm was the perfect park since it had so much for all of us to do!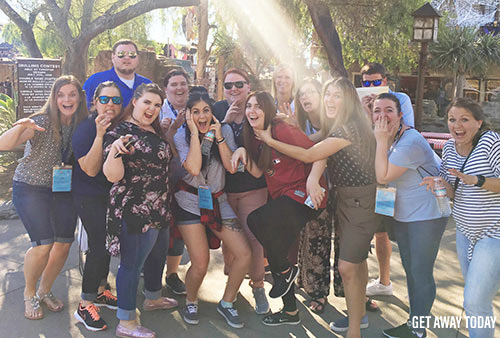 We headed to tour the Holiday Inn Buena Park next, who hosted us for an amazing dinner. If there's one thing we can count on during our FAM trips, it's delicious food! We know we can count on touring some great properties, too and the Holiday Inn Buena Park was no exception. Families who are visiting both Disneyland and Knott's Berry Farm will love the central location as well as the largest heated outdoor pool in the area.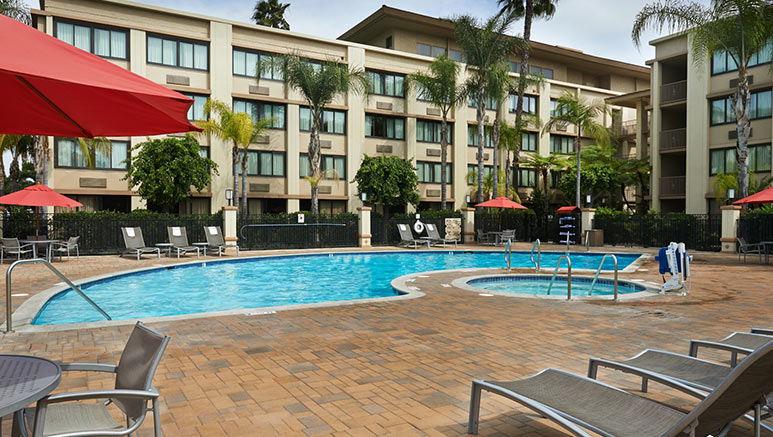 Once we were done touring, our group had the option to head back to the Anaheim Marriott or give Knott's Scary Farm a try. If you've ever visited Knott's Scary Farm before, you know that it's an intense experience. The bravest of our staff decided to go get scared for fun and those of us left headed back to enjoy a quiet night at the hotel. Talk about an exciting day!
While we were touring our hotels, we also announced more hotel giveaways on our Facebook page. You can check them out below and click the link for your chance to win.
Day 5 Giveaways:
Anaheim Marriott Hotel 2-Night Stay
Anaheim Wyndham Garden Grove 2-Night Stay
Country Inn & Suites 2-Night Stay
Holiday Inn Buena Park 2-Night Stay
Hotel Menage/Four Points by Sheraton 2-Night Stay
Staybridge Suites Anaheim at the Park 2-Night Stay
The week may be over, but our giveaways aren't! Check our Instagram and Facebook pages for more giveaways tomorrow, plus check back next Tuesday for the last recap of our FAM trip. Giveaways are open until October 31st at 11:59pm MT, so make sure to enter all of them and share with your family and friends. Winners will be contacted on November 1st.
If you're ready to book your trip right away, you can lock in the most savings by booking right now! All Southern California packages booked from now to October 28th can save an additional $20 off by using promo code FAM2017. The promo is valid on all Disneyland packages booked online by October 28, 2017 that include at least a 2-night hotel stay and two tickets, but can be for travel through December 31, 2018. Click below to book your package now:

Check out all the fun we've had during our 2017 FAM trip: