Make Toy Story Alien Oreos with this simple recipe and tutorial. Bring some Disney Pixar magic into your kitchen with these adorable alien treats.
Disney Pixar sure hit a home run with the Toy Story movie franchise. Who could be more lovable than Woody and his loyal gang of toys? For almost 20 years fans have been entertained to infinity and beyond!
Toy Story Alien Oreos
If you love Toy Story as much as we do around these parts, you are going to love this simple and fun Toy Story Alien Oreo Cookie Recipe. With just a handful of tasty supplies, you can create a whole crew of outer space friends in just a matter of minutes. So, gather up your kids for some Toy Story fun in the kitchen!

Toy Story Alien Oreos
Package of Oreo Cookies
Mint Green Chocolate Baking Chips
Candy Eyes
Chocolate Chips
Wax Paper
You will need regular Oreo cookies, green mint baking chips, candy eyes and large chocolate chips. I found the green mint baking chips at the specialty baking store. Most grocery stores carry them during the holiday season. They are also available on Amazon. If you can find the tasty Guittard ones, the standard green melting chips are totally fine too! I just love the mint flavor that Guittard chips have combined with the chocolate wafer of the Oreo cookie! It is seriously yum!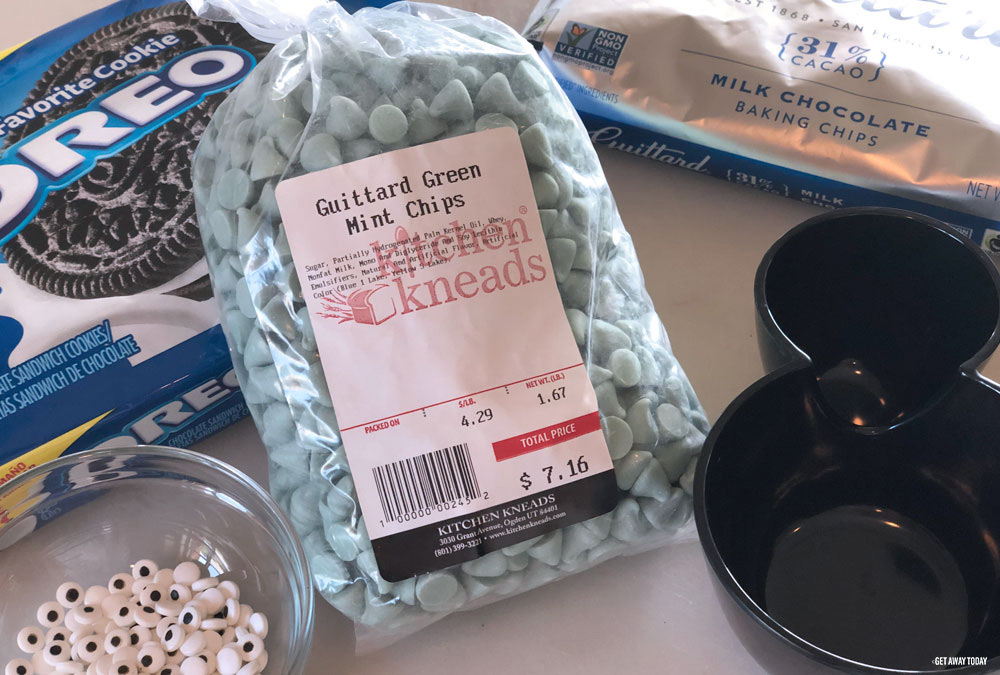 Toy Story Alien Oreos - Getting Started
Line a baking sheet with wax paper and set it aside. You will place your Toy Story Alien Oreos onto it in a moment.
Pour about 1 cup of the green mint chips into a microwave safe bowl. Melt them in the microwave for about 1 minute. Stir the chocolate. You want all of the chips to melt and blend together as your stir. It may take an additional 30 seconds in the microwave to get the chips totally melted and smooth. Do not over-cook the chocolate in the microwave. It makes it taste burnt and the chocolate will start to clump together in hard lumps.
Dip one side of the Oreo cookie into the melted chocolate. Let the extra chocolate drip off of the cookie and then place on the wax paper sheet to dry.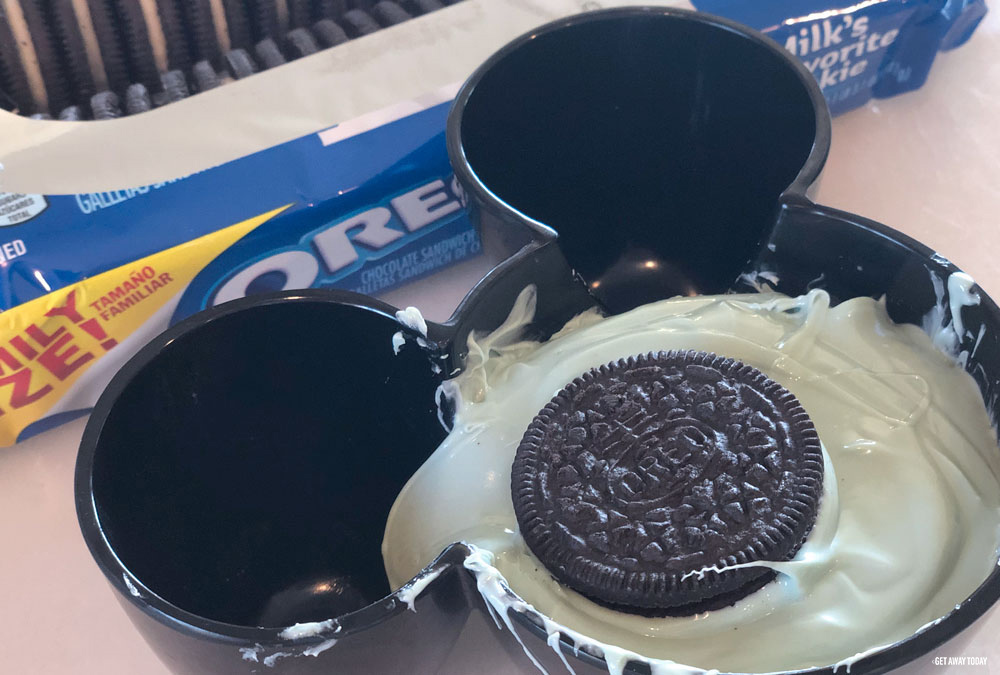 I dipped about 8 cookies at a time, and then decorated them with faces. If you wait too long, the chocolate gets hard and the alien face does not stick!
Toy Story Alien Oreos - Decorating
When the chocolate layer is still soft and pliable, add three candy eyes across the top center. Press them gently into the chocolate so they stay in place. It wouldn't be a proper Toy Story Alien without three eyes!
Then, chop the pointed tip off of a chocolate chip. I used the large Guittard milk chocolate chips to give my aliens really big "O" mouths! Can you hear them all chanting, "Ohhhhhhhhhhhh!"?
Set the cut chocolate chip onto each of the Toy Story Alien Oreos just below the three eyes. Press it into the mint chocolate to keep it in place. And...that is it! The cookies are complete. It really doesn't get much easier. I let my kids help decorate the alien faces and they had a great time!
They chocolate only takes a few minutes to set up, so you can serve the cookies about 15 minutes after creating them. If you are going to save them for another day, just make sure to store them in the fridge so they don't get melty.
Serve up a batch of Toy Story Alien Oreos during a Toy Story movie marathon or as a treat at a Toy Story Birthday Bash! You could even use them as a fun snack to pack for a day at the Disney Parks! The Toy Story crew is out and about right now at Disney California Adventure Park and at Walt Disney World, so guests can get pictures with their favorite characters including the brand new toy Forky. Make sure to say hello! You can find discount Disneyland vacation packages online, or call one of our travel agents at 855-GET-AWAY.