Search
Featured Posts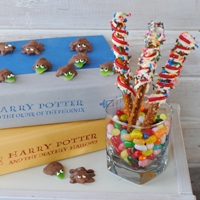 Wizarding World of Harry Potter is coming to Universal Studios Hollywood on April 7, 2016! We are anxiously counting down the days when we'll be able to walk through the gates of Hogsmeade and into the magical world of wizards and witches.
One of the sweetest things about the Wizarding World of Harry Potter is Honeydukes, the magical candy store in Hogsmeade! It is the perfect place to go to sweeten up your trip to Universal Studios Hollywood. Munch on some chocolate frogs, or cast a few spells with a licorice wand while you wander through isles of tasty desserts! Just be careful when you pop a handful of Bertie Bott's Every Flavour Beans into your mouth. You never know what kind of surprise flavor you will get!
I thought it would be fun to make a few of the iconic wizard treats at home as we count down the days until the Wizarding World of Harry Potter opens. We didn't need any magic to whip up these tasty sweets.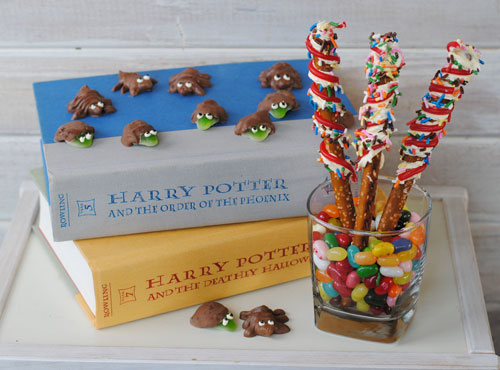 Licorice Wands
I wanted to make some licorice wands that were fun to play with and yummy to eat. This project is a great activity for a Harry Potter party because all ages of children can participate.
You will need:
Pretzel rods
Twizzlers Pull n' Peel licorice
Frosting
Sprinkles
Frosting bag and tip
Fit a frosting bag with a medium sized tip. It can be any shape you'd like! Then fill the bag with frosting. Start at the middle of the pretzel rod and twirl the frosting around the wand. Add a string or two of licorice along the frosting. The frosting works like glue to hold the licorice in place.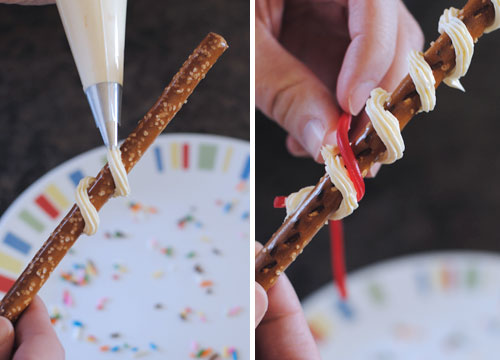 Add a few (or a bunch of) sprinkles to the wand to make it festive.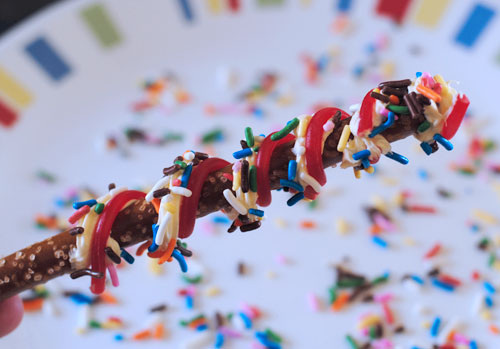 You can use the wands to cast a few magic spells before eating them up!
Chocolate Covered Frogs
My kids loved making these creepy chocolate covered frogs. They aren't the kind of magic frogs that turn into princes. These kind turn into a tasty snack!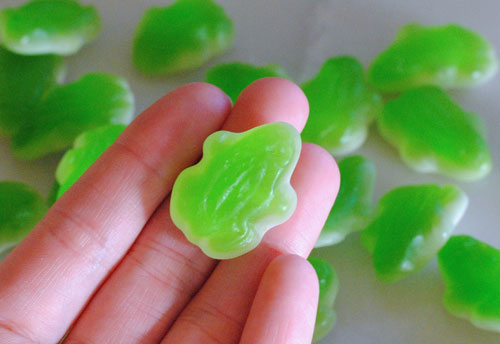 You will need:
Gummy frogs
Real milk chocolate chips (I prefer the Ghirardelli brand)
Tiny bit of white frosting
Tiny bit of black frosting
Wax paper
Frosting bag and small round tip
It takes about 1/2 cup of chocolate chips to cover 20 gummy frogs. Place the chocolate chips in a microwave safe bowl and melt them for 20 seconds. Stir. Melt them again for 15 seconds. Stir. Do not over cook the chocolate or it will get hard and bumpy. If the chocolate chips are not completely melted, then put them in the microwave for an additional 10 seconds.
I dipped some of my frogs and covered them completely with chocolate. Because I believe, the more chocolate, the better! But, I also dipped some from their "neck" down so that you could see the green froggy faces.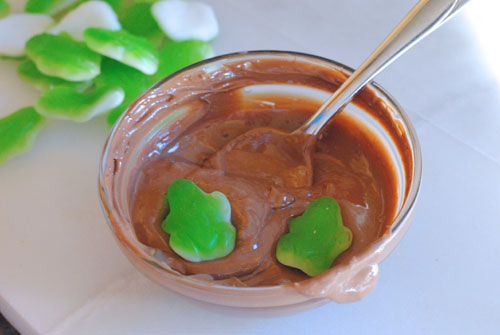 Place the frogs on wax paper while the chocolate coating sets up.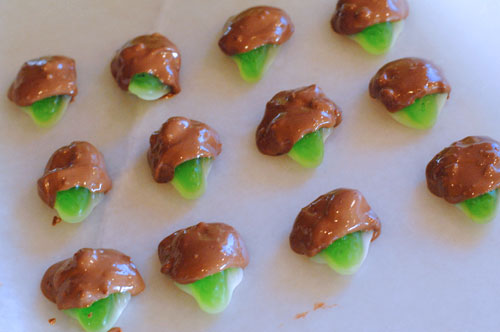 Once the chocolate has set, then you can add eyes. The eyes are my favorite part!
I put a scoop of white frosting in a frosting bag fitted with a small round tip. You could also put the frosting in a sandwich bag and then snip off the corner of the bag to make a tiny hole. Do a small dot of white frosting for each eye. Then add a little dot of black frosting to the center of the white dot. I have a tube of black frosting that I keep on hand for projects like this!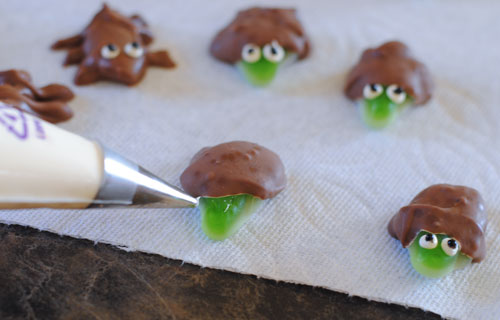 Aren't they cute!? Almost too cute to eat. But, not quite.
Chocolate Covered Cockroaches
There is something weirdly exciting about making chocolate covered cockroaches. I wanted these candies to have a nice crunch to give the allusion of biting into a real cockroach body. The sesame stick crackers did the trick. It is awesome.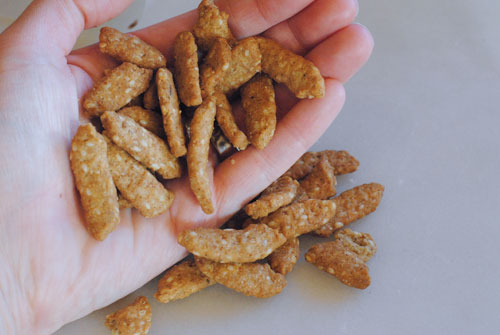 You will need:
Sesame stick crackers (I got them in the bulk food section of the grocery store.)
Real milk chocolate chips (I prefer the Ghirardelli brand)
Tiny bit of white frosting
Tiny bit of black frosting
Wax paper
Frosting bag and small round tip
Start by melting 1/2 cup of chocolate chips in a microwave safe bowl. The instructions are the same as the Chocolate Covered Frogs; melt slowly and stir frequently.
Dip each sesame cracker into the melted chocolate individually and make sure it is covered completely.
Place the remaining melted chocolate into a frosting bag with a round tip. (Or, use a ziplock bag and trim off one corner.) Make "legs" for the cockroaches by squeezing the chocolate out in a crisscross pattern over the bodies. You may need to melt additional chocolate to have enough for all the legs.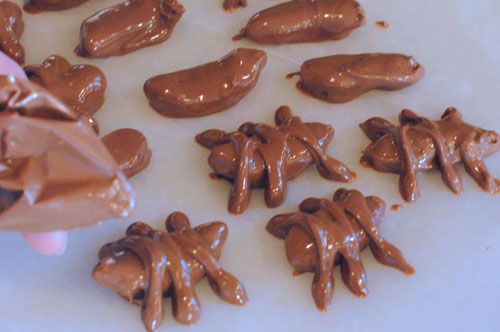 Let the cockroaches sit until the chocolate becomes hard. Then, add the eyes. I used the same technique for these as the chocolate covered frogs, starting with a dot of white frosting with a smaller dot of black frosting on top. If you are making both treats, you can do them both together at the same time to save time.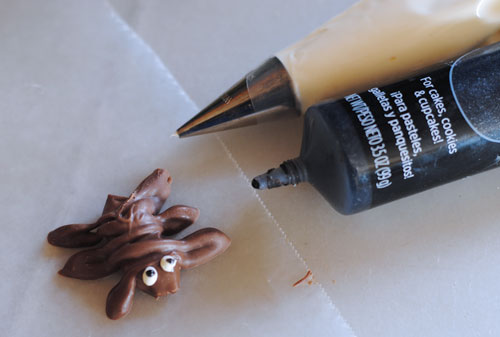 It's as easy as that! I had to dare my kids to eat them. They really do have a fun crunch! These little critters will be the perfect addition to your Harry Potter event or vacation countdown!
I added a few Jelly Belly jelly beans to the serving tray to pose for Bertie Bott's Every Flavour Beans. It was a simple way to add another element of fun to a Harry Potter tasting party! I hope you enjoy these simple Honeydukes recipes. And, make sure to stop by the candy store when you visit the Wizarding World of Harry Potter at Universal Studios Hollywood. It will be the sweetest decision you make all day!
We hope you'll be among the first muggles to wonder the streets of Hogsmeade at the Wizarding World of Harry Potter at
Universal Studios Hollywood
! Universal Studios Hollywood makes the perfect addition to a
Disneyland vacation
, or as a stand-alone vacation destination. Book your Harry Potter vacation package online or call our vacation wizards at 855-GET-AWAY.
The Wizarding World of Harry Potter is Coming to Universal Studios Hollywood
Free Harry Potter Spells Printable Game and Wand Tutorial
The Best Butterbeer and Golden Snitch Donuts