Hollywood Land
Hollywood Land is bound to be one of your favorite lands in Disney California Adventure® Park. Here, the past meets the present and your favorite films come to life right before your eyes.As you explore Hollywood Land, you may be surprised how much there is to discover and how much time will pass as you enjoy all of the attraction. Check out an overview of the excitement at Hollywood Land in Disney California Adventure® Park:
Hollywood Land Attractions:
Animation Academy
Located in the Disney Animation Building is the Animation Academy, which teaches actual art classes. You'll learn how to draw your favorite Disney character from a real life Disney animator. Classes are typically held each half hour. You can normally find the schedule of available times and characters outside the entrance to the attraction so you can plan accordingly. All materials are provided, and when you're done, you can take your masterpiece home as a free and memorable souvenir.
Guardians of the Galaxy - Mission: BREAKOUT!
One of the most heart-pumping attractions in all of the Disneyland® Resort is Guardians of the Galaxy - Mission: BREAKOUT!. You'll enter the Collector's Fortress where you'll see hundreds of artifacts before being recruited by Rocket Racoon to help the Guardians of the Galaxy escape. There are six different songs and drop patterns, and you never know which one you're going to get. It makes the attraction that much more thrilling! And speaking of thrilling, there is a 40" height requirement, so be sure to child swap if you have kids that aren't quite tall enough to ride.
Mickey's PhilharMagic
Located in the Sunset Showcase Theater, you'll find the wacky and whimsical Mickey's PhilharMagic show. Before coming to Disney California Adventure® Park, a similar version has been a staple of the Magic Kingdom® at the Walt Disney World® Resort for years. It is so exciting to finally have our own version of it on the west coast! This 3D show features some of your favorite songs presented in a way you've never experienced. As a bonus, this 12 minute show is located in a comfortable, air conditioned theater, perfect for a midday break.
Monsters, Inc. Mike & Sulley to the Rescue!
You'll join your favorite monsters on an adventure all through Monstropolis to help Boo get back home safely. You'll want to pay close attention, because you'll see, hear and even smell some of the most memorable scenes from Monsters Inc.. This is a fun-filled dark ride that is perfect for the whole family to ride together. Keep your "eye" peeled for Roz at the end, because she is always watching you. Always watching.
Red Car Trolley - Sunset Boulevard
Take a ride through Hollywood Land aboard a red car trolley. You can catch the trolley at four different trolley stops. There are two locations in Hollywood Land and two locations on Buena Vista Street. Once aboard you can stay on as long as you'd like. If you're looking to ride in Hollywood Land, there are stops located at the Animation Academy and Guardians of the Galaxy: Mission - BREAKOUT!.
As of 2019, the Red Car Trolleys are currently closed for a long refurbishment. The cars are expected to reopen when Disney California Adventure® Park's yet-to-be-named Super Hero themed land opens in Summer 2020.
Sorcerer's Workshop
One of the most overlooked attractions in all of Disney California Adventure® Park is the Sorcerer's Workshop. The Sorcerer's Workshop encompasses two distinct areas within the Disney Animation Building: the Magic Mirror Realm and the Beast's Library.
In the Magic Mirror Realm, you'll learn artists' tricks that magically make their animations come to life. You can even try your hand at animating your own scene. In the Beast's Library you can take a quiz in an enchanted book to find out which Disney character you are most like. In the Beast's Library, you'll find more magic on the mantle with an enchanted fire, portrait and of course, a single red rose.
Turtle Talk with Crush
You've never seen a show like this before, because it's never the same show twice! Found in the Disney Animation Building, Turtle Talk with Crush is an animated show with a "live" Crush who interacts with the audience. Kids are invited to sit up front where they can ask Crush questions and he asks questions right back. Expect some surprise visits from other friends from Finding Nemo and Finding Dory.
Hollywood Land Entertainment:
Anna & Elsa's Royal Welcome
You can meet two of the most sought after royal sisters inside the Disney Animation Building. You'll meet both Anna and Elsa in an intimate environment. During certain times of the day, you can even get a warm hug from Olaf. However, he is a snowman so his appearances are much more limited. If you want to be sure to meet everyone's favorite snowman before he melts away, check his appearance time on the Disneyland® app.
You'll wait to meet Anna & Elsa inside The Animation Courtyard, which is the large room that you enter once you enter the Animation Building. The Animation Courtyard shows clips of favorite songs and the animation behind Disney classics on giant screens that surround the entire room. It's so much fun that you'll enjoy your time in line. It's also a great place to cool off on hot days, warm up on rainy days, or just relax while your kids explore.
Disney Junior Dance Party!
Right next to the Disney Animation Building is the Disney Jr. Dance Party, which is a fantastic show for little kids. All of their favorite Disney Jr. stars including Doc McStuffins, Vampirina and of course, Mickey and Minnie will have them dancing along. While the kids are getting their wiggles out on the dance floor, parents can take a nice break in an air conditioned building. Please note that show times are prompt, and the theater does not allow late entry. Be sure to check the schedule and arrive early.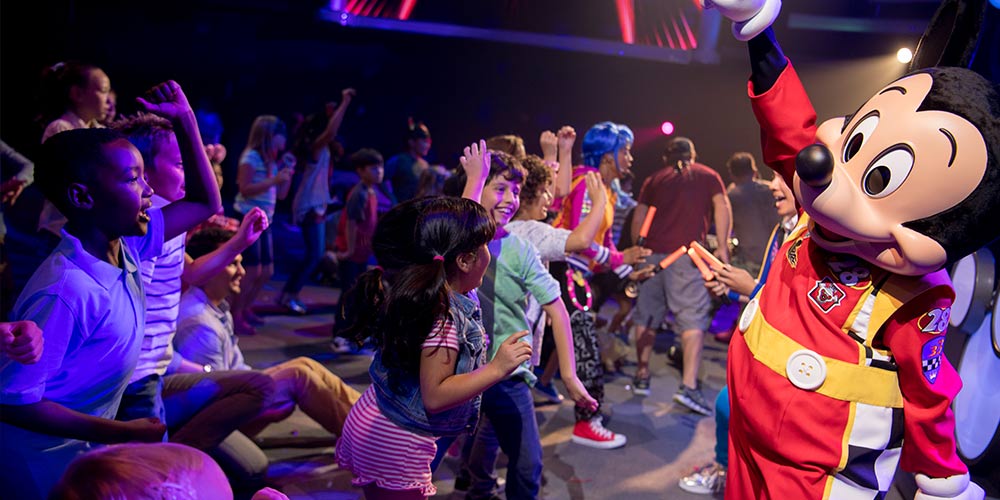 Character Meet & Greets
There are a few main spots for meeting characters in Hollywood Land, so you'll always want to consult the Disneyland® app for exact times and locations. Fancy Nancy can regularly be found outside the Disney Jr. Dance Party Theater. Black Panther, Captain America, Spider-Man, Groot and Captain Marvel all currently have their own areas to meet and greet guests. Other characters like Loki, Thor and Vampirina have also been known to make appearances for special occasions. Be sure to check the official app for Character Appearance locations so you know exactly where you can find them. And, just like in the real Hollywood, you'll always want to keep your eyes open and keep your camera ready because you never know who you might meet!
Frozen - Live at the Hyperion Theater
Frozen - Live at the Hyperion Theater is an hour-length Broadway style show that will have everyone singing along. Anna, Elsa, Olaf, and all of your other Frozen favorites, and not-so-favorite characters from Frozen retell the famed story through song, dance and special effects that you've never before seen on a live stage. It's so spectacular you won't want to "let it go!"
Tickets are not required, and the show is included with your regular theme park admission. While there's not a bad seat in the house, you will want to get to the theater early so you can select whether you'd like to sit in the Orchestra, Mezzanine or Balcony. Typically 30 minutes prior to showtime is enough time to get your seat selection. There are normally up to three performances per day. Be sure to check the official Disneyland® app when planning out your day so you don't miss it.
If you want to really make an event of Frozen, consider purchasing a dining package that includes a delicious meal and reserved premium seats. Detailed information on the Frozen dining packages is available on the official Disneyland® app and on the Disneyland® website. Reservations can be made up to 60 days in advance.
Guardians of the Galaxy: Awesome Dance Off!
Right outside Guardians of the Galaxy - Mission: BREAKOUT! you can join Gamora and Star-Lord for a dance party unlike any other. You'll have a hard time not dancing along to the hits from Peter Quill's boom box. These dance parties typically last around 10 minutes and take place multiple times throughout the day. Times are listed on the Disneyland® app, so be sure to check it.
Hollywood Land Dining:
Award Wieners
Award Wieners is the home of fancy hotdogs and funnel cake fries with an unexpected flair. It is one of several locations throughout the Disneyland® Resort that accepts mobile ordering, which makes it a winner in our book. You'll find classic staples like the All-Beef Hot Dog and Uptown Chili Dog as entrees and their signature funnel cake fries sprinkled with fruity cereal for dessert.
This is one of the quick service restaurants that regularly offers seasonal menu items that are only available for a limited time. Some favorite limited time menu items have been the Lava Dog and Lava Fries, both topped with pulled pork, teriyaki sauce and pineapple salsa. Another favorite seasonal menu item was the Sorcerer Mickey Funnel Cake Fries exploding with cookies and cream goodness and topped with red, yellow and blue icing and whipped cream. The bottom line is if something sounds good at Award Wieners, be sure to try it, because it may not be available the next time you're there.
Churros at Hollywood Land
Grab a piping hot Disney churro from the Churros at Hollywood Land cart. You'll find these cinnamon/sugar coated treats situated between the Sunset Showcase Theater and Monsters, Inc. Mike and Sulley to the Rescue!.
Fairfax Market
If you're looking for a quick and healthy snack, Fairfax Market is your best bet. While you'll find bagged chips and bottled soft drinks, everything at the Fairfax Market is fresh... and vegetarian. Pickles, whole fruits, hummus with snap peas and tomatoes, carrots and broccoli with ranch, and guacamole and chips are only some of the grab and go options available.
Hollywood Lounge
You can mobile order a wide variety of both alcoholic and non-alcoholic beverages at the Hollywood Lounge. Since you're in the heart of the superhero meet and greets, you'll find specialty drinks with names like "Saving the Galaxy," "Be Brave, Be Blue," and "Heroic Lemonade." Be aware that guests must be 21 years old to order and drink alcohol. Hollywood Lounge is also one of the only locations you can find the specialty Groot-shaped "I Am Bread" sourdough.
Hot Foods at Hollywood Land
You can get your fix of giant turkey legs and corn on the cob at the Hot Foods Stand at Hollywood Land. You can also grab a quick bottled soft drink or single service sized bag of chips at this small cart.
Pretzels near Hyperion Theater
Located right outside the Hyperion Theater, you can buy hot Mickey shaped soft pretzels or cream cheese-filled pretzels. If you're going to watch Frozen - Live at the Hyperion, you can bring it in to the show.
Popcorn near Hyperion Theater
You can't go to a show without popcorn, so be sure to grab a bucket outside of the theater before going to see Frozen - Live at the Hyperion. You won't regret getting your hands on some of this buttery goodness.
Schmoozies!
Smoothies, iced coffees and other refreshing beverages can all be mobile ordered from Schmoozies!. This location also features limited time seasonal items including drinks, shakes and pastries. The exterior of the building features a beautiful tile mural and makes a perfect photo backdrop.
Studio Catering Co.
You don't get a whole lot more Hollywood than a taco truck. The Studio Catering Co. fits the bill with a wide selection of tasty tacos - including a plant-based option. The Studio Catering Co. also serves popular items like a giant portion of nachos with your choice of toppings and a frozen pineapple horchata.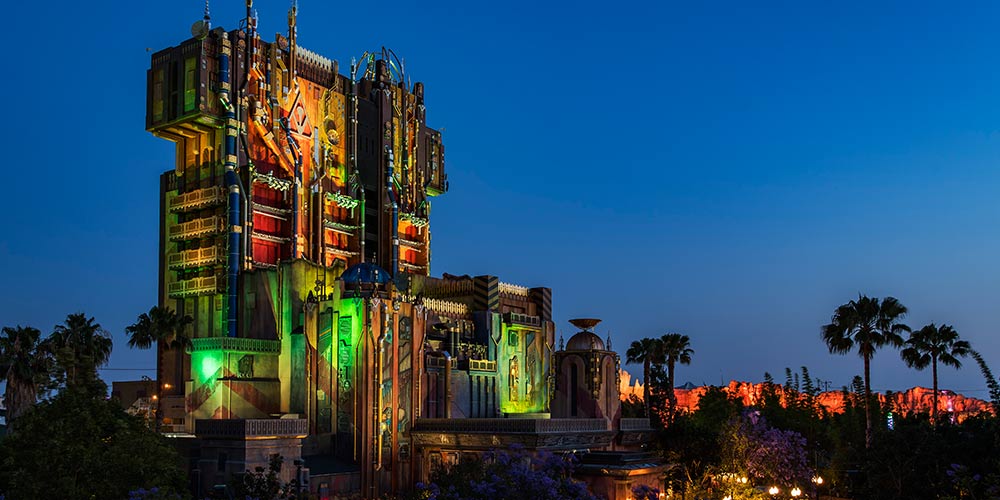 Hollywood Land Shopping:
Gone Hollywood
Gone Hollywood is one of the largest shops inside Hollywood Land. You'll find all sorts of apparel, accessories and souvenirs. Grab a pair of Minnie Ears, a spirit jersey or even a pressed penny.
Off the Page
One of the most unique shops in the Disneyland® Resort is Off the Page. Located right next to the Disney Animation Building, you'll find all kinds of authentic Disney art. Paintings, sculptures, prints and more can all be found here. You'll find something to take home to commemorate your trip to Disney California Adventure® Park.
The Collector's Warehouse
You can't leave Guardians of the Galaxy - Mission: BREAKOUT! without walking through The Collector's Warehouse, and you won't want to. You'll find all sorts of Guardians of the Galaxy themed merchandise, including adorable Baby Groots that can sit on your shoulder. There's an entrance from the outside of the building as well, so you can shop with or without riding the attraction.
Hollywood Land - Seasonal Attractions:
Halloween brings some spooky fun to Hollywood Land. Guardians of the Galaxy: Mission - BREAKOUT! becomes Guardians of the Galaxy: Monsters After Dark just before dusk during Halloween Time at the Disneyland® Resort. It's a completely different version of the attraction where you'll help rescue Baby Groot from the monsters that have taken over. Keep in mind that during Halloween Time, this overlay can only be experienced at night, and of course, only at Disney California Adventure® Park.
There are some additional Halloween Time experiences in Hollywood Land that are only available as part of the Oogie Boogie Bash - A Disney Halloween Party, a private ticketed event. Party guests of the Oogie Boogie Bash will be able to attend the DescenDance dance party, trick-or-treating, and Mickey's Trick & Treat inside the Disney Theater, all in Hollywood Land.
During Holidays at the Disneyland® Resort, you'll find Christmas decor and great photo opps throughout Hollywood Land.
Hollywood Land Tips
Because there are so many versions of Guardians of the Galaxy: Mission - BREAKOUT! you'll want to ride more than once to experience as many of them as possible. You can normally ride first thing in the morning with a short to no wait. Then, grab a FastPass and ride again. And again. Try to see if you can get all six versions of the ride!
If you want to get onto Monsters, Inc. Mike and Sully to the Rescue quickly, just ask the Cast Member outside the attraction for a Buddy Pass. The Buddy Pass allows you to go to the front of the line and ride in a single row. It works really well for anyone in a small party (2 - 3 people) or anyone who is OK splitting their party up into smaller groups. You may need to wait for a couple of cars before you're able to board, but you'll typically only wait a minute or two before riding.
Make sure to grab a photo in front of the mural at the end of Hollywood Land. It's a forced perspective that looks like you're in downtown Hollywood. It's one of the most photographed spots in the whole park.
Please note, the above information may be incomplete, seasonal, and/or subject to change at any time.