Critter Country
Disneyland

®

Spend part of your Disneyland® vacation in Critter Country, a magical place full of woodland delights. While the actual land may be small in size, it more than makes up for it in big fun. Check out an overview of what is awaiting your family in Critter Country at the Disneyland® Resort:
Critter Country
Disneyland

® Attractions:

Davy Crockett's Explorer Canoes
The Davy Crockett's Explorer Canoes are actual canoes that you can board and paddle along the Rivers of America. In fact, it's the only attraction in Disneyland® that is actually powered by guests. But don't worry, you'll have two guides with you the entire time. You'll be able to view New Orleans Square, Frontierland and Tom Sawyer's Island from the water. The canoes are open most weekends throughout the year, as well as some weekdays during busier months. You can see if they are going to be open during your stay on the official Disneyland® app.

The Many Adventures of Winnie the Pooh
Board a beehive for a whimsical ride through the Hundred Acre Woods and see all of your favorite friends: Piglet, Eeyore, Roo and more. You'll also encounter scenes from beloved Winnie the Pooh stories. Watch out for Heffalumps and Woozles!

Splash Mountain
Find your laughing place with a ride on Splash Mountain. It's easily one of the most recognizable and most fun Disneyland® attractions. You'll step into a giant log for an unforgettable ride alongside Briar Rabbit before he plummets down the mountain into the briar patch to escape Briar Fox. Splash Mountain also features an on-ride photo as you're splashing down the mountain, so be sure to say "cheese." Just be aware, you may get soaked! Cast Members often have Ziploc bags on hand for cell phones and any other small items that can't get wet, so don't hesitate to ask for one.
Critter Country
Disneyland

® Entertainment:

Character Meet & Greets
You can meet Eeyore, Tigger and Winnie the Pooh right outside the Many Adventures of Winnie the Pooh. Watch the Disneyland® app to find out when each character will be making an appearance.

Fantasmic! On-The-Go-Package at Hungry Bear Restaurant
If you plan on catching a showing of Fantasmic!, you may as well do it with an On-The-Go-Package from the Hungry Bear Restaurant and enjoy a tasty meal while you're at it. For $30 per adult and $20 per child (ages 3-9)*, you'll get your choice of a pre-packaged meal and a voucher for access to a reserved viewing section. There are only a certain amount of meals/vouchers available for each showing, so we recommend booking as soon as possible. Reservations are available as early as 60 days prior to travel and can be made online, through the Disneyland® app or over the phone. When you make a reservation, you'll select a pick-up time for your meal. Each meal time comes with a designated show time. You can eat your meal at the Hungry Bear Restaurant, or take it anywhere else in the Park.
*Pricing valid as of 2019.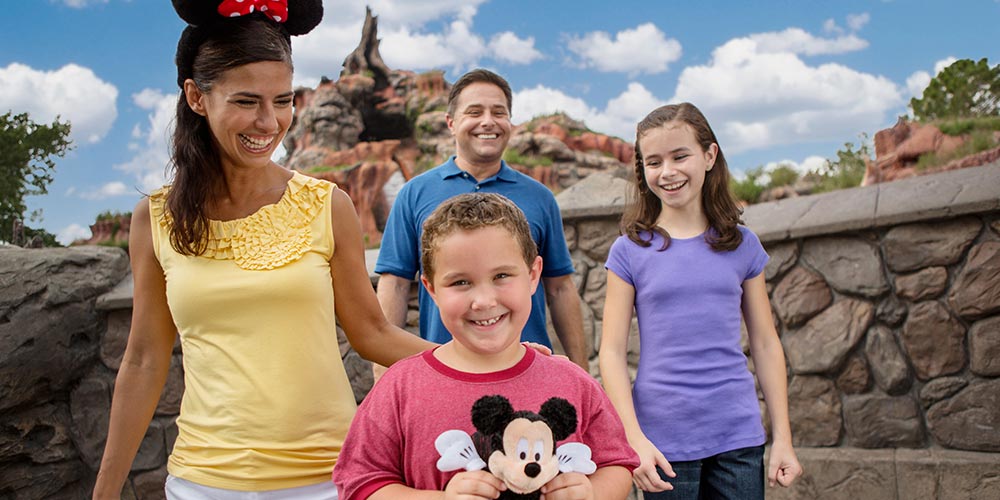 Critter Country Dining:
Churros & Lemonade in Critter Country
As far as we know, the only cart in Disneyland® that sells both churros and frozen lemonade can be found in Critter Country. You'll find classic and limited time seasonal churros, frozen lemonade, bottled beverages, hot cocoa and coffee.
Critter Country Fruit Cart
Find a quick, healthy snack at the Critter Country Fruit Cart. You can purchase whole fruits, cheese and pickles, as well as assorted chips and bottled drinks.
Harbour Galley
Along the path to Splash Mountain, you'll find the quaint Harbour Galley. This quick service location sells a variety of seafood dishes, sourdough bread bowls with soup, and our personal favorite, a bread bowl full of Lobster Mac-n-Cheese. And as if that isn't exciting enough, you can mobile order from Harbour Galley too!
Hungry Bear Restaurant
Known for hearty sandwiches and burgers, scrumptious salads, specialty lemonades and funnel cakes, the Hungry Bear Restaurant is a perfect choice for lunch or dinner. This restaurant can be found overlooking the Rivers of America and next to one of the three entrances to Star Wars: Galaxy's Edge. The food is delicious and the views are awesome. It's a perfect place for lunch or dinner.
Critter Country
Disneyland

® Shopping:

Pooh Corner
One of the sweetest shops (pun intended) around is Pooh's Corner. You can find packaged sweets to take home, as well as a counter where you can order ready to eat confections. Seasonal caramel apples, Rice Krispy Treats, cake pops, cookies and so much more are all ready to be enjoyed. On the other side of the shop, you can find Winnie the Pooh and Disney-themed merchandise, like kitchen items, Minnie ears, plushes and more.

The Briar Patch
Tucked away along the path to the entrance to Splash Mountain and across from The Hungry Bear Restaurant, you'll find The Briar Patch. The Briar Patch is a small shop where you'll find a selection of ears, caps and hats.
Critter Country Tips:
If you have kids who aren't tall enough for Splash Mountain (40" height requirement), be sure to use Rider Switch. While you're waiting with your smaller kids, you can take them on the nearby Winnie the Pooh, get a treat from Pooh's Corner, or meet one of the friends from the Hundred Acre Woods. When the rest of your party is done on Splash Mountain, you can ride using the FastPass line with up to two guests, while another adult stays back with the young kids.
History buffs will love this bit of Disney trivia. The Many Adventures of Winnie the Pooh used to be the home of the Country Bear Jamboree, and you can still find some remnants in the current attraction. As you're leaving the room with the Heffalumps and Woozles scene, if you turn around and look up, you'll find the busts of Max, Buff and Melvin, the talking trophy heads from the previous attraction.
On hot days, FastPass reservations go very quickly, so snag one early. However, if you wait until it gets cooler, lines are dramatically shorter. Just be sure to grab a poncho if you don't want to get wet!
Please note, the above information may be incomplete, seasonal, and/or subject to change at any time.