Fantasyland in
Disneyland

®

Fantasyland is probably what first comes to mind when you think of Disneyland® as it is home to the iconic Sleeping Beauty Castle beckoning to all who enter. When you walk through the castle drawbridge, you realize you have entered a realm of enchantment. Fantasyland is where you can mix and mingle with the heroes and even a few villains from all of the classic Disney fairytales.

One unique thing about Fantasyland is that it contains more attractions than any other land in the Disneyland® Resort. It is also one of two lands within Disneyland® Park that is open during Magic Morning. Magic Morning allows guests with select tickets to enter Disneyland® an hour before it opens to the public. It is typically offered on Tuesday, Thursday and Saturday mornings. Most of the attractions in Fantasyland don't offer a FastPass option, so getting to the land early is a great way to start your day. Check out our detailed overview of all there is to see and do in Fantasyland:
Fantasyland in
Disneyland

® Attractions:

Alice in Wonderland
This whimsical dark ride takes you down the rabbit hole into the world of Alice in Wonderland. You'll encounter the Queen of Hearts, Cheshire Cat, the Mad Hatter and other characters from this classic tale.

Casey Jr. Circus Train
Climb aboard this adorable train for a ride through Storybook Land, where you'll see some of the cutest mini versions of your favorite Disney characters' homes.

Disneyland® Railroad
Although it is named Mickey's Toontown Station, one of the four train stations for the Disneyland® Railroad is technically located in Fantasyland on the border of Toontown. The Disneyland® Railroad takes you on a grand loop tour around Disneyland® Park. We love this stop because it's located right next to "it's a small world" and the Fantasyland Theatre, and is a perfect place to grab a train ride after watching Mickey and the Magical Map or riding all of the fun attractions in Fantasyland.

Dumbo the Flying Elephant
Easily one of the most recognizable attractions in all of Disneyland®, Dumbo the Flying Elephant is a must-ride. Located in the heart of Fantasyland, this darling attraction takes riders up in the air for spin. There is no height requirement and riders can control their height as they circle. The queue was recently redone to add shade and a more orderly boarding process, which has been well received.

"it's a small world"
This charming attraction first debuted at the World's Fair in 1964 and has been delighting families ever since. Not only does this attraction feature dolls from around the world singing in their native languages, riders with a keen eye will spot some of their favorite Disney characters among the dolls as well. Watch for Peter Pan, Tinkerbell, Alice, Cinderella, Lilo, Stitch, Ariel and more. If you're visiting during a busier time, you may want to grab a FastPass for this attraction.

King Arthur Carrousel
This gorgeous attraction is one of a handful that has Walt's personal touch. All of the horses are painted white per Walt's instruction because a white horse always leads the parade, and he wanted all of the riders to feel as though they were in the lead. If you'd like to ride the horse ridden by and honoring Julie Andrews, look for Jingles, the horse with jingle bells and a flower crown.

Mad Tea Party
Also known affectionately as "the teacups," the Mad Tea Party is one of two attractions in Fantasyland that are themed after Alice in Wonderland. Guests can spin themselves silly in brightly colored tea cups to tunes like "A Very Merry Unbirthday."

Matterhorn Bobsleds
Disneyland® Park is the only place in the world where you can careen down the Matterhorn while escaping an angry Yeti. This snow capped mountain is beautiful and is a landmark of Disneyland®. There are two different tracks for this famous roller coaster, and FastPass is available for the ride.

Mr. Toad's Wild Ride
Another Disneyland® exclusive can be found at Mr. Toad's Wild Ride. This dark ride allows guests to take the wheel and go on a very wild ride themed after the Wind in the Willows. Parts of this attraction can be scary for small kids, including a scene with demons and red devils, so take that into consideration when determining if your family should ride.

Peter Pan's Flight
One of the most popular attractions in Disneyland® is the beloved Peter Pan's Flight. This dark ride allows you to board a pirate ship and soar above Neverland. You'll start in the Darling children's bedroom before flying above London, where you'll eventually make your way to Neverland. There is no FastPass for Peter Pan's Flight, so the line for this attraction is regularly around 45 minutes long. You can pass some of that time by interacting with some magical elements in the queue using the Play Disney Parks App on your smartphone.

Pinocchio's Daring Journey
Another dark ride in Fantasyland is the classic Pinocchio's Daring Journey. You'll follow along with Pinocchio's entire story until he (spoiler alert) becomes a real boy! Lines for Pinnochio's Daring Journey are typically not long, and it's open during Magic Morning.

Sleeping Beauty Castle Walkthrough
Every princess dreams of entering a real castle, and you can with Sleeping Beauty Castle Walkthrough. There is an open door to your left right after you walk through the castle drawbridge. From there, you'll be able to read excerpts and see scenes from the traditional, animated Sleeping Beauty story. Like a real castle, parts of the walkthrough are dark and tight, but it's also pretty magical.

Snow White's Scary Adventures
The name says it all, Snow White's Scary Adventures takes you through Disney's very first full-length animated film… and it can be scary for young kids. You'll meet the seven dwarfs, visit their cottage and mine and make your way through a haunted forest all before escaping the Wicked Queen and her poison apple.

Storybook Land Canal Boats
Guests will board a boat for one of the cutest cruises they'll ever go on. You'll see miniature replicas of the homes of some of your favorite Disney princesses and characters. Watch for Cinderella's castle, Arendelle - including Elsa's ice palace, the Sultan's palace from Aladdin and so much more. Although located in Fantasyland, the Storybook Land Canal Boats are not included in Magic Morning and open when the park opens.
Fantasyland in
Disneyland

® Entertainment:

Fantasy Faire
The Fantasy Faire is a medieval square that's almost like a land within a land. Here you'll find character meet and greets in the Royal Hall, as well as Storytelling at the Royal Theatre.

Royal Swing Big Band Ball
The Royal Theatre hosts the Royal Swing Big Band Ball every Saturday night. Guests can jitterbug, jive and more at this swing dance unlike any other. If you forgot your dancing shoes, you can watch dapper dancers get their swing on.

Storytelling at Royal Theatre
Enjoy one of two different shows, each with multiple performances throughout the day. Beauty and the Beast and Tangled are both retold in a vaudeville style, starring your favorite characters along with some new friends. You can check the schedule on the Disneyland® app to see what time each show is playing. If you hang around after the show, there's a chance you can meet the stars.

Mickey and the Magical Map
You can catch everyone's favorite mouse in the Fantasyland Theatre in Mickey and the Magical Map. This 22 minute show features beloved songs and some characters rarely seen elsewhere in the park like Tiana, Mulan and Pocahontas. Although covered, the seating area is outdoors. On busier days you'll want to arrive around 30 minutes prior to showtime. Also, it's important to note that Mickey and the Magical Map doesn't show daily, so be sure to check the official Disneyland® app for showtimes during your visit.

Pearly Band
If you happen to be in Fantasyland at the right time, you may be lucky enough to catch a performance of the Pearly Band. This brightly colored band can be found playing music while wandering around Fantasyland. They are sometimes joined by Mary Poppins and Burt.

Show Viewing Areas
There are two major areas in Fantasyland where you can watch the fireworks and parades. The Sleeping Beauty Castle Viewing Area and small world Promenade Viewing Area are both popular areas to watch whatever the current parade and shows are at Disneyland®. Because the firework shows typically include projections, you can see the projections on both Sleeping Beauty Castle and "it's a small world." The small world Promenade Viewing Area is normally a great spot to watch any parades and often has fewer crowds than in front of Sleeping Beauty Castle and Main Street, U.S.A.. If you want a spot in front of the castle, we recommend grabbing some treats and getting there early.

Both the parades and fireworks change regularly with the season, but we guarantee at Disneyland® it's always going to be good. You can always check both the Disneyland® website and app to find out what shows will be playing during your vacation.
Fantasyland in
Disneyland

® Characters:

Pixie Hollow
You'll shrink down to pixie size when you enter Pixie Hollow. Here you can meet Tinker Bell, and sometimes her fairy friends. The plants and flowers reach well over your head in the hollow; follow the path and eventually you'll reach Tink's front door, which makes the perfect photo backdrop.

Royal Hall
Disney Princesses rotate to meet guests at the Royal Hall in Fantasy Faire. The sign in front of the meet and greet will let you know who is currently there. Ariel, Cinderella, Elena, Snow White, Rapunzel and others have been known to make appearances. You'll meet two to three princesses at a time, with one-on-one time with each princess.

Characters
In addition to two dedicated areas for meeting Characters, many beloved Characters can be found wandering throughout Fantasyland. Belle, the Beast, Gaston, Aurora, Peter Pan, the Evil Queen and many more are often spotted. The Characters are oftentimes listed on the app with really short timespans. That typically means that instead of staying in one spot, you can find them roaming around. It's always a good idea to keep your eyes peeled when you're in Fantasyland.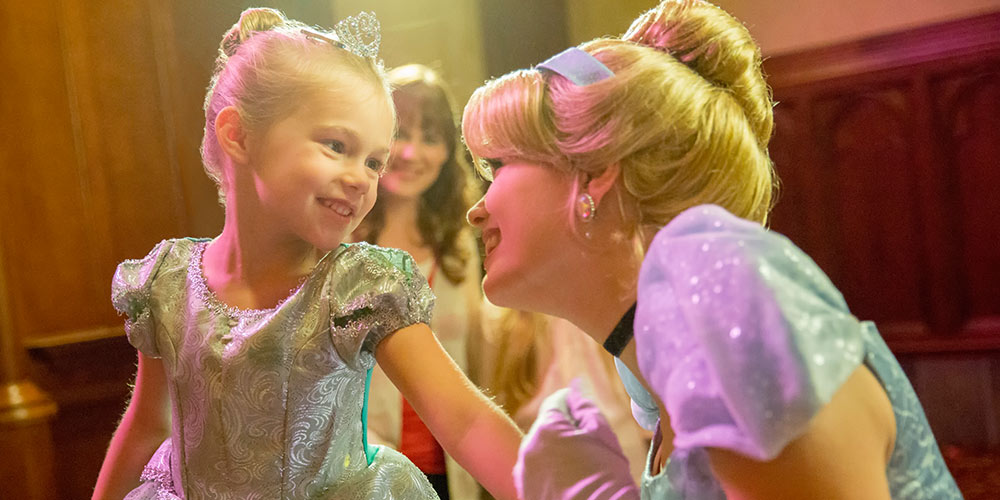 Fantasyland in
Disneyland

® Dining:

Churros
There is no shortage of churro stands in Fantasyland, which may be one reason why it's one of our favorite lands. You can find churro carts at small world Promenade, near Casey Jr. Circus Train and near Sleeping Beauty Castle. All three carts offer piping-hot classic churros, and each will occasionally serve a seasonal churro as well.

Edelweiss Snacks
Located near the Matterhorn, you'll find turkey legs, chimichangas, buttered corn, chips and frozen fruit slushes. Better yet, you can mobile order any of these tasty finds from your smartphone.

Fantasyland Fruit Cart
If you're looking for a quick, healthy snack, be sure to stop by the Fantasyland Fruit Cart, tucked back near Casey Jr. Circus Train and near the trail that leads to Star Wars: Galaxy's Edge. You'll find whole fruit, pickles and cheese packs. You'll also find frozen lemonades and frozen apple juice, as well as bottled beverages, coffee, hot cocoa and chips.

Hot Foods near Central Plaza
You can grab a hot snack or even meal from the Hot Foods Cart near Central Plaza, towards the front of Sleeping Beauty Castle. The cart serves Disneyland's famous turkey legs, chimichangas and corn on the cob (buttered or chili-lime), as well as assorted chips and bottled beverages.

Lemonade at small world Promenade
The lemonade stand in small world Promenade serves frozen lemonade with or without a shot of cherry or raspberry syrup. But it's not just frozen drinks. You can also find coffee and hot cocoa at this spot as well.

Maurice's Treats
No one can resist the french creations from the stand inspired by Belle's father. You'll find garlic bagel twists with dipping sauce, pastries and specialty boysen apple and red rose lemonade freezes. Maurice's Treats can be found right outside the Royal Theatre, so be sure to grab a snack before or after a show.

Popcorn
Disneyland® popcorn is the best there is, and there are three stands in Fantasyland serving this buttery, salty snack. You can find popcorn carts at small world Promenade, near Central Plaza (in front of Sleeping Beauty Castle near Main Street U.S.A.) and near the Fantasyland Theatre.

Pretzels
The Pretzel Stand at small world Promenade serves both salty and sweet pretzel options. Choose from traditional soft or cream cheese filled cinnamon pretzels. Or, choose a salty Mickey Mouse pretzel with or without a side of cheese dipping sauce.

Red Rose Taverne
This Beauty and the Beast themed eatery serves French inspired cuisine and comfort foods. Red Rose Taverne is open for breakfast, lunch and dinner, and often has seasonal items available in addition to their regular menu. You'll find Gaston's Famous Brew, poutine, sandwiches, flatbreads and more. Be sure to try the Grey Stuff… it's delicious!

Troubadour Tavern
One of the lesser known restaurants is the Troubadour Tavern, which is located near the Fantasyland Theatre. Although small and tucked away, you can find specialty bratwursts, baked potatoes and snacks. The Troubadour Tavern has limited hours and is only open on days when Mickey and the Magical Map is playing. That is typically weekends only. Check the Disneyland® app to see if Troubadour Tavern is open during your visit. And if it is, be sure to mobile order what sounds good to you.
Fantasyland in
Disneyland

® Shopping:

Bibbidi Bobbidi Boutique at the Disneyland® Resort
The Bibbidi Bobbidi Boutique is so much more than a traditional shop. It's an experience. The Bibbidi Bobbidi Boutique offers magical makeovers for children ages 3-12. Packages start at $19.95 for knights and $74.95 for princesses. Packages that include a princess dress are $199.95. Reservations can be made up to 60 days in advance, which we highly recommend.

Bibbidi Bobbidi Boutique also has the largest selection of princess dresses throughout the Disneyland® Resort, and you can shop without scheduling a makeover in the salon.

Fairy Tale Treasures
You'll find all sorts of treasures in Fairy Tale Treasures tucked away in Fantasy Faire. It's a perfect shop to find your favorite princess toys and accessories. You'll find Anna, Elsa, Elena of Avalor and so much more.

"it's a small world" Toy Shop
One of the cutest shops in all of Disneyland® is located just outside of "it's a small world." Baby dolls and toys in pastel colors adorn the shelves. If you have small kids, this would be a perfect place for them to choose a souvenir.

Royal Reception
The Royal Reception is a limited time pop-up boutique located in Fantasyland. Here you'll find Beauty and the Beast inspired apparel, accessories, art and collectibles. You'll find the Royal Reception next to the Red Rose Tavern.

The Mad Hatter in Fantasyland
If you can wear it on your head, you'll find it at The Mad Hatter. You'll find everything from the classic Mickey Mouse ear hats to princess tiaras and everything in between. The Mad Hatter has an embroidery machine, so if you want to get your Mickey Ears customized, this is the place to do it.
Fantasyland in
Disneyland

® Seasonal Celebrations

The only thing more magical than Fantasyland is Fantasyland during Holidays at the Disneyland® Resort. Sleeping Beauty Castle transforms into Sleeping Beauty's Winter Castle with thousands of sparkling icicles that illuminate the castle each night.

The classic attraction "it's a small world" becomes "it's a small world" Holiday which celebrates holidays from around the world. The attraction is decorated for the holiday and Jingle Bells becomes part of the soundtrack. The outside also gets completely decked out in lights and lighting ceremonies happen every night.
Fantasyland in
Disneyland

® Tips/Additional Info:

The best times of day to visit Fantasyland are either first thing in the morning, or late at night before park closing. Most of the attractions are open during Magic Morning, which is typically available Tuesdays, Thursdays and Saturdays. We think Fantasyland is a wonderful place to start your day at Disneyland® and recommend getting to the park at least 30 minutes prior to open any day of the week.

Fantasyland is one area that is incredibly heavy in storytelling. If your children (or you) aren't familiar with some of the Disney classics, consider checking out the books or films from your local library before your vacation. Your family will likely appreciate the attractions and atmosphere even more when they know the stories behind them.

Other than the Matterhorn, none of the attractions in Fantasyland have height requirements, which make it a popular land for families with babies and small kids. If you have anyone in your party that's not tall enough to ride the Matterhorn, be sure to use Rider Swap, which allows one adult to stay back with any guests who aren't able to ride. Then, when your group is done riding, the adult who stayed behind can use the Rider Swap for themselves and up to two additional riders to access the FastPass line.

Please note, the above information may be incomplete, seasonal, and/or subject to change at any time.