Star Wars: Galaxy's Edge
Star Wars: Galaxy's Edge is Disneyland® Park's newest land that officially opened May 31, 2019. Here guests are able to experience the beloved Star Wars franchise like never before. And don't worry. If you're new to the franchise, you don't need any background to enjoy it. In this 14-acre immersive land, Star Wars: Galaxy's Edge allows you to explore Batuu, a desolate planet located at the edge of the galaxy. While visiting Batuu, guests will be able to enjoy two new thrilling attractions, eclectic shops and unique dining - all while discovering the curious village of Black Spire Outpost. Your adventure to A Galaxy Far, Far Away is closer than you think!
Know before you go… Here is a detailed breakdown of everything you can expect to find in Star Wars: Galaxy's Edge:
Star Wars: Galaxy's Edge Attractions:
Millennium Falcon: Smuggler's Run Climb aboard the fastest hunk of junk in the galaxy for a ride you'll never forget. You'll be assigned an interactive role; pilot, gunner or engineer. How you fulfill your assignment will actually affect what happens in the attraction. You ride in groups of six, so if you have a specific job you'd like to try, you'll need to trade within your group as Cast Members do not accept requests.
Star Wars: Rise of the Resistance
Join the Resistance in an epic battle against the First Order in the most innovative and technologically advanced attraction ever created. You'll encounter BB-8, Finn, Rey, Kylo Ren and so much more in an adventure unlike any other.
The only way to ride Rise of the Resistance is by getting in a Boarding Group for the attraction. In order to get into a Boarding Group, you must first, download the latest version of the official Disneyland® app on your smartphone. Link all of your tickets onto the app and make sure you're inside Disneyland® Park before the official opening time. As soon as the park is officially open, Boarding Groups will become available through the app. Follow the prompts on the homescreen and then wait for your Boarding Group number to be called. Boarding Groups are not available during Magic Morning. Also, there is no Stand-by Line or FastPass access to Rise of the Resistance.
Star Wars: Galaxy's Edge Dining:
Oga's Cantina
One of the most popular spots in all of Batuu is Oga's Cantina. This is the only place inside of Disneyland® Park that park guests 21 and older can purchase alcohol. Oga's Cantina serves some of the most unique alcoholic and non-alcoholic libations you'll find in the galaxy. This intimate bar is always hopping to the cosmic tunes of DJ R-3X, a droid who may look familiar because he was formerly a part of Star Tours.
If you want to grab a drink at Oga's, you'll need a reservation. Reservations can be made 14 days in advance, with some same day reservations also opening up beginning at 7am PT via the Disneyland® app. And even better, unlike MaxPass, you don't need to be in the park in order to make a reservation. You can log-in from anywhere and just enter a credit card number to confirm your spot. If your party doesn't show up, you'll be charged $10 per person, so don't miss it!
Docking Bay 7 Food and Cargo
This quick service restaurant is anything but traditional. You'll find colorful and tasty creations that can be described as planetary fusion. There are menu items for breakfast, lunch and dinner as well as some beautiful dessert options. And even better, you can mobile order any of these intergalactic items.
Ronto Roasters
If you're looking for a savory snack or quick meal, look no further than Ronto Roasters. Grilled meats are being roasted on a spit by a podracer engine, which are then placed on a pita with perfectly dressed slaw. You can also find breakfast items and specialty drinks. Ronto Roasters also has mobile ordering available, which is a huge bonus in our books.
Kat Saka's Kettle
Kat Saka's Kettle is pretty straight forward. They have one menu item; a sweet and spicy popcorn mix. The purple bites are sweet and the red kernels are a little bit spicy. You can also find Batuu's special Coke and water bottles at this spot. These spherical bottles are printed in Aurebesh, the official language of Batuu.
Milk Stand
No visit to Star Wars: Galaxy's Edge is complete without trying the iconic dairy-free Blue Milk and Green Milk. Both are entirely plant based slushy-type drinks, perfect to help you cool off on a warm day on Batuu. While neither have an easily identifiable taste (it is milk from another solar system afterall), the blue has more of a tropical flavor while the green has a little more of a citrus taste. The Milk Stand accepts mobile ordering, so no need to wait in a long line to place your order.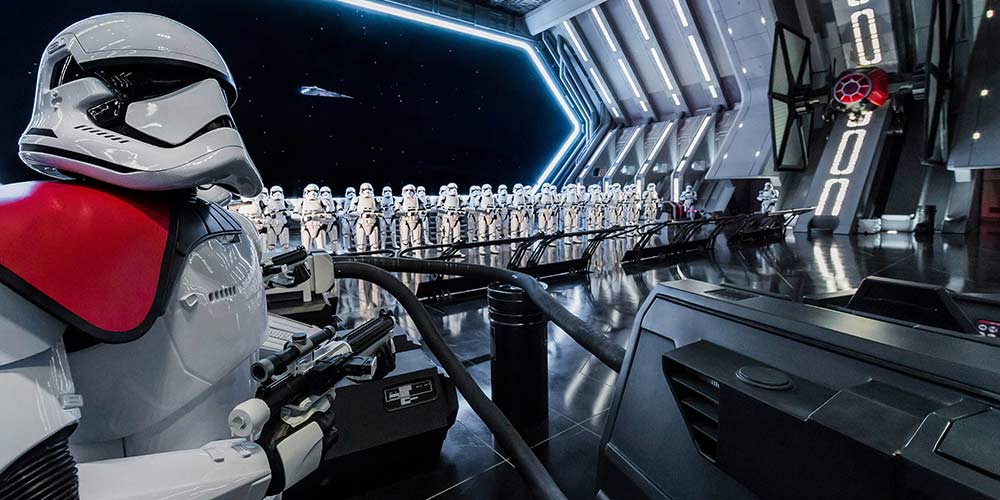 Star Wars: Galaxy's Edge Shopping:
Savi's Workshop – Handbuilt Lightsabers
Savi's Workshop is without a doubt the most exclusive and premium shopping experience you'll find in not just Star Wars: Galaxy's Edge, but throughout the Disneyland® Resort. Only 14 guests are allowed in at a time as builders for this limited, immersive experience. Each builder is allowed to bring in up to two guests to view, but they will not be able to participate. For $199.99 plus tax you can custom build your very own lightsaber. You'll hand select each piece of your tool including your very own Kyber Crystal, which will light and power your lightsaber. Once you've completed your saber, a ceremony is held as you bond with your lightsaber and it becomes yours. Like Oga's Cantina, Savi's Workshop is incredibly popular. If you'd like to be a part of this experience, you'll need a reservation. Reservations for Savi's can only be made day of and require a credit card. If you no show for your reservation, you'll be charged the full price of the lightsaber, so don't miss it!
Droid Depot
There is no place on earth like the Droid Depot, where you'll piece together and build your very own droid. You can choose between an R or BB series model. Droid parts will pass by you on a conveyor belt and you'll grab the pieces you need. From there, you'll actually put your droid together, and even give it a personality and name. This unique experience is currently $99.99 plus tax.
Toydarian Toymaker
If making your own toys isn't your thing, you can shop meticulously hand-crafted toys at Toydarian Toymaker. You'll find adorable plushes of your favorite Star Wars characters, games, hand-carved figurines and more.
Dok-Ondar's Den of Antiquities
You'll find a wide variety of Star Wars: Galaxy's Edge souvenirs at Dok-Ondar's. Pre-built (and more affordable) lightsabers, Kyber Crystals, art work, tokens and more can be found. Even if you're not in the market for the merchandise, the collection is impressive and worth a visit to the store.
Creature Stall
You can adopt your very own wompa, porg, tauntaun, pufferpig, loth-cat, monkey-lizard or any number of critters from across the galaxy. The caged creatures each have unique features, like sounds or motions, and are just waiting to join you on your home planet.
Black Spire Outfitters
You'll be able to dress like a Batuu native after a visit to Black Spire Outfitters. Official Jedi robes, arm wraps, vests, tops, tunics, belts, etc. can all be found here. Dressing in layers is all the rage on Batuu, so you can't go wrong with any combination.
First Order Cargo
First Order loyalists will flock to the First Order Cargo to purchase their gear to prove their allegiance. All of your First Order merch, including clothing, water bottles, accessories, blankets and even official Stormtrooper uniforms are available for purchase.
Resistance Supply
If you'd like to join the Resistance, look no further than the Resistance Supply to get prepared. You'll find t-shirts, pilot jackets, hats, helmets and more all sporting the Resistance symbol.
The Jewels of Bith
One of the smallest, yet most ornate shops in Batuu is The Jewels of Bith. The store sells traditional souvenirs like magnets, totes and hats with a Batuu twist.
Star Wars: Galaxy's Edge Tips
There are three entrances into Star Wars: Galaxy's Edge: Fantasyland, Frontierland and Critter Country. Each entrance will bring you to a different area of Star Wars: Galaxy's Edge. Part of the appeal of the land is getting lost in the story, quite literally. It's as authentic as a journey to another planet could be. Expect little signage and enjoy discovering the nooks and crannies as you wander.
As of now, Star Wars: Galaxy's Edge does not offer FastPass or MaxPass options for either Millennium Falcon: Smuggler's Run and Star Wars: Rise of the Resistance. Additionally, Extra Magic Hour or Magic Morning will not be available for Star Wars: Galaxy's Edge. If you don't want to wait in the stand-by line, consider using the Single Rider option for Smuggler's Run. Being in a Boarding Group is the only way to currently experience Rise of the Resistance.
In the event that Star Wars: Galaxy's Edge reaches capacity, Disneyland® uses a virtual queue. The virtual queue is handled through the official Disneyland® app. If you want to be certain you'll be able to visit Star Wars: Galaxy's Edge during your vacation, you'll want to get to Disneyland® as early as possible. That way if you don't want to head straight to the land, you'll be able to get in the virtual line for a return time.
Learn the lingo. In order to really play along once you're in Batuu, you'll need to know a few key phrases. The two most common greetings are Bright Suns and Rising Moons. Bright Suns can be said any time of day, while Rising Moons is reserved for evenings. Batuu also accepts "credits" instead of dollars, so don't be surprised when asked for payment for any food or merchandise.
Download the Disney Play app before you go to interact with Star Wars: Galaxy's Edge in a whole new way. You can spend hours exploring, translating and hacking into droids. There is no end to the fun you can have.
Please note, the above information may be incomplete, seasonal, and/or subject to change at any time.