San Francisco
San Francisco was recently voted the #1 U.S. city to visit by Condé Nast Traveler readers for the 17th year in a row. Because of San Francisco's diversity, there is truly something for everybody. With so much to offer San Francisco is a perfect destination for a family vacation, romantic excursion, girlfriend getaway, guy trip and much more. Incredible museums, endless shopping, distinctive dining and professional sporting events are just some of the draws to San Francisco vacationers.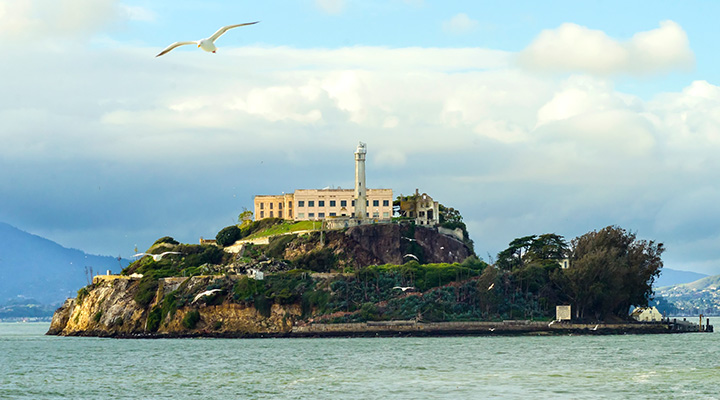 San Francisco Attractions
San Francisco is easily one of the country's most iconic cities with the Golden Gate Bridge as one of the landmarks. Fisherman's Wharf and Alcatraz are definite musts during your San Francisco vacation. You may also want to catch a Giant's game at AT&T Park overlooking the San Francisco Bay, or spend the day shopping at the famous Union Square.
San Francisco Sports
No matter the time of year you decide to visit, you can almost always catch a professional game when visiting San Francisco. With nearby Oakland just a BART ride away, professional football, baseball, and basketball games are always within reach. Whether you root for the Oakland A's or the San Francisco Giants, chances are you'll be able to allign your trip with a baseball game. If you're a football fan, check out the 49ers or, until 2019, you can watch the Raiders play in Oakland. If you're an NBA fan, you can root for the Golden State Warriors during basketball season. Just be sure to check your team's schedule before inalizing your travel plans to the Bay Area.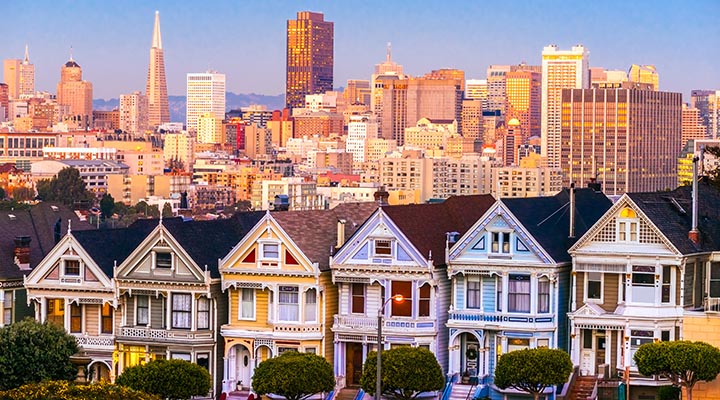 San Francisco Neighborhoods
San Francisco is as diverse as its neighborhoods and can be compared to visiting many mini-cities all within one convenient and central location. San Francisco is composed of a number of unique neighborhoods each offering its own flavor to the San Francisco scene. Some of the neighborhoods you can experience on your San Francisco vacations include: Union Square, Fisherman's Wharf, Chinatown, Haight-Ashbury and Japantown.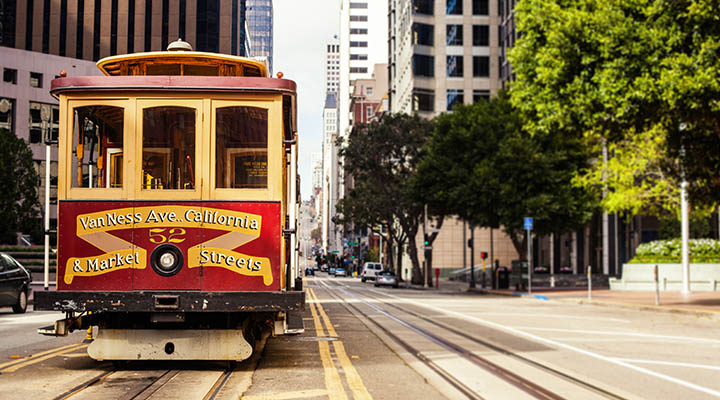 San Francisco Transportation
San Francisco is a really accessible city with two convenient airports; San Francisco and Oakland (just across the Bay). Numerous airlines with a wide range of flights daily make it affordable to fly to and once you get there, it's also pretty easy to get around. If you're looking to save some money and not worry about navigating a new city on your own, BART (short for Bay Area Rapid Transit) connects the San Francisco area to nearby cities and attractions. MUNI is San Francisco's transportation system that consists of busses, subway and cable cars. Like BART, MUNI is a cheap and convenient way to get around. Rental cars are easily available, but can be expensive to park and with the steep hills and many one-way streets, many travelers opt to take advantage of public transportation.