Disney's Blizzard Beach is a ski resort turned water park, where your family can splash, slide and sunbathe all day.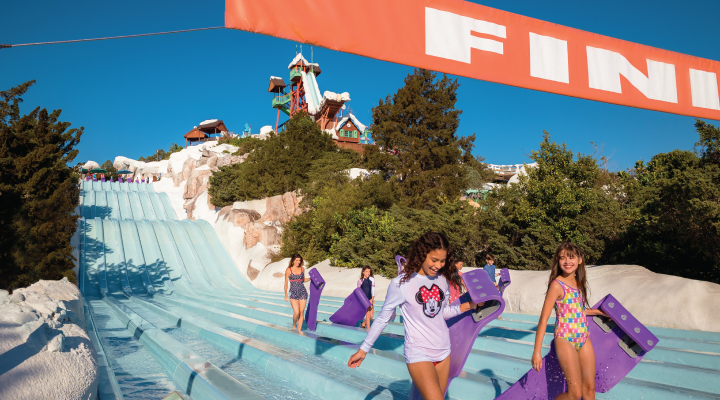 Disney's Blizzard Beach
This water park isn't like anything your family has ever experienced before. Rumor has it that the park used to be a ski-resort, but the high temperatures of Florida melted away all the snow. Which is why it's become Disney's Blizzard Beach, a water park full of slushy fun and daring water slides. Here's everything you can expect to see at Blizzard Beach.
Attractions at Disney's Blizzard Beach:
Chairlift, Cross Country Creek, Downhill Double Dipper, Melt-Away Bay, Ski Patrol Training Camp, Runoff Rapids, Slush Gusher, Snow Stormers, Summit Plummet, Teamboat Springs, Tike's Peak, Toboggan Racers
Dining at Disney's Blizzard Beach:
Arctic Expeditions, Avalunch, Cooling Hut, Frostbite Freddy's Frozen Freshments, I.C. Expeditions, Lottawatta Lodge, Mini Donuts, Polar Pub, Warming Hut
Shopping at Disney's Blizzard Beach:
Beach Haus, Shade Shack, Snowless Joe's
Experience some not-so-frozen fun at Disney's Blizzard Beach. The water park is spread across 66 acres and features some of the most popular thrill slides. The park also offers smaller water rides and splash pads for younger guests, making it a great choice for families of all ages.
Mt. Gushmore is the centerpiece of Disney's Blizzard Beach, showcasing features of the ski-resort that once was. This is also where you will find the platform for Summit Plummet, possibly the most popular water slide at the Walt Disney World Resort. It's also one of the world's tallest and fastest free-falling slides, dropping guests more than 12 stories at speeds as fast as 60mph. The line for this attraction fills up quickly, so we recommend heading to it first thing when you visit Disney's Blizzard Beach.
If dropping that high and that fast doesn't float your boat, don't worry. Disney's Blizzard Beach also offers water rides that are just as fun without requiring so much speed. Your entire family can board a raft on Teamboat Springs or spend some time floating down the Cross Country Creek. Little ones will find the most fun at Tike's Peak, a splash pad just for kids.
Whether you decide to brave Summit Plummet or spend an afternoon enjoying the sun on Cross Country Creek, we know you'll have fun at Disney's Blizzard Beach. It's the perfect add-on to your upcoming Disney World vacation.
Please note, the above information about Disney's Blizzard Beach may be incomplete, seasonal, and/or subject to change at any time.