Disney's Typhoon Lagoon is a great water park for families, with water rides and splash pads for every age.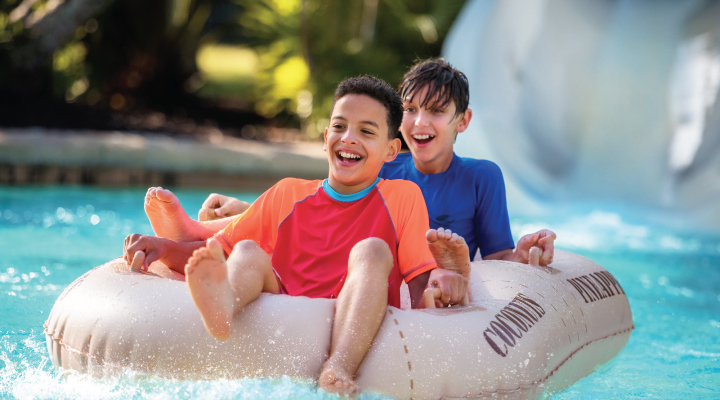 Disney's Typhoon Lagoon
You'll be in for a whirlwind of fun when you choose to spend a day at Disney's Typhoon Lagoon. They say a storm came through the area years ago, leaving behind shipwrecks and strange rock formations. These rock formations just so happened to be the perfect shape and size for winding and exhilarating water slides. Disney's Typhoon Lagoon has since been one of the most popular water parks for all ages, with plenty to see and do. Here's all the excitement you can find at Disney's Typhoon Lagoon.
Attractions at Disney's Typhoon Lagoon:
Bay Slides, Castaway Creek, Crush 'n' Gusher, Gangplank Falls, Humunga Kowabunga, Keelhaul Falls, Ketchakiddee Creek, Mayday Falls, Miss Adventure Falls, Storm Slides, Typhoon Lagoon Surf Pool
Dining at Disney's Typhoon Lagoon:
Happy Landings Ice Cream, Leaning Palms, Let's Go Slurpin', Lowtide Lou's, Snack Shack, Typhoon Tilly's
Shopping at Disney's Typhoon Lagoon:
High 'N Dry Rentals, Singapore Sal's
Adventure can be found around every corner at Disney's Typhoon Lagoon. The water park expands over 56 acres and features more than 10 water rides. The water rides vary in thrill level, making the water park perfect for both thrill-seekers and the smallest of family members.
The newest addition to Disney's Typhoon Lagoon is Miss Adventure Falls. The water ride opened early summer of 2017 and has been a favorite since. The white-water voyage will take you on a thrilling escapade as you learn about the treasure hunter Mary Oceaneer and her parrot partner. No family will want to miss this new attraction.
If you're looking for something a little more exhilarating, try the Crush 'n' Gusher or Humunga Kowabunga. Both will have you twisting through the water so fast that you won't know which way you're going! If that sounds like it might be too exciting for your family, try floating through Castaway Creek or sliding down the Storm Slides.
No matter which water rides you choose to explore, we know you'll have a blast at Disney's Typhoon Lagoon.
Please note, the above information about Disney's Typhoon Lagoon may be incomplete, seasonal, and/or subject to change at any time.