Canada at Epcot® identifies the heart and soul of our beautiful Northern neighbor.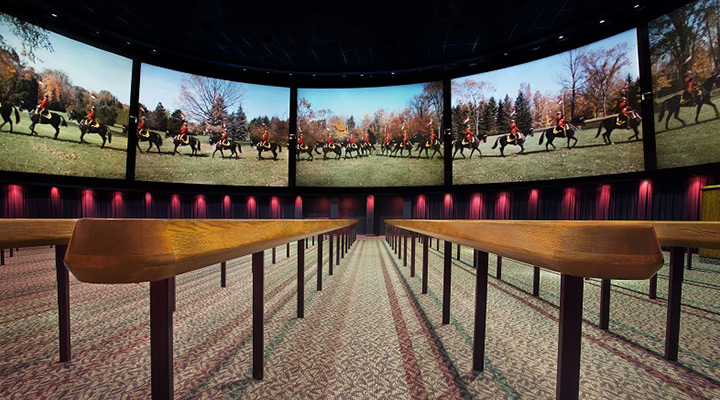 Canada at
Epcot

®

You'll be amazed as you walk through Canada at Epcot®. The pavilion manages to feature the country's entire landscaping into the design. If you ever tire of admiring the gardens and Canadian Rockies, here is everything else you can see and do at the pavilion:
Attractions & Entertainment in Canada at
Epcot

®:

IllumiNations: Reflections of Earth, O Canada!
Shopping in Canada at
Epcot

®:

Northwest Mercantile, Trading Post
Dining in Canada at
Epcot

®:

Le Cellier Steakhouse, Popcorn in Canada, Refreshment Port

The 30' waterfall and Canadian Rockies replica will most likely be the first thing to catch your eye in Canada at Epcot®. Or, maybe the towering Hotel du Canada, inspired by the country's historic Chateau Laurier. As you admire these beauties, you'll slowly notice everything else the pavilion has to offer.

Next you're sure to take in the beautiful gardens and interesting shops. As you explore them, you'll find unique souvenirs and plenty of photo opportunities. You can snap a picture next to a large totem pole before browsing through the handmade ornaments at Northwest Mercantile. For an iconic souvenir, we suggest choosing from a wide variety of maple products at the Trading Post.

While Canada at Epcot® is breathtaking, the country that inspired it is even more so. The O Canada! film showcases the beautiful land with 360-degree footage of famous sites like Niagara Falls. You'll be able to rest your feet in an air-conditioned theater, too. It's the perfect stop during a warm day in Epcot®.

Across from the O Canada! film you'll find Le Cellier, the pavilion's only restaurant. It also just happens to be one of Disney's most popular dining venues of the entire resort. Because of this, we suggest making reservations as soon as you can. Reservations can be made up to 180 days in advance with Disney directly. The intimate setting and Canadian Cheddar Cheese Soup are well worth the planning!

If you don't plan on dining at Le Cellier, you can stop by the Popcorn in Canada cart for popcorn and Canadian draft beer.

Whether you're visiting Canada at Epcot® for the atmosphere or the food, you won't be disappointed.

Please note, the above information about Canada at Epcot® may be incomplete, seasonal, and/or subject to change at any time.