Germany at Epcot® is one of the only places you can celebrate Oktoberfest all year long!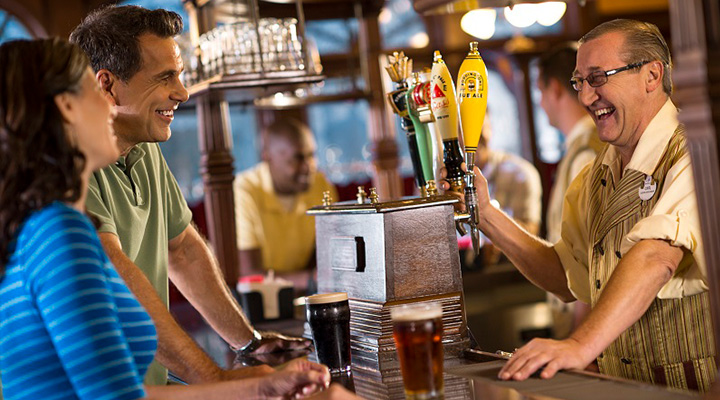 Germany at
Epcot

®

There is so much fun to be had at the World Showcase, and Germany at Epcot® is just one of 11 stops. Dance to the oompah beat of a German band while you feast family style. Or, meet an iconic Disney princess. Looking to explore the pavilion more? Here's all you can do in Germany at Epcot®:
Germany at
Epcot

® Attractions & Entertainment:

FriendShip Launch – Germany, Kidcot Fun Stop, Meet Snow White in Germany
Germany at
Epcot

® Shopping:

Das Kaufhaus, Der Teddybar, Die Weihnachts Ecke, Glaskunst, Karamell-Kuche, Kunstarbeit in Kristall, My Heritage Books, Stein Haus, Volkskunst, Weinkeller
Germany at
Epcot

® Dining:

Biergarten Restaurant, Candlelight Dining Package, Eat to the Beat Dining Package at the Epcot® International Food & Wine Festival, Sommerfest

Your family will be welcomed by buildings reminiscent of fairytales when you enter Germany at Epcot®. A medieval castle looms in the distance and a statue of St. George slaying a dragon stands in the center of the pavilion. Remarkable gifts and traditions German fare can be found here, making it a perfect stop for any time of the day.

If you're looking for a filling meal, try the Biergarten Restaurant. Your family will dine from an expansive buffet of German items while being entertained by a German band. Dancing and singing along is highly encouraged. Craving something sweet instead? The apple strudels from Sommerfest may be the tastiest strudels you've ever tried.

While Germany at Epcot® does not showcase a film or ride, the pavilion still offers plenty for families. Kids can participate in varying crafts at the Kidcot Fun Stop or meet Snow White, the first Disney princess. Wander the quaint shops to find all kinds of souvenirs or spend a few minutes watching the model trains on their path through a miniature German Village. It's the most charming way to spend an hour or two at the World Showcase in Epcot®.

Please note, the above information about Germany at Epcot® may be incomplete, seasonal, and/or subject to change at any time.