Japan at Epcot® is a beautiful pavilion with extraordinary shopping, dining and entertainment.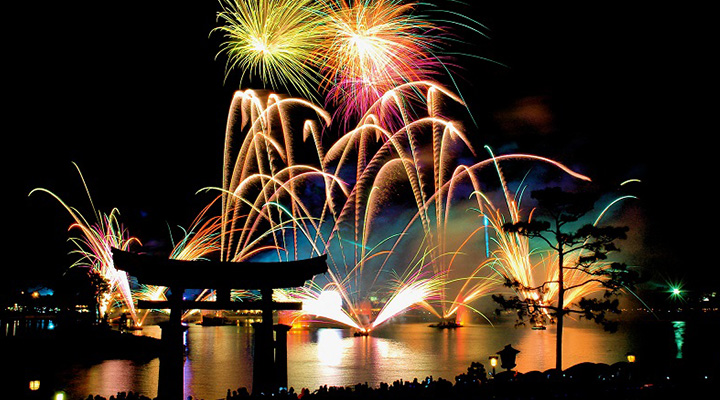 Japan at
Epcot

®

This picturesque pavilion welcomes you with a serene scene; a detailed pagoda surrounded by Japanese maples. Whether you choose to try traditional Japanese food or explore the culture of Kawaii, you'll feel relaxed in Japan at Epcot®. Here's everything you can experience at the World Showcase pavilion:
Attractions & Entertainment in Japan at
Epcot

®:

Bijutsu-kan Gallery, IllumiNations: Reflections of Earth, Matsuriza
Shopping in Japan at
Epcot

®:

Mitsukoshi Department Store, Mitsukoshi Kiosk
Dining in Japan at
Epcot

®:

Candlelight Dining Package, Eat to the Beat Dining Package at the Epcot® International Food & Wine Festival, Kabuki Café, Katsura Grill, Teppan Edo, Tokyo Dining

Serenity will surround you as you enter Japan at Epcot®. The World Showcase pavilion was built with tranquility in mind, shown in the detailed choices of architecture and foliage. You'll find traditional Japanese food here, including teppanyaki, as well as an interesting look at the country's culture.

First, stop by the Bijutsu-kan Gallery. The attraction showcases different exhibits that share a better look at the culture and lifestyle found in Japan. The gallery is currently housing "Kawaii: Japan's Cute Culture." Different merchandise and items are shown throughout, highlighting how kawaii originated and how it has become such a large part of the Japanese lifestyle.

Venture out into the pavilion to find Matsuriza. This entertaining group will show you a different side of Japan, one that presents a more traditional custom. The art of Taiko drumming will leave you amazed, both at the sound and the strength of the performers. In fact, watching them exert so much energy might even make you hungry!

If you do find yourself hungry in Japan at Epcot®, you have a few choices. Teppanyaki-style dining is offered at Teppan Edo, where you'll have just as much fun watching your food be prepared as you do eating it. Traditional cuisine mixes with a modern atmosphere at Tokyo Dining, great for both lunch and dinner. If you prefer a faster meal, try Katsura Grill or Kabuki Café. No matter which you choose, we are sure you'll enjoy the authentic tastes of Japan.

Make sure to stop by the Mitsukoshi Department Store before you leave Japan at Epcot®. It's one of the largest stores in Epcot® and sells a wide variety of gifts and souvenirs. You'll find everything from anime-themed stationery to traditional Japanese footwear. It's the perfect place to stop before moving on to the next country.

Please note, the above information about Japan at Epcot® may be incomplete, seasonal, and/or subject to change at any time.