Mexico at Epcot® makes every day feel like a fiesta!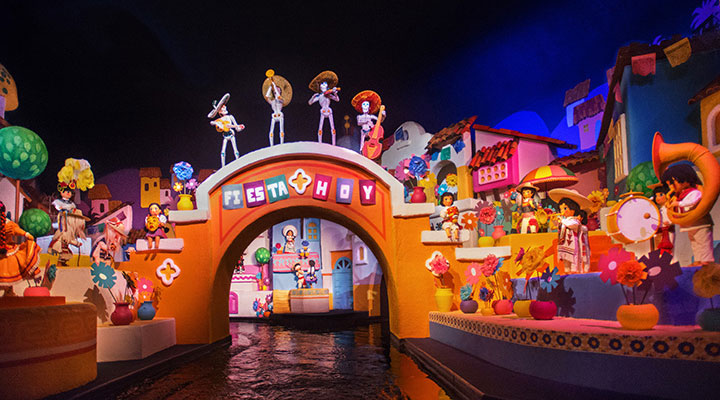 Mexico at
Epcot

®

One of the first stops in the World Showcase, Mexico at Epcot® welcomes you with the sights, sounds and smells of the country it represents. From authentic food to character experiences, here's what you can find in Mexico at Epcot®:
Mexico at
Epcot

® Attractions & Entertainment:

Gran Fiesta Tour Starring the Three Caballeros, KidCot Fun Stops, Mariachi Cobre, Meet Donald Duck in Mexico, Mexico Folk Art Gallery
Mexico at
Epcot

® Shopping:

El Ranchito del Norte, La Princesa de Cristal – Mexico, La Tienda Encantada, Plaza de los Amigos, Ring Carvers
Mexico at
Epcot

® Dining:

Candlelight Dining Package, Eat to the Beat Dining Package at the Epcot® International Food & Wine Festival, La Cantina de San Angel, La Cava del Tequila, La Hacienda de San Angel, San Angel Inn Restaurante

Mexico at Epcot® is one of the 11 World Showcase pavilions, allowing Walt Disney World guests to experience multiple cultures in a single day. A pre-Colombian pyramid surrounded by landscaping similar to that of a Yucatan jungle welcomes you to this distinct pavilion. Delicious food, a strolling Mariachi band and authentic Mexican goods only enhance the atmosphere of the land.

The pyramid houses most of Mexico's attractions and shopping, as well as one of its restaurants. You'll feel as if you've stepped into an evening in Mexico when you enter the pyramid. The ceiling has been transformed into a twinkling night sky with a pyramid and volcano in the distance. It's a beautiful ambiance unlike any other. You can tour Mexico with Donald and his friends in the Gran Fiesta Tour attraction or eat below the stars at the San Angel Inn Restaurante. Souvenirs, including detailed art, can be found at the gift shops here.

More food choices and shopping opportunities await you outside the pyramid. You can even meet Donald Duck clad in a traditional Mexican serape and sombrero. Make sure to have your autograph book and camera ready if you happen to find him dancing along with the Mariachi band.

Mexico at Epcot® is the perfect pavilion to stop at for great food and even better atmosphere. We wouldn't be surprised if you found yourself planning a trip to Mexico after visiting this iconic World Showcase!

Please note, the above information about Mexico at Epcot® may be incomplete, seasonal, and/or subject to change at any time.