Norway at Epcot® presents the heart of the land that inspired Disney's Frozen.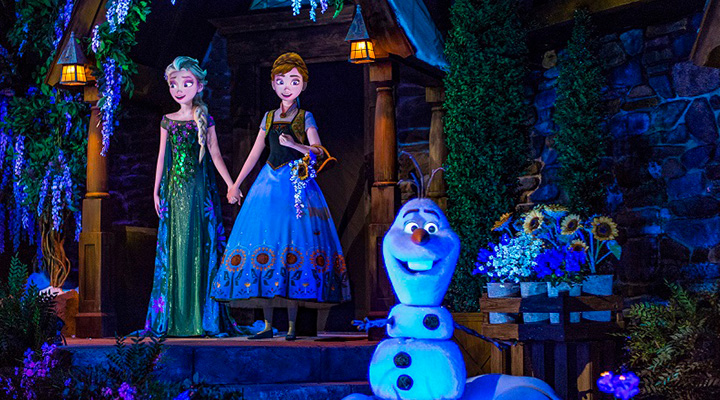 Norway at
Epcot

®

Delve into the mythical legends and past of Norway at this World Showcase pavilion. There's so much magic to be found in Norway at Epcot®. Find it all below.
Attractions & Entertainment in Norway at
Epcot

®:

Frozen at Walt Disney World Resort, Frozen Ever After, IllumiNations: Reflections of Earth, Meet Anna and Elsa at Royal Sommerhus, Stave Church Gallery
Shopping in Norway at
Epcot

®:

The Puffin's Roost, Wandering Reindeer
Dining in Norway at
Epcot

®:

Akershus Royal Banquet Hall, Candlelight Dining Package, Eat to the Beat Dining Package at the Epcot® International Food & Wine Festival, Kringla Bakeri Og Kafe

Mysterious creatures, including a famous ice queen, can be found in the enchanting pavilion that is Norway at Epcot®. The World Showcase locations pays homage to Norway, a country that has inspired fairy tales and folklore for centuries.

One such tale led to Frozen, one of Disney's most popular animated films. Since Norway was the inspiration, it's only right that this be home to the film's main characters. In Norway at Epcot®, you'll be able to meet Anna and Elsa. For up-close photos and autographs, visit the meet-n-greet at Royal Sommerhus. You can also ride Frozen Ever After. This attraction takes you on a delightful boat ride through the Winter in Summer Festival at Arandelle. We highly suggest reserving a FastPass+ time for this attraction as the line does tend to be long. However, if a FastPass+ selection isn't available, many consider the highly detailed animation and animatronics to be well worth the wait.

On top of being home to Elsa and Anna from Frozen, you'll find traditional Norwegian food and goods here. You can dine with more of your favorite Disney princesses at Akershus Royal Banquet Hall. Or, stop by the Kringla Bakeri Og Kafe for traditional treats like Kringles and Lefses. After you've had your fill, stop by the Wandering Reindeer for Frozen Merchandise. If you're looking for collectibles like Hans Christian Andersen's fairy tales or Nordic sweets, then the Puffin's Roost is the shop for you.

Norway at Epcot® is fun for the whole family and a pavilion you won't want to miss while exploring the World Showcase.

Please note, the above information about Norway at Epcot® may be incomplete, seasonal, and/or subject to change at any time.