European style hotel, free hot breakfast buffet daily, in-room mini-refrigerator and 2 miles from DISNEYLAND®.
3737 West Chapman Avenue
Orange, CA 92868
Located less than two (2) miles from the DISNEYLAND® Resort, you'll be able to relax in comfort and style at the ALO Hotel by Ayres. Free hot breakfast buffet every morning will leave you worry free during your vacation. An in-room mini-refrigerator adds to your convenience. This European style, Anaheim area hotel truly has it all at an incredible price!
4.5 out of 5 Rating (75 Reviews)
95% of guests recommend this hotel
Pricing and availability subject to change until booked.
2 Queen Deluxe 2 Queen Beds
Please enter travel dates to view pricing and availability
Please enter travel dates to view pricing and availability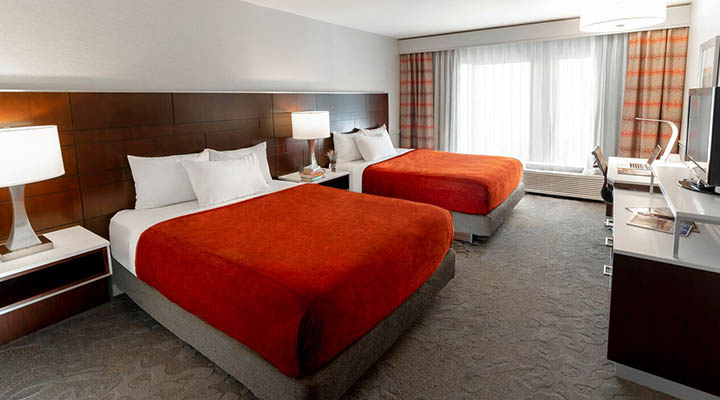 Maximum Occupancy: 4
Check-In Time: 3:00 PM
Check-Out Time: 12:00 PM
Free Full Breakfast: $18.00
Parking Fee: $0.00 per night; payable to hotel at checkout (a $12.00 per night savings)
In-House Restaurant
Pets Allowed: $45.00
Cable TV
Coffee Maker
Crib (Upon Request)
Handicap Access
Hot Tub
In-Room Internet Access: $10.00
Inside Room Access
Laundry
Refrigerator
ART: $6.00 (Available)
Distance to DISNEYLAND® Resort (2.3 miles)
Distance to Knott's Berry Farm (9.7 miles)
Distance to LEGOLAND® (61 miles)
Distance to SeaWorld (89.3 miles)
Distance to Universal Studios Hollywood (38.1 miles)
Outdoor Pool
Please enter travel dates to view pricing and availability
Please enter travel dates to view pricing and availability
1 King, Sofa Bed Standard King Studio Suite with Sofa Sleeper
Please enter travel dates to view pricing and availability
Please enter travel dates to view pricing and availability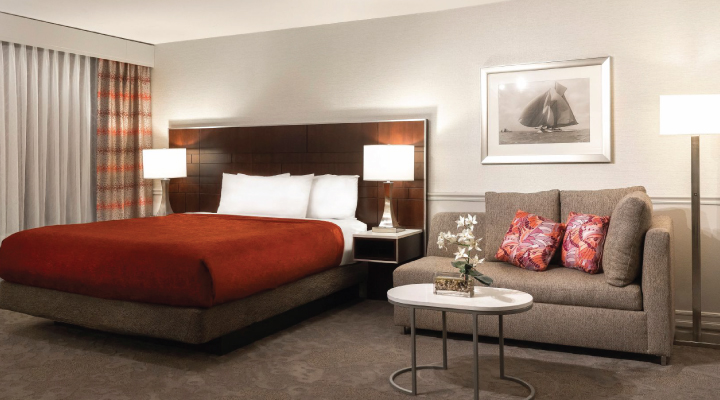 Maximum Occupancy: 4
Check-In Time: 3:00 PM
Check-Out Time: 12:00 PM
Free Full Breakfast: $18.00
Parking Fee: $0.00 per night; payable to hotel at checkout (a $12.00 per night savings)
In-House Restaurant
Pets Allowed: $45.00
Cable TV
Coffee Maker
Handicap Access
In-Room Internet Access: $10.00
Inside Room Access
Laundry
Refrigerator
ART: $6.00 (Available)
Distance to DISNEYLAND® Resort (2.3 miles)
Distance to Knott's Berry Farm (9.7 miles)
Distance to LEGOLAND® (61 miles)
Distance to SeaWorld (89.3 miles)
Distance to Universal Studios Hollywood (38.1 miles)
Sofa Bed
Outdoor Pool
Please enter travel dates to view pricing and availability
Please enter travel dates to view pricing and availability
---
Staff was very nice and helpful, the breakfast buffet was very good. No issues and would highly recommend to stay here. Also I had issues with the ART transportation where they never picked us up so Uber to Disneyland was much easier.
Good Hotel for the Price.
This is an older hotel but the rooms were clean and room service would come in every day which I really enjoyed. Breakfast was served at 7:00 am which was a little to late for my early Disney start. Breakfast was also not too exciting. Food was kind of bland. The front desk receptionists were also not too consistent with customer service and weren't too forthcoming about helping me on how to use the ART bus. I think next time I will spend a little more money and stay next door or at another hotel.
Great hotel to stay in for a small group! It's smaller and fills up fast but had no issues with art on demand. The breakfast is pretty basic but still a good start to the day.
Hotel staff were friendly, great breakfast. Only 2 miles away from Disneyland.
The room was clean and comfortable. The free breakfast was good, just wish there had been a little more variety but it hit the spot before heading to the parks. Having the ART bus (on demand) was wonderful and easy.
Great value and great location!
We've stayed at and recommended the ALO in Orange several times and to several friends while visiting Disneyland and other area attractions. This hotel is a great value, conveniently located to Disneyland using the ART and very clean. Guest services are great and the full breakfast is a good way to start a day at Disney. Thank you for another great stay!
Everything and everyone was perfect!
Everything and everyone was helpful friendly and we could not have picked a better hotel.
My family and I stayed here at the end of July for 4 days. The staff were sweet and the hotel rooms were amazingly clean. Ac was great and did not feel wet at all. House keeping came every day and cleaned our room so well. This hotel has a lot of parking spots and is dog friendly! The hotel is roughly 6-10 mins away via car from the Disney park (depending on traffic). We will definitely stay here again.
Simple, clean, quiet, comfortable. A little tricky to get into the parking area for check-in but manageable. Close to the parks. Front desk personnel kindly helped me arrange bus/shuttle pick up. Several restaurants and a large outdoor shopping outlet within walking distance.
Clean, nice staff, great for visit to Disneyland and the beach.
Very convenient and clean!
Rooms were very clean, staff was friendly and helpful. It was nice to have a full breakfast included. Also a Starbucks basically across the parking lot. ART stops right in front of the hotel or you can drive to the Toy Story parking lot within a few minutes. Very convenient.
Maritere C. on 04/28/2023
Highly recommend this for a Disney trip with kids. Complimentary breakfast was great and parking also great at no charge. Rooms were clean and mini fridge very practical. I will absolutely be staying here again.
Big rooms, good free breakfast, clean , nice staff
Big rooms, good free breakfast, clean , nice staff
The hotel was very clean, breakfast was delicious, has a Wendy's and Starbucks next door. We drove to Disney from there and it's a quick drive, making it very convenient. We will stay here again!
Oh gosh the staff was so freaking amazing! Everyone was so nice and helpful and even greeted my daughter every evening by name. They were so personable it made the stay so special. Our room was clean and super comfy for us. The breakfast was a cute little continental style. Nothing extravagant. Just nice and simple which for my family worked out great. I also loved that the bus stop to the parks was literally right in front of the hotel so there wasnt alot of walking to our room. Honestly we would definitely stay here again and can't wait to come back. Thank you to all the staff for being so wonderful!
Hotel accommodations were decent, staff was friendly. Breakfast was slightly disappointing compared to others and there is a medical center across the street so you hear a lot of ambulances through the night.
Clean Rooms and Great Breakfast
LAURENCE B. on 10/08/2022
Staff was very friendly, allowing us to check in early. Rooms were very clean and the breakfast was great.
Clean, great location and staff.
Clean, great location and staff.
Love the breakfast, tasty, prepared fresh, room was well cooled, love that air conditioner, so quiet, yet effective. Bed was comfy, room service did their work well, bathroom was great. The magnetic strip on our key cards kept getting demagnetized, but apart from that all was good.
Front desk personnel were always helpful and friendly. Rooms are nice, but carpets are very dirty. They definitely need to be cleaned.
We had a great stay at ALO Hotel – a great, modern room with comfortable beds, air conditioning and bathroom. The complimentary breakfast was sufficient and very convenient. The ART shuttle made transport to and from the park fairly easy (we left early in the morning, so the shuttle made fewer stops!). Only thing that would've made our stay better would be a safe in the room.
Great staff, decent rooms
This hotel was decent. The staff were AWESOME, especially Tina at the front desk. The rooms were average and the breakfast was decent. The distance from the parks was a little further than we expected, but my only real complaint was the bathrooms. They are SO small and only have one sink. It looked like holes had been punched in random places in the walls and then poorly repaired. They just didn't match the rest of the room and made the rooms feel kind of cheap and gross. Other than that, everything was fine.
Samantha W. on 09/01/2022
I LOVE this hotel but oh my gosh I hate the bed LOL! It has absolutely no firmness at all, you sit on it and sink 6 inches into it and that proved to be very uncomfortable... however, everything else? 5 stars!! Modern/renovated feeling, the staff, the location, the amenities, breakfast included, walking distance to the outlet mall, nearby food options galore! It's a lovely hotel.
This hotel is perfect. Super clean and cozy. The beds are comfortable and they meet with your needs per availability. The staff from the front office down to the housekeepers are friendly and very approachable. The hotel is nit too big and not too small which I like coz it's easy and fast to go in and out.
We would stay at ALO again.
Shawn and Kristin J. on 07/05/2022
The front staff was friendly and helpful; especially on how to use the ART bus app to travel from our hotel to Disneyland. The room was clean and comfortable. The breakfast was delicious, plenty of choices and we loved eating in the green house with other guests. Parking was free and the area of the hotel was busy with business travelers and Disney fans alike. We would stay at ALO again.
Great stay when on a budget
I was on a budget, being a single mom and wanting to take my child to Disneyland. This hotel fit the budget. We enjoyed the complimentary breakfast every morning and there's a shuttle bus that takes you to the park that picks up right out front. Across the street is an outlet mall which is great for shopping, eat and there's a movie theater and Dave and busters. Also right next door is Wendys and Starbucks. The downside is that the carpets need to be replaced. Our bathroom had small dead flies on the ceiling and the tub needs to be refinished. The beds are a bit too soft and the pillows are literally feathers. But over all we just needed the hotel to rest and sleep. Plus they have a nice pool. I would definitely stay here again. It's in a great location
Here are our thoughts on ALO Hotel by Ayres after staying their for 9 nights. Positives: 1) We booked a 9 night stay for our Disney Trip and got 3 nights free by staying at this hotel, through Get Away Today. 2)It is a quick drive to Disneyland, Knotts Berry Farm. 3)The attached Anepalco Mexican restaurant makes very good, authentic Mexican food. 4)In the mornings, the Anepalco restaurant is used by another food service company that provides a basic breakfast buffet. Breakfast is complementary, so that was nice. 5)There is a Starbucks, Wendy's and Moe's Deli within short walking distance of this hotel. Negatives: 1)The hallway carpeting smells pretty bad. 2)The two queen bed room we stayed in was very small. 3)No microwave in the room 4)The shower head was extremely low. I'm 6'1" and the fixed shower head was literally at my chest. Might be fine for someone under 5' tall. 5)The bed pillows were very thin and very hard. If you prefer anything else, bring your own pillows. We chose to go with a budget hotel and we got what we paid for. This is very much a budget hotel, but it is in a great location. I would recommend paying more and getting a nicer hotel.
Christine F. on 05/02/2022
Nice hotel, very friendly staff, lovely breakfast, wonderful parking, pool is a bit small but clean, carpets made our feet dirty to walk on but otherwise everything seemed clean. A great stay overall!!
Everyone was kind and helpful
Check in was a breeze. Everyone we came into contact with was kind and helpful. We had an amazing housekeeping on our 3rd day. She went above and beyond.
Direct & short drive to Disneyland
Michelle M. on 03/31/2022
Room was cleaned daily,. Toiletries & towels restocked daily. Direct & short drive to Disneyland, Easy on & off freeway access.
This hotel is awesome. The front desk service was amazing. They were so good to work with for the accommodations for our family. They did an amazing job with room service and making sure that we had everything we need. The king with the pull out sofa room was big. The room was very clean and my kids loved the pool and hot tub. the pathway to the pool was beautifully landscaped and very peaceful! We will definitely stay here again. It is far enough away from the Disneyland park that you can have peace and quiet but it is only a ten minute drive to Disneyland park. We also love that the parking is free!
I will definitely return to this hotel
I really enjoyed staying here, the staff was super nice and was super helpful. I arrived a bit early and was told the room was not ready, so they offered to store my bags so I can go to the park. They don't have a mini-store inside their hotel for like last-minute Knik-knacks, but they do have a Wendy's, Starbucks, and a Deli place right next to the hotel, and the Outlets down the street. The room I had was great, there was a king-size bed and a pullout couch, it was spacious and had a lot of room to move around. The only thing that was missing in the room was a microwave, but there is a lot of storage. The breakfast was fine, it was easy and convenient - it was self-serve - they had scrambled eggs, sausages, bacon, potatoes, bread, muffins, a cup of cut up fruits, bananas, apples, a variety of cereal, milk, coffee, water, orange juice and there were a few more items. I had trouble downloading the ART Transit apps, but once, it was done, I was able to request for the ART Bus to pick me up at the OC Bus stop in front of the hotel, I waited maybe less than 7 minutes and got picked up and the driver took me straight to the Disneyland transit pickup/dropoff. It was very convenient. My experience is that I will definitely return to this hotel, they had complimentary breakfast, free parking, and friendly staff.
Courteous and helpful staff
The hotel staff were courteous and prompt to help. When we arrived our door key didn't work. A housekeeping staff member down at the end of the hall saw my issue came up checked on my problem and immediately called her manager to get the key issue resolved. Within 10 minutes maintenance was up repairing the lock mechanism. Breakfast was good and varied and staff was friendly and helpful. Registration team was always pleasant and helpful with answers. Hotel was very nice and rooms very clean.
We will be back to this hotel
The employees are amazing and will do anything to make your stay better! We will be back to this hotel. Breakfast was good and hot and fresh. The bus stop is right in front of this hotel perfect for Disneyland guests with no vehicle.
Victoria D. on 01/25/2022
Great hotel. Large beautiful rooms in a great location. Great breakfast every morning of eggs and sausage but would be nice to switch it up and offer waffles for those of us staying several days in a row and also might be nice to have fresh coffee in lobby, but aside from that Pool and hot tub was clean and warm and hotel was Very nice!
Great place to stay. Friendly staff, comfy beds, and free breakfast. A little drive away from Disneyland, but not bad. Also free parking.
Clean rooms. Good breakfast. The front desk day girls were amazing! Anything i needed they help with! Bus/shuttle stop right out front the door! Shopping outlet mall and tons of dinner options are walking distance. Definitely staying again
Great service, rooms were very clean! The staff was wonderful. Breakfast was great! Very convenient location!!! Would definitely stay here again!
I read a LOT of reviews on this before booking at this hotel. Bad reviews on Trip Advisor, but on Get Away Today, they were all positive. I trusted my Disney peeps on this one and I am glad I did! There was NOTHING bad about this place, but my favorite was the comfortable bedding after a long Disney day! I am already planning my next trip and will be staying here again! Staff was GREAT! Breakfast YUMMY! Location PERFECT! Bed TERRIFIC!
I didn't expect much from our hotel since I don't travel very often. However, I was extremely surprised at the value and cleanliness of this hotel. Every morning we had a small breakfast which was free which consisted of scrambled eggs, hash browns, sausage, fruits, cereal, yogurt, orange juice and bagels. The room was spacious and clean. When we would arrive from the parks our room was cleaned and organized which for me was extremely helpful. We had wifi which was great that way I was able to have the kids logged into their own devices. The staff was friendly and always open to answering questions. There is also a gym, pool, hot tub and laundry room on site. I definitely recommend this hotel!
Would for sure stay again
We had a large family so we had 6 rooms. It was a nice hotel and a great value. Good location and a good breakfast. Would for sure stay again.
Catherine S. on 09/09/2021
Hotel and breakfast were great- no complaints. Disney shuttle service was not. There was supposed to be an app to download, but it didn't work and staff was not knowledgeable about the shuttle. Ended up getting an Uber instead.
BEST hotel to use for Disneylyand EVER!
Before I booked a hotel, I did a lot of research online. There were quite a few bad reviews on TripAdvisor, but all the reviews on GetAwayToday were good. So....I trusted my Disney peeps and booked this hotel. And I am VERY glad I did! The room was clean and spotless and quiet. I was on the 5th floor and there was a work out room at the end of the hall, (which I did not use since I walked several hundred miles a day at Disneyland, but it was nice to know it was there if I wanted it!) The location of the ALO hotel was PERFECT, easy to get to off of the 5 and about 7 minutes from the Toy Story parking lot, so that was REALLY nice! The staff were all helpful and kind and made me feel that I was appreciated as a customer. The breakfast was a big bonus and although I chose to drive, the ART did stop at the hotel as well. I wish I had known about this hotel a long time ago because I would have stayed here instead when visiting Disneyland. This will be my go to Disneyland hotel from now on! So thank you, ALO staff! You made my stay magical!!!
jennifer m. on 09/23/2021
Very clean and staff were so super nice and friendly! The bathroom in our room was small but it worked, overall it was a very good stay and would stay there again!
Very nice hotel, the only things I would have liked is some sort of airport transportation options-even recommendations would have been nice. That and I did not see anywhere you could purchase any necessities such as Tylenol or even a bottle of water or snack, although Wendy's is next door. Breakfast was boring, same thing every day, not notable. Pancakes would have been a nice option at least one of the days. Bed was at least comfortable. Front desk was friendly, but didn't mention anything to us about options for transportation to the parks. There was a sign, but unless you were paying attention it went unnoticed.
We have always enjoyed this hotel
We have stayed at this hotel 7 times. We have always enjoyed it. The staff are great and the free breakfast is good and convenient.
Comfortable friendly hotel
Comfortable friendly hotel
Room was nice, breakfast included. Has a Wendy's next door, so that was good.
Christina F. on 12/09/2019
The staff was amazing and nice, breakfast was delicious every morning before a long day at Disneyland.
Stephanie S. on 11/11/2019
LOVED the hotel the staff was super kind!! Total would stay there again
Front desk is always helpful. Rooms were clean and beds were comfortable.
Beds were kinda hard breakfast was ok. Staff was friendly. Room was a little noisy.
Great place to stay to go to Disneyland! Great staff and hot breakfast. We loved it!
Jennifer B. on 08/10/2019
Great place for the whole family. Complete buffet breakfast and all.
Fantastic customer service
Leanette S. on 07/30/2019
Great room!! The bathroom was a little small but still functional. Fantastic customer service. The breakfast was excellent.
We loved our stay here, the beds were comfortable and staff was very kind! We loved the big bathtub in the bathroom, it made it easy to bathe our children before bed each night. The breakfast was very simple, but filling, had great options and variety. Would recommend!
AnnaLisa E. on 06/06/2019
I loved this property! Great breakfast and good beds, rooms are a little small but way great bang for your buck hotel.
Comy beds and pillows, excellent breakfast
We stayed here July of 2018 and enjoyed our stay. The breakfast had several cold and hot items. However, you have to be up early to catch it. It ends quite early. The room was great and clean, but the carpet in the hallways was old and made the hallway smell like cigarettes. Other than that everything was very clean. I I thought we would use the shuttle, but we didnt. We had our car (took a road trip to get there) and ended up driving back and forth as the shuttle runs once an hour. We were too anxious to get to the parks to wait. The first day we tried to take the shuttle and it ended up leaving before the scheduled time. We were there a couple minutes early but it had already left. The hotel did call to resolve the situation but we just ended up driving and enjoyed our time at the parks.
Perfect hotel for our group
Stayed here with our entire family as a big group for my mother-in-law's 60th! It was a party! Loved the free breakfast and they made everything so special for our group. We ate at the restaurant and it was delicious- very unique (Mexican French Food???- but a top rated restaurant in the area!) We were able to get our rooms close together and the kids loved being there with their cousins. The lobby is nice and the staff is friendly. Family owned hotel and you can tell they take a lot of pride in it. I would also stay at the Ayres Hotel next door. It looked even nicer but was a little pricier. Close to the Anaheim Angels stadium, would love to catch a game next time.
We love our stay at the hotel for these reasons: Great all you can eat breakfast (free), easy checkin and check out, clean room, comfortable beds, convenient to freeways, restaurants, and to parks, free parking, pool, hot tub, cookies in the evening, Fridge in the room. We didn't like these things: Shower didn't drain very well, it would fill up then we would stop during our shower to let it drain before continue, no AC unit in the room but a swam cooler, we didn't know there was an ice machine, micro wave, and workout room until the last day, only one tiny elevator for the whole hotel, shuttle to disneyland only comes every hour, no shuttle to other amusement parks, hallways was stuffed.
Clean, comfy, helpful staff, quiet, ART access, Newly Renovated
Our family loved staying here. The room was big enough, always clean when we came back, the staff helped us pick up and pass on a double Bob Stroller with a friend that we borrowed with no issues, the ART shuttle to Disneyland was always prompt. There's really nothing negative to say about it at all. It's a great place to stay. Starbucks is a short walk away, too! Bonus! (Especially since Starbucks in the parks is more expensive and you can't use your freebie drinks there - boo!) This place is also newly renovated and really nice inside. I'd recommend this to people looking for a place with free parking, ART access and a quiet place to sleep (no vacationing kids waking you up before you're ready).
This place is great if all you want is a place to sleep!
We stayed at this hotel before and expected a bit more than we got. We travel on a pretty tight budget which is why we chose this hotel. We stayed for 5 nights. Room: Basic room, comfy beds. Decent shower/bathroom. They are in the midst of remodeling so aesthetically, it's a little confused at the moment. There are also lots of little storage cubbies that come in handy when you are bringing your own food stuffs to save $$. The lobby looks new and contemporary, but the rooms and restaurant are still in some sort of old English style (Which I liked when we stayed there before). The breakfast was ok. Very basic. It's a step just above a continental breakfast since they have some protein offerings, but it was the same thing every day. (scrambled eggs, sausage links (bacon 1 time), pancakes, potatoes, shredded cheese, salsa, yogurt (strawberry I think), fruit (cut up melon), cereal (very limited but included instant oatmeal), and juice/coffee). There were also bagels, toast and coffee cake. We always try to get in a good breakfast so we don't have to spend so much on food in the park. This did the job but it did get tiring after day 3! Also, they dont start serving before 6:30 which made it impossible to get to our 1 early entry. There is also an excellent hot tub which we value. Hot, clean, good jets). Very unhappy with the ART shuttle service. This is 1 reason we probably won't stay here again. They only stop every hour which made scheduling difficult (wish I'd read that review before). Then, on the last 2-3 pickups our line(14) didn't show up on time. The other line (15) would end up taking us back. On the last night, they didn't show up! We ended up taking a Lyft almost every morning and 2 nights! It never took more than 5 min and was only about $6 (plus tip) so not bad. However, I'd prepaid for the ART so I feel I got cheated there! As for the front desk staff, they didn't do anything wrong but when ever we interacted with them, it seemed like it was an imposition. Maybe I expected and am used to more from a Disney endorsed hotel, but I was not in the least impressed with them. The ladies that managed the breakfast were awesome, they really hustled and were very pleasant and helpful, and the maids did a great job and greeted us every morning with a cheerful "Good Morning! Their tip jar should be in a more visible spot. The desk staff seemed irritated we were there. A last word about the appliances. The refrigerator would not cool very well so we reported it to the staff. They said they put a work order in but never did anything about it. Luckily we didn't really need the thing except to keep my medication cooled which it did. We were there for 5 days. Something should have been done. Also, the guest microwave located on the 2nd floor did not work well. Frustrating when we came home from the park and wanted to heat up some soup. The guest dryer also did not dry our laundry w/o a second round. That wouldn't be all that bad except the desk clerk admonished us saying "you know the laundry room closes at 10, right?" So, all that to say, I probably won't stay there again unless that is the only place in my price range (which was the case this time). We loved it last time but much has changed since then, most importantly the way the staff interacts with the guests.
Inconvenient shuttle tainted our experience
Jennifer A. on 11/25/2017
Comfy bed, better-than-average free breakfast, and free parking... It's a great place, BUT after staying here twice for Disneyland trips, we won't choose this hotel again. The ART shuttle to Disneyland leaves the hotel only once an hour, which made it very difficult to plan our days around when it left the hotel and the park (also only once per hour). The earliest shuttle, for example, leaves at 6:50am, but for our Magic Morning we wanted to be at the park by 6:45...which wasn't possible using the shuttle. It would be a nice choice for a one day trip when you will be at the park all day, but it's not convenient for a multiple day trip, especially if you ever want to go back to the hotel during the day for a break.
We had some issues with the room cards locking us out but the staff quickly fixed the problem. Seems there was a problem with the locking mechanism. Overall the staff was always friendly! The breakfast was great and the beds were comfy. We took ART direct from the hotel to Disneyland. It was an 8 minutes non-stop trip! Great location!
Great location, good value
The room we had was a single king and a pull out sofa. Both were very comfy. The bathroom was a little on the small side but otherwise was good. The breakfast was pretty basic - same meal each day: eggs, pancakes, sausage links, hash potatoes and assorted bread and bagels with juice and coffee. The hotel staff was all super friendly and very helpful. We were about 2 miles (10 mins) drive from Disneyland, right by the freeway and other nearby places to eat. I would totally stay here again, great value and I felt very safe in the area.
This was a great hotel to stay in!
We stayed at ALO for our 3-day Disneyland vacation, and all 3 families loved this hotel. The hotel staff were friendly and very helpful. The rooms were very nice with the most comfy beds/bedding, and the decor was very pleasing. We enjoyed the breakfast provide every morning. When we return for our next Disneyland vacation, we are definitely booking at ALO by Ayres.
Value! Breakfast! VERY Comfortable Beds! Very well kept property!
I would not hesitate to book this hotel again! A great price! A great hot breakfast! The most comfortable hotel bed I have ever enjoyed! Older but very well maintained! And EVERY SINGLE STAFF MEMBER smiled and greeted at each encounter! Loved it! Short drive to Disney.
Nice room, small bathroom.
Room was nicely furnished and clean. The breakfast was tasty.
Small rooms and bathrooms
Our hotel was clean, but the room seemed small and the bathroom was very very small. Breakfast was ok. Front desk people were awesome! Our room was located at the end of the hall by the elevators and the ice machine, and you could hear it all. Our room had an door adjoining door and we could hear our neighbors all the time. Basically noise was our biggest issue. Also, this hotel has the longest bus route to the park. It is supposed to be 40 minutes, but twice we waited over 50 minutes for it to arrive. It was frustrating at the end of the day with tired kiddos. We ended up taking a taxi.
This hotel was great, the décor was beautiful, the rooms were comfortable. The front desk was able to accommodate getting those of us traveling together in rooms close together. It was nice to stay somewhere that didn't look institutional. The always fresh complimentary coffee, lemon infused water and in the afternoon warm cookies was a great addition to our stay. The staff was very friendly and always had a smile and a welcome for us when we came back in from the day. If I'm ever in the area again I will stay here.
this was a great hotel to stay at. great value for the money. the staff very friendly and attentive. :) would stay again. beds where comfy as well. that is a bonus :)
Good hotel for the location
The hotel was very nice and clean. The rooms are small but the beds are very comfortable. Our overall stay was nice. The bathrooms are very small as other's have stated. The free breakfast was okay but not the best. You really can't have picky eaters for breakfast.
Our hotel was nice, but we did have a couple of issues. They didn't have any roll away beds even though we had 5 people per room. The "large buffet breakfast" was the reason we chose this hotel, and it was slightly disappointing. We also had 2 rooms that we wanted to be joining, but ended up being down the hall from each other.
Unfortunately, our room did not have the best view. The bathroom was also extremely small and could only fit one person at a time!