Every vacation is more fun when it includes a theme park! We have a wide selection of great deals on attractions, dining, and tours.
Anaheim Cortona Inn & Suites
Free continental breakfast, a microwave and fridge in each room, and cozy accommodations.
2029 South Harbor Blvd.
Anaheim, CA 92802
Located less than a mile from the DISNEYLAND® Resort, the Cortona Inn & Suites offers the most for your money during your Disney vacation. This all non-smoking Anaheim hotel is a great value and offers all that you need: a free hot breakfast, a microwave, refrigerator, and Fresh Brew Coffee Maker in each room, and cozy accommodations. The hotel provides you with complimentary WiFi internet access and a heated pool to help you relax while on your vacation.
3.6 out of 5 Rating (14 Reviews)
71% of guests recommend this hotel
Maximum Occupancy: 5
Check-In Time: 3:00PM
Check-Out Time: 11:00 AM
Shuttle: Available ($6.00)
Resort Fee: $5.00 (Per night; payable to hotel at checkout)
Coffee Maker
Microwave
Refrigerator
Laundry
Outdoor Pool
Hot tub
In Room Internet Access
Cable TV
Pay Per View
Full Breakfast
Complimentary parking for 1st car and $5.00 + tax resort fee per day payable to hotel at time of check in.
1 King, Sofa Bed, Bunk Bed 1 Bedroom Toscana Kid's Suite
Maximum Occupancy: 6
Check-In Time: 3:00 PM
Check-Out Time: 11:00 AM
Shuttle: Available ($6.00)
Resort Fee: $5.00 (Per night; payable to hotel at checkout)
Coffee Maker
Microwave
Refrigerator
Laundry
Outdoor Pool
Hot tub
In Room Internet Access
Cable TV
Pay Per View
Full Breakfast
Complimentary parking for 1st car and $5.00 + tax resort fee per day payable to hotel at time of check in.
2 Queen, Sofa Bed 1 Bedroom Siena Executive Suite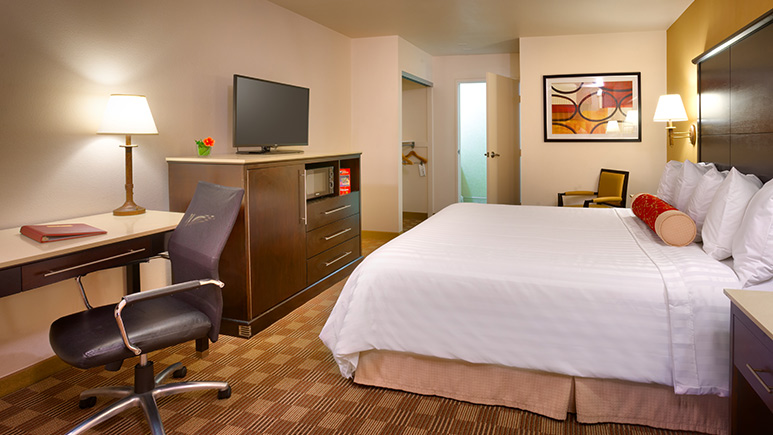 Maximum Occupancy: 6
Check-In Time: 3:00 PM
Check-Out Time: 11:00 AM
Shuttle: Available ($6.00)
Resort Fee: $5.00 (Per night; payable to hotel at checkout)
Coffee Maker
Microwave
Refrigerator
Laundry
Outdoor Pool
Hot tub
In Room Internet Access
Cable TV
Pay Per View
Full Breakfast
Complimentary parking for 1st car and $5.00 + tax resort fee per day payable to hotel at time of check in.
---
The room we were given first only had a king bed even though we had asked for 2 queens. When I went back to point this out the concierge saw that we had booked through Get Away Today and immediately fixed the problem and placed us in a room with 2 queens. Great customer service!
We stayed here in December for our family vacation and this was a great place top stay at. great breakfast, walk to disney, near by shops and resturants, they had great staff. overall i was very satisfied. only minus for me was that the main bedroom was for the kids.
We really enjoyed staying here. The rooms were very comfortable and spacious. We loved that we had several different room types to choose from, it made traveling with our big family very easy. The staff was very kind and always brought us what we needed very quickly and with a smile. Our stay was great and we would definitely come again.
We were very impressed with this hotel! We especially loved the breakfast, it was free and very convenient. I feel that most hotels have very small and squished breakfast areas, but this was open and allowed us to eat our breakfast in peace. The rooms were comfortable, and very clean. Enjoyed out stay, would come again.
Catherine M. on 12/17/2018
Close to Disneyland which was great it was about a 15minute walk, near lots of restaurants and gas stations etc. The carpark was very small and it served two hotels, ours and an even bigger hotel. The breakfast was fine, not much variety but the usual waffles, sausage etc so you can get full from it. The breakfast room is very small though we never had any problems finding a table I can only imagine in the summer when there are more people it would be a nightmare. The room was fine for what we needed, not very big but we only slept in the room. The humidity was bad in the room not sure why, and the a.c was temperamental. I would not stay here again it was fine and it was cheap, but honestly I would spend more money and stay in a nicer hotel that is still near the park or stay in a cheaper hotel that is further away from the park. Since the rooms are outside there is no tower rooms, you can hear everything! Once in the room you couldn't hear the room next to you but everything else outside you could hear. Also it seemed like because it was cheaper a lot of people had would sit outside their room and smoke/drink which is fine except there are kids and families etc. They also will charge you $28 + a night for a pack n'play/crib, no where does it say that but I called the hotel a fews days before our trip and checked. We just went and brought a cheap one from Walmart and saved the $170+ for other things. The housekeeping was amazing though, cleaned the room great and left it better than before. The front desk people were nice and always said hello as we walked through. Will not be staying here again.
The beds here were very comfy and that was very nice after longs days spent walking around the Disney parks! The hotel staff was friendly and helpful and did a great job at cleaning our room. The drain smelled really terrible after turning the water on in the sink, but it went away after running the water for a little bit. The power was turned off in the hotel for a little while the day we were leaving so it was a little stressful finding our alarm didn't go off, and getting ready and packed up in the dark. After the power was turned off the water got shut off and I was taking a shower. My husband called the front desk and they were shocked it was off and were fairly fast at getting it back on. But despite those things the hotel really was nice and comfy and we would stay there again!
Very impressed with this hotel during our first stay. This was our first visit to Disneyland so I'm not sure how it compares to other hotels in the area, but we were very satisfied with the quality of the room for the price. The room we had was very simple and comparable to other value resorts we've stayed at in the past few years, with the exception that the room was actually bigger than I was expecting! The beds were very comfortable and soft. Everything in the room worked perfectly, which should be a given but you'd be surprised how many places don't check those things. The mini fridge was also bigger than I expected, which worked out well for my health related dietary needs. The room was clean, and believe me I'm the kind of person who checks everywhere before I can get comfortable. I didn't go down for breakfast, but my husband did and it seemed to be enough to get him through until lunch. We had actually just stayed at an upscale hotel in downtown LA that was gorgeous but not very comfortable or practical, so we were relieved to be able to stay at the Cortona for a few days and get a good night's sleep before heading into Disneyland. Parking was free with our GAT package and the hotel didn't add on any other fees. I was prepared to pay the $14 resort fee advertised on Cortona's website, but the clerk at the desk said GAT gives them vouchers so she validated our parking and took care of everything for free. The walk to the parks was a little less than 30 minutes each way with paved sidewalks and 3 crosswalks with signals if I remember correctly. It was on flat ground, well lit at night, and seemed very safe. We did pass a few homeless people holding up signs, but they were the harmless kind who don't try to approach or bother anyone. There is also a CVS about halfway between the hotel and Disneyland which was bigger and had more stock than you would typically find at a CVS. I wouldn't really call them issues, but the only inconveniences we experienced at this hotel were with the coin laundry and a room key malfunction on the last day of our trip. The hotel does have a coin laundry facility, but it's only open from around 9AM to 9PM. We felt that those hours were a little inconvenient considering that most people are at the parks during this time, but we found an evening to make it work. If you plan to do laundry just be aware that the machines are actual coin laundry machines and you will either need to bring quarters or stop at the desk to get change. One of the coin slots on the dryer actually jammed while I was trying to use it and I somehow ended up needing to put in an extra quarter. I didn't feel like it was a big enough deal to bother someone at the desk, but I'm sure they would have taken care of it if needed. We did have to go to the front desk twice on our last night though because our room key stopped working. The desk clerk gave us a new key which also didn't work, so he ended up sending someone from housekeeping up to unlock our room. Housekeeping was there almost immediately after being called so I was satisfied with how quickly they resolved the problem. Overall we were satisfied during our stay and would definitely stay here again.
We had a king bed with a bunk bed in the other room. The rooms were spacious and the beds were very comfortable, but the bathroom was small with the sink in the bathroom. Breakfast was good with sausage, eggs, and pastries, but not much changed in our 5 days stay. Check in was great and easy with very nice staff, but parking was not so great in the evening. Overall exceeded my expectations though! I would definitely stay again.
The room was spacious, but the bathroom was horrible. The room had enough beds to sleep 6 people. but the bathroom was so small that only one person could be in there at a time and the door swung into the toilet with only a few inches to spare so helping my little one with getting on and off the toilet was a nightmare especially if I had to exit the bathroom to get her new clothing (she is potty training). Maybe not all families are like mine and have multiple people using the sink and mirror in the morning, but I feel like a room that accommodates so many people should have a larger restroom. also the room smelled really strong of chemical cleaner and I notice a few places in the room that had not been cleaned in a while such as behind the bathroom door and the light fixtures. The pull out bed was not comfortable at all you could feel the bar in your back when laying down, but the other beds weren't bad. The Free hot breakfast was a joke they served egg patties and sausage patties everyday along with a third item that they rotated between potatoes and pancakes. It ran out very fast and took forever for the staff to refill so most days we just ate toast and juice. It was not the worst hotel I have stayed in, but I definitely will not be returning.
This was our first time staying at this Hotel. The rooms were spacious and comfortable. Met our needs since we were in Disneyland all day and basically only in the rooms at night. The staff was kind and our room was kept clean for the entire stay. The breakfast was okay, enough options to grab something quick but not spectacular by any means. I would stay here again as it was cheap, clean, and served it purpose.
Our go to Hotel for Disneyland
My family and I have stayed at the Cortona for two years in a row now for our Disneyland trip. This last time was even better than the first. With Get Away Today, checking in and out was done in less than 5 min! The deposit for any room damages is super cheap, $25 which is refundable. I know people complain about the rooms, but I think they are nice and are what you need to be there for the night and getting ready in the morning. The breakfast to me was good. You can have eggs, sausage and potatoes along with your brand cereal and donuts. All in all, we love coming here and will continue choosing this hotel.
Anna Marie C. on 03/11/2016
Ac was leaking in the room. Carpet was wet! Instead of moving us to a different room, we had these huge fans blowing in the room. Old windows no screens. Breakfast is meh. Will never return. Can't recommend at all.
The rooms are very spacious. I really liked the tropical pool area also.
The only issue we had was with the hotel room. While it was clean in appearance, the room had suffered water damage. The flooring had suffered too. The unit was musty spelling and the a/c units spelled as if something was burning. No screens on the windows which where difficult to open made it hard to get fresh air into the room.