Best Western PLUS Pavilions
In-room microwave and fridge, kids eat free with a paying adult at adjacent Denny's.
1176 West Katella Avenue
Anaheim, CA 92802
Located less than a mile from the DISNEYLAND® Resort, the Best Western Pavilions is a family vacation favorite with great value! A warm cookie upon check-in, plush bedding, and in-room microwave and refrigerator add to the comfort of your stay. Plus, kids eat free with a paying adult at the adjacent Denny's.
4.4 out of 5 Rating (12 Reviews)
92% of guests recommend this hotel
Pricing and availability subject to change until booked.
Please enter travel dates to view pricing and availability
Please enter travel dates to view pricing and availability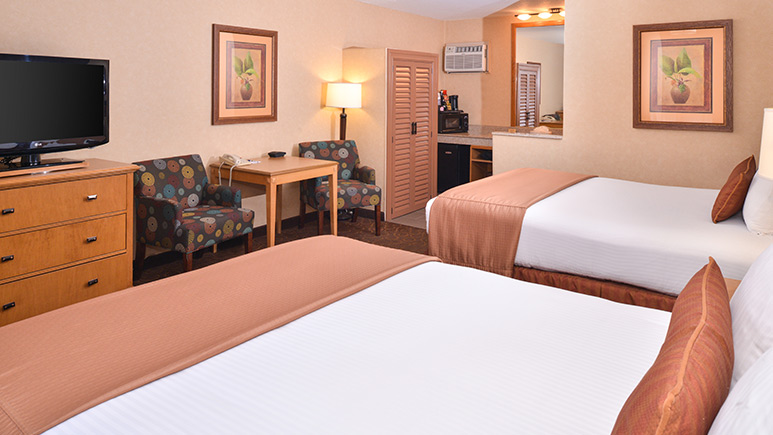 Maximum Occupancy: 5
Check-In Time: 3:00 PM
Check-Out Time: 12:00 PM
ART: $6.00 (Available)
Distance to DISNEYLAND® Resort (1.1 miles)
Handicap Access
Parking Fee: $0.00 per night; payable to hotel at checkout (a $15.00 per night savings)
Crib (Upon Request)
Distance to Universal Studios Hollywood (36.2 miles)
Shuttle: Available ($6.00)
Distance to Knott's Berry Farm (9.1 miles)
Distance to LEGOLAND® (63.2 miles)
Distance to SeaWorld (91.5 miles)
Outside Room Access
Coffee Maker
Microwave
Refrigerator
Free Full Breakfast (Breakfast offering, for up to two (2) persons per day, "eat free" from a selected menu at the onsite Restaurant from 7:00am-10:00am.)
Grab and Go Breakfast (Complimentary grab and go breakfast snack bag (water, apple and granola bar) also available for ALL guests from 6:00-10:00am in the hotel lobby.)
Outdoor Pool
In-Room Internet Access
Cable TV
Roll-Away Fee: $15.00 (Upon Request)
Resort Fee: $7.00
Hot Tub
Exercise Room
Laundry
Please enter travel dates to view pricing and availability
Please enter travel dates to view pricing and availability
---
Super nice staff, clean room, WONDERFUL breakfast, good pools
So this hotel has great staff and good location if you want to take there shuttle or drive to the park and they have gotten better since when I stayed in December 2021 but the fridge barely worked it took a full 24 to chill some waters and our shower head wasn't completely working other than that great value hotel. The market in the lobby is easy to use and is a good way to get a big vitamin water bottle for half of what Disney charges. The only reason I wouldn't recommend to a friend has to do more with changes at Disney then the hotel itself.
Stephanie M. on 03/02/2022
I really enjoyed staying at this hotel. The staff we friendly, the rooms were clean, and it's about a 20-25 minute walk to Disneyland. They provided vouchers for 2 people to eat at the Denny's next door, which was great, but we ended up paying for the third person in our party to eat breakfast. It wasn't a big deal for us, but it might add up if you have more people in your party. I appreciated the free parking. I recommend this hotel.
We really enjoyed our stay here! The room was clean, beds are comfortable, nice size rooms. The pool area was nice and well maintained. Great customer service! Only complaint was the fridge in our room didn't work. But great hotel for the price!
Clean rooms, great staff, close to the park, and food. thumbs up to this motel. I will stay there again.
I would definitely stay here again
Our hotel was very clean and comfortable, the bed was so comfy, and all staff we encountered was very friendly. The saltwater pool was a nice temperature, almost always empty, and we enjoyed the fact that it had an actual deep end. The hot tub was wonderful after a long day on our feet. We also really loved the free parking, and the free breakfast vouchers at Denny's were nice. The only downside is the walk back at the end of the day felt a bit long, but I would definitely stay here again.
VERY CLEAN AND COMFORTABLE
MARGARITA C. on 07/30/2021
VERY CLEAN AND COMFORTABLE
Great location to the park
The hotel was in a great location, walking distance to the park. The rooms were clean and the staff was friendly. Just missed having the maid service, but that was due to COVID.
The room was basically quiet but you can always have that one room above or next to you that are very rude but not hotels fault. The A/C worked great, fridge/micro all very nice. The very best part is the beds. OMG- I could have slept in those beds instead of going to the park, they were that wonderful. Denny's next door and liquor store also next door. Good location but kind of far to walk. Great for Uber or Lyft.
Saved Money on Parking and Breakfast
This hotel was great! Great location, and great rooms! Our favorite thing about this hotel is the free parking and the breakfast vouchers. The hotel doesn't offer free breakfast, but they do give out vouchers to take to the Denny's right across the way. You can eat breakfast there and get 1 child meal free, with each paying adult. How awesome is that!
Clean, comfy and pleasant
I didn't want to pay a lot for a hotel that we'd only be sleeping in during our visit to Disneyland. I'm happy with my decision on this hotel. The beds were very comfy and the place was very clean. The daily breakfast had a great selection and was good. Kids and I even dined out by the pool to get away from the hustle and bustle of the dining area.It only took 5 minutes to drive to Disneyland so all I had to pay was the parking fee instead of the high priced room fee of being across from Disneyland. I will definitely return to this hotel for our next visit and would recommend it for anyone staying in the area. My only request would be to include a microwave in the room. I was happy that there was a microwave in the lobby for anyone's use.
My family had a pretty decent stay it wasn't anything fancy but it was comfortable. It was a little of a walk to the park but it really wasn't that bad of a walk.