Every vacation is more fun when it includes a theme park! We have a wide selection of great deals on attractions, dining, and tours.
Best Western PLUS Pavilions
In-room microwave and fridge, kids eat free with a paying adult at adjacent Denny's.
1176 West Katella Avenue
Anaheim, CA 92802
Located less than a mile from the DISNEYLAND® Resort, the Best Western Pavilions is a family vacation favorite with great value! A warm cookie upon check-in, plush bedding, and in-room microwave and refrigerator add to the comfort of your stay. Plus, kids eat free with a paying adult at the adjacent Denny's.
4.3 out of 5 Rating (2 Reviews)
100% of guests recommend this hotel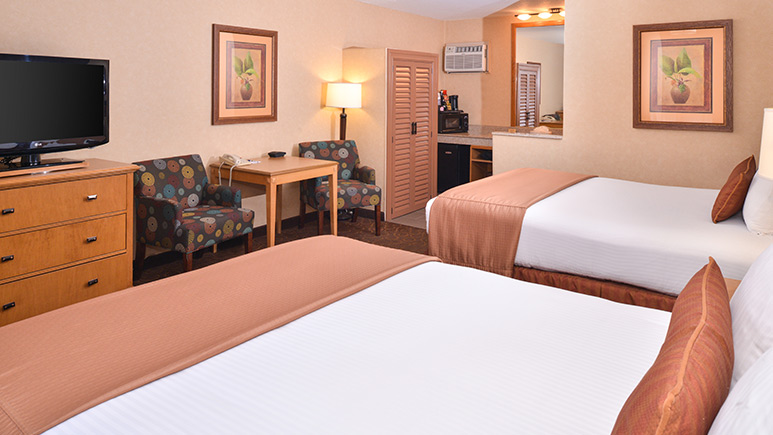 Maximum Occupancy: 5
Check-In Time: 3:00 PM
Check-Out Time: 12:00 PM
Shuttle: Available ($5.00)
Resort Fee: $0.00 (Per night; payable to hotel at checkout; a $5.00 per night savings )
Coffee Maker
Microwave
Refrigerator
Laundry
Outdoor Pool
Hot tub
Exercise Room
In Room Internet Access
Cable TV
Kids Eat Free (1 per paying adult)
"Grab and Go" Breakfast Snacks in the lobby between the hours of 7-10 am. They are offering apples, yogurt, granola bars, apple juices and of course coffee.
---
Clean, comfy and pleasant
I didn't want to pay a lot for a hotel that we'd only be sleeping in during our visit to Disneyland. I'm happy with my decision on this hotel. The beds were very comfy and the place was very clean. The daily breakfast had a great selection and was good. Kids and I even dined out by the pool to get away from the hustle and bustle of the dining area.It only took 5 minutes to drive to Disneyland so all I had to pay was the parking fee instead of the high priced room fee of being across from Disneyland. I will definitely return to this hotel for our next visit and would recommend it for anyone staying in the area. My only request would be to include a microwave in the room. I was happy that there was a microwave in the lobby for anyone's use.
My family had a pretty decent stay it wasn't anything fancy but it was comfortable. It was a little of a walk to the park but it really wasn't that bad of a walk.