Every vacation is more fun when it includes a theme park! We have a wide selection of great deals on attractions, dining, and tours.
Best Western PLUS Stovall's Inn
Free continental breakfast, in-room microwave and mini-fridge, 2 outdoor pools, charming topiary garden.
1110 West Katella Avenue
Anaheim, CA 92802
Located one mile from the DISNEYLAND® Resort, the family friendly atmosphere of the Best Western Stovall's Inn adds to the magic of your DISNEYLAND® vacation. This family-friendly Anaheim hotel offers spacious guestrooms, two outdoor pools and a charming topiary garden. A continental breakfast and in-room microwave and mini-refrigerator complete your stay.
3.8 out of 5 Rating (21 Reviews)
81% of guests recommend this hotel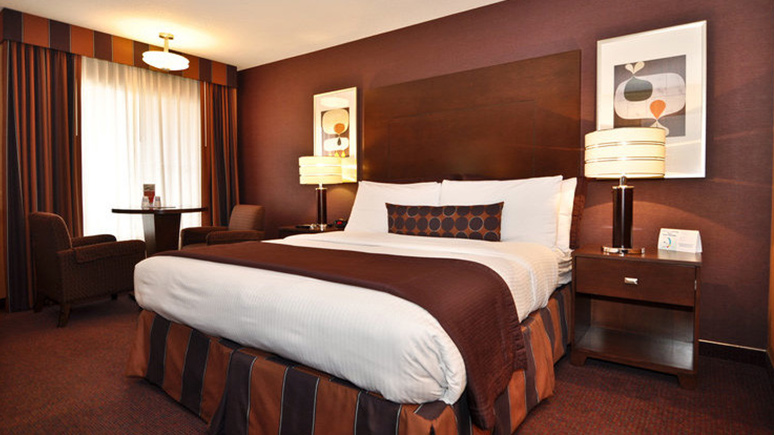 Maximum Occupancy: 5
Check-In Time: 4:00 PM
Check-Out Time: 11:00 AM
Shuttle: Available ($5.00)
Parking Fee: $20.00 per night; payable to hotel at checkout (a $10.00 per night savings)
Coffee Maker
Microwave
Refrigerator
Laundry
Outdoor Pool
Wading Pool
Hot tub
Exercise Room
In Room Internet Access
Cable TV
Full Breakfast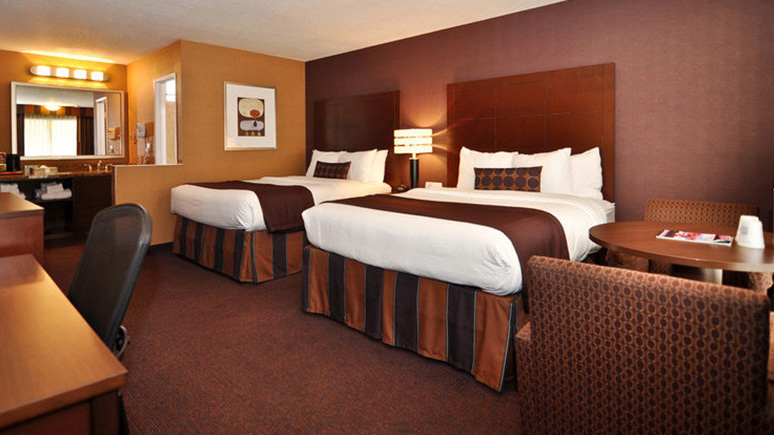 Maximum Occupancy: 5
Check-In Time: 4:00 PM
Check-Out Time: 11:00 AM
Shuttle: Available ($5.00)
Parking Fee: $20.00 per night; payable to hotel at checkout (a $10.00 per night savings)
Coffee Maker
Microwave
Refrigerator
Laundry
Outdoor Pool
Wading Pool
Hot tub
Exercise Room
In Room Internet Access
Cable TV
Full Breakfast
Maximum Occupancy: 5
Check-In Time: 4:00 PM
Check-Out Time: 11:00 AM
Shuttle: Available ($5.00)
Parking Fee: $20.00 per night; payable to hotel at checkout (a $10.00 per night savings)
Coffee Maker
Microwave
Refrigerator
Laundry
Outdoor Pool
Wading Pool
Hot tub
Exercise Room
In Room Internet Access
Cable TV
Full Breakfast
---
This hotel has been upgraded since I stayed there in November 2019. New planation shutters, new bedding. I love staying here for our Disneyland trips. It is right on the main street of Katellan and Disneyland Drive, so you can hear the road noise at night, but if you ask for a room in the back building away from the pool and street, it's pretty quiet. It's within walking distance of the parks (you can see the Incredicoaster and the Ferris Wheel. Walk to Denny's for breakfast before you go to Disney for the day, or come back and have lunch or dinner there. The hotel staff is very friendly and helpful and I love that it is family owned. The 2 pools and 2 hot tubs are super clean. The topiary garden is awesome! The grounds and rooms are clean and well-maintained with nice landscaping and flowers. I think this is "our place" from here on out when we go to Anaheim.
Loved the variety of this hotel!
Great breakfast. Loved the variety and daily changes. Had non dairy milk upon request, which was great for my 7 yr old who is lactose intolerant. Pool was nice. Had it almost to ourselves on our rest day. Kids played for 5 hours in the pool. Rooms we're nice. Not a ton of space, but since we we're mainly only there to sleep was plenty of room for us.
Didn't get the bedding I wanted
I booked with this hotel specifically for the king sized beds but they ended up providing two queen sized beds so that was disappointing
Overall good stay and location
Kristina P. on 04/19/2023
So the rooms are clean, but our room had a musty smell to it but they were clean over all. The pools were nice, one was FREEZING but the other was tolerable. The hotel sent the wrong reservation number so they couldn't find mine for bit but finally did. We came too early but they kept our luggage locked up till we came back from the park. While at the pool my son went back to the room to grab some snacks and forgot the key. The staff working that day gave me a bit of a hard time about giving me a new key. Then I couldn't figure out the ART bus and the front desk would not help me they told me to just download the app. Finally on the last night I realized the bus stopped right in front. The breakfast was actually very good! They switch it up everyday but everything was amazing!! Biscuits and gravy was on point. The walk to downtown Disney wasn't to bad except at the end of the day. The only reason I wouldn't stay here again is because I'd rather be closer to the opening of the park. Also you can hear the noise from traffic but it honestly didn't bother me. Our room ac drowned out that noise.
nice clean rooms and enjoyed the continental breakfast
Patricia R. on 11/12/2022
Great hotel that is within walking distance to the Disney Parks. The room was clean, quiet and the front desk staff were extremely helpful. Breakfast was great!
Nice room comfortable bed great breakfast
it was dirty. There was hand prints everywhere. I went out and bought cleaning supplies to clean.
Great location and breakfast
The breakfast was delicious and helped save money on the meals for the day. Walking distance to the parks. Room was fine, but nothing crazy fancy.
We were able to check in early. Rooms were clean and comfortable. Free breakfast had good options and was edible. Paid parking was expensive but easy. Close to Disneyland. Staff was responsive and helpful.
The staff was wonderful, and we enjoyed the breakfast and the walks to the parks each day, however, our room felt so old and dirty. There were sticky surfaces in the room, and the floor felt like it needed to be vacuumed. Maybe it was where our room was, but it was also very loud at night.
Good location but on busy road
Good location. The hotel has great customer service. The only bad thing about the room was that the noise from the road was very loud.
Great location and staff!
Great location, clean, very nice staff, breakfast was great, only problem we had was the A/C unit in our room was very loud!
Friendly staff, good free breakfast, ample parking, easy/safe walk to park, vanity outside of shower area. Only cons - too bright and noisy, not for light sleepers
Pleasantly surprised. The pool and breakfast were great. The room was nice. Carpet is dated but other than that it was fine. We walked to the parks every day, wouldn't recommend that with little kids.
The hotel is located close enough to Disneyland that it's walk-able. It's a little outdated, but clean. The breakfast area get's crazy in the morning, but that's expected. Coco's restaurant next door is fantastic. Good customer service, good food, good value.
We stayed here in April of 2019, and just booked again for May 2020. We arrived a few hours earlier than we expected, and they let us check in early, which was very kind of them. The room is a pretty basic hotel room, but you're probably there to go to the parks, so you're not going to be there very often anyway. The breakfast spread is great! (yogurt, granola, cereal, pastries, fresh fruit, breakfast sandwich makings, waffles, fried potatoes, coffee, juice, milk...) Definitely a step above your normal continental breakfast. It's a 10 minute walk to the Downtown Disney entrance, and another 5 minutes to the main gate, but definitely walkable! And at night the street was well lit. Very affordable (usually around the $130-$150 a night range). I would recommend it to anyone!
Great Option for Our Family
We really enjoyed our stay here. It was comfortable and met all our needs. We were able to stay under budget, to be close to the park entrance, and to get a good night's rest every night.
One of our go-to Disneyland Hotels.
We like this hotel for several reasons: cost, cleanliness (we have never had an issue), proximity to parks (with view of California Adventure), complimentary breakfast that offers a lot of choices, hotel room has nice storage closet for clothes and luggage, refrigerator, free wi-fi, beautiful multi-pool/spa area with cabanas, topiary garden, customer service, We've been allowed to check in early (HOURS before actual check in time) at no extra cost, have stored luggage with no issues, they will accept grocery delivery even if you have not yet arrived, only encountered friendly staff each stay, etc. The walk is farther than some places on Harbor, but you have several options if you determine the walk along well-lit, safe block bordering Disney Property (employee parking lot and Paradise Pier) gets to be too much, the ART shuttle is right in front of the hotel or ride sharing would be an option as well. Yes, the block to Downtown Disney is a good size block, but there is never a line for security at this checkpoint (unlike Harbor entrance) and if you are headed into Disneyland and the park is already open you can use the monorail (into and out of the park). That also allows you to go through downtown security, show your ticket to get on monorail and YOU ARE ALREADY IN THE PARK, no need to stand in line again at the main gate. At the end of the night (or during a mid-day break) you can walk through the Grand Californian to get back to Stovall's, so there are ways to lessen the impact of walking and save time standing in line at Harbor security checkpoint or main gate. If you happen to be in California Adventure you can leave through the park entrance into the Grand (right near Grizzly River Rapids), this is really nice and convenient little shortcut also! You can pay several hundreds dollars more to stay at a hotel along Harbor that is comparable to Stovall's, but many of them don't offer free breakfast, most don't have as nice of a pool area (many are situated right in the middle of a parking lot without so much as a palm tree to look at), etc., but we have found for all the reasons mentioned that make us like Stovall's and the price savings we are willing to walk just a little but further. We go to Disneyland to spend time in the parks, we are at the hotel to sleep, shower, spend a bit of time relaxing at the pool, but we aren't there enough to justify spending several hundreds of dollars per night. This is not a hotel for someone who expects Four Seasons type amenities for a budget price. If you want a decent place to stay along with some nice amenities give Stovall's a try, we have always been happy here with visits in October 2016 and December 2018 and have a future stay booked already.
We stayed here in July 2018. It was a great value for the stay, however, the rooms were not that comfortable, and A/C was very loud. It wasn't the cleanest, and I don't think we would stay here again.
When we first arrived my kids discovered the cool animal garden and were sold! It brought the excitement of Disneyland to a whole new level. We had an enjoyable stay and would stay here again.