Every vacation is more fun when it includes a theme park! We have a wide selection of great deals on attractions, dining, and tours.
Cambria Hotel & Suites Anaheim Resort
Brand-new hotel that features a 30,000 sq ft. waterpark, on-site restaurants, sport court, movie wall., complimentary breakfast buffet and more!
101 East Katella Ave
Anaheim, CA 92802
The Cambria Hotel & Suites Anaheim Resort is the perfect hotel for the ultimate Southern California vacation. Enjoy brand-new, spacious rooms that include double showers, complimentary WiFi and a free American breakfast buffet each morning. Looking to cool down? Experience a 30,000 sq ft. waterpark that features waterslides, pop-jets and splash pads. Plus, enjoy on-site restaurants like The Habit, Jersey Mike's YogurtLand, Starbucks® and more. Whether you're headed to the DISNEYLAND® Resort or want to stay and play at the hotel, you're sure to have the best vacation yet at the Cambria Hotel & Suites Anaheim Resort.
4.6 out of 5 Rating (13 Reviews)
100% of guests recommend this hotel
2 Queen Standard - 2 Queen Beds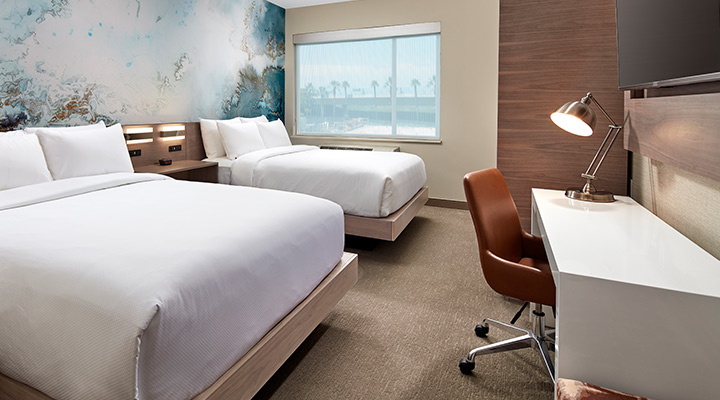 Maximum Occupancy: 4
Check-In Time: 4 PM
Check-Out Time: 11 AM
Shuttle: Available ($5.00)
Parking Fee: $15.00 per night
Coffee Maker
Microwave
Refrigerator
Laundry
Outdoor Pool
Hot tub
Exercise Room
In Room Internet Access
Full Breakfast
In House Restaurant
2 Queen, Sofa Bed One Bedroom Queen/Queen Suite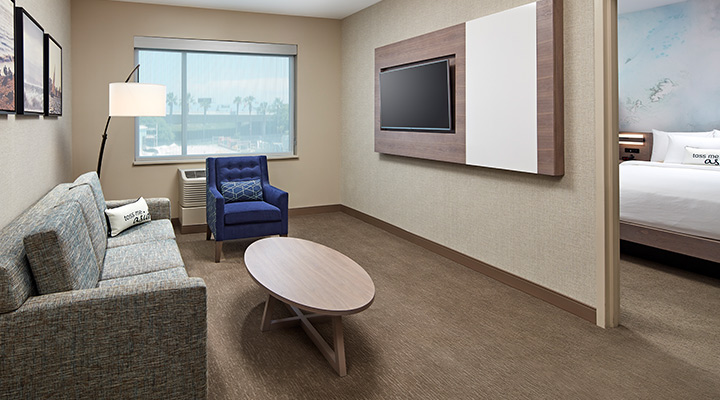 Maximum Occupancy: 6
Check-In Time: 4 PM
Check-Out Time: 11 AM
Shuttle: Available ($5.00)
Parking Fee: $15.00 per night
Coffee Maker
Microwave
Refrigerator
Laundry
Outdoor Pool
Hot tub
Exercise Room
In Room Internet Access
Full Breakfast
In House Restaurant
1 King, Sofa Bed, Bunk Bed One Bedroom King Kid's Suite
Maximum Occupancy: 7
Check-In Time: 4 PM
Check-Out Time: 11 AM
Shuttle: Available ($5.00)
Parking Fee: $15.00 per night
Coffee Maker
Microwave
Refrigerator
Laundry
Outdoor Pool
Hot tub
Exercise Room
In Room Internet Access
Full Breakfast
In House Restaurant
---
Texting staff is convenient!
Our room was comfortable and clean. I loved how we could just text the hotel staff if we needed anything. The breakfast buffet was good and offered not just scrambled eggs, sausage, biscuits, gravy, Mickey Mouse waffles, fruits, pastry, etc, but it also offered egg white scrambled eggs and chicken or turkey sausages. The staff was super friendly and accommodating. I give this place 5 stars. There were only 2 small areas of improvement that would have made it perfect. 1: two toilets. We had seven in a room and only one toilet. But there were two showers in the bathroom which was nice. 2. No trash bags. We stayed for 6 days with 7 people and the trash cans were small. However, whenever we texted the staff about the trash, they came right up. In addition, to the great service, the hotel is about a 22 minute walk to Disneyland. It was nothing for my 45 year old self and 6 teenagers to walk. I will definitely return to this hotel. I hope they keep up with the great service!
We loved staying at the Cambria. The hotel was very nice and clean. The staff was amazing and checked in with us to make sure everything was okay. My girls can't wait to stay there again!
We loved this hotel. It was nice and clean and the outdoor amenities were great!!
I loved almost everything about my stay at the Cambria! The staff were helpful and readily available. The beds were super comfortable. I loved that they had refillable toiletries instead of wasting single use containers. Breakfast was great, with every option we could want - they offered both reusable and disposable flatware and cutlery, which suited our varying needs. My kids loved the Mickey mouse waffles every morning, and the water park had something for everyone!
The Cambria was beautiful! Helpful staff, clean spacious room, fun and well kept pool area, and convenient to Disney with shuttle. I would suggest more hooks in the rooms. The included hot breakfast exceeded any expectation. Delicious!
Good except for valet parking
Extremely clean, pool area was amazing, excellent breakfast. The only thing that we did not like was the parking situation. Everyone is forced to valet park and it is a real hassle to get anything out of your car. Each time you need help to take your car, you feel obligated to tip as you leave and return. Everything else was FANTASTIC.
This hotel was amazing! It was brand new maybe had been open two weeks and we were a little worried they were still trying to work out the kinks. But this hotel had amazing breakfast, staff is super friendly, and the bed was honestly the most comfortable bed I've ever slept in a hotel. Our kids loved the pools, hot tubs and waterslides. We will stay here every time we go to Disneyland.
It's a 3 star hotel, so it is. Nothing spectacular, except for a small water park - which is nice! compensated by price of the room and especially the price of drinks in the bar. Walkable to the DL, it's a plus. I got a room facing I-5 = noise! That's a minus. YMMV. Breakfast is comparable to HIE, except that they have waffle-making machines in the shape of Mickey - nice touch!
Jennifer E. on 01/08/2020
The hotel was great. We had the King suite. The room was clean and comfortable. Has two showers which was perfect for my family. When we noticed one shower wasn't working correctly the hotel staff acted quickly. The kids loved the breakfast buffet. The one downfall to this hotel was they do not have their own shuttle and the ART bus line does not give exact times to pick ups. We ended up using Lyft a couple times. Other than that it was a beautiful, clean and very friendly place to call home for time.
Excellent!! Everything was clean and modern! Staff was very nice and helpful! Breakfast was great with plenty of seating. Must be 48" to ride the slide and adults can't take smaller kids..that was a little disappointing for my kids, but overall the pool area is awesome. Pool was nice and warm!
Cambria is a beautiful and modern brand new hotel just a couple of blocks from Disneyland in Anaheim, California. Our family of 3 adults and 4 children booked with them online as part of a package including Disneyland tickets. As soon as we pulled in we were greeted with a smile from Mark who was lovely, kind, and so helpful and assisted us with our luggage and parking situation. When we walked into the gorgeous and spacious lobby there was another warm smile from wonderful Joan, the front desk assistant who was so patient, kind, and understanding and helped confirm everything we needed and answered all our questions regarding the trip. I also loved the fact that we were able to correspond with the front desk through text which made things a little smoother and easier for us. The room and bathroom were clean and had everything we needed and was great fun for the kids because of the bunk beds. The free Wifi (which actually worked the whole time we were there) and complimentary breakfast was just another added bonus! Any other request we had was completed in a timely manner which we really appreciated given that we had children with us and a limited time for our trip. Overall, it was a great time and was made much better with the help of all the staff at Cambria and we are so grateful for their understanding given the fact we had a bunch of kids with us! I would definitely recommend to stay here if you want to relax and have a worry free trip!
Okay location, great hotel
This isn't the closest you'll get to Disneyland, but it's a really great hotel. You can take ART shuttle from the hotel to the parks, though. The waterpark and the separate bedrooms really make it a good choice for us. Liked having a mini fridge and microwave in the room, too.
Loved this new hotel. It's great when everything feels fresh and new. The water park is amazing.