Every vacation is more fun when it includes a theme park! We have a wide selection of great deals on attractions, dining, and tours.
Value hotel with in-room mini-refrigerator, fun exterior castle theme and within walking distance to DISNEYLAND®.
1734 South Harbor Blvd.
Anaheim, CA 92802
Located across the street and within walking distance of DISNEYLAND® Resort, the Castle Inn & Suites is an Anaheim area hotel that families have enjoyed for years. Kids love the castle theme at this value hotel! A perfect location plus an in-room mini-refrigerator give you incredible value on your vacation at an incredible price!
4.2 out of 5 Rating (199 Reviews)
88% of guests recommend this hotel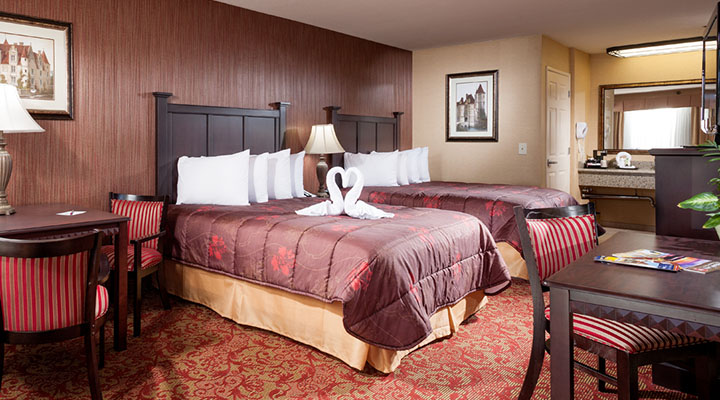 Maximum Occupancy: 4
Special: 4th Night Free (Subject to availability)
Check-In Time: 3:00 PM
Check-Out Time: 11:00 AM
Coffee Maker
Microwave
Refrigerator
Laundry
Outdoor Pool
Wading Pool
Hot tub
In Room Internet Access
Cable TV
1 King, 2 Queen Family Suite
Maximum Occupancy: 6
Check-In Time: 3:00 PM
Check-Out Time: 11:00 AM
Coffee Maker
Microwave
Refrigerator
Laundry
Outdoor Pool
Wading Pool
Hot tub
In Room Internet Access
Cable TV
---
We stayed in a family suite and it was wonderful for our family. Lots of room and space for our kids as well as us.
Perfect for us and our kids
Kristine C. on 05/26/2023
The hotel isn't as updated but we had a suite for a family of 4- 2 kids 2 adults. My hubby and I had a room and the kids had their own room! It was Perfect for us and the the kids each had their own bed!
This hotel is a hidden jewel. Rooms are clean and comfortable. Priced much lower than the other good neighbor hotels. Very nice staff.
A little dated but comfortable. Easy walk to the park. Convenient stores and restaurants within walking distance (shorter than the entrance to the parks). Would like later pool and hot tub hours, it would be nice to sit in the hot bubbly water after a long day of being at the parks. Would stay here again!
Great hotel, but no breakfast options.
Jennifer M. on 05/06/2023
The rooms were very clean and housekeeping was great, my only complaint was there was no breakfast no coffee bar. Having a hotel with something for breakfast would be wonderful and help a family out that's there on a budget. Going to Dennys or IHOP every morning really hurt my budget
Great price, clean room, friendly staff
Hotel was close to the entrance to Disneyland. Room was clean and customer service was great. Friendly staff.
Little ants in the sink area. Bathroom smelled of cigarettes. Beds not too comfortable. No towels in pool area. Definitely needs an upgrade. Walking distance was really good. No gift shop.
The castle inn& suites is the best hotel we've stayed at for Disneyland. It's nice and close to the park. It's got a jacuzzi and pool. The rooms are nice and large, and the beds are comfortable. They even have family size rooms!
Jennifer H. on 04/17/2023
This hotel is simple, clean, and near Disneyland parks. If you are looking for a hotel within walking distance to Disneyland and don't mind out dated decor or 'motel style' rooms, then this is the place for you. The room was clean and comfortable and the perfect place to recoup after a busy day in the parks.
Christian J. on 05/03/2023
free parking, decent distance from park but no breakfast. cant complain for the price though
The staff was very courteous. It was a decent hotel and we would be there only to sleep, so we didn't need all the bells and whistles. It was also within walking distance to Disneyland, which was great!
Staff is friendly and close to the parks
Hotel was great. Took us 10min to get to the parks, bed was comfortable, staff was very nice. We needed an extra blanked when we got back from the parks at 1am and we got it in less than 5 minutes. Only thing to note is hotel is dated. Very friendly staff. Castle Inn & suites is a great budget choice, very close to park.
It's basically Motel 6 but they don't want to leave the lights on or have rooms cleaned daily. Rooms are old. Nothing magical about this place. My kids enjoyed the trip and the one thing they would change is a different hotel next time.
The room was ok = certainly nothing special. There was no maid service. The people in the office were helpful. I rented a scooter and every night I brought it to the office and they charged it for me. My grandson got sick and I called the office and they brought up extra towels to use to clean up the issue- there was no other help offered. I left a jacket and was called and asked if I want it sent to me and I was happy about that. I appreciated that.
christal c. on 03/03/2023
Our room was very clean. Beds were comfortable.
Room was very spacious and had a great location. Larger fridge and microwave were a definite plus. Front desk staff was very friendly. Down sides were, no daily housekeeping, room was noisy and had to sleep with earplugs, beds were quite firm.
The only issue I had was that there was no onsite gift shop / store as showed on their website.
Poor beds but good location
The hotel was clean and the staff was very friendly. Personally I will not return as the beds were horrible for me and there is no noise dampening. This resulted in four sleepless nights for me personally. This does not mean this hotel wouldn't be great for other people. The short walking distance was nice, very well lit with safe crossing. Hotel is still using strict COVID protocol, is not entering rooms during visit so make sure to ask for extra towels in advance to last for your stay. Once can leave dirty towels outside the door for cleanup. The system worked very well while I was visiting.
Good location but poor costumer service
Served our purposes of needing a place to stay between park visits. Especially with the short walk to the park. Had the basic amenities that you would need. Just don't ask for anything else. We were very rudely informed upon check in that they would not be cleaning our rooms and if we needed anything during our stay for the coffee maker etc that there was a CVS around the corner. Needless to say we were not impressed with the hospitality or service.
CATHERINE W. on 02/04/2023
Front desk personnel was very professional. Customer service was great. If we needed anything, it was delivered quickly.
We loved this hotel. The staff is very friendly. My grandson got a crown from the front office and he was in heaven. Rooms were clean, beds were comfortable. We loved the space we had for my family. We went grocery shopping before we got there. Had a mini fridge we used for left overs, drinks, snacks and more. There was a table in the room which was nice for the grandson eating breakfast. The distance to the park was so convenient - a great short walk. We will definitely be staying here again.
Will definitely stay there again
Staff very friendly and helpful. Room clean. Will definitely stay there again
Mediocre beds but nice distrance from parks
The hotel was mediocre at best. The rooms are outdated and the best are like sleeping on a box spring. So come prepared for your body to not only be sore from walking Disney but also the uncomfortable beds. The pool was nice and heated and the location is ideal within walking distance of Disneyland.
Very clean rooms and parking lot was always spotless. Super friendly and helpful staff. Don't like having to wear a mask in the lobby
Very accommodating but nothing fancy
It's nothing fancy but the beds are comfortable and the parking is easy. We just used it for sleeping at nights and it was spacious for our family of 6. It was within easy walking distance to Disneyland and has food places right next to it for eating. They let us park the whole day on our checkout day and store our luggage in their office. Very accommodating.
Great distance but no room service
Walking distance to Disneyland. But due to covid there is no room services and gift shop is closed.
Location is great, but probably won't stay here again
The best part was the convenience and location of the hotel to the parks. It was worth the price but it's a very dated hotel and I found hair in our shower and sink. I probably wouldn't stay here again even though it was our second time but I think I'm ok to pay the extra dollars for a hotel in the same location that would be more clean and comfortable. And, COVID restrictions are discontinued in many hotels I believe, so it was very inconvenient to not get serviced for 4 nights.
My bad, I will never stay in a hotel that does not offer continental breakfast ever again, it's a must for convenience and cost. The staff all seemed friendly enough. The rooms were just very dated and again no breakfast. I'd spend an extra $50-100 a night for something more modern with something to eat in the AM.
It was clean and comfortable easy to get to
When booking this hotel, my family was a little nervous. We are far more used to staying at the Disneyland hotel but for the price, the amount of people we could fit in a room, and the other reviews, we thought we would give it a try. We tried it and loved it. We will definitely be back. We got a six person room and found it to be a great value with added touches of cleanliness, spaciousness, and friendliness from the staff. We are truly proud of the place we stayed at and excited about the money we were able to spend in the park because we saved so much on the hotel with the same perks as what we are used to. We will definitely be back!
The Castle Inn is run down, dark, and not clean. The walkway to the form on the fourth floor is rickety and unsafe.
Gaps on side and bottom of door, didn't feel secure, shop not open, masks still required, no service to room during stay, soaps were horrible, hard beds, dirty
Outdated but excellent value
Although the hotel is a little outdated, the proximity to both the parks and shopping makes this an excellent value. Adding to that, we had such an amazing customer service experience - every hotel employee that we spoke to was kind, accommodating and helpful. Staff + location =a zillion stars. Hotel itself could use some updates.
Great location, short walking distance to park entrances. Hotel was clean and staff was friendly and inviting. This is our go-to hotel when visiting the Disney Parks.
Staff was really friendly and helpful. All though there is no housekeeping till after your stay we had no issues in getting more towels and trash removed from the room. For the value and great walking distance to the park I would stay again.
Great hotel that is close to Disneyland
Great hotel that is close to Disneyland
I love this hotel we stayed for 3 days ll/18-11/21/22. I have been staying here since my kids were 10 over 20 years. The staff are attentive, the rooms are spacious and the wait staff are always smiling and pleasant. The distance from the park is perfect, renting a scooter was made easier by the third party that the inn is teamed with and they were just as supportive and friendly as the Castle Inn staff. I will continue to stay at this hotel until I no longer come to the park...which will be awhile. Highly recommend this facility.
Good distance from the park but old
Castle inn is about 10 mins from the park which is good location near the park. I don't recommend this place because our hotel room stinks, like a musty smells as soon as you walk in. The toilet kept making a loud beeping noise, not sure what was happening. The bed was so hard. But they did let us do a late check out so that was nice.
I'm very happy we stayed here
We are a family of 5 (kids are ages 7, 5, and 2) and booked the family suite. While researching hotels, there were two things that were a priority for my husband and I: proximity to Disneyland and room separation. But we also needed it to be clean. Free breakfast would have been nice. And a kitchenette would have made making pancakes in the morning easier. But in the end, proximity and room separation were much more important. So even though we didn't get free breakfast, the family suite at this hotel provided exactly what we needed. When we first arrived, we were 20 minutes early. I was so happy when they still let us check-in. When we got to our room, it seemed perfect. But then we turned on the AC and it smelt bad. Our family is sensitive to smells so this was going to be a problem for us-especially because we were staying for four nights. I called the lobby and they kindly said we could have someone come clean it, or try another room. We tried the next room and luckily, the AC didn't have a bad smell. The walk to Disneyland with our 2-year-old in the stroller and our 7 and 5 year old walking, was 10 minutes or less. The walk never felt like too much for us. (And that's with coming back midday for an afternoon break and then going back to the park again). We only did two days in Disneyland, but I think the walk would not have felt like too much if we had done a third day. Our king bed was comfortable, but the sheet was not. It was kind of pilling. We meant to ask for a new one, but we were always so tired at night that we never got around to getting a new one. The kids said their queen beds were comfortable. Having the separate AC\heating unit and TV in the kids' room was so nice. The extra sink and counter space was also so nice. A water bottle didn't fit in the bathroom sink, but it did in that sink. I loved having a table in the kids' area. For meals, we would pull it in front of the TV and have them sit there. My husband and I just ate in the beds. Our hotel room was roomy. The closet was so nice. We were able to hang up all our jackets in there and store all our empty suitcases. We only did the pool the morning before we left and it was so fun. The little kiddie pool was perfect for my 2-year-old. And it was warm. The staff was always friendly and helpful. They have 3 washers and dryers you can use. ($1.50 to wash and $1.00 to dry. You need to bring quarters or cash. If you bring cash you can exchange it for quarters at the lobby). For dinners, we either ate in the park, DoorDashed dinner to our room, or we went out to eat. I highly recommend Outback. It's a 6-minute-drive and we had a great experience there! Showers were never a problem. I've heard that other hotels have water pressure issues, but ours was always warm enough and fast enough. The day before we left, I went to the lobby to ask for room service, but they said you need to do ask for it 24 hours in advance. So, nobody could come make our beds, but someone did come and take out our trash and gave us new towels. I would absolutely stay here again. My husband who gets migraines easily from smells probably wouldn't just because it is older. And anytime a hotel is older, it's going to smell older. The smell of the room itself wasn't bad, and it felt clean, but it is older. I LOVED this hotel. I'm very happy we got to stay there.
Patricia B. on 11/02/2022
Clean room, great location - close to Disneyland and to shopping, nice pool and lodging area, plenty of parking - great customer service!
Really cozy hotel just 10 minutes from Disneyland. Front desk was super helpful and kind everytime we interacted with them. Had mask requirements for safety which we appreciated. Entire staff was friendly. Would stay here again as well as recommended for a friend. And they had smoking rooms which for me was amazing because I vape daily. So glad they could accommodate us during our stay and move us to a smoking room hassle free.
7 minute walk to the park, spacious rooms
This hotel was very nice! I've wanted to stay here every time i pass by it when I go to disneyland. This has been the closest hotel that I stayed in that was very walkable. Staff was friendly and help resolve any issues brought to them. I went to the office early morning and asked for a plunger as the toilet was clogged, someone came right away to fix, I told the maintenance person about the bathroom door that is stuck when opening, and later after we came from the Parks, the door was fixed. I felt safe and comfortable here with just daughter and I. Noise level was ok, as we were in the 4th floor it was overall quiet whenever we were in the room. I asked about leaving car after checkout as we had a park day, but wouldn't know till the day of checkout, they had room so I was happy that they could accomodate. I would recommend this if you're on a budget but want to be close and not that picky. This hotel is a bit outdated but overall everything worked fine in the room. Pros: 7 minute walking to the Parks; free parking; good budget for being close to the Parks, got a good deal with getaway; spacious room, at least for the 2 queen bed room, there's 2 nice size table along with the mattresses, armoir, dresser w/tv, plenty of room to walk around. Sink/Mirror is outside of the bathroom so that's nice. For being on a busy street, it's quiet over all. A/C worked really well. Con: Water pressure in shower could be improved, it was low pressure to me, like a slight slow flow of water, the fridgerator could use improvement, the one we had was only slightly cold, no temperature control to increase it, I do wish it offer a mini freezer. The ice machine were in the first and 3rd floor near elelvator, not sure if it's available on the other end of the hotel. Toilet paper was rough. So while I would recommend this hotel, I would explore other hotels as well to see which is a better fit and experience for you and family. I'd rank this hotel a 7 out of 10. While this hotel gets a lot of great reviews, I just wasn't wowed,
Great Hotel for the Price
Great hotel for the price. Staff was nice and it was a short walk to Disneyland.
Great place, I love that it's a doable walking distance to the park!
Great room for great value
This hotel is nothing fancy, how ever comfy beds and pillows and a great place to stay. Clean and had all the amenities needed. The office staff were awesome. We were there for 6 nights and 5 days to give an idea. it's close enough to Disneyland (.5miles) that you can easily walk to and from the park. But also far enough away that it's quite at night. There is also a Walgreens and CVS with in walking Distance. We didn't have to use our car once the whole trip, which forsure helped us save on gas. The rooms are older in design and furniture and there are for sure fancier hotels. But this hotel is the one we will plan on using every time we come out to Disney. I would recommend this to anyone looking for a deal with out cutting comfort. We did not use the pool or hot tub but people were using it frequently as we could see it form our room. Also free parking! We drove from Utah and got there about 3 hours before check in. They let us check in and do all our paperwork. Gave us our parking pass for the lot( which did I mention it's free??), then said we could come back in an hour and the room would be ready! Which was still early, for no extra charge! We left the car in the lot then walked down the street to eat some food. Also being from a state that relays on A/C we were super impressed by how cool we could get the room! I could not recommend this hotel enough!
Shanelle A. on 09/05/2022
Can't recommend this hotel enough
We have stayed here a number of times and absolutely love it! So many great rooms for different party sizes. We have stayed in all of them! And can't recommend this hotel enough.
Nice hotel and it was walking distance to the parks
Danielle E. on 09/09/2022
Nice hotel and it was walking distance to the parks
Great hotel great front desk
Our room was great. Very timely on towel pick up and garbage pick up all you had to do was call the front desk. Towels were delivered at that time if you needed it. Great hotel great front desk
Free parking and good distance
We appreciate that parking was free and hotel was within walking distance to Disneyland. If you don't mind the room is outdated and the faucet in the bathtub area needed adjusting to turn off the drip, then this hotel will do.
Alexandria A. on 08/20/2022
This was a close hotel to Disneyland and the room was large enough to accommodate 6 people. They were also quiet. Could not hear any noise from the outside.
Love Castle Inn and free parking
I love Castle Inn. I have stayed there the last two trips to Disney I have had. I like the fact that I know it's close to the park, I like that they have the amenities I want, I also like the fact that they have free parking and they are a friendly family-owned business.
7 min walk from Disneyland esplanade. We miss the on-site store the hotel used to have, but there are plenty within walking distance. The pool and hot tub are a great retreat and never seemed too busy.
This hotel was a great value and decently close to the parks. However, it's a bit further than my family would prefer to walk after a long day so I think next time we'll stay a bit closer. But overall, the service was great, the room sizes are awesome, and it was very clean! Would absolutely recommend if you don't mind a few extra steps. No parking fees make this hotel even more worthwhile!
Convenient for our vacation
Castle Inn & Suites was conveniently located for a Disneyland vacation. Many restaurants and stores located within walking distance or a short drive. Staff at the front desk was extremely helpful and answered all questions. Housekeeping is still not visiting daily due to Covid, but fresh towels and toiletries were available immediately by placing a quick call. Rooms were clean and spacious with comfortable beds.
Clean room and customer service was great. Ac worked well too. Walking distance to Disneyland.
This hotel is ok. It is a great price if you are on a budget. I've stayed at other hotels during other visits and I would choose them over this one. The rooms are clearly older and outdated. My room had ants all over the bathroom area and the balcony to the room was sketchy and made me feel unsafe. However, we enjoyed the pool and the staff was very nice and extremely accommodating. We even had an issue checking out on time due to a local restaurant not bringing our breakfast for 1.5hrs and they were very gracious and understanding when we explained why we were running late to check out.
Castle Inn was great! The service at the front desk was outstanding. The location and closeness to Disneyland was a huge plus. Nothing fancy about the hotel but it was clean, room was plenty big, parking was easy, and overall it was a great place to stay. Will definitely book here again.
The owner greated us and made my girls feel special. They had our room ready when we got there. Even before check in. I was just letting them know we were there to drop off our luggage to go eat.
LOVED this place! Close to Disneyland, several restaurants and drug stores, so could walk anywhere we needed. The castle motif was magical, the room and grounds were clean and in good repair, the pool was also clean and well-kept.
Would most definitely stay again
Room was older but very clean and spacious. Would most definitely stay again. Staff was very kind from front office to housekeeping and grounds keeper . All very polite .
Kimberlee W. on 06/04/2022
Clean room! Very spacious and comfortable. Very friendly and helpful staff. We had an upstairs room and didn't hear any noise from neighbors beside or below us. Elevator was super nice to have. Easy walking distance to the main Disneyland entrance on Harbor. I have stayed at several area hotels and would definitely stay here again!
Overall the room was clean but the bathroom had some areas that were overlooked.
The Castle Inn & Suites was a perfect fit for our needs
The Castle Inn & Suites was a perfect fit for our needs! It was only about a 10-15 minute walk to Disneyland ONLY because I was 27 weeks pregnant so we took it really easy! Reasonable walking distance, a friendly budget room and the staff was amazing!! It was nice to be able to leave mid day and take a quick dip in the pool to cool off when we caught the end of a heat wave! The room was very clean and cozy, A/C worked very well and plenty of pillows per bed to sleep comfortably after a long day in the parks! Only downside was no breakfast available on site but we knew that when we booked and preferred the cleanliness of the rooms and the distance over that small item. Overall would definitely recommend to anyone considering!
I stayed at Castle Inn and Suites for the first time, for two nights. The staff was kind, parking is free for one car per room, and there was plenty of parking spaces available. My room had two queens with four pillows each. The bed was comfortable, though the blankets are thin. There is an alarm clock with usb charging ports. The room had a table with two chairs, a desk, a wardrobe, and a nightstand. Nothing too fancy but all in decent shape, and I enjoyed my stay. As far as noise goes, there was a little bit of street noise, I could hear anyone walking past my room with rolling luggage, and I even heard the alarm of the room next to mine in the morning. I had a sound machine next to me at night, and wasn't woken by sounds. Unfortunately, the hot tub had some gross floaties in it, and the filter on the water bottle fountain needed to be replaced, but I would stay here again. I loved being so close to Disneyland, and it was a great value.
Everything was good except water pressure in the room
Everything was good except water pressure in the room
The staff are absolutely wonderful, kind and helpful.
The staff are absolutely wonderful, kind and helpful. The rooms are as basic as can be. The shower head didnt really work or adjust. The trashcan in our room smelt like an ashtray. The mattresses are very basic and firm. But it is very close to the parks are parking is free at this hotel.
Hotel was a bit older but very cute.
Hotel was a bit older but very cute. We needed a family suite and loved how the kids had their own room with two queen beds. A short walk to Disneyland. It took us only 6-7 minutes (we have older kids though so we walk fast). Staff was incredibly friendly and helpful. Due to Covid, there was no housekeeping while we were there but we just called to request more towels and they were there when we returned from the park. Close to a CVS, Subway and pizza places. We will definitely stay again.
Tiberius L. on 03/25/2022
the hotel itself was fine, a little dated, but being closer to the parks was nice, however, the beds are like concrete. and if you dont make it into a spot before others you have nowhere to park. the staff are super nice, and they will even charge your scooters in the front office for you, but the beds being so hard is a huuuuge downside especially after a long day in the parks
It was very close to disneyland. The only thing I didn't like were the beds. They weren't very comfortable and they were only a double and a king size bed wasn't available.
Staff was friendly and helpful, and the location was great.
Clean, friendly and helpful
Clean, friendly and helpful
The staff was friendly and the room was clean, we were able to check in on time with no wait. The location is perfect, about a 10 min walk from our room to the Disneyland gate. Loved that the room had a refrigerator and a microwave because the last hotels I've stayed at don't usually have both, just the refrigerator. My only complaint is that there was so much noise and I'm not just talking about the guest because that's to be expected. We could here what sounded like water dripping but it wasn't coming from our room, we could hear every tick and squeak. We were only there for 2 nights so it wasn't a big deal plus the location can't be beat for the price. Try and request a room on the top floor, maybe that will help with all the noise but I'd stay there again.
Friendly staff, immaculate interior and exterior, older rooms.
Friendly staff, immaculate interior and exterior, older rooms.
The hotel is in a great location. Short walking distance to Disney. But the mattresses need some help. They were so hard it was like sleeping on a wood floor. But the staff was very helpful and friendly.
10/10 Proximity to Disneyland!
Proximity to Disneyland was a 10 out of 10! Less than two blocks away. The hot and cold water on the shower was difficult to figure out but if you turn on the hot full-blast and then adjust with minute cold adjustments you can find something other than freezing or scalding. I liked the fact that the maids were not coming into our room every day to tidy up - we felt more confident leaving things in the room for safe keeping.
Perfect for a family trip to Disney!
This hotel was perfect for a family trip to Disney! We had plenty of space to spread out after a long day together or curl up and watch a movie or play a board game! The pool was heated which was a lovely bonus in January! The staff was all incredibly kind!
Michelle H. on 01/18/2022
This is a great value for people looking for a clean and comfortable place to lay their head on their vacation. We were in the parks from open to close so it worked perfectly!
I've stayed here 3 times in the last 12 months, and their customer service consistently exceeds my expectations. The rooms are a great value as well, and although dated, are well kept and clean. I will keep staying here as long as they keep being amazing.
We will stay here every time we go to Disney!
We will stay here every time we go to Disney! The rooms are great and the staff is friendly! Perfect location and great for families!!
While it's obvious the hotel is dated that was not an issue for us at all. The staff was very friendly and our room was very clean. It's close enough to the entrance of Disneyland you can see the back of guardians of the galaxy from the parking lot. To be that close and get free parking and pay a very reasonable price for the room was beyond worth it. My only warning is it's very loud since the rooms are outside and guests are coming back from Disney very late and Heading to Disney very early.
Small rooms but good service
Rooms are a little on the small size. The front desk staff was A+ on service.
Hotel was clean, beds were a 6.5-7 out of 10 for comfort. The decor is very very dated. But we were really only there for showered and sleep. Staff were pleasant, helpful and friendly, and allowed us early check in to freshen-up after traveling. Close proximity to park entry. Used the fridge and microwave daily. Enjoyed our stay.
We really enjoyed our stay. It was clean and comfortable. Just a 10 minute walk to the parks was very nice.
We had a family suite. The extra room with a door that closes between the two bedrooms is a life saver. The property is ok, rooms are clean, I would bring my own comfy pillow next time, the staff was incredibly nice. The walk is close to Disneyland and the suites in the back were relatively quiet for a family hotel. This wasn't our first stay and we would definitely return.
The hotel was clean and close to Disneyland. Easy walking distance.
Good Hotel, little dated but clean, does need a little work and updating on the rooms
The hotel was accommodating for my family of 5, 2 children under 5 and a teenager. It was spacious and the kids and us loved having our own space. Everyone was helpful and polite and it was a short walk to Disneyland. The accommodations saved us money too as we could bring our own food to eat or prep for the park.
They were very accommodating with every request, so close to Disney, that was key with little kids, we walked back and forth throughout the day for breaks. 10-15 minute walk. Kids loved the pool and hot tub too.
Jennifer H. on 09/26/2021
Castle Inn and Suites was the perfect affordable hotel to visit Disneyland. The location was great and the hotel personnel were helpful and friendly.
Just returned from Disneyland and enjoyed our stay at Castle Inn. We have stayed there numerous times and have always had a good experience. Right now, because of Covid, I believe they are understaffed and unable to make your bed for you and clean your room daily. I love coming back to a clean room after a long day at Disney but given the circumstances it really wasn't that big of a deal. The staff bends over backwards to get you anything you require. My sister used a ridiculous amount of towels and the staff was really nice about bringing her fresh towels daily and taking away the old ones. We were told to call them if we wanted our trash emptied or needed more toilet paper or soap. They were really prompt with delivering what we needed. The hot tub was lukewarm when we got there, but they turned the heat up for us when we asked. They also stored our luggage for us after we checked out so we could go to Downtown Disney while waiting for our shuttle. Every person I talked to at the front desk was so nice. I'm sure some day the labor shortage will stop being a thing and everything will return to normal. We are already planning our next stay and will be staying at Castle Inn. It is a good value, it is close to Disney, we love it there!
My family and I loved this quaint hotel. The staff is very friendly and accommodating. The room was charming, in good repair, and clean. It was nice to have a bath in the room. We also enjoyed the swimming pool and hot tub!
Friendly office workers. Room was clean and comfortable.
We will be staying here for sure!
Michelle S. on 09/03/2021
Good sized clean rooms. The walk to Disneyland was great, about 10 minutes! The staff are very friendly and helpful. We will be staying here for sure!
The hotel was was an easy walk to Disneyland. The room was clean & spacious. Loved the free parking. The pool is very small and the hot tub was lukewarm.
Amazing staff and clean rooms.
The hotel itself was quite old and in need of updating. The rooms were clean but because of Covid, they did not offer daily housekeeping. The beds were not very comfortable and the bathroom was small. We were not in the room very much so this wasn't a huge issue but it would have been nice to come back from a busy day to a made bed and emptied trash. The staff was amazing and very helpful.
Much better than expected!
Everything about this place was better than expected. Staff were super accommodating and the room was bigger than you typically see this close to the parks.
Michelle C. on 08/26/2021
The hotel staff was some of the friendliest weve come in contact with, rooms were clean and nice. I think the outside scares people away but its a nice hotel!
The staff was very helpful and friendly, the room was clean and perfect for our needs. Air conditioning worked great. The shuttle service the hotel recommended was great.
Clean and incredibly friendly!
Clean and incredibly friendly!
Rooms are spacious and clean. Theme is adorable.
Close to park entrance clean and affordable
Close to park entrance clean and affordable
Friendly Staff, room was very comfortable. Close enough to parks to walk. Only 10-15 min walk.
Friendly Staff and Convenient Location
Friendly Staff and Convenient Location
Nice rooms and good location
The hotel is within walking distance of Disney and the restaurants around the block. The rooms were very nice (that bathroom could use some sprucing up). It was really quiet, other than the fireworks of course. Parking was always available and the pool was nice, no breakfast or gift shop... but that's the new normal.
Very close to Disneyland, restaurants, and pharmacy's. The hotel was excellent for what I needed.
This hotel was the absolute best
This hotel was the absolute best! The parking is free, a quick walk to Disney, and SUPER clean! I will 100% be coming back. The pictures online don't do this place justice and it was ALOT better than we expected. If you need a cheaper hotel and a quick walk to Disney with free parking, this is it. I loved the exterior as well, the magic doesn't stop just because you left the parks.
This was a great hotel, especially for the price. The staff were all friendly and helpful. The walk to the Disneyland main gate was about 10 minutes (depending on lights & how fast you walk). At the end of the night, especially the last day, it did feel like forever but we were wore out. There were a couple reasons why I didn't give five stars - first was that the black out curtains were short and didn't completely close out all the light and it made it bright in the room. I tried using a chip clip and pillows to help keep out the light (which were the hotel lights). Second, which really was horrible - I asked for a ground floor which they accommodated but we ended up in the front corner right in front of the elevator, ice machine, soda machine and the stairs. It was CRAZY loud and busy ALL the time! If we actually spent time in the room and if we weren't so tired from a full day at the parks, this would have been a HUGE problem. No one was ever considerate of the rooms right there. We heard laughing, crying, fighting, etc.. All in all, it was worth the price just for a place to sleep but I'll probably try another location next time (maybe a little closer). And, the store was closed due to Covid, which is understandable but nothing was mentioned on their website about it being closed.
Excellent customer service.Clean rooms,The staff are extremely helpful and when you call for towels they are there within minutes.We got there early before check in and they helped to find us a available room so we didn't have to wait .We also were allowed to check out late .Awesome service !
Hotel was nice and clean. Staff was excellent and helpful.
Overall a close walk to Disneyland. Definitely recommend. Plenty of parking. No issues here
I will definitely be booking again!
This hotel has the best customer service I've ever had at a hotel, it was in perfect walking distance to Disneyland, and it was very clean and comfy. Lots of pillows and the beds comfy, room Had a nice little coffee maker, mini fridge, and microwave. I will definitely be booking again!
Great value with free parking and close walking distance to Disney. Rooms are basic but spacious and clean. Recommend!
We will be back a 4th time soon!
This is the 3rd time we have stayed at the Castle Inn and we were very pleased once again! The deal we get at Get Away Today makes it a great value! Clean rooms and a short walk to the parks. We will be back a 4th time soon!
Overall it was a good choice
Overall it was a good choice. A quick walk to the park, clean, never heard your neighbors and friendly staff. A bit dated and not being able to use the pool was a bummer, but I would stay here again.
Great stay! Just what we needed and received a connecting room for our family and did not even have to request it! Amazing customer service. The cleaning ladies were awesome too. Always asked if we needed anything as we pasted them during the day. Thank you Castle Inn!
Christina D. on 12/26/2019
Staff was great. Room was clean
Within walking distance to the parks. Friendly staff.
This is my all-time favorite Hotel. I've been staying here for almost 20 years. I would recommend this hotel to anyone it just gives your trip a little more Magic. Nice big rooms, clean and it has a great little store.
walking distance to park. great customer service. room clean and spacious.
It was very close to Disneyland! We walked to the park everyday and walked back at 11:30pm. It was clean and a comfy place to sleep.
Rooms should be renovated
Our 2nd time staying. Great location to the parks (about a 10-15 minute walk) Very accommodating staff and very clean rooms! Will stay again.
Clean rooms, close to Disneyland, restaurants, and Walgreens. Heated pool and jacuzzi.
My husband, 5 year old, and I stayed for 4 nights. The staff at the front desk were welcoming and happy to help with anything. Our flight arrived early in the day before check in, and they had no problem with letting us keep our luggage, car seat and stroller in the storage room while we explored Downtown Disney. We had a room with two queen beds. The room was clean, and the beds were comfortable. The hotel is walking distance to Disney. The castle appearance was very exciting for our little princess! Definitely recommend!
Very nice hotel and super close to Disneyland.
Jennifer W. on 11/20/2019
Very nice staff and clean rooms.
Jacqueline J. on 10/19/2019
Super close to Disneyland, just a short walk and don't have to worry about the shuttle. Only thing I wish it had was breakfast.
Good value, GREAT location
Close to Disneyland . Convenient and clean. Nothing fancy, and the beds are kinda small but it's a decent value with a great location.
Rachelle L. on 10/16/2019
Staff were friendly. Hotel is within walking distance to Disneyland, just 10 minutes away. Room was clean.
Clean room, comfortable bedding. While there there was a fire that closed I-5. The clerk at desk gave me a map and explained how to get around the fire
It was close enough to walk to the park. It had great staff. Enjoyed the spa while the kids enjoyed the pool.
Convenient, close to the park, very helpful.
Super close walk to the park and the gift shop has everything you need there is also plenty of food near by and walgreens
It was a fabulous hotel and staff was great, a breakfast lounge would make it even better.
We were very happy and comfortable staying at the Castle Inn and Suites. The hot tub was perfect at the end of a long day of walking and standing in line. The walk to Disney wasn't long at all although we have stayed closer and some days closer can save the day. Bring your own conditioner and lotion, the only toiletries provided were shampoo and soap.
Could use an update, but met our needs
The room is pretty basic and good enough since you'll be spending your days in the park anyways. The bathrooms need serious updating and trying to take a hot shower was a task. The water was hot then cold the entire time. You were either being burnt or momentarily frozen.
The hotel is fine. Free parking was nice and the room was clean and quiet. The location itself is a little farther than we wanted to walk though.
Didn't spend much time at the hotel - just a place to unwind and sleep
I would definitely stay here again
I stayed Labor Day weekend with my daughter, overall it was a good stay. Easy check in and out, about a 10-15 min walk from the hotel to the gate which was really not bad. The hotel was closer than I expected. The room was clean overall although is smelled a little but not a terrible smell. It was like a wet smell after something has dried. I would definitely stay there again. We were hardly in the room so it didn't really bother me. The parking was free too.
Located across from Disneyland
This hotel is conveniently located across from Disneyland. Just a short walk away. It's definitely a budget hotel but if you are looking for a place to sleep, this is it!
Victoria M. on 08/23/2019
Clean room with great AC and it's within walking distance to Disneyland!
Pros: Great location. Allows to have six people in a unit, but with privacy. Maintenance responded quickly and efficiently (broken refrigerator). Cons: Rooms are older and dated (dark) Outside sidewalks dirty. Electrical breaker to the bathroom kept shutting off. Overall, fit our needs. Our group could stay all together in one unit, while giving families privacy. Not the cleanest, up-to-date place, but since we mainly used the accommodations to shower and sleep, it was more than adequate, especially for the price we paid. Location to Disneyland's entrance gates could not be much better.
Pretty close to the park, about a 10 min walk or less! Love staying here!
Overall great experience. Room was very spacious and had all the basic amenities that we needed. Staff was very polite and helpful. Great location and the pool was perfect to cool after a long hot Disney day.
Danielle W. on 07/26/2019
Great customer service, very friendly people! Loved that it was so close to Disney I was able to walk there. Would def stay here again!
The hotel was good. Could've used better tv's/cable. The fridge in the room barely worked. Hotel room kind of smelled.
I was expecting queen size beds and I'm pretty sure they were full size. There was a gap under the front door large enough to be very noticeable. Other than that it was a close walk to Disneyland which was perfect; didn't have to wait for a shuttle, lyft, or Uber.
It being located so close to the park was something that we really appreciated. Walking back after a busy day in Disneyland can be excruciating, but the Castle Inn made everything so easy and allowed us to enjoy the entirety of our vacation that much more.
Close to the park and very clean and nice!!!
Friendly Staff & Comfortable Rooms
Overall I had a pretty good experience with this hotel. Check in was quick and easy, the staff was friendly and helpful, my only complaint was the shower. Our shower had very little water pressure, it was almost like a mist rather than a stream of water, and it would fluctuate between hot & cold. It was a small detail and I would still recommend this location in the future. The location is great, within 10 minutes to Disneyland, and centrally located by restaurants so you don't have to drive out of the way.
I've stayed at the Castle for years. The rooms are simple but clean and the location is great. The pool is a little small and I don't love how it's in the parking lot but the castle theme is always a favorite of my kids. Not a far walk and close to our favorite restaurants- Cheesecake Factory, California Pizza Kitchen and they even have a CVS not far. I normally book early to get the extra night free so it's an even better deal.
The hotel was nice. A few downfalls, such as the water constantly going from really hot to cold. The one that thing that I myself was a bit bugged with was, I asked for an Iron and an hour later had to go to the desk and ask again. I also asked for towels and toilet paper one afternoon, and I had to go and find the cleaning staff to get these items. Other than those things, the hotel was reasonable. Quick walk to Disneyland and restaurants near the hotel.
Staff very nice! Room was very comfy soft beds. When taking a shower the water would go from hot to cold from time to time but other than that my stay was amazing! Thank you Castle Inn for the friendly service. Its about a 5-10 minute walk to Disneyland.
Lawrence O. on 07/16/2018
The room was very comfortable and the hotel was about a 5 minute walk to Disneyland.
Great Hotel at a grest price
Jennifer H. on 06/15/2018
The hotel was reasonably priced with comfortable beds. Since it's only a 15 minute walk to Disneyland we didn't spend much time in our room except to sleep. My only complaint about the room was the lack of outlets by the beds. The hotel was within walking distance of several restaurants and a bus stop. Since we didn't rent a car, being so near a bus stop was nice.
Only 15 minute walk to Disneyland's front gate! Free parking, basic rooms but always cleaned and made up by hotel staff before our return each day. Great location and price. Room included parking, small frig, microwave, coffee maker, hair dryer, wifi, TV/cable, small pool (did not use). I would recommend and stay there again. Cannot beat location, parking and price.
I absolutely loved staying here. Close to Disneyland and the staff was so nice (:
great location, Great stay over all. Only thing missing is a continental breakfast of some sort. would recommend to others and will stay again in the future.
nice room close to disneyland
We stayed in this hotel the first week of January 2018. It is a nice hotel, clean room, comfy bed, mini fridge, microwave, tv and has friendly staff. It is within walking distance to Disneyland, Walgreens, Subway, a Chinese restaurant, Pizza place, Denny's and Ihop. We walked to many of these locations. The hotel doesn't offer a breakfast but we chose this hotel because it offered free parking and was in walking distance to Disney. The hotel also has a small store where you can buy snacks, drinks, breakfast items and other Disney related items. We bought our own breakfast meals from Walgreens and the hotels store and that worked for us. We used the pool one day we were there it was cold outside and the pool wasn't heated so we mainly used the spa but it worked for us, the staff gave us extra towels to use. My kids also loved the castle design of the hotel it added to the magic of our vacation. the only thing we noticed was sometimes the water temperature would vary while using the shower but it wasn't a big deal to us. We would definitely stay here again.
Spacious rooms withing walking distance
This is in no way a 4 star resort, but for the Disneyland area, it is a decent place to rest between park visits. We stayed 5 nights around Thanksgiving. Depending on your walking speed and waiting at crossing lights, it is about 7 – 12 minutes from the security booths. The room had two double beds, one bedside table, dresser, small closet, and TWO tables (a desk and small breakfast size table) and four little chairs. In addition, there is a mini fridge, microwave, coffee maker, hair dryer, and basic toiletries. We did not turn on the TV so I can't say anything about the channels available. The room was always clean and plenty of towels provided daily. The downside was the pillows (lumpy foam), the fridge did not get cold enough, the outlet by the sink did not work despite requests to fix it, and the hot water struggles to keep up with demand so at times the pressure is very low and changes to scalding hot then freezing cold. A tip to avoid the water issues is to shower at night when the pressure and temperature are consistent. The beds were small (doubles) and firm but at least not lumpy or uneven. Our room was located across from the lift (elevator) and it was quieter than I hoped and we only had to hear the occasional loud family shouting at each other while waiting for the lift. The front desk always met us with a smile even if they couldn't fix our not cold fridge or broken power outlet. They had a room ready for us to check in early which was great since we had been up since 2am to travel to Anaheim from Oregon. The front desk will store your luggage if you arrive early or depart late. However, it is not a secure luggage check with your items tagged and stored away from other guests. The luggage closet is just a locked room up front and there is not system in place to ensure that when you pick up only your items. This made me nervous, but we didn't have a lot of choice since we arrived at 9am for a 3pm check in and didn't leave until 5pm for a 11am checkout. Our Thanksgiving trip experienced record breaking hot weather and the pool was cool and clean. The pool did not seem to be heated and was very cold – had the outside temperature not been so high (95!!) it would have been too cold for me. No breakfast is provided. There are several places to buy breakfast nearby or just stock up on basics at the small shop next to the lobby.
Okay, I'm like you. You're reading these reviews and a lot of the negative ones seem like they're left by people that are high maintenance and needy. I'm not that person, I don't complain and I don't have any special requests. That being said, Castle Inn and Suites was absolutely awful. The moment we walked in my wife and I were hit with a strong urine smell (I know it's just the a/c and not urine) and an even worse mold smell in the bathroom. My sense of smell is weak so if it made me catch my breath you know it's bad. After dousing the room and a/c unit in some febreez that I borrowed from a maid, we thought it would clear up in an hour or so. After it didn't I walked to the front desk and explained that I wasn't mad and wasn't going to make a big fuss but I really wanted something to be done. She was very sweet and said she would send someone up. The maintenance guy showed up quickly and.....sprayed our a/c unit with some febreez....no joke. We also thought maybe we had a "bad room" but walking down the hallway we smelled a few other rooms that had their doors open and they were just as bad. At this point I knew that almost nothing could be done on my end so we just dealt with it for the week. Now, I knew we had an amazing location so the quality of the hotel would be lacking (typically at Disneyland, close hotels aren't great and further ones are better for the most part) so I wasn't surprised by the light in the bathroom hanging out of the ceiling, chipping paint, the fun shower game we played where the temperature swung wildly from frigid to burning hot, etc because plenty of reviews warned us of this. Okay, so now if you've read to this point you may be thinking, "hey fella, just deal with it because you'll spend your days in the park. You just need a place to sleep. Who cares if it's not a Hilton?" Well, I'm with you. We just made jokes about it and tried to leave earlier each morning. After 5 days in the park, spending about 16 hours there each day, we arrived to our hotel Friday night exhausted. When faced with the prospect of staying another damp smelly night there, we just decided to check out at about 10:30 pm (they have 24/7 desk service) and drove the 10 hours home because that seemed more appealing. None of this is exaggerated, I've never left a review like this. Please, just....choose another hotel.
courtney e. on 10/03/2017
My family just spent 4 nights at the Castle Inn and we loved it! The castle theme was very cool and the kids loved meeting Rusty the knight. Yes it's an older building so if you are looking for all things shiny and new,this may not be the place for you.If you are looking for a comfy place to rest your head at the end of a long day at Disneyland though,it's perfect.It's so close,you can literally see the Guardians of the Galaxy ride across the street.My kids thought that was the coolest thing ever and it just amped up the excitement level.We stayed on the top floor and it was quiet all night.The room was clean and spacious for my family of 4 and the beds were comfortable enough.The shower was a little odd,with the water changing from hot to cool intermittently but it was manageable.I definitely recommend staying here and we look forward to visiting again!
This hotel met our every need. Great stay!
My daughter loved going home to our castle at the end of the day
Raven and Michelle P. on 10/06/2017
Not the best room but a good hotel for a good price within walking distance to Disneyland. The beds were hard but the rooms were clean. The staff was friendly. Only one of the three washing machines were working but they offered a laundry service for $34 and that ended up being totally worth it. The best part about staying here was my daughter's excitement to go back to our castle at the end of a long day at the park.
Not bad if you like a damp room with ants!
Not impressed at all with this hotel. Being close to Disneyland is the only benefit and not worth it. Out room had ants and we were told they would take care of it but never did. The shower was outdated and water temp constantly fluctuated. The room was always damp even though it was not muggy outside. There are better places to stay than here. The staff were pleasant but the room was not.
Close to Disney but that's the only pro
Salvador S. on 07/17/2017
This hotel was pretty bad. The room only had 1 nightstand, the cleaning lady's came to clean the rooms at weird times. The earliest they came was at 7:30 am and then came the next day at 5:00pm. They didn't even clean our room on the last day so we had to reuse wet towels that were sitting on the ground waiting to be refreshed. The staff at the front desk was very nice and the location is a 15 minute walk to Disney but that's all that was good about this hotel. The door on the room didn't line up correctly so light came though the bottom. We were lucky none of the crickets that were outside the rooms came inside. The rooms had little lighting, very dark. You could hear literally everything going on outside, kids running, people yelling, the cleaning ladies walk by with the carts, the ac units are noisy, you could hear conversations in the room next to you. Overall bad experience and will spend more money to stay at a nicer hotel.
It is great for the price
You can't beat the price for staying across the street with parking included. The beds were comfy, the pool was a big hit with our family but the customer service in the lobby was horrible. I had a note put on my car, even though the flyer was on the dash board, saying our car wasn't registered. When I went inside, like the note asked, I was greeted with an attitude like why are you in our parking lot. When they realized they were wrong they tried to blame it on someone else instead of just apologizing. Then I misplaced my debit card. I went into the gift shop and the man helped me look all over. When I went into the lobby the girl cut me off and shouted NO when I asked if anyone had turned one in. We did enjoy the short walk though :) - I would stay here again, just make sure you don't loose anything or need anything from the lobby HAHAHA
Walking distance to Disneyland
The hotel is close to Disney. Staff extremely friendly. Pool was ok kids loved it! Would be nice if bigger especially when alot of people are in the pool. The room was big with fridge and microwave. Air conditioner worked well. The only thing I can really complain about is the lighting in the room. Even with all the lamps on the room was dark at night. I wish the bulbs were brighter. There wasn't enough light for me to read. But I would stay here again.
My sister and I stayed for the Tinkerbell run. We enjoyed our time here as it was just a quick walk to Disneyland. We had a issue with one of our bathroom lights that had gone out and we called front desk and they sent someone to fix ASAP.
Best ever hotel experience! !
My 6 year old daughter and I stayed here for a week. We loved it! It's a 5 minute walk to Disneyland. Great area with lots of places nearby to eat. The room was huge! The beds were awesome! The staff was very friendly from check in to check out. The pool was just what my daughter loved and the jacuzzi is just what I needed after walking through Disneyland all day! We will definitely be returning to Castle Inn and Suites! Thank you for making us feel at home!
Great inexpensive stay close to Disneyland!
We stayed 6 nights here while we spent a week at Disneyland. We booked through Get Away Today and our check in was really quick. It's right across from the south end of DCA. We had spent the day in Long Beach so coming in from the south our kids couldn't see the park so we were able to surprise them once we got to our room. It's motel style where the doors go right outside. The rooms are perfect for what we need. The beds were comfy but after a full day at Disney I think everyone could have slept on the floor and slept all night. There was a mini fridge and small microwave. We brought stuff from Costco like breakfast sandwiches, gogurts and poptarts. We could eat breakfast right in the room. There are places down the street too but for us this was a cheaper option. There is not a freezer part in the fridge but there is an ice machine by the elevator so we'd fill bags with ice and use those in our soft cooler to carry food into the park. The rooms were clean. We like to leave a little tip, even if it's only like $5, for the lady that cleaned are room with a little thank you note. They took great care of our room during our stay. It was only about a 10 to 15 min walk to the park. By the end of the day that was about as far as I could make it. Any further and I think I might not have made it. But really the walk isn't that bad and for the price and the fact that you don't have to pay a parking fee each night, it's such a great location. We'd stay here again in a heartbeat. It's not the nicest place around but if you're on a budget it's the nicest place you can stay for the price. I know I saw reviews about bugs and stuff. We didn't have issues but we were there the end of January into February. It's a great place for those on a tight budget like us.
We really enjoyed our stay at this hotel during our Disneyland trip. The staff was very helpful and friendly, and the room was very quiet, which helped us sleep better, as we were very tired each night, from being at the Park all day!! I would highly recommend this hotel for your Disney stay!!!
This is our first Disney trip and while not a resort I understood it would be a standard hotel room. It was clean, nice sized fridge in room, lots of towels available and very quick walk to Disneyland. Free parking is also a plus. I do wish they used brighter colors for bedding and furniture but the beds were very comfortable and included extra pillows. Would definitely stay here again
Clean, comfortable, close to Disney
Just seeing the hotel from the street put me in a good mood, it was just fun and exciting. The rooms were average, they were very clean and the beds were comfortable. The mini fridge and microwave were very convenient and nice to have. We were able to walk to the corner to go to Walgreens, CVS, or 7-11 to get breakfast items which helped save some money. The walk to the park was fast. The pool area was pretty small but being there in January it wasn't busy at all. My only complaint was the water temperature would fluctuate while in the shower, it wasn't a huge amount but you could tell it would get a little colder every so often. We stayed for a week and would definitely stay there again.
The hotel had construction on their parking lot while we were there that we didn't know about until we checked in. This made the parking lot fairly hectic as well as interfered with our ability to easily access or room- though honestly it was the not being told until after we checked in that was the most frustrating. There is zero hot water pressure in the rooms- it's almost like it's been purposely turned down. To get the hot water to work well enough to use you have to turn on the cold water quite a bit. Don't use th bath products they provide you with- bring your own. My hair was frizzy, tangled, and smelled odd after one use. The castle theme is neat but the pool was small and full of bugs. The rooms seem very clean and the housekeeping staff was very lovely. Mostly the hotel is just very outdated and unorganized. Beds are not at all comfy but you will sleep just fine of you prefer a firm mattress. Walking to the parks with two young kids took around 15m+ to reach security- would be much faster with adults only or kids in strollers.
A nice place to stay close to Disneyland
Not a traditional five-star hotel, but the welcoming staff and comfortable accommodations were a welcome site and the end of each of our Disneyland days. The staff is overwhelmingly helpful. Their upbeat attitude is a great way to start your Disney vacation. They're knowledgeable about the area and have solid recommendations for nearby resources. The room is nothing fancy, but the beds are comfortable and the pillows are plentiful. The housekeeping staff did a great job cleaning each day. The walk to the park takes exactly 7 minutes with two kids in tow. It's close to several restaurants, CVS, Wal-Greens should you forget anything. If you're looking for a walking-distance hotel, this is a great place to stay.
The hotel looks pretty exciting from the street but we were honestly disappointed with it. I know this because I spent the first night at the hotel looking up other hotels on the street wishing we hadn't prepaid for this one. First of all... I get it... complaining about a hotel is a 'first world problem'. It's being kind of spoiled... having said that, our whole family was irritated with the gross smell coming from the air conditioner.. like stinky feet. I know it wasn't just our room because as we'd walk the outside hall we could smell it also coming from the others. The toilet overflowed the first morning. The front desk staff was nice enough to have it taken care of by the time we were back from the day.... but I was grossed out by the tile floor wondering if a perfect stranger would have really taken the time to disinfect the floor for us after toilet water had poured out onto it. I'll never know.... The pool area was small but my kids were happy. In November it was great. I can't imagine how packed that little pool would be in the summer though. The gift shop was helpful. So overall.. this is an old hotel. Don't expect anything wonderful. the outside castle look is the best part. But I do want to acknowledge the room attendants. They are overworked and underpaid at any hotel and their staff here did a great job having our rooms in perfect order. So despite my complaints and in general being disappointed in my hotel choice, I have to give a shout out to the people who worked hard there. It's not their fault the hotel is quite aged.
Sadly this rating is lower than i normally go. The main reasons are because there were bugs in the room and the sink smelled like sewage. The beds were comfy enough and the staff was friendly but the room overall was not very good.
Clean, comfy, and walking distance to Disney.
We would absolutely stay at this hotel again! This was our first visit to Disneyland and staying at the castle within walking distance just added to how wonderful it was. This hotel was clean and the staff were very friendly and helpful. We stayed for 5 days and will pick this place over and over again!
I love this hotel! It's inexpensive, but of high quality. It's a 5 minute walk to the park. The staff is very friendly and helpful and they do a great job at keeping the rooms clean. The outside looks a little outdated, but the rooms are very nice. I stay here every time I go!
This hotel was extremely clean and had a great working A/C. We didn't mind the walk, it felt very safe. Pool is nice and the hot tub is great as well! The theme is great and the staff was extremely kind! Can't wait to stay again!
Easy walk, quiet and friendly staff
I loved the rooms, they were plenty big enough and I had large families with small kids on both sides and didn't hear them at all. Very easy walk to Disney and the mall around the corner. Beds were comfy, check in was a breeze and the staff was friendly. The pool area is small, but I didn't let that influence my hotel rating because I do not go to Disneyland to swim :)
Clean and reasonably priced.
COMFORTABLE BEDS!!! Comfortable and plenty of pillows.Clean rooms and great service. Free parking is a big +. A/C unit worked well and QUIET. We stayed in other neighborhood places in the past and based on that we will come back to Castle Inn
First, I liked how large the room was and how clean it was because my husband and I went with our 4 year old and cleanliness is important to us. That's about it...the beds were very hard and not comfortable to us at all. I'm also 5 and a half months pregnant and when I checked in I requested a ground floor so I didn't have to walk up and down the stairs and person that was helping me looked at me like I was bugging him. The other service members were friendly, though. The first day we walked to Disneyland because we were told it was just a few minutes and we had a stroller. Halfway through the day we came back to rest (our stroller also blew a tire that day so we weren't able to use it the rest of the trip) and I went back and asked about the shuttle to the park. *note: before I booked this hotel I called and was told we could use the shuttle* but when I asked the front desk person they said they didn't offer tickets to the shuttle because it was so close to the park. Walking with a pregnant lady and a 4 year old made it about 10-12 minutes instead of 5. We also came back to all of our dirty towels still in the room, but the beds were made and we had 2 fresh towels. So to recap- Things I liked about the hotel: large/clean room Things I didn't like: no shuttle after being told there was (which is why I booked it because I thought I'd have the option), hard beds, cleaning service just making beds and not taking towels, feeling like I was inconveniencing front desk upon check-in with a special request.
For the price, this was a great hotel. It is within walking distance of Disneyland & DCA. The staff was very friendly and accommodating. Our room was spacious but we did upgrade our room. This is not a luxury hotel, but it met our needs and the beds were comfortable. Everything worked fine, toilets, sinks, air conditioner, tub, shower, refrigerator, etc.
This is the second time staying here its not too far from the park and just around the corner is a bunch of restaurants and a strip mall!
The best thing about the hotel was that it was so close to the parks. We also liked that it was close to a CVS, Gardenview Walk and other restaurants. My son called it "Mickey Mouse Castle" so he absolutely loved it too. The elevator closest to our room was closed pretty much the entire week, it was back up and running on Friday. But it wasn't working on Saturday at all when we were trying to get all our stuff back to our car to leave. The showers were good if no one else was taking a shower, flushing a toilet, or using their sink; we would get scalded with hot water and then freezing water. When we first arrived we were inquiring about the location of Medieval Times and the best way to get there and the two people at the front desk couldn't really give us a straight answer. They offered a map that we never did receive. We just ended up using our Google map on the phone and drove there. We never did call back the front desk for anything, we either Googled, Yelped, or asked a person at the park or neighboring restaurants.
Mallissa F. on 05/08/2016
The staff was great, the rooms were nice and had everything we needed. The coffee machine and the soaps they provide were't very good, but nothing we couldn't handle. The beds were very comfy. The walk from Disney was close enough to walk, but far enough it was hard for my kids to want to walk back after a long day. Overall we would stay here again and recommend to others.
Loved being so close to the park! The first few days at Disneyland was so hot, it was nice to be within walking distance to come back and rest! Beds were comfy! Staff was very nice!
Perfect Location and Value!
Stephanie M. on 04/07/2016
This hotel is perfectly located across the street from Disneyland. The rooms are big, clean and beds are comfy. The rooms are a little dark but that was okay for us. They have a microwave and fridge which was nice and an on-site market/gift shop with food items and souvenirs. There is also a strip mall next to the hotel with a variety of places to eat which were good. I recommend the Subway, Chinese and Pizza place. There is also a 7Eleven and CVS across the street which was convenient. Disneyland was about a 7 min walk for us from the hotel with a child. Not too bad at all. The Gardenwalk was also a short walk from the hotel which had even better dining options and entertainment. I would definitely stay here again. The staff was super nice and accommodating. There was a pool but it rained on our trip so we did not take advantage of this but it looked nice. Parking and WIFI was also free which is hard to find this close to the park.
Our walk to Disneyland was about 15 minutes with an 8 year old. The rooms were clean and service was accomidating. Our first night we had a 3rd floor room but around 11:00 the stomping above us was too much to sleep through so I asked the front desk if they could move us to to floor to avoid this and the were more than happy to do so. The quickly came to our room with a new room key and a luggage cart then proceeded to make sure we were happy with next room. This place was nothing fancy but it was comfortable, close and affordable. I would definitely stay again
The experience with Get Away Today was awesome, but our experience with the hotel could've been a bit better. There was a flood in our bathroom from pipes bursting I believe. Fortunately, nothing got damaged and they changed us to a new room, but it was very inconvenient timing and took about an hour since we had unpacked and all.
Samantha S. on 12/05/2015
This was a fun hotel and my kids loved staying in a "real castle." The staff was so much fun and we just loved this hotel so much! It was an easy easy walk to take the kids back in the middle of the day to take a nap.