This hotel offers great value and comfort. Heightened cleaning protocols are in place with our newly established Commitment to Clean program. Plus, enjoy an exclusive breakfast promo.
616 Convention Way
Anaheim, CA 92802
Located a ½ mile from the DISNEYLAND® Resort entrance, this full-service hotel is all about value and comfort. Enjoy spacious guest rooms with free Wifi and mini-refrigerators. Their Studio Suites offer added space for even more comfort and include a sleeper sofa and microwave. Plus, the Palm Tree Café serves breakfast and lunch with exclusive Get Away Today discounts, where kids 9 and under eat free with each paying adult during breakfast hours. Wind down at the outdoor heated swimming pool, open year-round.
3.6 out of 5 Rating (247 Reviews)
73% of guests recommend this hotel
Pricing and availability subject to change until booked.
Please enter travel dates to view pricing and availability
Please enter travel dates to view pricing and availability
Maximum Occupancy: 4
Check-In Time: 4:00 PM
Check-Out Time: 11:00AM
Kids Eat Free (Kids 9 and under eat breakfast free with each paying adult.)
Parking Fee: $5.00 per night; payable to hotel at checkout (a $13.00 per night savings)
In-House Restaurant
Pets Allowed: $40.00
Roll-Away Fee: $25.00 (Available)
Shuttle: Available ($6.00)
Cable TV
Coffee Maker
Crib (Upon Request)
Exercise Room
Handicap Access
In-Room Internet Access
In-Room Video Game
Inside Room Access
Laundry
Refrigerator
Video Game Room
Distance to DISNEYLAND® Resort (.7 miles)
Distance to Knott's Berry Farm (8.6 miles)
Distance to LEGOLAND® (63 miles)
Distance to SeaWorld (91.2 miles)
Distance to Universal Studios Hollywood (36.7 miles)
Outdoor Pool
Please enter travel dates to view pricing and availability
Please enter travel dates to view pricing and availability
Please enter travel dates to view pricing and availability
Please enter travel dates to view pricing and availability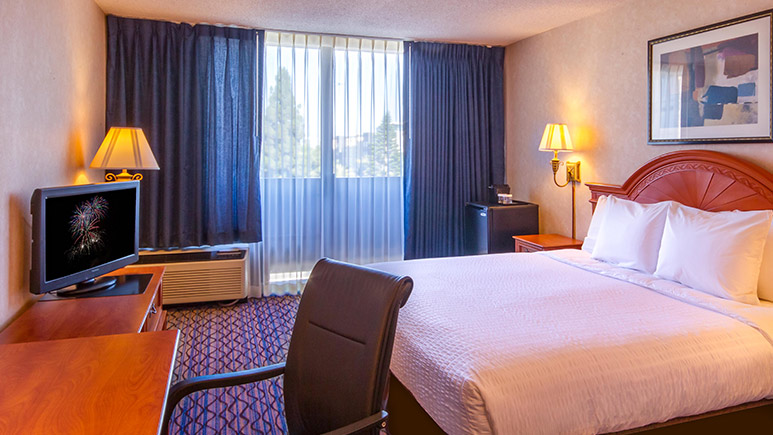 Maximum Occupancy: 4
Check-In Time: 4:00 PM
Check-Out Time: 11:00AM
Kids Eat Free (Kids 9 and under eat breakfast free with each paying adult.)
Parking Fee: $5.00 per night; payable to hotel at checkout (a $13.00 per night savings)
In-House Restaurant
Pets Allowed: $40.00
Roll-Away Fee: $25.00 (Available)
Shuttle: Available ($6.00)
Cable TV
Coffee Maker
Crib (Upon Request)
Exercise Room
Handicap Access
In-Room Internet Access
In-Room Video Game
Inside Room Access
Laundry
Refrigerator
Video Game Room
Distance to DISNEYLAND® Resort (.7 miles)
Distance to Knott's Berry Farm (8.6 miles)
Distance to LEGOLAND® (63 miles)
Distance to SeaWorld (91.2 miles)
Distance to Universal Studios Hollywood (36.7 miles)
Outdoor Pool
Please enter travel dates to view pricing and availability
Please enter travel dates to view pricing and availability
2 Double, Sofa Bed Studio Suite
Please enter travel dates to view pricing and availability
Please enter travel dates to view pricing and availability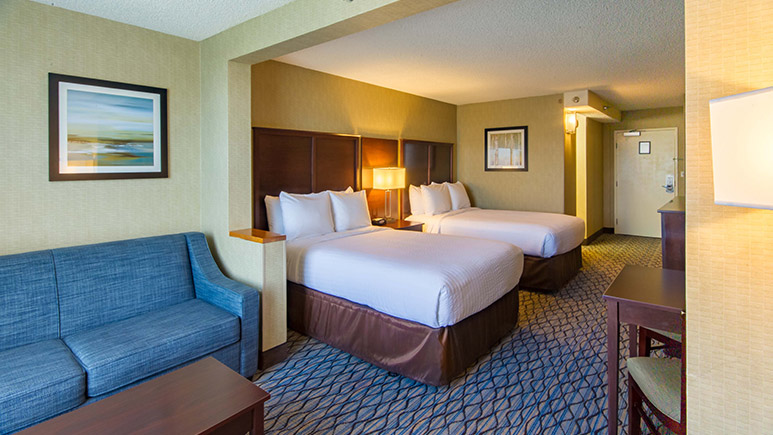 Maximum Occupancy: 6
Check-In Time: 4:00 PM
Check-Out Time: 11:00AM
Kids Eat Free (Kids 9 and under eat breakfast free with each paying adult.)
Parking Fee: $5.00 per night; payable to hotel at checkout (a $13.00 per night savings)
In-House Restaurant
Pets Allowed: $40.00
Roll-Away Fee: $25.00 (Available)
Shuttle: Available ($6.00)
Cable TV
Coffee Maker
Crib (Upon Request)
Exercise Room
Handicap Access
In-Room Internet Access
In-Room Video Game
Inside Room Access
Laundry
Microwave
Refrigerator
Video Game Room
Distance to DISNEYLAND® Resort (.7 miles)
Distance to Knott's Berry Farm (8.6 miles)
Distance to LEGOLAND® (63 miles)
Distance to SeaWorld (91.2 miles)
Distance to Universal Studios Hollywood (36.7 miles)
Sofa Bed
Outdoor Pool
Please enter travel dates to view pricing and availability
Please enter travel dates to view pricing and availability
---
Back door was not open. Was told it was open for use until 6pm by one staff member and then that they didn't have it open at all by another. Room was a little dated, but the worst parts were the beds (not great quality) and the bathroom area was tiny. We only had 2 people staying in the room and still felt we were on top of each other. Parking was cheaper because we used Get Away Today (would have been like 80 bucks but instead was 20! Great access to Toy Story Parking and never had to wait long for a bus. Not having a microwave (would a million times rather have that than a coffee maker that I can't confirm is actually clean) in my room was a bummer, but there's on in the lobby. Just know there is one single microwave for every single room in that hotel. Don't bet on using it quickly in the morning. Pool was good but would have rather had a hot tub like other properties have. Overall I would stay here again if I got another good deal, but would rather stay closer or at a place with better amenities!
Everything was nice and clean
Great location and hotel!
The Clarion was conveniently located across the street from the Toy Story parking lot, we rode the free shuttle daily, the staff was very friendly (except 1 house keeper), the room was clean, we felt safe, the entrance was looked every night, you had to use your room key to get in. When we do a Disney trip we hardly spend time in our room so we felt it was a good choice especially for the price.
My family of 6 , 2 teenage boys and 2 younger girls 11 and 7, stayed at the Clarion for 3 nights for our Disneyland vacation. The staff was absolutely fantastic and super nice and friendly . The front desk was kind and helpful. Overall our stay was alright. We had two beds and a pull out bed . Beds were not the most comfortable . The Room was a bit outdated and our rooms bathroom had a leak in the ceiling that would leak at night. There is a decent size mini fridge. It's about a 20-25 minute walk to the parks. I don't think our family would stay here again simply because it wasn't big enough for the 6 of us and it was just too outdated for our liking .
Clean and staff is friendly
Easy walk to the parks. Hotel is clean and staff is friendly. Hotel is dated, but for the cost - zero complaints!
Outdated, bathroom is extremely small.
Beds were awful, had to change rooms as the bed was caved in at the center, the next room we stayed in the AC didn't work. We were very displeased with the hotels lack of care to the rooms and how poorly they were maintained.
For an older hotel, it is nice. Staff is amazing, room is always clean, and quiet. We have stayed there several times.
Kristian D. on 08/22/2023
The Clarion may not be the newest hotel but the staff make a three star hotel into a five star experience. They meet every request with the intent to make your stay a nice and easy as possible. We are already looking forward to our next visit.
Great customer service, clean room, the bathroom was a little small but it was fine.
Slept so nicely - rooms are great!
Christine L. on 07/08/2023
My hotel room was clean, beds were comfortable and amazingly it was so quiet. I slept extremely well during my trip. It was so hot outside I took advantage of taking the shuttle in the Toy Story parking lot which is right across the street from the hotel to Disneyland. This hotel is an excellent value.
This hotel was conveniently located for walking to the Disneyland park. I dropped down to 4 stars because I felt they should provide a free shuttle to the Disneyland parks. I also wish breakfast was included in the price, although it's not a bad price for a good breakfast. The pool was clean and there is a nice cold water dispenser in the gym. Overall, we are glad we stayed here.
It was clean and the bed was comfortable. The bathroom shower rod was broken as it hung crocked so you couldn't close the shower curtain. There wasn't a fan in the bathroom and the heat set off the fire alarm. Then to top it all off our door broke and we had to have maintenance come to get in.
Our stay was pleasant. The beds were very comfortable and the room had everything we needed.
Hotel was nice, very convenient with the ART bus. But, it's definitely showing signs of wear. Carpet by elevator on our floor was flooded and never seemed to dry out (we had to avoid or risk a slip). Drains almost didn't work at all. But, it was significanlty cheaper than DL hotels!
This is my second stay here but first time sharing a room with family. The rooms aren't big but they worked fine for three adults. We were only at the hotel to shower and sleep. My husband and I have a king bed at home so the double beds seemed really small to us, but we slept fine and the beds are comfortable. The staff is always really helpful and friendly and the rate is fantastic. For a hotel that is an easy walk to Disneyland, this hotel is tough to beat.
Cheaper but great. Had to go to another level for ice. But I'm not picky and was happy. Kids and spouse happy.
The hotel was fine. However the pool did not seem heated and there wasn't a hot tub. They also claim they have a shuttle to the parks and it isn't a shuttle but public transportation that if you have small kids and the bus is full you will need to wait for multiple buses to maybe get one. We ended up walking and it was a little ways.
Blow dryer didn't work,there was trash under the bed from a previous guests,crumbs on floor from previous guest
The hotel is a good hotel. Close to park. In need of a little bit of remodel but a good value. Staff is very nice and courteous.
Basic hotel and close to Toy Story parking lot
The room at the Clarion was very basic, but clean. As others have said, the bathroom is outdated in it's decor, but the sink area had newer granite counters. We were fine with that. It had a mini fridge, but no microwave. You can buy breakfast in the restaurant in the lobby and I believe kids eat free, but breakfast is not included with the room. It has an outdoor pool, but we really wanted a hot tub, which it doesn't have. The toy story parking lot is kiddy corner across the street. The lot is big to walk across, but you can catch the shuttle to take you to Disneyland. It's a shorter walk than just walking the whole way yourself. Probably not a lot faster though. The toy story lot has a security check you can go through if you get there before noon, and we found that faster than the security at main Disney gate. Be warned though that the lines for the shuttle at night near closing get really long. They send a buses constantly, but you still have to wait a while sometimes.
Awesome room for the value!
We stayed here few months ago for a last minute quick DL trip and room was clean and big. The restroom was the a little small but worked fine for us.
My husband and I stayed here for the first time and while it wasn't glamorous it worked well for us. The rooms are definitely outdated and the plumbing was thought a pipette Bersted, but it was just the person next to us taking a shower when I called the front desk they were completely willing to change rooms if I wanted. We got in extremely late and they do have room service for no fee up until midnight with great choices. Another good thing is they are very close to the toy story parking lot that has the shuttle to Disney and it was a quick five minute walk if that and you were on a shuttle on your way the great thing about the shuttle is you go through security and they check your bags there so you get to bypass the big security line at the front of the park. The last day we were there we did decide to try the breakfast it was $14 a person and wasn't busy at all so we got service right away. The server name Cesar was absolutely amazing. Overall customer service was great. It was easy. Check in extremely easy. Check out close to the shuttle. Which made it nice getting back-and-forth to Disney. I would recommend this hotel to her family. Especially on a budget.
We had the corner king suite. The view and room was very nice. The bed was so comfortable as well.
Kimberly T. on 02/03/2023
This hotel is great for the price. It's a 10-12 min walk to the parks or you can just cross the street to the Toy Story parking lot and go through shorter security lines to enter the parks. The beds are extremely comfortable after long days of travel and walking. They are a little out dated but if you're like me and my family, we're there to sleep and shower and tend to never use the amenities at nicer hotels. They just started offering room service from 12pm-midnight and offer a handful of options. The food was a bit expensive but it's a nice option to have. The staff were always so nice and welcoming.
Over all Clean, but, the hotel is still in Covid mode no room cleaning and had to ask for towels every night
The staff was friendly, the rooms were clean, and the location was great. We were able to walk to Disneyland but the second day opted for the ART shuttle that came right to the front of our hotel.
Needs an update but suited our needs
Adrienne L. on 12/24/2022
While this hotel was cheaper than others, it really needs to be updated. For the most part the hotel seemed clean. Beds should be upgraded to Queen sizes or have the option of 2 Doubles and sleep sofa. Not enough outlets or USB ports and coffee machines need to be upgraded. Overall it suited our needs.
Kimberly S. on 12/17/2022
The parking was awful. It was not well lit at night. The room was very dirty. There was so much hair on the bedding and in the sheets. There was even a hair ball. The bathroom had some type of black mold on the caulking in the shower area. No ventilation in the bathroom as well. The toilet creaked like it was going to come out of the wall every time we sat at the edge of the toilet. The water from the toilet kept running randomly throughout our stay. The majority of the outlets looked to be burnt out. One was even coming out of the socket. Overall not a pleasant stay. Wouldn't recommend even for a cheap price.
Rooms are very dated and in need of a renovation. The plumbing is not that great. Super basic amenities. Our room had clear signs of previous water damage and the walls around the bathroom had wallpaper pealing and were soft. Hidden fees. Won't stay again and was very disappointed. Only thing we did like was the breakfast.
Probably won't stay here again
Smoke detector started chirping in the middle of the night. Called to report it. Stated they could come into room after we left to fix. When we got back later that night still wasn't fixed. No record I had called earlier. Our sliding door did not shut all the way, so there was a draft all night. Beds are full size. Rooms were small/cramped. No microwave in room. Had to go to lobby to use a microwave. Restaurant didn't open until 6:30am, especially if trying to get to toy story parking shuttle by 6:45am when security opens. Probably won't stay here again.
Room needs refurbish. Bathrooms are small and tub is squeaky when stepping into it.
Nice and clean, bathroom a little small. Good breakfast buffet. Staff very friendly. Easy walk to Toy Story parking lot to catch the shuttle to the parks
Hotel in need of upgrades but was clean and comfortable
Great hotel at a great price!
Great hotel at a great price! Booked a double room for a recent Disneyland trip. Deducted a star only because there was no daily housekeeping and we had to take our trash out ourselves, and because the shower area was a little small. The staff is very friendly and helpful, and we really enjoyed our stay.
Need better accommodations
Had cold showers during morning so had to shower at night. The sinks had an issue of making gurgling sounds all the time. Had one microwave in the lobby that had to wait 20mins because was being used. I don't understand why cannot put microwaves in rooms. Freezer needed to be defrosted. Could fit one water bottle in it. Watched phone because TV did not have options to sign in to current things like Disney +. It is a pretty long walk after a day at Disneyland to the hotel . I feel they should have more shuttle service.
These rooms need a major deep clean.
It is an older hotel so wear and tare is expected but our room was disgusting. The sink had mold in the drains and fruit fly's all over in the bathroom. When running water in the sink and it went in to the moldy drain it smelt like sulfur. The bathroom vent is full of dust and was horrible not sue its ever been cleaned. the corners in the bathroom have old hair and dust it looks like its been missed over many many many cleanings. Our toilet ran non stop very noisy. because the humidity and unclean room it smelt like mold and pee. These rooms need a major deep clean.
The staff were very helpful and friendly. The only down size is the bathroom was very small other then that the room was great
Have cleaner rooms. The room smelled musty upon arrival, there was hair in the bathtub and on the towels, the sheets smelled as if they weren't changed from the previous guest that were there. I don't think I'll be going back to this hotel.
This hotel is 1 mile from Disney and is old, rundown and gross.
It was a great hotel. The staff was kind and was happy to help us when we needed extra bedding. The only thing that I did not like is that the free breakfast for kids was changed from 12 to 9.
Pricilla M. on 10/04/2022
The some of the staff was rude. The beds were horrible. The room was not clean.
Other than the bathroom and laundry issues everything was great.
The staff was very nice. The guy in charge of the bell desk teaches voice acting and does impressions that my brother loved. The room was very spacious. The bathroom however was a closet with a tub and toilet. You have to hide behind the toilet to shut the door. I ended up using the guest restroom downstairs a lot which could have been cleaned more frequently. Laundry only takes credit cards and costs $4 to wash and $4 to dry. Make sure to put your items on high heat otherwise you will have to redry them. Dryer #4 works the best out of the two dryers. Other than the bathroom and laundry issues everything was great.
Upgrading to the suite is worth it
My family of 5 stayed in a suite. The room itself was very nice and very clean. The beds were great ( except the sofa bed, I'd suggest if you have 5 to just sleep on the couch instead of pulling it to a bed). The bathroom was very dated, but was very clean. It had a microwave and mini fridge. It was literally right across the street from Toy Story parking so we jumped on that free shuttle to get back and forth from park. Overall I would definitely stay there again. I also had a second room for in laws. Theirs was a king bed. My father in law said the bathroom was very small. Had a hard time getting in and turning around to shut the door for the toilet and that their room did not come with a microwave. Overall he said the room was clean, but would upgrade to the suite just to have a bigger bathroom and microwave.
Difficult to get assistance.
Needed to exchange room key a few times because it would stop working. Difficult to get assistance.
We stayed 4 nights here in October 2022. We really enjoyed our time here, but you have to stay here with managed expectations. Don't expect a 5-star Disneyland Hotel experience or updated, fancy rooms. If you're looking for classy amenities and a spa, look elsewhere. If you're looking for a place that is relatively comfy to lay your head down after being at the parks all day with no fuss, has a mini fridge, and a TV that works, I'd say this is the place to be. The biggest advantage of staying at this hotel (or any others in the vicinity) is the 5-10 minute walking distance to the Toy Story Parking SHUTTLE. The hotel offers one, but I liked that a Shuttle was always available for passengers every time we went to the Toy Story Parking Lot (wasn't sure how long it takes for the hotel shuttle to come and go). After a long day at the parks, it was super simple to hop on and cut our walking time back to the hotel by a huge amount and give our legs some time to rest. The shuttles are readily available in the evenings. We didn't use the shuttle in the mornings, but it could save your feet if you choose to do so (and a little bit of time at security potentially, as they check your bags before entering the parks and you don't have to get checked again after they drop you off :). We had a king bed room and was pleasantly surprised with the amount of space we had. Mattress was comfy, and air conditioning worked very well. Highly recommend this hotel if you want to save some money and are looking to spend most of your time at the parks and just need a place to rest your head.
The staff was very nice and friendly. The hotel on the other hand was quite old and run down. The walk to the park is very far but the hotel is stationed right across from the parking lot so you can catch a shuttle there. The breakfast was not worth the extra $13 it cost to eat there
The beds are so small and very uncomfortable. Very out dated, staff weren't very pleasant either.
Michelle N. on 09/12/2022
Cable cord was hanging out and could not get tv. Did not come and clean our room, check to see if we need TP, towels ect. Breakfast not included. Not clean. Old
Worth the walking distance
Jennifer C. on 09/08/2022
Staff was friendly and paid breakfast was good. The AC in my room was very loud and the hair dryer did not work. I did not address the AC issue with front desk as the hotel was sold out. I honestly forgot to tell them about the hair dryer. On the plus side, there was always plenty of ice, staff was great, and it's walking distance to the park. Would I stay again? I will definitely give them another shot. Minor inconveniences are worth walking distance, and if I have issues again I'll address it.
Nicer than I expected. We were only there to showery and sleep. The need was comfy and the room was clean and quiet. An Uber to the park was only $8
Please renovate and update! This place is old and dirty. Beds were definitely too soft. The staff was very helpful and friendly.
Samantha W. on 08/31/2022
This hotel is in walking distance to Disney but that is the only perk for me. I spent half my trip at this hotel and half at another, the other was nicer, updated, roomier, and had free breakfast. This hotel seriously needs to be updated... it's great if you'll be at the parks all day and just need somewhere to rest your head, but if you have a few hotel days where you plan on staying in then I would choose another hotel you would enjoy more
Clean and easy walking distance
Clean room. Easy walking distance to Disney. Quiet. Front desk personals are nice and courteous.. only complaint is the super small bathroom
Not the best but not the worst
Christopher D. on 08/21/2022
We arrived early am and were able to park our vehicle and store our bags which was nice. Upon check in we were informed that maid service was not provided daily and if we wanted anything we had to book a couple days before. Front desk was open 24/7 if we needed toilet paper, towels, etc, which was nice. We get to the room and it is ok, nothing to exciting, We got the double suite which is 2 double beds, which were actually comfortable but small and a sofa bed. It fit all 5 of us and for the amount of time we were in the room it was good. A/C worked well and kept the room cool. Bathroom was small, shower head was not really moveable but we made it work. Breakfast was not worth the money at all $12.99 and kids eat free but under 9 years only which sucked. Simple breakfast (eggs, bacon, waffles, cereal, breads) same that is free at 99% of the other hotels. A few positive things that we like was the distance to Disneyland was 3 blocks which took roughly 10 minutes to cover, and the toy story parking lot is right across the street where free Disneyland shuttles to the park and from the park are and requires about a 5 min walk, we used them at night all the time. The whole family loved the pool and it was clean and provided us with a nice cool down or a break from the parks. All in all for the price we paid it was a decent place to rest your body after a long day at Disneyland.
Michelle H. on 08/11/2022
Hotel was just ok, but good enough for sleeping when returning from the parks. Bathroom was very small. No microwave in the rooms. Front desk was very nice and helpful. But on the last day an employee knocked on our door waking us up at 8 am when we really wanted to sleep in before our drive home so that was a little frustrating
We've stayed at the Clarion before with not complaints, but this time around was completely different. When we checked in, we were informed that housekeeping was only available by request and not available on the weekend (weird but okay)... We got to our room and found a carpentry file on the floor of the entry, a ball of hair under the sink, and the bar soap in the bathroom and shower had already been used. We were given a new room. The new room was cleaner, but there were things that didn't work, like the bathroom exhaust fan and the bathtub drain plug. The overall cleanliness of the hotel was not what I've ever seen in any hotel. All of the elevator buttons were sticky and looked like they hadn't been cleaned in years. The hallways were full of garbage bags and used towels from other rooms (because there is no regular housekeeping) which made the hallway and even our room stink and feel very musty. We chose this hotel because of the convenience of being close to Disney parking shuttle location, but we will not be staying here again in the future.
The only positive to this hotel is that it's about a 15 minute walk to Disney land. This hotel looked good because of the great price but you really do get what you pay for and it isn't a lot. The beds were very uncomfortable and the bathroom was even worse. The shower was 1/2inch above the flooring and caused water to flood the entire bathroom and turning it into a disgusting wet mess. Front desk wasn't much help either.
The hotel was not clean. I have stayed here before (April 2022) and it was a much better stay. This time the room was dirty, smelled like mildew and the piping was so loud. It woke me up from a dead sleep when someone ran water. Just not a great stay.
Needs to be updated and breakfast is paid and no longer free
For all around price and comfort, you CAN'T GO WRONG WITH THE CLARION!
Lauriano Y. on 07/06/2022
We've stayed at this hotel four times when going to Disneyland and we've been ALWAYS satisfied with our stay. We've stayed at a bunch of other hotels around the area, and when it comes to price and comfort, you can't go wrong with Clarion. The biggest PRO about this hotel is the PRIVACY and QUIETNESS. The one thing that bothers me about hotels are THIN WALLS or loud "Neighbors." This is one of the few hotels in the price rang that you don't have to worry about those issues. There were times we had weekend stays at the hotel, and there were other times we had WEEK stays and there was never an issue of hearing people next to us, hearing people above us, and or in the hallways. In the past, i've have cases of anxiety whenever I hear sounds of other visitors in other rooms and I never have to worry about that here. Which is a big reason why we continue to go there. The next major pro is the customer service. Every person i've dealt with have been incredibly kind. Never an issue of feeling less than appreciated. Staff is always wonderful. The rooms have always been super clean. (Note once again, we've stayed at the Clarion 4 times)I hear a lot about rooms being outdated, however ill take a room looking outdated based off of design and subjective appearance, than a nice looking urban room with thin walls. And trust me, i've been in hotels that are meant to look fashionable yet hearing uncomfortable sounds through walls. I enjoy the large windows as well, especially the rooms that face the fountain. I just felt comfortable and safe in the room. If I had to choose a few cons, my first would be that there isn't a microwave in the room. You have to go down to the lobby. However, it's well worth noting that most times we were at Disneyland so it wasn't a big deal with food. But with long stays, it would be nice. The other con would be the bathroom and toilet placement is odd. The way to door is placed, it makes it awkward to get out of the bathroom since the toilet is placed weird and so close to the bathroom door. But it isn't anything that made me hate being there lol. I wish the beds were queens and not double, but I am 6'3'' and my wife is 5'2'' and we were fine. My daughter had a nice bed by herself and she's 4. I know there are probably hotels around there that are better in many areas, but you'll pay higher price for those rooms as well. Look big picture. It's the CHEAPEST hotel on getawaytoday, and you won't leave feeling like you wasted money, or felt like you were disgusted by being there. There are a few from getawaytoday that are higher in price that are actually priced HIGHER than Clarion that I would DEFINITELY rate lower than Clarion. And the reason is price, and comfort. You can't go wrong. Save some money and feel safe with the Clarion, and use that extra money for a few corndogs at Disneyland lol. Our recent trip was a week and I look forward to staying for a long term trip again. It was very pleasant. As I speak i'm already looking for more Clarion rooms to book.
Beds are small but well worth the price. Great location and bus pick up right in front.
Small but served its purpose
The room small for a family of 4, the beds small as well, but it served it's purpose. The fire alarm got on our nerves when you leave the bathroom door open while taking a shower the alarm would go off from the steam. Also the bathroom was small so you felt the need to leave the door open. The cleaning staff very friendly and nice! The pool was nice and relaxing not to cold not to hot. With the room being small I would rent again just a suite next time.
No continental breakfast, but kids under 12 eat free for breakfast and dinner. It is a buffet style breakfast so you can fill up for $12.99 per adult and go off to play at disneyland. It's about 3 blocks away and super easy to walk to and from Disneyland.
Check in time is soo late.
Very friendly staff outdated small rooms
Very friendly staff outdated small rooms
Easy to check in and out, great location
Kathleen R. on 05/07/2022
Easy to check in and out, great location. Was greeted by staff whenever I came in. Got what I paid for.
Friendly and Welcoming Staff
Hotel is cozy and walking distance from Disneyland. Slightly outdated and rooms need little repairs here and there but a good place to stay. Staff is also very friendly and welcoming.
For the price and location it's worth it
It's definitely an old and outdated hotel, but for the price and location it's worth it. The beds are meh, but after a full day at theme parks you really just want a bed period! I would stay away from the overpriced breakfast at all cost if you aren't going to eat a lot of food. It's extremely pricey for what's offered. Walk across the street to the toy story parking lot to save at least 10 min of walking time to the parks, especially if you have kids.
Hotel is very close to Disneyland. Less than 15 minute walk. Room could use some updates but overall it worked for the time we needed it which was pretty much just to sleep. Bathroom is very small though. Staff is very friendly and overall a good place to stay while visiting Disneyland.
The only issue I had is that that don't clean the rooms unless you ask and even then they gave me a hard time about it. I kept having to ask for towels and coffee and even toilet paper. Plus they charge a fee to park and don't offer free breakfast anymore.
This hotel is extremely basic. It is a place to sleep and that's about it. 5 nights and no service at all. The only plus is the ART bus stop right out front is a 5 minute ride to the park. 7 year old asked can we please never stay here again.
Jennifer N. on 01/24/2022
I was expecting the room to be a bit nicer than it was. My husband and I walked in and felt like we were in a TV show.. the one where the characters get stuck in a snow storm and have to get a hotel for the night. It's the last hotel room available and it is not nice/a little creepy. The lobby is good and it looks like the carpet in the rooms has been replaced, but overall I wish I would have spent a bit more and gotten a room that was nicer. The bed was not that comfortable, but it was clean. I am honestly surprised this hotel is on Get away today's website. The quality is just not up to par. The staff was nice and it is pretty close to Disneyland. I will pay the extra and stay in a nicer place next time. You definitely get what you pay for with this hotel.
Great staff & excellent location.
Cesar A. D. on 12/28/2021
Great staff & excellent location.
Staff was extremely nice our room was ready early. Our room was very spacious, included mini fridge, microwave and sofa bed. We liked the short 10 min walk to Disneyland.
Every time you walked into the hotel lobby you get a sweet smell that was very pleasant. Room was nice but bathroom could use an update. Beds could be a little more comfortable. Staff was friendly and helpful.
The Clarion was convenient for visiting the parks. It is less than a mile if you choose to walk or the Toy Story Parking lot is across the street if you want to walk there to take the free shuttle in and out of the parks. The room was fine. I think because of Covid, there was no service done. I had to get garbage bags and leave our garbage outside the room. And we reused our towels the whole time. We were only there to sleep, so it worked out fine. We did the breakfast one day and it was good.
Friendly staff, clean, price and quality of breakfast buffet good. Just wish they would change up the food daily
Great hotel. Staff was very friendly and helpful. Took away one star just because it's an older hotel. Great for price.
I will definitely stay here again
My family of 4 stayed at the Clarion Hotel Halloween weekend. I chose this hotel because it had the most affordable rates compared to all other hotels in the area. I was hesitant on choosing this hotel because it is a little farther away from Disneyland. I did see a lot of people walk to and from there but that personally is to long of a walk for me. There is a bus that loads at the hotel but we opted to use the Toy Story parking lot right across the street! Free and super easy to use. Some people say this hotel is outdated, I think it's just fine. Has a nice hotel feel to it. The rooms were nice and beds were comfy. The AC is located on the floor in the corner of the room we had but it was not an issue because the room stayed nice and cool throughout the night. Check in and check out was fast and simple we had no problems and the staff was nice and very helpful. The rooms had a mini fridge and microwave and small dining table, just what we needed if you plan on staying longer for a day so you don't have to buy food a lot. I can't speak on much else other than the rooms because we spent the majority of our time at Disneyland. It is nice hotel to go back to and get rest. Parking was only $5 a day with get away today. I will definitely stay here again in the future because of the price and the free transportation toy story offers to the parks.
BRITTANY G. on 10/17/2021
For the price it's not bad but it is very outdated. Rooms could have been more clean, I wiped everything down with a disinfectant wipe. Customer service was great.
This hotel is very dated especially the bathrooms but the rooms are decent for the price. Hotel staff was very nice especially the younger guy working the front desk during the day. He was amazing!
We had a good experience!
This hotel was good for the price! It isn't "bougie" as the kids say, but it was just what we needed: a comfortable place to sleep. I appreciate the carefulness the staff takes regarding COVID, so having no cleaning during our stay wasn't a problem. It was no big deal to ask the front desk for a couple extra towels or anything else that we needed. Overall, the hotel was pretty clean (though somewhat rundown/outdated) and the beds were extremely comfortable (especially after walking 10+ miles every day at Disney!). The biggest perk is that Disney is just a 15 minute walk down the street. We didn't try the breakfast, so I don't have an opinion on that. We had a good experience!
Katherine M. on 10/09/2021
Hotel staff could not have been more helpful and nice. Breakfast was very good. About a 10-15 min walk to the parks.
Clean rooms and great price
The staff was super friendly and helpful. Rooms were nice and clean. Only thing we wish they would have had was a hot tub. Also we thought breakfast was included when we booked. It wasn't included. Price was still good though.
I loved this hotel. The value was great. The room was actually even better than we expected.
Very easy to get to Disneyland
Mariana Florentina T. on 08/25/2021
Very easy to get to Disneyland ... only 15 minutes away ... as you leave the hotel go right - towards the traffic light ... at the traffic light turn left and go straight ahead until you reach the entrance of Disneyland..15 minutes walk ..or 4 min with Uber --between $ 8- $ 12..depends on the time and the car
The hotel staff was great and very helpful. The room was basic but clean beds and sheets. The floor in the bathroom was not swept and that was kind of gross. The shower its self was very old but had hot water and decent pressure.
CHRISTINA M. on 07/19/2021
It was a nice hotel. The beds where so short after a long day at the park. Just needs to be updated in Decore, and a bigger bathroom.
Great room size and friendly staff
Room size is great, but bathrooms are small. There is a microwave and refrigerator in every room now. The frig was old, loud, and needed an update but kept our drinks and snacks cold. The staff was very friendly. Currently there wasn't any room service but I was OK with that.
We stayed here and it was great. Older hotel but close to Disneyland, great value, wonderful staff, and overall a pleasant experience. We will stay here again.
Bridgette H. on 12/31/2019
Hotel decor is outdated but this hotel was fantastic. We booked through Getawaytoday.com and were able to get free breakfast buffet each morning & free parking. Hotel staff were very friendly and helpful. Within walking distance to Disneyland
Needs some updates, but staff was great.
It is a nice enough hotel, but, at least our room, it is in serious need of a major renovation. Bathrooms are seriously outdated, a security door that leads to a rooftop on the 7th, near the elevator, is not a metal or it looks not fire rated for that type of door. The things that were a positive is the hotel staff were very nice, the room was always very clean and the breakfast was top notch and fresh. We had to move to another room because the first room that we were given (room 939) was not in good shape and just had a weird vibe. Our replacement room was much nicer and comfortable.
Rooms are very dated. They are spacious and clean, but older. We stayed in a suite, the bathroom had no fan and was very old and musty. You had to hold the flush lever down on the toilet for at least 10 seconds for it to flush completely. Not a bad place, but definitely older. The breakfast buffet was okay, it did the job, but wasn't amazing. Food was basic. On our second to last day the maid didn't replace coffee mugs or tissue boxes, maybe because they knew we were checking out the next morning. My father in law didn't book with Getaway Today, but stayed at the same hotel and had a horrible experience.
Rooms were outdated and they define a queen bed as a full bed.
Good amount of space in the room for 6 people. 10-15 minute walk to Disneyland. Breakfast was very good, eggs, meat, fruit,waffles, cereal, pastry. CVS and 7-11 were close, stopped to get drinks, medicine, food and other little things on the way to/from Disney.
It was fairly close to Disneyland, an all day shuttle pass is $5/day. Room was nice quality for price but bathrooms are way too tiny to move around in.
Staff was really helpful, I was traveling by myself with my small child and they let me check in early. We got upgraded to a suite which was nice and big. Will definitely stay here again for our next Disney trip
Older hotel but still very clean. All staff extremely helpful and nice. Restaurant on site, outdoor pool, gift shop/mini store inside. Close to Disneyland but in my opinion not close enough to walk, especially coming back after a long day at the park. They do offer a shuttle that comes right to the hotel, if you have a small group this is great but for larger groups you can use the park parking that is across the street and is $25 for the day.
Friendly staff and close to Disneyland.
Our room was quite large and came with a wall of windows! It was nice to be able to see the fireworks from our room. The bathroom needs updating and some areas of the room was dusty. The elevators take quite awhile to get to your floor , 5 to 7 mins wait time. The breakfast buffet was the same everyday! The hotel staff was very friendly . All in all, I'd stay here again.
This hotel offered everything we needed and more. Free full breakfast was amazing. Not just coffee and muffins, it was a complete buffet, very delicious. We had the first meal taken cared of before heading to Disneyland. Free parking was another perk we received when booking at this hotel. The rooms were spacious and clean. It is only 10 minutes away from Disneyland and there is shuttle that stops right outside the hotel. Will come back again for our next Disneyland trip!
Cons: Hotel and room is old, needs to be updated. Only one person working at front desk, so you have to wait in long line. Pool is small. Pros: Free buffet breakfast and parking with Getaway Today. Room is clean and has fridge and microwave. Good location.
Christina J. on 11/15/2019
Not a five star by any means but when going to Disneyland and only needing a place to sleep after spending all day in the parks, this hotel is good for the price. We like that with Get Away Today the parking is free and a free breakfast is included. The breakfast is good and saves time and money. It is about a 10 min walk for Disneyland or you can hop across the street to the Toy Story parking lot and take the free shuttle. Our only complaint is that the staff at the hotel are not always friendly/helpful and the restaurant in the hotel closes way too early for those guests that may want to get a bite to eat after coming back from the parks.
Noisy Rooms, beds are not great
The Clarion is old and could use a little love. This was the second time we've stayed here It wasn't the absolute cleanest room. But it was comfortable and the beds were tidy. The service is exceptional and the parking makes it easy for guests to visit and enjoy the park with you for the day. The shuttle is really convenient, but the three city block walk to the park's security check was easy. There's also lots of food options around the hotel. We also love the gift shop at the elevators. They have toiletries that may be forgotten and all sorts of gifts. It's very packed with cool finds at a reasonable price. We will probably stay there again as their prices are the best for what you're given!
Needs better breakfast hours
Outdated and the cafe downstairs only open for breakfast for a few hours. Then closed the rest of the day. We had to leave the hotel when we wanted to grab food.
Patricia M. on 10/26/2019
It was nice and friendly I have stayed here before always enjoy the breakfast buffet -however the housekeeping was not very Reliable due to lack of Communication
Good breakfast and location
While the rooms may be dated. They were really clean. The continental breakfast was delicious and the closeness to the toy story lot can't be beat! This is now our hotel of choice when visiting Disney.
Older hotel but very clean and quiet. Breakfast buffet was amazing highly recommend it the Disneyland shuttle is right nearby
Beds were comfortable, bathroom was outdated and small. good location. Breakfast was good
Nice hotel. Close to Disneyland. Staff somewhat friendly.
Mercedes V. on 10/16/2019
the hotel is great and spacious! the staff was friendly. however this only included 1 day of breakfast not 3 days but the staff was kindly enough to provide more breakfast coupons for our stay. very clean. its one of the hotels that the outside scooter companies deliver to which was great.
The hotel was nice. We pretty much just used the room for sleep and breakfast. They had a great breakfast and located right across the street to the toy story parking lot!
I was greeted with a smile and even given a complimentary upgrade to a suite! The room was clean, housekeeping did fabulous, hotel staff was great, and we had delicious free breakfast. I'll definitely stay here again 😊
Michelle T. on 10/10/2019
Free breakfast was good. Free parking was nice. Nice location in walking distance to Disneyland.
Jennifer W. on 10/10/2019
While this hotel shows it age, it is very clean and the staff is attentive and friendly. The free breakfast and the ART shuttle stop right in front make this one of my favorite hotels for Disneyland vacations.
Close to Disney, and good breakfast
Room was basic, but nice. The bathroom was dated and small, but the sink and mirror area was decent sized. Breakfast was decent as well. It was close enough to Disney for us to walk to. We will stay here again.
This was our first stay at the Clarion. The location was just right, the price was great and the room was good. The hotel in general could use some updates, but it was very nice and we will be staying there again I'm sure.
We have stayed at the Clarion Hotel the last two trips and loved it. The hotel is out dated but I knew that going in. Both times we have stayed, they have up graded us to a better room. The king mattresses aren't great and could use an update but luckily a long day at Disney does the trick! The staff has been great during both stays. They are quick and happy to help. The breakfast is always good and its nice to have a free breakfast to start your day.
We didn't have to worry about a thing! They were very knowledgeable of all things Disney! They even stepped it up with the awesome breakfasts as well as a Kiosk in the hotel to get transportation passes to get to and from Disneyland. The bus picked us up right in front of the hotel and we never waited more than 5 minutes, to or from Disneyland!
It was big enough for a family of four. The bed was comfortable. The bathroom was tiny and you had to push the button the entire time to flush the toilet. The coffee was not good.
Very clean, friendly helpful staff and have very good breakfast.
The hotel was definitely not worth the pay. highly outdated the bathroom you had to pretty much stand in the toilet to open and close the door.
Lots of included freebies!
The extras for this hotel were great. Get Away Today guests received free parking as well as free breakfast in the restaurant. The stop for the ART bus system was right in front of the hotel, making travel to Disneyland very easy. The staff was very nice. Highly recommend.
15 min walk to Disneyland
The hotel was very clean. Nice shuttle to universal (from the Garland Hotel) which was very convenient. The clarion was near Disneyland was also very nice. Only about a 15 minute walk to Disneyland. Both hotels were wonderful.
Great complimentary breakfast
Very friendly front desk, great breakfast - Hot and tasty, rooms were clean and larger than the normal - suite, I will stay here again.
Jacqueline J. on 09/25/2019
Everyone that works there is super friendly and they always try to provide you with everything that you need. Everything in the hotel was clean and organized. I definitely recommend this hotel!
Room was clean big bathroom tub needs to be changed and air condition could be better
Professional and Courteous
We lucked out and received an upgrade at the hotel, very nice! The woman at the front desk was extremely helpful. I felt bad though, we didn't find out until our last day that we were supposed to sign a receipt at the restaurant for breakfast. We had the vouchers for a free breakfast, the hotel wasn't charging us, I think it was just for their records. The first two days we just ate and left to get to the parks early. Recommend leaving at least a few dollars to tip the waiters. They didn't insist on it at all, just a courtesy. Everyone was professional. And being able to use the buses to/from the Toy Story parking lot was perfect, especially at the end of the day when we were exhausted.
Great price, location and staff!
The hotel was a little outdated, bit was nice for the price and walking distance to Disneyland, and right across the street from a park shuttle pickup. All the staff was excellent and the breakfast buffet was great. Our only real issue was that the carpet by the bathroom in our room was soaked when we arrived and the room with a little bit of a mildew smell as a result.
We LOVE staying at the Clarion!
We have season passes and always stay at this hotel. The rooms are dated, but clean. The breakfast is really pretty good. The location is convenient. The front desk people are nice, but Christine is always amazing. She listens to any needs you have and goes above and beyond to help. As I stated above, we always stay here.
Everything about the hotel was good except that the beds were double beds. We for sure needed at least queen beds.
Christine L. on 09/13/2019
The hotel is about a mile walk to the entrance of the Disneyland Parks. It made for easy access to/from parks and hotel. The beds are really comfortable. I slept like a baby every night.
Staff was always helpful and kind. Great location. Enjoyed the balcony room!
Our room was spacious, clean and felt very safe. The staff was extremely helpful and always happy to go the extra mile for us! I can't recommend the Clarion enough!
Gretchen Y. on 09/12/2019
They were all so kind and accommodating. The breakfast was amazing. Room was plenty big and spacious with a fridge and microwave.
Very clean and well managed
Hotel staff were very friendly and helpful. Very clean and well managed hotel. Room and room service was spectacular. I booked a standard room but at check in I was informed that they upgraded my room to a suite! Room was very clean and spacious. Breakfast buffet was delicious and lots of food to choose from. I will definitely consider booking with Clarion Hotel in the future!
Poorly run, old, tiny beds, employees didn't seem to care
If I could give the hotel 3.5 stars I would. I read the reviews prior to booking this hotel for our Disneyland trip so I knew of the major negatives prior to arrival. The room itself was fine. Yes, the bathroom is small and not in the best condition. Yes, it is only double beds. Yes, the sofa bed mattress was incredibly thin. The bathrooms need updating. Double beds were a little tight for my husband and I, but we survived. The thin mattress on the sofa bed did not seem to bother our son. Free parking was nice. We found the breakfast to be good. They had a different selection of eggs each day. We walked every day to the park. It was a good 20-25 mins, but it was doable. I wouldn't want to spend a nice vacation there, but for a Disney trip it was fine.
The rooms were in serious need of updating and repair. Fixtures were loose and missing screws and were rusty. Tile was 70's yellow and not well cleaned. Cleaning service ignored the do not disturb signs and entered the room anyway, then took the do not disturb signs when they left. The tile around the pool was dirty enough to write your name in, but the water was clean and clear. They did upgrade one of our two rooms at no upgrade charge so we could have adjoining rooms.
Free Parking and Free Breakfast!
This hotel was great! With the package deal with Get-Away-Today we received a free parking ticket during our stay as well as free breakfast. This is an older hotel, so the rooms are a bit dated, but they did the job since we spent majority of our time at Disneyland. This hotel is only about a mile away from Disneyland so you could walk over each day or there is a shuttle bus that takes you to and from Disneyland each day. For two adults it cost us $30 for a three day shuttle pass. Overall we enjoyed our stay at the Clarion Hotel.
Dinner and breakfast is great
The hotel was just fine for our vacation we didn't spend alot of time there besides sleeping. Bathroom was a bit small but again we didn't spend too much time there. The breakfast and dinner was great
The hotel was a convenient location from Disneyland. Our reservation also included breakfast and the staff was very friendly. However, our room was small. Also, we thought our room came with two queen beds (we were 4 adults), but were given two doubles. It was an oversight on my part. When we asked if we could upgrade (and willing to pay), we were told there were no queen or king beds at the hotel; all rooms only have doubles. Overall, the condition of the hotel in general was rundown and I would be willing to pay a slightly hire price to stay somewhere else.
A little out-dated but it was clean and the staff was helpful and friendly. Those three blocks are a killer when you're walking home after a long day at the parks!
Hotel was nice but bathrooms were as if they didn't want to redo them. Not terrible but could have been better.
While checking in the manager he had no clue that my package vacation came with bus pass and free breakfast. Every after I showed him the print outs from get away. After receiving bus passes we went to the park and came back to get out hotel keys. We came back from the park and another manager ignored us. Helped several guest before he acknowledged me inline. I gave him my temp parking pass and my ID. I explained to him that it was a temporary pass because we came and checked in before our room was ready. He had no clue what the pass was and keep asking me where my car was. I told him multiple times that it was in the parking lot. I still did not receive my breakfast passes. The next morning we had to track down our breakfast passes. The breakfast was ok. I have had better at fast food places. The wait staff wanted us to tip them with out checking on our table. Later that day we came back from the park for lunch. Well....guess what the sign that was outside advertising they offered lunch. The restaurant was closed. The customer service desk said the restaurant doesn't open for lunch. We were so upset that I had to call Getaways today to help save our vacation. The hotel director made us lunch and sent it to our room. The food was so good. Between the director his assistant and get away today they saved our vacation.
LOVED the breakfast buffet
Hotel was nice and clean, had zero complaints. Loved the breakfast buffet!
Hotel was great, we were a little disappointed in the restaurant, they are not opened much and the room service hours were a little inconsistent.
Spacious rooms and amazing breakfast
Hotel was perfect for our stay. Spacious room and breakfast was amazing! The bus to Disneyland was also a very big help! I already have recommended this hotel along with the help of getaway today to several friends.
Good budget friendly hotel
Victoria G. on 07/30/2019
We've stayed here before and last time it was not great but this time we had a much more better experience. My room was upgraded this time. It was so clean, my only complaint was that I couldn't find extra blankets I called down to the office multiple times to ask for some and I got no answer 3 time! We were too tired for Disney to go down on our to ask. Overall a good budget friendly hotel to stay at.
Brittney W. on 07/28/2019
We planned on getting the most out of our Disney tickets and just needed a place to sleep at night. The free breakfast was fantastic and we were able to save more money by walking to Disney rather than use the shuttles. The beds were surprisingly comfortable (despite being fulls rather than queens). Definitely a place I'd stay again due to the free breakfast and parking and close location to Disneyland.
I chose this hotel because it was the same price as a hotel 11 miles from the resort and I knew it was across the street from the Toy Story parking lot. I was more than happy to not have to fight traffic leaving the Mickey and Friends parking structure at close of park every night. This was a good value option for the convenience of location. Based on reviews I expected my room to be a bit more than a Motel 6 but was pleasantly surprised at the size and quality of the room. We booked the twin double room and my kids were happy to discover it included a fold out couch. My daughter decided she needed an extra comforter for the couch on top of the extra blanket they leave in the room for it and the front desk was happy to oblige her. We even were able to watch most of the Disney firework show from our room on the 8th floor. Our room included a fridge and microwave although the microwave was a bit finicky. Although the bathroom was a bit on the small side the tub was still large enough for me to soak comfortably after a long day at Disney. There is a laundry room in the hotel and you can purchase detergent and other essentials in the gift shop downstairs. If you plan on purchasing souvenirs make sure you stop by the gift shop first as they have many of the same items you'll find at a fraction of the cost. Breakfast at the hotel restaurant was enjoyable. The menu changed daily so you wouldn't get tired of the same thing. You get seated by the staff and they get your drinks and then you are on your own. They are more than happy to refill your drinks if you ask them as they bustle around the dining room. We had an enjoyable experience during our four day stay at the Clarion.
The hotel has room to improve. When we arrived, the front desk informed us that WiFi was down and they were working to fix it. We heard from another guest that it had already been down for a full day. The second day of our stay, it was still down and the hotel would not give us a clear answer on when the WiFi would be back up. We actually had to cut down our time in Disneyland to travel to another location to get WiFi to work. The internet finally came back over halfway through our trip. Another accommodation that was supposed to be available to us was access to bus tickets and the kiosk was also down for the entire trip. So we had to walk to another hotel to get tickets but eventually ended up using a bus app on our phone. The room itself was basic and dated. The hotel itself, did its job. It gave us a place to sleep. But for the price, quality, and experience, we will choose a different hotel for our stay next time.
Hotel staff was very friendly and helpful. The room was clean and stocked. Walking distance from Disney.
Clean, staff is friendly and helpful, parking and breakfast included- nice extras, walking distance to Disneyland (even with a 5 year old :)
Great Hotel and Customer Service
Overall the hotel and customer service were good. Bathroom in the room are small, out dated with broken tiles. Water flow needs maintenance.
Very clean, excellent personnel service.
Nice rooms just out dated. I would recommend.
This hotel is clean, nice and has a full breakfast!
Walking Distance to the Theme Park
It is just ok, walkable distance to the theme park. Plus free parking
Fantastic Stay, with Great Savings
We loved saving so much money by staying here. We spent less on our hotel and were able to spend more in the Parks, best idea ever. It was great to stay close enough to walk, also allowed us to save money that way as well.
I booked this hotel to go to Disneyland with my family of 4. I had not problems during my stay. I highly recommend this place for the convience and location. If you book with Get Away you get free parking which is usually about 20 bucks a NIGHT, and free breakfast for your family which is near 12 Bucks a person. Everything near Disneyland is expensive. So the free breakfast pays off big time. They give you meal vouchers to use each morning and you get a full buffet breakfast that changes each day. Pancakes were awesome with Chorizo and Egg. Once you park your car leave it there, just walk across the street to Toy Story Parking Lot and jump on the Shuttles. No Questions asked, it takes you straight to Disneyland, remember the 2 parks and Downtown Disney are all located at the same entrance. This Shuttle is FREE and Runs early in the morning and ends by 1 a.m. Word of advice: the Restaurants outside Disney are just as expensive. McDonalds across from Disney has prices jacked up more than usual. Subway has prices Jacked up and so did the Pizza. So if you are going to spend then just eat in Disney or pack sandwiches if you want to save. It's up to you. Hotel Beds are low, and a little smaller than usual. In reality you are so tired from the long fun day that you won't even notice. You will knock out when you lay down. Rooms have a balcony view and sliding door outside, watch your little ones. Restroom in the room is tight, no joke, it's small, but does the job. For the little bit of time your actually in the room, it's worth the price. Remember the shuttle for Disney is right across this hotel. Maybe a 5 minute walk, everybody is walking so don't worry about being alone. I really do recommend this package, it was so stress free and fun to just enjoy myself with my family.
The guest service here is EXCELLENT, I was completely satisfied with all the employees that I interacted with both face to face and on the phone. Prior to even getting to the hotel I was impressed with the employees and the help that they offered me. My only complaint was that the bathrooms are very small, but their guest service is above and beyond and you can deal with the size of the bathroom. We had a wonderful experience at the Clarion.
Perfect for Disneyland Stay!
We loved this hotel! Our expectations weren't high whatsoever after reading some reviews, but we were pleasantly surprised with the quality of things during our stay. The rooms aren't anything fancy, but they were nice and comfortable and I wasn't grossed out by anything. The hardest part was not having a microwave, but the fridge was there at least. Rooms were spacious and beds were so comfortable. There's even a nice little balcony with a pretty view. They had a nice crib for our baby and he loved it and slept great each night. Breakfast was awesome and they had a ton of options!(yogurt, fruit, eggs, bacon, sausage, biscuits and gravy, toast, bagels, juice, and tons of things!) This saved us for the mornings before going to Disneyland! There's also the option to eat at the Palm restaurant that's in the hotel as well, where 1 kid ate free with 1 paying adult, so that was nice too. The food was good and my kids and husband liked their meals! I wasnt a fan of what I got, but overall it was great and I'd be willing to try something else off their menu. I saw complaints about the shuttle and I'll agree the shuttle from the Clarion isn't the best, but the Marriot is no more than a 2 min walk away and we just took that ART shuttle majority of the time! (Took ART shuttle 3 to and from Clarion to Disneyland or shuttle 4&5 to and from Marriot & Disneyland.) They run often and we were able to get to and from easily! We just bought the 3 day bus passes at the hotel, they have a kiosk so it's super easy! We were also able to print out our Get Away Today vouchers for our Disneyland tickets JUST IN CASE I needed it at the park. I didn't, thankfully the mobile option worked just fine. But I wanted to make sure I covered all our bases to have a smooth first trip. The staff was really friendly and great. We were able to check in early and Ilana was amazing and kind to us. Staff was extremely helpful and answered all my questions that I had as it was our first family vacation and I had a lot of questions.. That's why I'm leaving a long detailed review in case there's one person wishing they had all this info as I did as I was searching! All went smoothly and we look forward to returning for many more family vacations in the future!
Samantha C. on 12/16/2018
This is a good, affordable option for people going to Disneyland! It's clean and quiet. The breakfast buffet each morning was a lifesaver for us and allowed us to have a good breakfast before going over to the park. We would stay here again.
Basic hotel with amazing customer service
We stayed at the Clarion Hotel over Veteren's Day weekend. The hotel was busy, but the staff was excellent and made us feel like we were VIPs. Our room wasn't anything fancy, but we didn't stay here for a hotel vacation. It was close to Disneyland and our kids loved the breakfast every day.
we had double bedroom suite and the rooms are old and out dated. The bathroom is very small and not accommodating for handicapped. The elevators are very slow and often skipped the sixth floor. other than that staff was nice and breakfast was not great but it tied us over until lunch saving us a little money. Will not stay here again
Great hotel with lots of freebies
Stayed here while my husband was attending a convention. We didn't have our kids. I rode the ART shuttle to the park. First time I've been to Disneyland on my own and i have to say it was pretty nice. The hotel offered a free breakfast (not for everyone I noticed, it was something just through Get Away Today). The staff was so friendly. You can tell they love Get Away Today guests- I didn't have to pay parking or a resort fee and the lady behind me was ticked she had to.
Pleasantly surprised by this value hotel.
I stayed in a family suite in June 2018. I was nervous about staying at a this hotel because the reviews were either good or really bad. I booked this hotel for the price and location. It's across the street from Toy story parking lot and the shuttle was extremely convenient! We arrived in the Anaheim area earlier than planned. I called to see if we could possibly check in early. The front desk employee was very friendly and checked quickly if there was a room ready for us, There was and she said it would be no problem to come early (which was nice because some hotels get VERY annoyed if asked to check in early). Every employee we talked to was very friendly and helpful. We had no problems with our room and I was surprised how spacious and decent it actually was. The bathroom was a little dated and small but clean and served it's purpose. Beds were clean and comfortable. The pool area is small as are most hotels close to the convention center, but it was good enough. Free parking and free breakfast for booking with Get Away Today was REALLY nice and saved us quite a bit on money. The breakfast buffet was great and had a lot of options. I have nothing bad to say about this hotel and would stay again!
Total difference from last stay
We stayed at the Clarion 5-6 years ago and it was horrible. We booked again to give it another chance after reading some reviews. It was a total difference. Our room was clean and enjoyable. The food was great - Jamie was awesome. The staff was so polite this time. We loved the change.
DANIELLE A. on 08/03/2018
Started our stay here with amazing customer service that just kind of went down as the days went by. Housekeeping at one point only left us 3 towels, 2 hand towels, 1 washcloth (our first day was fully stocked with 6 towels, 4 hand towels, 4 washcloths - all of which we used and put on the floor for replacing). When we called to ask for more, we were questioned as to why we needed more. Just a little frustrating. The room overall was nice, great view of the fireworks. Bathrooms are far outdated. Good luck getting your shower water to stay consistent. It would go from freezing cold to scorching hot back and forth several times during the shower - not a huge deal, but if you have little ones, definitely be careful with the shower. Called down to the lobby on our last night to ask for a do not disturb sign as there wasn't one in our room. We were told we could go down to the front desk and pick one up because there was nobody there to bring us one. After 12+ hours at CA Adventure, the last thing any of us wanted to do was go back downstairs. I created my own and stuck it in the key card slot. We also asked for a late checkout and were informed that he couldn't do it and we'd have to call back in the morning to ask the front desk - the whole point of requesting a late checkout was so we could sleep in. It all worked out in the morning and they happily gave us a 1 hour extension on the checkout time. Breakfast was good. Overall this was a good stay...but it definitely won't be my first choice in the future.
Excellent stay at the Clarion
Great customer service and kindly and quickly accommodated our family's needs. Great cafe, staff, location and room. One suggestion - have microwaves in the rooms or near the vending area. Other than that, excellent!
We will be back for sure. Hannah was amazing. She helped us check in and was very, very friendly. She was so helpful and made our vacation even better.
Did not honor reservation
I had purchased a room with a king size bed, but when I went to check in they said they had no rooms open, even though I had payed for it. We ended up sleeping on two separate full beds, and we were not happy with the service we got. The price is not bad, but I would not recommend this hotel
Staff was super friendly, though when busy they did not have enough staff to help at the front desk, and it took forever! =) Breakfast was decent, and the servers were friendly. The room was OK. It's a bit dated. Has a safe (with a huge key you get to haul around). The beds are tiny. Note they are not queens, so even a couple in one bed may want to opt for their own bed. I'd consider staying there again, but just because of the bed situation, I probably won't. However, when we arrived they said they gave free upgrades to Get Away Today customers to suites, if available. We upgraded one room. Added a fold-away bed/couch and a microwave. Room was bigger, but the beds were still ridiculously small. At the end of the day, you spend all day in the park and just need a place to crash, and Clarion is a good fit for that. Except for the dang beds. Have I mentioned how small they are? =)
Everything is outdated, more bad than good
The good: The breakfast buffet has lots of options and has different items daily, each room has a safe, and it is within walking distance of Disneyland. The bad: There are only 3 tables in the restaurant that will seat more than 4 people,and they make you wait to be seated, so you need to get there early or arrive a little later if you travel with a family and don't want to wait forever to eat breakfast. The housekeeping staff doesn't speak English, so you will need to contact the front desk if you need anything. The rooms didn't look renovated, everything looked like it was built in the 70's and 80's except for the very small flatscreen TV. There was mold all over the tub in my room, and the tile was cracked. Only 2 ice machines work. They only had 6 TV channels that worked, and blamed the other ones that weren't working on the TV provider. The beds are super small and don't fit 2 adults, so my wife and I had to share beds with our kids. If you are driving, you'll want to get the package that includes parking because it is really expensive.
Close to Disneyland, Wonderful customer service
We enjoyed our 4 night stay! The hotel is very dated, could definitely use some rehab. The water pressure in our room on the 9th floor (which we could watch fireworks from!!) had such low water pressure that I had to fill the tub to get the soap out of my hair. The rooms were clean, the staff was friendly, the pool was nice, the breakfast was amazing and the breakfast staff was hands down the best. One of the gentleman (Jimé I think was his name 🤔) was outstanding! He remembered us each day and made us feel like family. Beds were okay comfort wise. The one on the left was VERY squeaky and our AC fan was going out and made a pretty awful noise. Not a huge deal as we weren't in the room other than to sleep. Overall great budget style hotel!
Jonothon G. on 04/17/2018
We enjoyed our entire stay at the Clarion. The staff is extremely polite, friendly and helpful. Breakfast was delightful. Would certainly stay again!
Hotel price excellent, 3rd night free, great hot breakfast buffet. Staff super nice and helpful. Second time staying at this hotel and would definitely stay again. Room quality rating of a 4 due to small bathroom.
Katherine F. on 04/09/2018
This hotel is a bit older, front desk staff was a bit rude at check in but it did not spoil our stay. Breakfast buffet was good and waiters was friendly and attentive to our requests. For the amount of time spent in room it was worth the cost. Staff available to us when we had questions. Gift shop worker was very helpful and gave us suggested times to get on the road to avoid rust out traffic. Would definitely stay here again. Looking forward to next time!!!
Excellent service, great, clean room. The staff was pleasant and helpful. Will stay again.
The Clarion had excellent service and friendly staff. The rooms were clean and comfortable.
Good value, excellent service
We picked the Clarion because the price was right. The rooms were OK, but felt a little smaller than we're used to. Our favorite thing was the free breakfast. Our server, Jesus, did a great job. He was on point and would always take the extra time to make sure my kids got what they wanted. He always made us feel very important. We told him our name on the first day and on day 5, he still knew us
Great hotel with amazing staff
We had a great time at the Clarion Hotel. Jaime in the breakfast restaurant provided excellent service. It was a pleasure for us to have him be our waiter. A big thank you to Jaime!
We had a great time at the Clarion. Everything was perfect for our vacation. The personel were especially friendly and helpful. Jaime makes excellent chocolate milk.
Best service, great value
We just returned from a great weeklong stay at the Clarion Hotel. The staff was great. Jesus was our waiter at breakfast a few times and we really loved him. He took such good care of us. My two main feedbacks would be to update the bathrooms and have ice machines on each floor. We will definitely consider staying here the next time we are at Disneyland.
Best service and good value
We had the best week long stay at the Clarion. The staff was great. Jesus was our waiter during breakfast a few times. We really loved him. He took such great care of us. The two main things that could have been better would be to have updated bathrooms and an ice machine on every floor.
I had 4 adults and 2 kids in the studio suite and was perfect. I loved having the hot breakfast and free parking. It eas great being walking distance to the park. The staff were all friendly and helpful. I recommend staying here if you're on a budget. You wont be sorry.
We had a fantastic stay. Everyone was helpful and kind. Service was wonderful. We especially appreciated the friendliness of the restaurant workers - Jesus :). They made the start of each day extra good. Thank you!!
Will stay here next time!
The room was very clean, the staff was very nice and helpful. The free breakfast was always delicious also. The beds weren't as comfy as I had hoped and the bathroom could use a an overhaul. Other than that everything was great and only a 15 minute walk to disney.
Breakfast Rules: Not Child Friendly
The location was great, close vacinity to the toy story parking lot that we utilized to get to the park. Walking was too far with a toddler. I was concerned with reviews of unclean rooms, ours was clean and no areas of concern. The reason for not giving five stars is the breakfast situation. We were unable to bring food back to our room to eat. Typically on previous trips we bring food back for our kids to eat so theyre not sitting in a restaurant style setting. One person showers while the others eat. With our breakfast package the ENTIRE party had to be present to go downstairs to eat. This was an annoyance as my daughter wakes up at 530 am. NOBODY else wants to go downstairs for breakfast at that hour. For this very reason I will not be able to stay at this hotel again.
Staff is attentive, and courteous.
My daughter and I are returning guests, this is our fourth stay and on our next visit we will book this hotel. The breakfast crew is very well organized and very clean, helpful (hello to you three!! And thank you). The room is always clean, good job housekeepers..... the front desk is there for the guests 100%....i requested a couple of things to be done in my room (blow dryer was not working properly, the shower head was leaking just a bit and I wanted fresh towels every day). When we returned from a long day at Disneyland everything was taken care of.....thank you all
Was okay. Probably wouldn't stay here again though.
The staff was great. We got there on a Sunday and they put us on the 9th floor in room that was not very big. Definitely not the "family suite" that I imagines. We went to visit some other people from our party an their room was so spacious, and they only had 3 people in their room. We had 6. So we asked for a different room and they put us in a more spacious room right away. I really didn't have a problem with our new room until I opened up one of the dresser drawers and there was a cockroach scurrying around in there. Totally grossed out and it escaped the drawer before I could catch it and flush it down. The breakfast was was great everyday and the breakfast staff was wonderful.
We stayed at this hotel recently. So it's not a 5-star resort but for the price and the amount of time we spent it was a good buy. The staff was friendly and addressed any needs. When booking with Get Away Today you get free breakfast, that is a deal in itself, saved money on food. Free parking, walking distance to CVS and Walgreens and a lot of other shops around the area. We took a bus to Disneyland throughout our stay. The bus drops you off in front of Disneyland so it saves the feet. My family and I went to enjoy Disneyland and we did, the room was to rest up for the next day and it worked out.
I would've rated this a 5 however, the 1st morning we woke up there was no hot water and we had to have cold showers. Also, the free breakfast was not great.... hard toast & French toast, soggy oatmeal, horrible sausage. My son loved the waffles.. the only thing my husband and I could stomach was the subpar eggs and bacon.
MICHELLE I. on 09/15/2017
My family and I really liked this hotel. We had the large studio room with two beds and a sofa bed. Perfect for us four adults. The hotel package came with free parking and free hot breakfast, which was great. Close to Walgreens and CVS. Found a short cut to the hotel using Hotel Way off of Katella, this is helpful when the cars start piling up to go to the Disneyland Toy Story Parking across from the hotel. To get to Disneyland, I suggest walking across the street to the Toy Story parking lot and catching the free Disneyland shuttles to the park. I gave the hotel four stars because the bathroom needs some updating. I would definitely stay here again. Just note that the hotel is right next to the convention center and I am not sure how busy things get when there is a big convention going on.
Decent value with quick shuttle access to Parks
Jennifer B. on 08/28/2017
The sleeping portion of the rooms was newly renovated, quite spacious and clean. The bathroom had obviously not been renovated for 30+ years, but was clean. The hallways were worn and the other common areas showed their age. The breakfast buffet was pretty bad - overcooked and bland food. The pastries were stale, but the cut fruit was fresh. We did not use the pool, but peaked at it and it looked clean and adequately sized. Overall, it was a great value for the price we paid. The ART shuttle stop was right outside and was on a short route to the park. Other hotels we have stayed in took 30+ minutes to and/or from the park. This one only took 5-10 minutes each way depending on lights.
I was excited to be getting such a "great deal" by staying here! Unfortunately it is so run down and so dirty! In addition, I felt like my room smelt like a Hospital! (yuck) There was so much dirt and dust built up it made me feel gross. We ended up leaving a day early because I couldn't stand it. In addition, the breakfast was not good and a majority of their plates were dirty. I know for the low price I shouldn't expect much. However, I have stayed at other hotels, paid less and have been a lot cleaner and friendlier! I would not recommend this place to any of my friends and family and I will definitely not stay here again! save yourself and book elsewhere!
I used to like this hotel but last week stayed was a bad there was crocoches in our room. And they only said sorry y ask them to clean the room again and when we come back the crocoches were still in the floor front desk just said sorry again
Great customer service and really close to Disneyland!
I'll start with the positives: The staff was friendly and helpful and the lobby was clean and up to date. I liked the area where the hotel was located by the convention center. It was an easy walk to Disney for the adults in our party but might be a bit far with little ones. Negatives: The room was not very clean at all. The air conditioner made noise and leaked water on the floor. The hotel was advertised as recently updated, but it was not. Or maybe I got the only room that was never done.
Run don't walk away from this hotel!
Don't fall for the newly renovated tag line, it's far from the truth! The bathroom was disgusting. While it had a new granite counter top, that was about all that was new. There was mold in the corners. The bathtub had 1970's tile that had been re caulked over so many time I cut myself on the excess caulking. We got a room that with the roof out our window. Kids in the hotel were running on the roof all night right outside our window making it impossible to sleep! Beds were very uncomfortable. The only plus was the staff was nice and it's a 15-minute walk to Disneryland.
Elizabeth M. on 06/12/2017
Great Location, close to Dinseyland and a good assortment of restaurants nearby. ART picks up right in front of hotel and drops you off at Disneyland. When you book with getaway today you get free breakfast and free parking. Breakfast was good and provided a number of options. Parking spaces were small and made it difficult to park when it was busy. Hotel room was decent size, bathroom was tiny and hard to maneuver in. Good size frigde in room. Overall we liked the hotel and would stay there again.
When we arrived at the hotel, the room was dirty and a main light didn't work. I called the front desk and they said someone would be right up. It took 2 and a half hours to resolve this issue. Then, later that evening when we went to pull out the sofa bed we saw that it was dirty also and hadn't been changed. Again, I had to call the front desk and have someone sent up. It was very frustrating and took some of our time away from doimg what we had planned. Other than that, the hotel was great. I would still probably give them another chance next time.
Great Breakfast, Adequate Rooms
The rooms of this hotel are adequate -- we don't spend much time at the hotel, other than sleeping and getting ready for the day. The breakfast is quite good -- good service from the staff, good food on the buffet -- a good breakfast makes it so we don't spend as much on food at the Parks. I also like the free parking. The ART Transit is good -- you can take the bus that picks up right in front of the hotel on Convention Way or you can grab either of the buses that stop by the Marriott and Hilton just a few 100 yards away or grab the bus on Harbor Blvd -- or, the hotel is also close enough to walk to and from the park if desired (about 3/4 mile).
This hotel was GREAT. Stayed there this pass weekend for our Disney trip. Yes it was a walk from the park but what they offer was worth it. Free parking with the package made with getaway, free breakfast buffet (which is a $13 a morning saving if booked with getaway). They do not have free shuttles what so ever, you need to purchase a ART bus pass which you can do at this hotel. very accommodating . One downer to us were the elevators, there's 3 in a row but all seem to take forever to get to your floor, you'll be lucky to catch them on the first floor if going up. Otherwise we always took the stairs. Still above that its a great hotel at a great price. I recommend and would stay here again for our November family trip but sad that they're already all booked up :[
Old and outdated/Front desk staff did not make up for it
Our room was mediocre. The bathroom was so small that I couldn't close the door while I was in there. The remote was no where to be found, had to call for them to bring me one. On day 2 , it was missing from my sons room. They were doing some type of repairs outside which made a lot of noise inside the room during the day. (Good thing we were at Disney) The hallway was hot and stuffy and in the evening, my whole room smelled like weed from someone else staying there. I don't care what other people do, it was just way too overbearing. The girl at the front desk was talking in Spanish to the guy behind her on how she didn't want to be at work while she was helping me. The only thing I can say was good was the breakfast that was free. This hotel was ok but I wouldn't pay unless the rate was cheaper
The room was a little dated, but the staff was very helpful and friendly. My husband having a lung disease, it was great for me that they are a Disneyland good neighbor hotel and had transportation to the park. The best part of our stay was that they offer a full breakfast buffet that was open later than most hotels, instead of just a continental breakfast. Our trip was too short to take advantage of the amenities, however we did note that the grounds were kept clean and well maintained.
I stayed at The Clarion with my 3 teenage boys and brother. We booked a studio suite which had two doble beds and a sofa bed, all side by side. The site stated that the hotel was refurbished but he room was old and out of date. The bathroom was extremely small and had a 80's feel. The hallway outside the room was hot, stuffy and had an odd odor. Staff was mediocre. Housekeeping was horrid! We never came back to a room that was cleaned well with made beds. The breakfast was decent and the restaurant staff was very kind. That and the cute souvenir shop were the only redeeming qualities to this "hotel". We had free parking for our car, however everytime we needed to leave the hotel we would get stuck at the gate because it would ask for payment. We would have to park, go back into the hotel to guest services and get a new ticket to leave the parking lot without paying. We were truly disappointed with our experience at the hotel, but we did not let it ruin our vacation. We will not be staying here again.
Excellent free breakfast every morning. Room was large and comfortably fit 6 people. A little out dated. Pool but not hot tub. Good customer service.
We chose the Clarion because it was a good deal and close to Disney. But this hotel is in desperate need of some upgrades and they need to give more attention to cleanliness. The room we were assigned to was directly over the main entrance. It was so noisy, the sliding glass door did not shut all the way, there were crumbled chips and a water bottle under the side of the bed, the beds were horrible uncomfortable. We requested a room change, so they moved us to the other side of the hotel that was less noisy, but the side the sun was on. The AC did not work, and made the whole room smell like a burning toaster. Once again the beds were horrible and there was taco sauce and a sock left in the room. The whole thing is pretty out dated and really needs improvements. The ceilings are falling apart, they had water leaks in the lobby, there huge cracks in the walls and the rooms stink from the AC units. The only good thing I can say about it, is the employees are friendly, but we will never be staying here again and I would never recommend it to anyone.
best breakfast and going back every trip in the future
we made our breakfast the best part of the day much to choose from and change the platters and options every other day and took goodies 2snack on 4the kids later on(bread pbj). the hotel is old but is a very kind group of people working there we went 2the bar room w.the kids late night and had rootbeer floats our waiter was anotnio he was amazing and kind the kids are still talking about this guy 3yrs later im absolutely planning every 3yrs visit staying at the clarion in the future the shuttle was worth the price 2be in AC b4 and after walking the parks but close enough you could walk if ur up 2it i recommend the shuttle tho .and they give you freebies at the front desk for whats left behind deodorant toothbrush sewing kit etc.and the pool was relaxing enough for the kids.we stayed in the suite and it was nice ,average but clean .
Stephanie O. on 01/09/2017
I have been staying at the Clarion for a couple years now. The service is fantastic, including the cafe. Best value all the way around!
Won't stay here ever again!
We booked 2 rooms for 2 different families. When we booked this motel it said "one block from the entrance." That is absolutely NOT correct. It is 3 1/2 CITY BLOCKS from the ENTRANCE to Disneyland, which takes 25-30 minutes to walk (at a decent pace). Because the walk was so much farther than we expected we talked to them about their shuttle. They charge $5 a person per day. Crazy ridiculous. We booked with the free buffet breakfast, which was sub-par at best. The eggs were slimy, the toast was so hard it was inedible, and there wasn't a huge selection. I would have been happier with any other CONTINENTAL breakfast we've had staying anywhere else over this garbage. Our heater did not work, and for once in SO CAL it was COLD and very rainy. The other rooms curtain rod was bent and the shower curtain would slip to the center and it allowed water to go everywhere. It had obviously been an ongoing issue with the mold/deterioration of the floor and wall. The bathroom sinks didn't drain worth a crap. The toilets would't flush properly and you had to flush 4-5 times in order for your poop to flush (sorry, probably TMI but it's true!). The beds were HORRID. We booked 2 standard plus pull out sofa bed. The sofa beds were absolutely USELESS. The mattresses were so bad there was literally a sunken hole in the center, making sleeping impossible. Therefore, 3 kids had to cram on a double bed. That made for long, sleepless nights, which led to not so much fun days in the park with little kids. It was dirty. The floors. The walls. The elevator. The laundry room. I could go on and on. We have stayed at 5 other hotels (within the last years- 2 of which were through Get Away) while visiting Disneyland and have never felt so compelled to write a review. Those stays were decent and those hotels, although had faults, were pleasant enough to stay in again. I'm disappointed that Get Away Today has partnered with such a terrible hotel. We will NEVER stay here again and would recommend others find another place to stay as well.
We had 3 adults and a 16yo Girl. The mini suite worked great for us. Our room was clean and quiet even though we had a room next to the elevators. Breakfast was good. We will stay here again.
Our room looked clean from first appearance, however the bathroom was filthy upon closer inspection. The shower curtain rod broke and almost fell on my head, and the hotels hair dryer caught on fire as i was using it. It may be a cheaper choice to stay here, however its not worth saving the extra few dollars.
Great Value, but still a work in progress
Great value and the breakfast is way better than your average continental. You get placed at a table with a server that will get your drinks and clear your table. A nice touch and the servers were nice. Upgraded to a "Suite". I can tell that they have recently put some effort into upgrading the "living portion" of the room and I give that a solid 4 ... but the bathroom is outdated, the sink is small, and the water pressure and drainage were poor. In all the hotel is currently a 3-3.5, but could easily be at a 4 with a little TLC and updating to the bathrooms and water pressure/drainage. But a big 5 for the value and proximity to the park!
Facility needs alot of TLC
Wall outlets, would not hold your plug in. When you pulled your plug teeth out to give a snug fit, your charging brick would get real hot. Some outlets were hot on top but not on bottom. So you were not charging your phone when it was plugged in. The sliding window lock was not screwed in tight to the frame. So you had to hold one piece to push the locking part into the hole. The door latch/lock did not even lock at all. The bath tub shower pull did not have a top piece to hold on to. So pulling that piece up was difficult. Had to use a hand towel to get a grip. AC unit 2 floors up was leaking on to our balcony. It looked like it was raining outside. It was coming down so hard, we had to close the sliding door because everything was getting wet. The drapes were frayed at the edges. The bathroom door shut and you could lock the door but the door was still able to open. The elevators were extremely slow. expected much better coming from Clarion . The staff was very nice. The distance was fine to Disneyland and the shuttle worked out great.
This hotel was really outdated and old, the rooms were tiny despite being "suites", the beds were really, really small and the room was not very clean.This site says that the rooms were newly renovated but that was not the case for the room I was in which had 2 broken towel bars, tiles falling off the edge of the bathroom mirror, an outlet that nearly came out of the wall and very unclean floors. The restaurant was dirty as well and they took over an hour to bring out dinner despite there being hardly anyone there. Also, the boiler broke so not hot water until after 10pm one night. I would give this hotel a little higher rating on the value, however I wasn't able to get the best deal since the hotel was sold out with GAT, so that is a 1 also. Over all the hotel was just really old and outdated - I wouldn't stay again.
room was okay beds were small and bathroom very out of date. shower water pressure wasn't good and the bath didn't plug to take a bath and then the water heater broke. Took the kids to the pool that is outside of the hotel and not heated. We decided to play games in the arcade, they were all old games and not working well. The breakfast was good with variety of foods. We did agree to not spend a bunch of money on the room as we would not be in the room but at Disney. We did not realize that we would be getting such a cheep hotel for what we spent.
Dirty rooms/Dirty restaurant (unclean hotel)
The rooms were small, and did not smell clean. Did not look as though the floors had ever been shampooed. There was dust on the floors as well. Our trash and towels were not taken out daily or replaced. Dirty cups were not taken out of our room daily either. We were there 4 days, and multpile times had to call the front desk for clean towels, clean bedding etc.. the bathroom looked as if it hadn't been remodeled ever. The bathroom was also very small. I don't know why this room was considered a suite. Also, the walls were very thin, you could hear every word if the person in the room next to you. (We couldn't get one good night sleep!) The last thing was, when we ate breakfast there the first 2 days, the cups were dirty! We went through 4 coffee cups the first day trying to get them to bring a clean one. We finally gave up, and didn't order anymore coffee. The forks had dried eggs on them, and the plates 75% of the time had food on the bottom, or were dirty! We stopped even trying at their breakfast. I was very disappointed and felt as though our money was wasted here! We won't ever stay there again. If I hadn't already prepaid for everything, and we weren't at Disney all day and the hotel just at night, we would have definitely switched hotels!
Christina Z. on 10/08/2016
I don't know why is says newly renovated rooms, my room was definitely not renovated! The rooms are small, the bathroom area was way to small, couldn't close the door while using toilet. The beds are also small and crappy. The only good thing about the hotel was the breakfast, it was very good and most of the waitstaff were attentive. Also it was only about a 10-15 minute walk to the park. If we had planned a longer stay to relax at the hotel I would have went to another hotel. I was very disappointed.
The room we were originally given was not renovated, smell,, the carpets were really dirty and there was stuff on the ground and everything felt really dirty. When I was spraying some lysol to try and remove some of the smell I pulled the curtain back and there was a cockroach. We called them and they moved us to a renovated room. The room was nicer but the bathroom was not renovated and to me that is an important thing to have renovated because that is the room you get clean. The breakfast was good and the staff was friendly and helpful. It was across the street from the Toy Story Parking lot so the shuttle was free.
Request a Remodeled Room!
STEPHANIE R. on 08/13/2016
We chose to stay at the Clarion after we added a couple people to our family trip and they had the best pricing on suites. We knew this meant a room with two double beds and a pull out sofa bed. I grew nervous about our choice after reading recent reviews on TripAdvisor and I called GAT days before our departure. I spoke with a woman who reassured me that the suites had been remodeled and contained all new bedding, furniture, etc. I was sorely disappointed when we checked in to our third floor suite and it was rundown, way outdated, and just gross. The carpet was dirty, some of the furniture had unidentifiable stains, and one of the beds looked like a taco it was bowed so badly. I ended up going to the front desk and explaining my disappointment. An older gentleman, the manager perhaps, could not move us until the following day but put a note in the system that we would be moving to a newly remodeled suite room and reserved it for us for the remaining 3 nights. We explained we would be at the parks all day and would not return until late evening, which he said "no one will be staying in that room". What? LOL He did tell us that only the top 3 floors had been remodeled at that time (Floors 7-9) of our visit. The next evening, after arriving back from the parks around 10:30, we moved to our room on the 9th floor. What a difference! Although the floor plan was much smaller, it was clean and updated. We could even see the fireworks one evening! The updated suite had the counter/sink area outside of the bathroom so that several people could be getting ready at the same time. We felt comfortable in the newly renovated room and had no complaints for the rest of our stay. The breakfast that was included with booking through GAT was very good, filling, and the wait staff were very pleasant. I would say that if GAT is to continue partnering with this hotel, then you need to guarantee your clients that they will be in one of the newly renovated rooms or consider not partnering with this hotel. I have booked through GAT on at least 6 occasions and have always trusted that if they partnered with a hotel then it must be good. Our first night at the Clarion was the only time I have questioned GAT's judgment of their partnerships.
This motel was clean, close to disneyland, and we didnt have any problems. In facr at ckeck in they upgraded us to a suite. I didnt like that the restaurant wouldnt let us grab a plate of food and go when our continental breakfast was included. And when I mentioned it to a manager of a hotel he said he doesn't know how the restaurant roots there's stuff that's up to them and didn't seem too concerned at the breakfast itself was great. we enjoyed this hotel
Terrible parking lot and unfriendly check in staff
Checking in was a bit of a chore, they couldn't find my reservation at first and the girl helping me was not very friendly. We also had an issue with the free breakfast since our coupons stated it was only for 2 people per room per day (I booked 2 suites and we had 12 people total). The one suite leaked water from the ceiling continually and we called to report the problem, but no one ever came - the toilet also leaked water continually onto the bathroom floor. The parking lot was a MESS. It was practically empty the entire trip, yet they have signs blocking off entry to the parking lot (which requires a key card - to enter and exit) and all the signs in and out contradict each other (a sign says ENTER ONLY but painted on the ground it says exit and has a large arrow pointing OUT). I had a large SUV and the entry was almost a U-turn and impossible to make while still being close enough to put the card in - I had to get out of my SUV to put the key card in to raise the arm. Getting out was just as confusing I watched car after car drive around in circles trying to figure out how to exit the parking lot since the 'exits' were blocked off and you could not follow the arrows since they lead to the entrance.
you get what you pay for...
Although this hotel has a great price, the quality of the room and services were not that great. We got the suite on our vacation and all it was, was a standard room with a pull out couch... a room intended for 5 people had the bathroom connected to the shower, so if someone was showering you couldn't use the restroom. The plumbing was horrible. The outlets in the rooms didn't work, so good luck being able to charge your electronics. When we first checked in the woman at the check in counter had our guest count wrong, my child wasn't on the reservation, which I thought wasn't that big of a deal at first. She then tells me that if we wanted him to eat breakfast we would have to pay $13.95 for him, mind you he is 2. So I get on the phone with Get-Away-Today and explain, and they said they would send over our reservation, which included my son, and then we should be good. About an hour goes by and I go to the front desk and explain everything, and it was a different employee than before, and she tells me that it didn't matter because children 2 and under are free. To most this might not be that big of a deal, but it was aggravating that one employee tried to charge us, and then it turned out we didn't have to! Over all point, you get what you pay for!
Friendly staff and great value
I chose this hotel because of the great price. I wasn't expecting much, to be honest. A friend of mine had stayed there as well and said it was good for the price. It definitely needs updated, our hair dryer was broken, some of the outlets didn't work well. But the room was very clean and comfortable. There was a cafe with a breakfast buffet as well as a bar that opened in the evening. I wish it had longer hours, but when it was open they had a great happy hour with $5 drinks and $5 appetizers and tacos. The staff was super friendly, and the food and drinks were good. Great way to avoid paying the high prices at the park before you head out. There's also a little gift shop that surprisingly held a lot of stuff, but if you forget something (like toothpaste) you can call housekeeping and they'll bring it up at no charge. Also, you can take a shuttle to the park for a low cost, but it's only about a 10 minute walk. Overall our experience was great, and we would stay here again.
I had a very good experience with the hotel friendly staff. I will definitely book through get away today for my next vacation but not at this hotel. The free parking and free hot breakfast were great. The swimming pool was clean and inviting. The ART shuttle was convenient picked us up right in front of hotel. My room was very outdated. Needs to upgrade plumbing for toilet flushing and for the shower. The water in the shower would suddenly turn scolding hot and then turn freezing cold.
We think the Clarion in Anaheim is one of the best values offered. It could use a facelift on some rooms BUT overall it is clean and the breakfast and free parking are a great value.
SOMEONE CLAIMING THEY WERE WITH HOUSEKEEPING WALKED INTO ROOM WITHOUT ANNOUNCING WHO THEY WERE. RUDE!
SMALL ROOM AND BATHROOM. ONLY ENOUGH ROOM IN BATHROOM FOR 1 PERSON AT A TIME. ALSO REFRIGERATOR WASN'T PLUGGED IN SO ALL OUR FOOD TURNED ROTTEN
I wouldn't stay here again
Patty Viviana L. on 06/07/2016
The staff needs to be friendly. The room had little things falling apart. Their washer machine was out of service, the vending machines took my coins, my daughter got a prize from the vending machine that was broken. If you are going to spend the whole day out then this hotel is for you, but if you want to be comfortable I would pay a little bit more. The pool was the best part of this hotel.
Great value and Customer service!
This last trip marks the 3rd time we have stayed at the Clarion. The staff is beyond generous, they have let us check in early (This last time was 9AM and they upgraded us to a suite at no extra cost!) and let us park there after check out. This is key for us since we are a 4 hour drive from Disney, so we come early in the day and leave later at night. The hot breakfast is great compared to some other hotel continental breakfasts. The rooms were clean, and beds were comfy. We had grad night students down our hall and above us, but I didn't hear them at all, it is well insulated. The staff were all extremely friendly and went out of their way to make us feel at home.
My family spent 5 nights at the Clarion just a few weeks ago and it far exceeded my expectations. I read some reviews and was a little worried but we had a great stay. The staff was very professional, helpful & friendly. Especially the waiters at the buffet! Our room was clean and the beds were quite comfy. The only thing I saw that was similar to other reviews was slightly outdated bathroom and by outdated I mean just older tile & finishes & the water pressure was very low so it took forever to fill up our toddlers tub but really not a big deal for us! Our family wasn't too concerned about how nice the hotel would be since we were going to be at Disneyland for most of the time but for the time we did spend at the hotel it was very nice & we would totally stay here again. Great for the price!! Thank you Get Away Today for an incredible trip. We will be back.
Samantha S. on 04/28/2016
We picked this hotel because it was cheap and had free breakfast and parking. I'd read some other reviews, so my expectations weren't too high. But when we checked in, we were pleasantly surprised. The rooms were new, and were much nicer than I was expecting. We had a great time and I would definitely recommend it to anyone who loves a good deal.
For the value, this hotel was perfect for our family! Not only that, but when we checked in, the front desk worker let us know the rooms had just been remodeled which made for such an exciting surprise! When we got to the room, we were not disappointed. If you are looking for a great price, awesome location, free breakfast AND new rooms, the Clarion is for you. We will for sure be staying here again in the near future.
We booked a last minute Disneyland trip and didn't want to spend too much on a hotel. I was a little nervous to book the Clarion because of other negative reviews. We were pleasantly surprised when we arrived! The front desk staff was very nice and they upgraded us to a corner suite with floor to ceiling windows overlooking towards Disneyland so we could see the fireworks nightly. The hotel is older but we felt our room was clean. They were remodeling the whole 7th floor while we were there so they are making upgrades. The breakfast was nothing fancy but the kids loved the waffles. The pool was warm and large. Overall if I was on a tight budget I would definitely stay here again. We also walked to Disneyland every day and it wasn't too bad. Great hotel for the price!
Low cost shows in lack of cleanliness
We stayed here three years ago and we were so happy we came back. Never again! The first room they gave us smelled horribly of smoke so they moved us to another room. At 4 am our smoke alarm went off and the person at the front desk said he was the only one in the hotel so the only thing he could do for us was have us switch rooms or we would just have to listen to it for another thirty minutes. I managed to 'fix' it myself although the whole family was woken up. In the morning I went to talk to the front desk and the girl said she had never heard of anything like that. No apology and no offer to try to compensate us in anyway for being woken at 4am. The bathroom was grimy and it was evident that nothing was wiped down by the cleaning staff. We also found the last guests dirty socks on the side of the bed. Spend a little more money and stay somewhere clean! And the breakfast was not that great. The pastries were hard and the manager said sometimes the staff doesn't take them out of the freezer early enough to thaw. Well they didn't take them out early enough all three days!
My experience with Get Away Today was great, but the hotel we stayed at was not. The bathrooms were dirty, the fan did not work, the carpets were severely stained, and the television wouldn't work half of the time. I will use Get Away Today to book another vacation, but I will not stay at the Clarion again.
nice affordable room, plus a great breakfast.
The hotel was below average. The room was very dated and the bathroom in the room looked dirty. Good price, but not the best quality.
We had a wonderful stay. The hotel was very nice and the price was exceptional. Thank you for a wonderful holiday trip!
We booked this hotel because it was the cheapest for when we were going to Disneyland. They had a good, free breakfast and the hotel took good care of our family. We ate dinner there one night and they had good food in their little restaurant. The rooms felt a little small, but we weren't there much so it didn't really matter.