Every vacation is more fun when it includes a theme park! We have a wide selection of great deals on attractions, dining, and tours.
DISNEY'S PARADISE PIER Hotel
*CURRENTLY UNDER REFURBISHMENT - Construction may take place during your stay* As a DISNEY'S PARADISE PIER® Hotel guest, you get Early Entry Access to the theme parks 30 minutes prior to park opening, a private entrance to DISNEY CALIFORNIA ADVENTURE® Park, direct-to-room services with the DISNEYLAND® app, complimentary fitness center access and recreational facilities - all while being steps away from DISNEYLAND® Park and DISNEY CALIFORNIA ADVENTURE® Park.
1717 South Disneyland Drive
Anaheim, CA 92802
*CURRENTLY UNDER REFURBISHMENT - Construction may take place during your stay* At DISNEY'S PARADISE PIER® Hotel, located across from the DISNEY CALIFORNIA ADVENTURE® Park, you're guaranteed an unforgettable stay. Soak up the sun and fun with their cheery beach and boardwalk theme. Check out the roller coaster inspired water slide at the scenic rooftop swimming pool. Plus, guests can use an exclusive entrance from the Paradise Pier Hotel to DISNEY CALIFORNIA ADVENTURE® Park.
3.8 out of 5 Rating (29 Reviews)
69% of guests recommend this hotel
2 Queen Standard Room - Under Refurbishment through Spring 2023
Maximum Occupancy: 5
Standard occupancy: 2 adults (extra adults are $26.00 each per night); 3 children (extra children are $0.00 each per night)
Check-In Time: 3:00 PM
Check-Out Time: 11:00 AM
Parking Fee: $35.00 per night
Coffee Maker
Refrigerator
Outdoor Pool
Hot tub
Exercise Room
In Room Internet Access
Cable TV
Video Game Room
In House Restaurant
Early Entry - Access the Parks 30 Minutes Prior to Opening
Private Entrance to Disney California Adventure Park
1 King, Sofa Bed Premium Disney's California Adventure View - Under Refurbishment through Spring 2023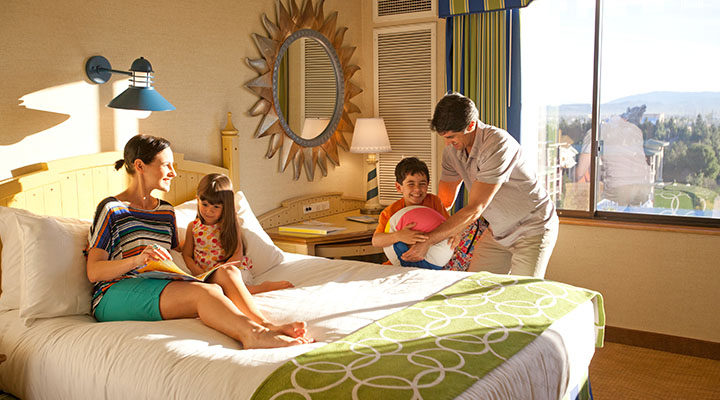 Maximum Occupancy: 5
Standard occupancy: 2 adults (extra adults are $26.00 each per night); 3 children (extra children are $0.00 each per night)
Check-In Time: 3:00 PM
Check-Out Time: 11:00 AM
Parking Fee: $35.00 per night
Coffee Maker
Refrigerator
Outdoor Pool
Hot tub
Exercise Room
In Room Internet Access
Cable TV
Video Game Room
In House Restaurant
View of Disney California Adventure Park (3rd – 6th floors)
Early Entry - Access the Parks 30 Minutes Prior to Opening
Private Entrance to Disney California Adventure Park
2 Queen Premium Disney's California Adventure View - Under Refurbishment through Spring 2023
Maximum Occupancy: 5
Standard occupancy: 2 adults (extra adults are $26.00 each per night); 3 children (extra children are $0.00 each per night)
Check-In Time: 3:00 PM
Check-Out Time: 11:00 AM
Parking Fee: $35.00 per night
Coffee Maker
Refrigerator
Outdoor Pool
Hot tub
Exercise Room
In Room Internet Access
Cable TV
Video Game Room
In House Restaurant
View of Disney California Adventure Park (3rd – 6th floors)
Early Entry - Access the Parks 30 Minutes Prior to Opening
Private Entrance to Disney California Adventure Park
---
Paradise pier was great. Even under renovation.
I'm sure this hotel is a lot better when it isn't under construction. We splurged go day at a Disney hotel and I was really disappointed. It was a lot more money and then our room had lots of broken things, it was loud and the smell of construction was awful some days. What we did love was how close we were to the park and our own entrance to California Adventure.
Old and construction noise loud! elevators didn't work and no immediate stairs to use, huge line for elevators, clean every other day, not worth the value, construction noise couldn't sleep in.
Dingy and noisy construction happening rooms didn't seem clean found hair in the bathroom when we arrived into our rooms.
The Paradise Pier is a Disney hotel. It was under construction. There was no restaurants, the pool was closed, the viewing deck to watch fireworks was closed. There was Disney decorations. The only good thing was the early entry into Disneyland. Not worth the price. I was really disappointed.
DONNA MAE T. on 09/25/2022
Even though they were in the process of remodeling the hotel, we received excellent service. The one dark spot was the elevators, they were very slow and almost always full so no one could get on them especially if they had a stroller.
Easy and Quick to get to the Parks
Location to the park was great, being able to go thru the Grand Californian and pass thru security check there was so easy and quick compared to front gate. Everyone at the hotel was very nice and helpful.
Great location and staff - disappointed on theme and price
I was happy for the location and friendliness of the hotel but it didn't really have a Disney theme and was very overpriced especially since we were were there for 4 nights and they only cleaned once.
It was a good hotel. The elevator situation was a little out of hand in that you had to wait for a certain elevator for your floor. My son wasn't happy that we were at a Disneyland hotel and there was no Disney +, or Microwave for the money we spent. But you can't beat the customer service! Awesome!
Katherine B. on 11/07/2021
The hotel decor is a little dated but still nice. We love this hotel because it is not as popular as Disney's other two hotels and that is fine with us. It is close to Downtown Disney and about a 10-15 min walk to both parks.
We will absolutely stay here again!
Sharicka M. on 10/02/2021
This was the first time we stayed at this resort and it definitely won't be the last. The room was extremely spacious, service was amazing loved our hot stone massages, staff was beyond helpful. We will definitely come back again.
We stayed in the first part of October 2021 just before my son turned 3. We put in a request for some extra Disney Magic for him and mentioned that his favorite Disney characters were Mickey Mouse and Winnie the Pooh. We expected a folded towel, a card, or a picture 'autographed' by those characters. What they actually did blew us away, and what's better is they did it all quietly and without fanfare. Before I reveal that though let me just say we hadn't even gotten to the hotel and we were feeling the magic. At the parking garage they asked if we wanted them to haul in our luggage for us, or bring it in ourselves. We had no idea where our room was, or where we'd be parking so we asked for them to bring it in. We expected they'd wheel out a luggage rack. Yeah it was so much better. They told us to park temporarily in the loading area and then brought us a luggage rack that they loaded with all the things we would need in our room. They gave us a ticket to retrieve our items and we went to find parking. We didn't have to go far before finding a decently sized spot for our large SUV. We hopped out and started our trek into the hotel. The magic was already good and we were already impressed. As we entered the hotel we heard Ursula calling us poor unfortunate souls. We all squealed a bit. She's one of my favorite villains and I had no idea they'd have that audio. Her song then played and as we rounded the corner in the lobby there was a HUGE Ursula sculpture/inflatable complete with ship wreck. My son was giddy and in awe. I was almost in tears. My boyfriend and his cousin were astounded. I knew they'd do it up awesome for Halloween, but was not expecting that at all. Check in was slammed, so we were given activated room keys and told to expect a text when our room was ready. We headed to Downtown Disney for our lunch reservation and the Disney Magic continued there. Seriously Tortilla Joe's THANK YOU for the extra magic. It was a small simple thing to move the umbrella to shade our son, but he was able to quickly cool down, and his sunburn was a tan by the end of the day because of those efforts. We headed back to the hotel to go to our room and I stopped by the Bell Services Desk. They apologized for being busy and offered to bring our luggage up. I had expected to lug the luggage cart up to my room and then have to haul it down again. Instead we got to straight to the room and check it out before the luggage mucked things up. The elevators are awesome, seriously I love that it tells you which elevator you'll use and you don't have to push any buttons other than the initial floor selection, before you're assigned an elevator. Watching Ursula shrink as we rose above her was mind blowing for our son. We had no idea where our room was, we just had a floor and room number. We initially thought we were at the very end of the hall, but were actually just before the end of the hall of rooms. Upon opening the door I was gobsmacked. I immediately called down to the desk thinking there was a mistake. The cast member on the other end of the call assured me there was no mistake and that our room was in fact that extra Disney Magic I'd asked for, and a direct result of being kind and patient during a very busy check in period for them. That Disney Magic you ask? We were upgraded to the Premium DCA Park view with a direct view of the iconic Mickey Mouse Ferris Wheel, Guardians of the Galaxy, Golden Zephyr, and Incredicoaster!!!! My son was so excited by all the Mickey Mouse lamps and Donald Duck artwork that he hadn't even noticed yet. We asked him to look out the window. He started crying. I thought he was upset so I asked him what was wrong. He looked at me and said Momma that's Mickey Mouse House! as he pointed excitedly to the park. I freely admit I was a little worried he'd be made we were just hanging at the hotel and DD that day, but he was just ecstatic to finally be there. So many told us taking a not even 3 year old was nuts. He was so excited and pumped before the trip and cutely asked each day how many days until we got to go to Mickey Mouse house. Y'all it melted our hearts. I thought it would be months of torture as he demanded to go, but he patiently waited and seeing his face just in the room made it all worth it. Once he saw Oogie Boogie and the entrance to DCA and the Castle at Disneyland and all of the incredible Pumpkin artwork he was just beside himself. He couldn't wait to go into the park the next day, but once again wasn't whiney about having to wait until the next day. We thoroughly enjoyed the pool. I wish we'd had more time to enjoy it, but we had dinner reservations too. My son loved the pool and the water slide. A word of caution here. Leave your life jackets at home and use the Hotel provided ones. It's one less thing to pack and you cannot use the slide with your own. Also, please know that the slide does not allow lap riders. My son is a daredevil and decided he hadn't climbed all those stairs to not go down the slide. The cast member/life guard was awesome and let me stand right there with him until it was time to go. He even asked him a Disney Trivia question like he had all the others before us. I laughed as my son answered questions that were stumping adults. :) When it was his turn to go he was nervous and just couldn't make himself go so the CM and I helped him get going. Daddy was at the bottom to catch him now. He was laughing as he started down. After the second turn he got a little stuck and I panicked a bit that he was face down in the water. The CM saw my panic and reassured me that he could see him and that he was stuck, but figuring it out and he was safe. Sadly he figured it out and flipped himself onto his knees and hands and couldn't get to sitting again, before he hit the bottom. He was a little scared. He did cry a little bit, but it was short lived and entirely because water went up his nose and got in his eyes and he's not a fan of that ever. His dad hopped in and scooped him up and the CM at the bottom chose not to scold him. I went down and grabbed him as soon as I got out of the water. He was definitely more clingy after that, but he did want to go again right after they announced the slide was closed for the day. lol He spent the rest of our pool time splashing in the toddler pool, the big pool, and the hot tub. My son confidently told as we left the pool that he liked it and would wanted to ride again. (That was essentially his attitude on all the rides, even the swinging Ferris Wheel car!) The Pool Deck for watching Fireworks was incredible. That was our only opportunity on our trip to see the fireworks and my son had been begging to watch them there since July 4th- no joke! God Bless YouTube and the loop we set of fireworks displays at the Parks. My son was completely wiped by the end of that and went to bed with no fuss at all. He loved the shower, and the yummy Disney travel soaps and shampoos. He has sensitive skin so I worried he'd have a problem, but he had 0 issues. He did adjust the temperature a few times, but I caught it before we got scalded. Note to other parents the sliding shower pressure adjustment is easily manipulated by the littles as is the temperature. Thankfully the actual adjustment is slightly delayed, but only by about 60 seconds. Overall the hotel was awesome. We never had any issues in the room, and checkout was just as breezy. They sent someone from Bell Services to our room and they helped us load all of our luggage and then set it on the rack. They then happily stored it for us until we were ready to hit the road again. OH and for the record no one in Bell Services would take a tip from us. Legitimately never had such a great hotel stay. The bathroom was HUGE. The Beds were comfortable and had ample bedding. The extra bedding in the closet for the Sofa bed was also a nice inclusion. I loved that there was a safe and Fridge. I'm not a coffee drinker, but the separate counter/nook area was greatly appreciated as were the extra outlets and USB ports in so many places. We did bring a Surge Protector and ended up using it for my medical equipment, but otherwise didn't need it. There wasn't a microwave and that is the only thing they could've improved.
Consider it an investment!
Adrienne B. on 12/22/2019
Clean, comfortable and nicely decorated rooms. Close access to parks. Worth the investment.
Great location and fun to stay on a Disney Property. The Character Dining in the Hotel was great. We had a group of 6 (including a baby) and we slept and fit comfortably. We loved that every room included a pack-n-play. The hotel staff was also very friendly and helpful. Would highly recommend and would stay here again.
The Paradise Pier is a fantastic place to stay for your Disney getaway. The staff is so helpful and friendly, from the time that you check in until check out. We would highly recommend staying at this magical hotel.
The staff at this hotel is awesome, super helpful and friendly. Well worth the time to stay here.
For the price of this hotel, there are nicer places that are cheaper although they are farther from the park. We expected more from a Disneyland Hotel and were disappointed. Staff was wonderful, accommodations were average at best.
The bed and pillows were hard and needed updating. Bathroom walls and doors dirty and needed repainting.
The elevators were very frustrating. Waiting forever and no stairs to bypass the slowness
Jennifer L. on 11/03/2019
Staff was extremely friendly and helpful. Hotel rooms are good sized and clean. Only bummer is no complimentary continental breakfast given the price of the hotel. The restaurant breakfast is good though.
We stayed in the 2 Queen, sofa bed View room. Very comfortable room! Enjoyed the theme. There was plenty of space for a family of 5's bags a stroller, cooler and roomy closet for hanging coats and jackets and things in. Decent bathroom, having two sinks helped. The beds were alright, they're a good standard Queen size, but our bed sunk in the middle a bit. The sofa bed was used by our 19-year-old son and he said it was comfy. We were so exhausted from having fun it really didn't matter. The service was great and in fact, the maids displayed our kids Disney teddy bears in cute ways on the beds every time we came back they'd done something new and cute. Our kids loved it! There's an arcade on the lobby floor with super fun games and the kid's theater was cute always showing Disney cartoons. We LOVED PCH Grill. The food was super yummy and we met all the characters even Finally got a pic with Stitch and our son who is a Huge fan of Stitch. We've been to Disneyland twice before and never ran into Stitch in the park. PCH Grill is the best opportunity to get a Stitch visit. One night our daughter wasn't feeling well and instead of going to World of color we had to go back to the hotel. The View room was awesome. we curled up in the comfy chairs turned on the World of Color music station on the T.V which is programmed in time to the show and we got to see an amazing view of World of color from the cozy confines of our room which was very special for our kids. I only gave them a 4 star because, no microwave, beds could have been better quality. The service is fantastic though. We enjoyed the pool which is a Chlorine, salt water pool. So I had no worries about my kids getting sick from them. The pool chairs, kitty pool, and jacuzzi are Very comfortable and relaxing. We had a Great Time!!! Keep in mind Grand California doesn't allow other hotel guests to use their private entry anymore. Just thought I'd share that FYI. ;)
For the price I paid for this hotel I would think that the rooms would be a little nicer the beds be alot softer and you would expect the rooms to be clean. Very very very disappointed in the way the rooms was cleaned. For that matter they wasn't cleaned. We found clothes in our room left from the last guests that stayed there. The floors were not vacuumed. The bathroom was not cleaned, the bathroom mirrors had words wrote on them proving that they had not been cleaned. Not what you really want to read stepping out of the shower. The bathroom floors were gross.I don't think that they even thought about cleaning them. Peoples trash from the last stay on the floor in the bathroom. Not pleased at all with my stay.. I would recommend looking somewhere else to stay. For the price you pay for this Hotel you would think that it would be a lot nicer.
This was a very nice Hotel, everyone was friendly, accommodating and helpful. From the moment we went to the front desk to when we left. The room was clean, comfortable. We checked in early and when the room was ready they texted us.
The Best On-Campus Disney Hotel For The Money
Cassandra R. on 07/27/2015
This was our first time staying at Disney's Pier Hotel. While I say on-campus, it is officially across the street and to the back of the Grand California Adventure Hotel. You walk across the street and walk through the Grand to get into the parks. It is super convenient to the California Park. You can get scanned in at the hotel. This entrance lets you out right near the Grizzly River Run ride. If you go the Disneyland route, you still have to check in at the front gates. The hotel is everything you ask from a Disney hotel, but at a portion of the cost of the other on-campus hotels. The hotel has a beach theme, but it still shows enough Disney decor to keep the die hard Disney fans happy. The customer service was great. The gym facilities were just as wonderful. The character breakfast food was not as nice as the other options, but this is the only place to see Stitch in Disneyland. This was the highlight of my daughter's trip. She loves Stitch!
Great Room, Very Slow elevators.
Things I loved: -The Room on the 13th floor with the view of California Adventure -The private entrance to California Adventure from inside The Grand Californian -The selection in the gift shop -The Magic Morning access to get into the park an hour early for Disney Hotel guests Things I liked: -The on-site self service laundry -The character breakfast. Good food, convenient, but very pricey. Things that need improvement: -The Elevators! It was really a pain waiting on the super slow, very packed elevators. Especially after closing hours of the parks when all the guests flood in. I waited over 15 minutes in line to get to the elevator! I had less wait time on some rides in the park; Unacceptable! This was the issue I had when I stayed here in 2012, in 4 years there is no improvement here; that is a major problem. -The prices and selection in the cafe leave a lot to be desired. No way was I going to pay almost $4 for a small bag of Dorritos that I can get in a grocery store for .99 cents.
This was a nice hotel but not worth the price we paid. It is way overpriced. We got nothing extra and even had to pay for parking.. That should be included. I would never stay here again or any other Disney Hotel unless the prices were cheaper. Mr. Walt Disney would be very disappoited to know what it costs to go to Disneyland. My family and I did enjoy the parks and had a good time.
Best deal for a Disney hotel
This was our first time staying at Disney's Pier hotel. We really loved the early entry and being able to use the private entry at the Grand Californian hotel. The rooms are fun and our kids loved the beach ball throw pillows. It was nice to have the little couch for some extra room.We just had a great time and would stay here again.