Doubletree Suites by Hilton Anaheim Resort - Convention Center
Spacious deluxe suites, in-room microwave and fridge, great pool area.
2085 South Harbor Blvd.
Anaheim, CA 92802
Located a mile from the DISNEYLAND® Resort, this full-service Anaheim area hotel offers new decor, plush bedding, and signature DoubleTree warm chocolate chip cookies upon check-in. The DoubleTree Suites by Hilton Anaheim Resort Convention Center is an all-suite property perfect for family vacations to DISNEYLAND® because it offers the extra space of a private bedroom and separate living room area. Families will love the pool and fitness area on the 2nd floor deck and parents will love that kids eat free at their in-house restaurant.
4.1 out of 5 Rating (5 Reviews)
100% of guests recommend this hotel
Pricing and availability subject to change until booked.
2 Queen, Sofa Bed One Bedroom Suite
Please enter travel dates to view pricing and availability
Please enter travel dates to view pricing and availability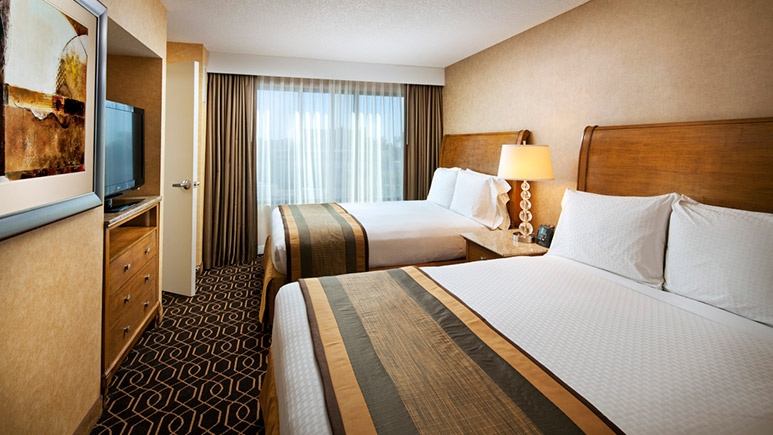 Maximum Occupancy: 6
Check-In Time: 4:00 PM
Check-Out Time: 11:00 AM
In-House Restaurant (Cafe Biscotti - Open 6:00am - 11:00am Grappa Lounge & Bar - 11:00am - 10:00pm Agio Restaurant - 6:00am-10:00pm Room Service - 6:00am - 11:00pm)
Roll-Away Fee: $25.00 (Upon Request)
Shuttle: Available ($6.00)
Cable TV
Coffee Maker
Crib (Upon Request)
Exercise Room
Handicap Access
Hot Tub
In-Room Internet Access
Inside Room Access
Laundry
Microwave
Refrigerator
Video Game Room
ART: $6.00 (Available)
Distance to DISNEYLAND® Resort (1 mile(s))
Distance to Knott's Berry Farm (8.6 mile(s))
Distance to LEGOLAND® (62.4 mile(s))
Distance to SeaWorld (91.6 mile(s))
Distance to Universal Studios Hollywood (37 mile(s))
Sofa Bed
Outdoor Pool
Please enter travel dates to view pricing and availability
Please enter travel dates to view pricing and availability
---
Beautiful site, very nice and clean
Room is more spacious than pics, very nice and clean. Only two things that bothered me the shower water. If it needs to be turned a different way to get warm water than labeled, please let guests know in advance. Also, the maid service one said I put the note on my door don't disturb, which wasn't true. Had we not came back before 3pm, our room would not have been cleaned. Then next day was an issue, too. So if they would just clean without you having to find them after you've left for awhile that would be nice. For this alone, I may or may not reconsider staying there and that's just unfortunate. Especially, since it's a great location near Disneyland and such a beautiful suite. I just wanted an all around good experience there, and that was the 1 star I had to take away.
Chandler R. on 08/03/2018
The room was great. We felt that it was really clean, and very comfortable. Nothing crazy special, but was spacious and had everything we needed. We were very impressed with the suites and how convenient they were, we were really able to relax and enjoy our stay here.
Food on trips can really make all the difference. It can be expensive and stressful to find something that everyone likes. We loved the restaurant at this hotel, the food was delicious and our little ones ate free!
We were completely content with out stay at the Doubletree. Everything was seamless, we checked in, and were quickly taken to our room. We were impressed by the cleanliness of the rooms and quickly got ready for a swim in the pool. We loved the pool and spent a lot of time out there each night. We loved our stay here, and will come again.
This hotel felt a little bit nicer than other Double Tree hotels I have stayed in. The rooms are big and deluxe compared to many other hotels. The pool area was really big and on the second floor, so that was nice.