Every vacation is more fun when it includes a theme park! We have a wide selection of great deals on attractions, dining, and tours.
Fairfield Inn Anaheim Resort
Located just across the street from the DISNEYLAND® Resort, you can enjoy "sleep well" beds, an outdoor pool, on-site dining options (temporarily closed) and all the comfort and convenience you need to enjoy your magical vacation.
1460 South Harbor Blvd.
Anaheim, CA 92802
Located just across the street from the DISNEYLAND® Resort, you can enjoy all the comfort and convenience the Fairfield by Marriott Anaheim Resort has to offer. From the signature Marriott "sleep well" beds, pull out chair or sofa in every room, pool, on-site market and dining options (temporarily closed), the Fairfield by Marriott Anaheim Resort offers all the amenities you need to create the magical memories on your dream vacation.
4.4 out of 5 Rating (125 Reviews)
94% of guests recommend this hotel
2 Queen, Sofa Bed Standard 2 Queen Room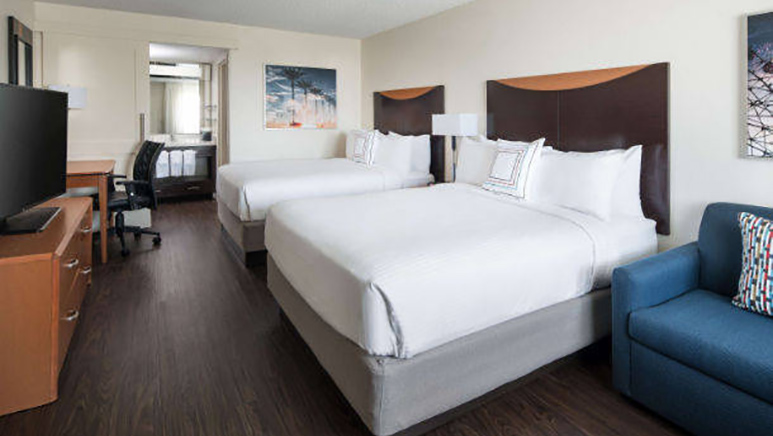 Maximum Occupancy: 5
Special: 4th Night Free (Subject to availability)
Check-In Time: 4:00 PM
Check-Out Time: 11:00 am
Parking Fee: $24.00 per night; payable to hotel at checkout
Coffee Maker
Refrigerator
Laundry
Outdoor Pool
Hot tub
Exercise Room
In Room Internet Access included ($12.00 value per day)
Cable TV
Pay Per View
Video Game Room
For stays April 1, 2023 and forward hotel will be charging a $24 per night + tax parking fee. Subject to change without notice.
1 King, Sofa Bed Standard 1 King Room
Maximum Occupancy: 3
Check-In Time: 4:00 PM
Check-Out Time: 11:00 AM
Parking Fee: $24.00 per night; payable to hotel at checkout
Coffee Maker
Refrigerator
Laundry
Outdoor Pool
Hot tub
Exercise Room
In Room Internet Access included ($12.00 value per day)
Cable TV
Pay Per View
Video Game Room
$24 plus tax parking fee per night. Rates subject to change without notice.
---
Great staff and very close!
Very kind staff, changed the bed in the middle of the might when daughter vomited all over it, with no issue & promptness! Typical size room, clean & comfy. The only noise was the Disney firework that you can see from he upper floors walkways. About a 7 minute walk & felt safe the whole time.
Angelise B. on 03/17/2023
Excellent hotel. You can't beat the location and the rooms are super clean and spacious. My only complaint is the walls are paper thin so you can hear people's conversations, word for word, in the rooms next to you. But it wasn't bad enough that I wouldn't stay there again. Great service, comfy beds, clean bathrooms, and the staff were so helpful and kind.
The location can't be beat!
Our room request was granted - high floor with park view and we were given early check-in when we arrived at 11:30a. We had been expecting to leave our bags and come back at 4:00p and it was great to be able to get settled. Room was basic, 2 queen with pull out sleeper chair. It was a little crowed with 5 adults/teens. The bathroom sink /fridge is outside the toilet/shower area which is convenient. We only got housekeeping twice during a 6 night stay and had to ask for refills on shampoo and coffee. They left k-cups when it is different machine. Then we ran out of conditioner, so obviously housekeeping hadn't checked the bottles in the shower. I stopped by the front desk in the morning on the way to the park for a refill but they didn't come. Front desk was friendly and apologetic. The location can't be beat.
Perfect for what we needed it for.
Stephany B. on 03/01/2023
Pros: close to the park, walked, from and to. close to McDonald's and Panera which were open late cons: the room was squished, has been renovated but i don't know if i would stay there again.
Will not be staying here again.
Michelle S. on 02/11/2023
Although this hotel is nicely located from the park, there is no breakfast, no sitting in the rooms other than the beds, and our thermostat didn't work in the room. I love Marriott hotels, and this is not a great one. Will not be staying here again.
Staff was knowledgeable & friendly. Room was clean & had everything my son & I needed for a pleasant stay! Will Highly Recommend to friends & family!
Pleasant experiences and quick walk!
We've had pleasant experiences from the front office to the valet parking staff. Everyone was super friendly which made our stay even more special. Most importantly, the walk to Disneyland Parks was quick!
Small rooms but good area
Cons: The rooms are much smaller in person than they look in the photos, linens are scratchy, beds uncomfortable thermostat will not regulate ex set it to 72 the air conditioner would come on 73 the heat would blast. Pros: nice common eating area with microwaves, fridge in room, close to the park and McDonald's nearby.
Unfortunately, the beds were too hard and uncomfortable.
This hotel room did not look like it's pictures. It was gross, a little dirty. We were on first floor and heard every single thing as people walked by and people above us. No breakfast offered. Gross towels and bad choice of toiletries. This is not what I come to expect from a Marriott. Very disappointed.
I would recommend the Fairfield.
The room was a comfortable size, large enough for two queen beds and a love seat. Very clean. Negative: bath drain was VERY slow, seemed clogged. Also took a LONG time for the water in the bath/shower to warm. I would suggest trying it before unpacking. The hotel itself was nice and clean. Nice pool and a room with tables and even a Pizza Hut Express, with a game room with video games attached. Relatively convenient ice machines. In the lobby, the hotel has several cold water dispensers, which is a real plus for filling your insulated bottle before heading to Disneyland. The staff is wonderful, friendly, and very helpful. It is 0.3 miles from the entrance to Disneyland and Disney California Adventure. I would recommend the Fairfield.
Elizabeth F. on 10/10/2022
Fairfield Inn was a clean, simple hotel. They had excellent service and were incredibly helpful with some additional cleaning in our room due to a sick kiddo. I'd recommend them 100%.
Our room was so clean it made it feel so comfortable. The beds were great. The walk to Disneyland was so easy and it was nice being that close.
I loved the smell that was in the lobby. The man out front was very helpful. The only improvement would be to have better mattress. I felt for the price they should have had better mattresses. The staff was very friendly and helpful.
Good Walking Distance to Disneyland
.02 miles from Disneyland. Park and walk.
Very convenient with McDonald and Panera onsite. Great location with a short walk to the Disney Promenade area.
So clean and friendly people that work there.
So clean and friendly people that work there. 8 minute walk to park.
Thrilled with how close it was to the entrance of the parks!
The Fairfield Inn was a fine hotel for the price. Our rooms were clean and the beds were comfortable. We were thrilled with how close it was to the entrance of the parks! There was a commons area on the 3rd floor where our group was able to eat together.
Super clean! Great staff!
Super clean! Great staff! Easy 10 minute walk to park entrance. Heated pool open until 10 even in the spring! Great for the kids.
We'd definitely stay here again next time.
This is a great 3 star hotel located next to a McDonalds for a good, inexpensive breakfast and right across the street from the entrance to Disneyland, so it's in the perfect location. We'd definitely stay here again next time.
Great walking distance to Disneyland
I was not overly impressed with the hotel itself, the hotel room felt and looked old to me even though you could tell it was remodeled. There is no toaster or microwave in the room and no continental breakfast offered. I love how we got free Parking through getaway today and it was great walking distance to Disneyland. When we go next I am going to try other hotels on Harbor to see how they compare to this one.
We love the Fairfield Inn!
We love the Fairfield Inn! They have always been amazing and helped us with whatever we've needed.
Super friendly staff, clean rooms. Love the location located across the street from Disneyland
The hotel staff were great. Booking through Get Away Today included/covered the parking fee. While they don't offer a continental breakfast, we brought breakfast and ate it on the way to the park. We called before our trip to see what the availability was for pack-n-play's. They said they had plenty and to let them know when we arrived that we would need one. The room was nice and clean. Currently they are not cleaning the rooms daily. You can ask for more towels, soap and shampoo, and trash bags at the front desk. The price was reasonable. We would stay there again at this price point.
The hotel was fine. They weren't cleaning the room everyday due to covid procedures, which was inconvenient, but the hotel staff was very helpful in every other aspect. One thing to remember is there is no breakfast served at the hotel. That is something I missed when I booked and was a surprise when I checked in. Breakfast is something that will need to be planned for. There is no microwave in the the room and the fridges are compact size. For the cost of the hotel and the fact that they do not offer any type of food service on the property, I would think they would have in room fridges that were at least double in size. There is plenty of room in the space where the fridges are located in the room to hold a larger mini-fridge.
The closeness to Disneyland made this hotel quite convenient, it only takes about 5 min to walk from the hotel to the park entrance. The room was clean and comfortable, and while I cannot speak to noise levels on the lower levels, the 7th floor was quiet. Free parking through Get Away Today was a fantastic bonus, and is partially what lead us to choose this hotel. We will stay again if able in the future.
The hotel was great to walk to Disneyland. The rooms are very noisy, we could hear all of the conversations in the rooms next to us and above us was very loud. The beds were decent. We stayed 6 days and house keeping didn't come in once. I would stay here for proximity to Disneyland but for the price I feel you could get a more comfortable, larger room within a mile.
Really close to Disneyland
Pros: The hotel's customer service was amazing. The hotel is clean and super close to Disneyland. So close we were able to come back and rest before going out again. Cons: The pool is small and the hot tub fits 5 people Max, which is crazy since this hotel has over 400 rooms. The amenities do not fit for the size of the hotel. We also wish we were told of the Pizza hut express inside of the hotel as restaurants around the hotel are limited to Mcdonalds, Panera and IHOP. The hotel room itself was small, especially for 6 people. The pull out chair is not comfortable at all, we had 2 rooms and after the first night didn't use it because of how awful people slept. Hope this helps other people!
Average room but location is across the street from Disneyland and by several restaurants.
Our room was very clean, staff was friendly and amenities were great!
Great hotel, so close to the park and great dining. We had a little issue with the housekeeping… not being done… but the hotel made it right.
This is going to become our regular Disneyland hotel
We will definitely stay here again! Wonderful staff, clean rooms, close proximity to the park, and really comfortable bed! This is going to become our regular Disneyland hotel.
Shellene C. on 09/06/2021
Our booked room did not have working air conditioning, requiring us to return to the lobby for a room reassignment. They said they upgraded our room due to the inconvenience, but gave us two queens instead of a single king. The hotel agent said the room was considered an upgrade as you could see the fireworks from the walkway outside the room - which you could. The overall room was fine, it looked exactly like the one with the broken air conditioner, just with two beds. I would stay there again.
I have stayed here many times
It's a good hotel, staff is friendly, and it's an easy walk to the parks. I have stayed here many times prior to the pandemic, right now you have to ask for towels and things like that during your stay, and it took a long time for our room to be ready to check into. But I think that's pretty standard right now. I would stay again.
Staff very helpful and friendly. Hotel rooms very neat and clean.
This hotel is perfect as it's a short walk to Disneyland. The room is large enough for small families. Comfortable beds. Fridge in room. No microwave in the room but there is a large dining room with microwaves on the 3rd floor open 24hrs. Small pool area but lots of clean towels for use.
The AC was an impeccable respite after sunny hot days. The staff were polite and responded quickly to our daily requests for towels and coffee replenishment. The room and beds were comfortable and clean. There's a small market on the brief walk to DL where we purchased snacks and beverages at the end of the day and we were able to preserve it all in the refrigerator. Although we ate extensively at DL, it was convenient having a McDonald's and Panera at the end of the driveway of the hotel. We will stay there again next time.
Convenient location--about a 10-15 minute walk to Disneyland security tables. Rooms are sufficient for sleeping, relaxing. Bathroom tubs are stained on the floor--we had two rooms and both needed a good scrubbing or to be replaced. We requested room cleaning service once during our four night stay.
Perfect family friendly hotel
Very professional. Perfect location for Disney Park goers. Beautiful Hotel, family friendly.
Victoria G. on 07/13/2021
The room was clean, the bed and pillows were so comfortable, and the staff was very friendly and helpful. The proximity to Disneyland was the best part, after a long day in the park it was nice to have such a short walk back! I would definitely stay here again and I would highly recommend it.
Nice clean updated rooms with a short walk to Disneyland. Convenient food options in walking distance and a nice small 3-5ft deep pool for the kids (hot tub for adults)
We love staying at the Fairfield Inn!
We love staying at the Fairfield Inn! The rooms are nice, the staff is always so friendly and accommodating and the walk to the park is the perfect distance!
We love staying at the Fairfield Inn! The rooms are nice, the staff is always so friendly and accommodating and the walk to the park is the perfect distance!
Great location. No parking fees when booking with Get Away Today. Rooms were clean and nice size.
Great proximity to Disneyland! Clean and comfortable. Loved the heated pool and hot tub. Convenient restaurant/market in hotel. Great place to stay!
Lorraine S. on 12/29/2019
The hotel is wonderful loved it only thing is we had a problem with the restroom the whole week we were there.
The hotel and staff were great. There are two things that if changed would make it absolutely perfect. The first being the parking, it is really expensive to park a vehicle there. The second is there is no free breakfast. While these aren't deal breakers they sure would be awesome to have.
Can't beat the proximity to the park! And it was fun to see the fireworks from the hotel as well. I do wish they had a microwave in the room though!
The hotel room was spacious, clean and well maintained. Super convenient walking distance to Disneyland. The pool is a little plain but other than that great hotel.
Our stay at the Fairfield Inn was excellent. Tamara checked us into our room and she was so kind to us- she made sure that our 25th wedding anniversary vacation stay went perfectly! The customer service was excellent! The room was spacious and very comfortable. We had requested a room with a view of the park and our view was perfect! The hotel also sent up a very sweet gift package for our anniversary. I look forward to staying here again in the future when we come back again. It was our first stay at this hotel and I highly recommend it!
Christine F. on 02/24/2020
We are a family of five and this hotel fit all of our needs. The rooms were clean and the beds were comfortable. The sleeper chair is narrow, but my 14 year old slept comfortably on it for three nights. The staff was friendly and helpful. It was so convenient to be able to walk to Disneyland and not have to worry about transportation. Would definitely stay here again!
Hotel room was very clean and comfortable!
Great experience - we saw Disney fireworks!
This hotel was by far our most favorite we've stayed in while visiting Disney. It's super close to the entrance. The set up of the room was great and very functional. We could see the fireworks from our hotel room. Which was a bonus for my little kids. The staff and front desk staff were beyond helpful and friendly. I'm very pleased with this hotel. And will be staying there again!
I will never choose another hotel to stay at. This hotel was not only incredibly close to Disneyland but more importantly it was so clean and I felt safe being there. Not to mention the staff was so great.
Slightly nicer than other Uber close options. Loved that the room had laminate flooring for easy cleaning.
We stayed 4 nights and did 3 days in Disney parks. The location of the hotel was wonderful! My kids are ages 7, 4, and 2 and they were happy to walk from the hotel and to the parks. We typically left the parks around dinner time, went back to the room, changed into warmer clothes, and grabbed some dinner. I can't state enough how much I loved the hotels location! The rooms were clean and gave us plenty of space for sleeping. The sofa bed was a little small, but a good size for my 7 year old. He liked having his own bed. The mini fridge was pretty mini, but suited our needs. The only thing I wish the rooms had were a microwave. There were two microwaves on the the 3rd floor which we used for breakfasts in the morning, but it would have been convenient to have one in the room. Overall, a great stay! I would definitely stay here again.
Kimberly T. on 11/25/2019
The hotel was fantastic! Less than a 5 minutes walk to the parks and everything was clean, comfortable and well-kept. Staff was very helpful/friendly. I wouldn't stay anywhere else.
It is a clean hotel, staff is friendly. not a far walk to Disney. the pizza hut inside is fresh hot and tasty. we stayed her 3 yrs ago also and we'll be back again
Great hotel, clean and close to the park but affordable. Very useful that the sofa chair pulls out.
Positives 1. Proximity to Disneyland 2. Clean 3. Comfortable 4. No Carpet (less germs than carpet)
Great location, comfortable and clean.
Beds and pillow are so comfortable and the location is perfect for Disneyland.
So clean and close to Disneyland
One of the cleanest hotels I've stayed in. A 10min walk to Disneyland's bag check gates! I've stayed here for the past 3 times I've gone! Definitely recommend it!
It is a consistently clean and well managed property. I have sent a ton of people to this hotel for this reason and the proximity to the park. I will not stay anywhere else!
This was a great hotel for us to stay at for our first family trip to Disneyland. It's close proximity to the park and nearby restaurants made it convenient. The hotel itself was nice and the rooms were clean and spacious enough for our luggage and stroller. The only down side is the noise of people walking past your door because of the window at the front. However, that wasn't a major deterrent. We would definitely choose this hotel again for any future Disneyland trips.
This hotel was in a convenient location, it had food at a decent price from Pizza Hut and their small market, and the rooms were always clean.
This hotel was amazing! It was a short walk to the park which was very convenient. It was very clean and nice. The staff and crew were also very helpful and friendly!
We really enjoyed the nice location!
Rooms were very clean. Walking distance to the park!
Room was clean and everything was in good repair. Location is convenient to the park, and there are several restaurant choices very close by.
I really liked our room. The only problem we had is with the construction going on early in the morning. We were not happy CAMPERS
Great staff. Friendly. Very clean.
Hotel was a five minute walk to the park. Staff very accommodating. Beds were great.
We had a great time at our hotel. The only hitch we ran into was that the battery to our door went out and the work at the front desk sent the repairman to the wrong room so we had quite a wait to get our room opened!
Fireworks from the Hotel!
Staff was very friendly and helpful. There was a slight mix up with our room, so the first night we had a queen instead of the king bed I reserved, but they were very quick to get us in a new room. Pool was nice, great location right across the road from Disneyland and you could also watch the fireworks from the hotel!
Clean and close to Disney
Loved the help from front desk. Room was clean. Close to Disney.
Costumer service was excellent. Place was clean and best of all walking distance to the Park!
We had a great stay. Great customer service, the room was cleaned. Perfect for our trip!
Stephanie B. on 07/26/2019
The staff was very friendly. The rooms were clean.
Friendly Staff, Close to the Parks
Fairfield Inn is an older style hotel. The rooms have been renovated so it does have a cleaner feel to the rooms. We were placed on the backside of the hotel which faces I-5. The freeway noise combined with the A/C took awhile to get used to. So if you are a light sleeper, ask the front desk to move your family to the front side of possible or ask for ear plugs-which they do have available. The main selling point of this hotel is that it is very close to the main entrance to Disneyland and California Adventure. It was nice to be able to go to the hotel in the afternoon for a break when the kids were too hot and tired to keep going on rides. Staff is friendly and we were able to utilize valet parking without additional cost other than whatever you chose to tip.
We haven't been to Disneyland (or this hotel) for a few years and we were extremely impressed with their renovations. We loved the new rooms, they had great bedding and adorable Disney Themed decor. We had a room with a great view of the fireworks, we felt like we were in the park! Magical hotel for a magical vacation.
We stayed 7/1-7/4, checking in was super quick. Tamara was really friendly and helpful, she even sent up my daughter a stuffed animal for her 1st birthday. Room was clean and the AC/heater worked perfect. Every staff we encountered greeted us. Walk to the park was about 7-10 mins. Pizza Hut/cafe on 3rd floor was great for a quick snack. Free water in lobby was amazing before/after Disney. Will definitely be staying again in Sept when we visit Disney next.
We enjoyed how close this hotel was to the park (across the street). No need for a shuttle, and easy access to take kids back for a midday nap. The room was very clean as well as the whole property. It was very nice that if you book with getawaytoday the parking is included! The pool was just an average pool, but clean and well heated. We could see the park from our room which was AWESOME! Our son loved the Mickey design on top of the portico. The rooms were clean with large TV's. The beds were comfortable as well. The shower was clean with a good rain-style shower head. The rooms were a little cramped once the crib and double stroller were parked inside, but it was manageable. Having a McDonald's and Panera close by were great in the mornings on the way to the park. I would highly recommend this hotel and we will definitely book again in the future.
Our favorite Disneyland area hotel
We have been staying here for years, most recently for Halloween Time and will continue to do so. You can't beat the location and the value. Easy walk to the park. Affordable restaurants close by. Comfortable rooms that are always well kept. Friendly staff. Always our favorite! See you again in December.
We couldn't have asked for a better place to stay for our Disney Vacation! Every single person we encountered whether it was front desk, housekeeping, maintenance, security or bell/valet was extremely friendly and nice. The room was exceptionally clean and always refreshed quickly every day. We will definitely stay at this hotel again! Thanks for helping make our stay so great!
Super clean and nice staff!
This is the nicest non-disney hotel I've stayed at in the Disneyland Resort area. One of my favorite features is the hard surface flooring in the room. I've never seen a carpeted room in that area that felt clean. Carpets take a beating, but the laminate was clean. We felt comfortable enough to walk barefoot on it. It was a very quiet hotel, considering the walkways are outside and our room faced harbor and Disneyland. We didn't hear much of anything. Beds, linens, and fixtures were all very clean as well. The only concern I had was no microwave in the room. However there were a couple in the market area on the third floor. With two I never had to wait. Because we requested the third floor a week ahead we were within easy reach of the Pizza Hut express and the microwaves. Valet parking was included in our package and it was a lifesaver. Everyone was very nice. It was easy to log into Netflix and free WiFi kept my kids happy. I would definitely stay here again.
Danielle A. on 05/07/2018
The hotel was clean and comfortable! Be aware you can hear the fireworks from your room, so if you have little ones prepare for that at night. They were super attentive and made everything very easy well checking in and out. The only thing I wish is that the pool was a little bit bigger and they had breakfast, but you have options within the same parking lot with Panera Bread and McD's. Definitely would stay here again!
Jennifer V. on 04/30/2018
The room was clean, comfortable and well maintained. The grounds of the hotel were well kept. The staff was pleasant. I booked this hotel specifically for the location to Disneyland, and for that it was amazing. A few things I wish I knew going in was that there was no breakfast, even a small, cold one. A yogurt and sandwich was $7. Also, it may have been out room, but the AC was LOUD. And the bed creaked anytime we moved. The only saving grace was that by the end of the day we were so tired, we didn't care about the noises. But we would definitely use this hotel again, I will just speak up if something wasn't working right.
Great hotel, terrible beds
Nicholas K. on 03/13/2018
We recently stayed at the Fairfield for 3 nights for our Disneyland/California Adventure vacation. We got a room with two queens and a "sofa bed". The sofa bed is more a chair that folds out into a twin, which was fine for our 8 year old, but it didn't lay flat (tilted towards her head) and the center bar stuck through the mattress. She still slept okay, but definitely wouldn't put a kid much older than that on it. The queen beds were horrendous and made the LOUDEST squeezing noises anytime someone moved an inch. Both my spouse and I like a firmer mattress, but this one was almost as hard as sleeping on the floor. If we weren't so exhausted after running through Disney all day, we wouldn't have been able to sleep at all. One of the mattresses was definitely worse than the other so maybe they are swapping them out as needed...let's hope! Only other complaint would be if you're a light sleeper, there is traffic noise that was pretty loud even up on the 4th floor where we were, but we turn on white noise at night so it didn't bother us too much. Now for why I still gave it four stars. First of all, the location is AMAZING. Takes 10 minutes tops to walk into the park, and that's going at my 4-year-old's pace. Second, the in-house pizza hut saved us the first night we were there because the closest "real" restaurants were PACKED and about 1/2-3/4 mile walk. They even have adult beverages for purchase if you're so inclined. Third, the room was super clean which is huge to me considering how many kids pass through it on a weekly basis. Finally, every employee we dealt with was super friendly and helpful. Overall, if you can handle a not-so-great bed, I'd highly recommend the Fairfield on location if nothing else. Also, if you book through Get Away Today, the parking fee is waved which saves some serious cash, especially since you probably won't be using your car much, if at all.
My husband and I love this hotel! We have stayed twice already and have another trip planned this September. The rooms have always been very clean! The location is great with a McDonald's and Panera among other things right there. Definitely recommend! And also, Getaway Today has been the best thing I've found for planning my Disney vacations! They are always so nice and helpful. I'm very impressed! 😃
Location, location, location
I chose this hotel because of how close it was to Disneyland. I'm sure if we had gotten a room on the side of the hotel facing Harbor Blvd, it would have been a better experience, but we were facing the freeway, and the noise that can be heard thru the windows is unbelievable. A constant hum of noise and occasional loud motorcycles, sirens, etc. There was also noise from the elevators constantly. The rooms are nice and roomy, large bathroom area, beds were comfy but squeaky. Location was the best part.
This hotel was clean and nice. Comfy beds. There is a pizza hut, microwaves, on I think it was the 3rd level? It is conviently in walking distance to the park but is still quite a walk. Still worth the stay especially knowing you'll be staying in a nice clean room. Will stay there again next time.
We loved staying here and would choose this hotel again. The beds were very comfortable and the location was perfect, with only a very short walk to the park. The only thing we would change is we wish the hotel offered a free breakfast.
We stayed here based on great reviews and ended up moving to a different Hotel 5 minutes away. The convenience to Disneyland just wasn't worth it... The room was Tiny, it is Motel Style with the door open to the exterior of the hotel, didn't feel safe. We were told this was a view room for Disneyland, it was a view of the parking lot...you could not see Disneyland. Honestly, didn't even care about that. The room is so small we could barely move around and the beds were Beyond uncomfortable and squeaked with every move. We were told that there was a sofa bed with the two queens. Little did we know the sofa bed was a small chair that turned into a teeny tiny bed... I know what a sofa bed is, this was not a sofa bed! I usually do not post reviews, but after booking the hotel based on reviews I felt this was necessary.
Everybody was extra helpful, and it is great to have the Panera right next to it. The only thing will be to have the pizza hut to close late.
Had a lovely stay when visiting Disneyland. The room was great and clean. Housekeeping always did cute things with our towels and we enjoyed that. Great location just across Disneyland. Perfect view for the fireworks!
I would stay at this hotel again simply because of their amazing customer service. Everyone, from the valet service to the front desk to the general manager of the hotel provided a high level of customer service. So I'm a little torn about giving the rest of this review....The rooms were nothing great. They were very clean, but the beds were hard and overall the rooms were quite small. There was not a fan in the bathroom, which I HATE. Very close walking distance to Disneyland though.
This was our first stay at this location and will continue to book it for our future trips. The staff and service was great and the rooms were very clean, spacious and the beds were very comfortable. Great location, 5 minutes from Disneyland and plenty of food venues within walking distance. I recommend this Hotel to friends and family.
This hotel was close to the entrance to Disneyland. We had a room on the back close to interstate but didn't hear anything from it. Swimming was warm and nice to let the kids play in after long day. Valet parking was a great option. We checked in early and was able to get a room. Rooms were nice and comfy. Down side no microwave. We would sta here again.
Christine M. on 04/23/2017
Very close to the entrance of Disneyland, great value for that alone. Room was fine, nothing special but clean and comfortable.
We were upgraded to a fireworks view room on the 7th floor. The renovations are great! We loved the smoked glass sliding door between the vanity area and the rest of the room, giving every one the privacy needed to change clothes. The Panera in the parking lot delivers to your room, so be sure to add the Panera app to your phone. Breakfast in our pj's most days was a definite treat!
This is the second time we have chosen this hotel for our Disney vacation. It is a very short walk into the park. The rooms are clean and comfortable. The maid service is great. The water is always hot. Our family of four could each shower at the end of the day. We didn't go swimming in what looked like an average hotel pool because we thought it was too cold outside but we saw several families enjoying it so it must have been warm water. We had a newly renovated room with a large TV that was Netflix compatible so that was nice to log into our account at no added cost wind down at the end of busy days.
Amazing Location - great sized rooms
We have now stayed at the Fairfield Inn Anaheim multiple times and I enjoy it more and more with each stay! Be sure to request a high floor and park/firework view! Each time we have requested it, that is exactly what we have gotten! They recently completed a remodel of the lobby and it is MUCH nicer! We have stayed in the 2 Queen room with a pull-out as well as the 1 King Room with Pull-Out. In the King room, the pull out is a queen sized bed! It is perfect! The 2 queen room's pull out is a twin bed and great for one child. The service as this hotel is top-notch,,, however it is not as nice as the Marriott rooms I have come to expect. It is just an older hotel, but it is clean and taken care of. Just, once again, not as nice. It is 100% worth it to stay at this hotel over any of the others on Harbour!
Love this hotel and customer service was awesome! This was our second time staying at this hotel and we will most definitely stay here again. Close to Disneyland, rooms were great and restaurants were close. Would recommend this hotel to family and friends in the the future.
Kimberli U. on 10/06/2016
We have been to Disneyland multiple times and we have finally found our 'go to' hotel. This hotel is perfect! Great rooms, great beds, great staff, Pizza Hut & other foods on the 3rd floor, store on 1st floor. So close to Disneyland you can be there in 5 mins. Panera and McDonalds right at the street. PERFECT!!!!
Hotel was minutes away from Disneyland! Rooms were great, and the staff was absolutely amazing! Definitely staying here again!
This use to be our 'go to' hotel when we chose to not stay on property. We were disappointed in our stay this time. The convenience to the parks is wonderful. It's so nice to be able to get back to your room without waiting for a bus. It is literally minutes away. Also, we loved that the restaurant property has changed to a Panera. It is very convenient for either quick bites or sit down and eat. The property is undergoing some renovation. The hotel does need to be updated. So while the lobby is closed for now, I'm sure it will soon be reopened to be better than ever. There are other areas that need to be updated. Walkways, common areas, rooms feel like a less quality than I've come to expect of a Marriott property. The parking is a nightmare. They advertise self parking, but it is so limited as it was mostly being used for valet. Valet or self-parking is included in the Get Away Today package, but they have made it almost impossible to self-park. And the attendants acted as though they expected a tip every time they have any type of interaction with you. I typically tip any time I pick up my car. It was just annoying. They should just say up front that it is valet only. Anyway, we have a terrific time, loved being close, but probably will not choose to stay at this particular location next time.
Before I booked this hotel, I contacted the hotel directly. They DO allow 6 in the 2 Queen and sofa bed room as long they were young children. They were actually trying to book my family for that room at a much higher price than I could get on here. We weren't in the room much, but when we were it was quiet and comfortable.The beds had a soft pad that made them more cozy! A huge shoutout to the cleaning crew! They were amazing!! We had a room on the first floor right across from the pool and I was worried it would be loud at night, but they cleared out the pool at 10 pm on the dot everynight. Very close to Disneyland Resort and had an awesome view of the fireworks! We would definately return and suggest this hotel! Dad, Mom, children ages 10, 8, 3 and 20 months. Thanks Get Away Today for helping us make this dream vacation a reality for our family!!!
Not a typical Marriott property
Mary Jane R. on 07/07/2016
Possibly because we booked with an outside agency (Get away today) and not with Marriott, we were given the least desirable room location in the hotel. Our room overlooked a very loud freeway as well as an ugly industrial construction area. Rooms were smaller than expected and beds were uncomfortable.
Great hotel, very convenient
Elizabeth H. on 06/27/2016
I'm surprised by the 3 star rating for this hotel. We're just back from a 5 day stay at Fairfield Inn Anaheim and were very pleased. Our room and the public areas were very clean and we found the staff to be very pleasant. We self parked and used the valet, both without problems. The front desk managed my CityStroller rental beautifully and, of course, the location of the hotel is great for getting back and forth from the parks. The free wifi worked fine for uploading pictures and videos. Even the pullout was comfortable. My only suggestions for improvement would be for them to have more bell staff and luggage carts (neither were readily available when we needed them, but we managed after a bit of a wait), and the bathroom door handle was difficult enough to press down that my 5 year old wasn't able to manage it at all during our stay. We'd happily stay at this hotel again and we got a great deal with Get Away Today.
Just spent 5 nights here. And the staff was great. The rooms were good, a little outdated, but clean. The housekeeping was great. It's about a 10-15 minute walk to the gates of both Disney parks. They also let us use their pool towels for a day at the beach. I definitely recommend this hotel for close access to the park, great value, and wonderful staff.
Samantha C. on 05/15/2016
This hotel was amazing!! Not only did we get to check in early they were great to our kids. The rooms were clean and comfy. This hotel was wonderful, they made our trip easy and stress-free.
Great Location / Great Staff
Jerry Todd M. on 04/25/2016
My son and I had a great vacation at the Disneyland Resort. The location of this hotel is perfect. The rooms are great and the ENTIRE hotel staff is very friendly and professional. The staff at the front desk, the staff cleaning the rooms, the staff manning the front doors, the staff parking cars, and even the folks at the parking lot kiosk were incredible. The staff was quick to tell everyone 'Have a great day' when you left in the morning and they were there to tell all of us 'Welcome Back!' in the evenings. Must be a great management team running the show here because their staff is top notch and genuinely happy and friendly. With the volume of guests that check in and out of this hotel due to the fact that it is right across the street from Disneyland, it definitely was a pleasant surprise to receive such personable service during our entire stay.
Brittany D. on 10/04/2015
We love how close this hotel is to Disneyland resort! The management and staff are extremely friendly and helpful. The rooms were clean, comfortable, and spacious enough for 4 of us. We can't wait for our next trip to Fairfield Inn and Disneyland!
Across the street from Disney/Comfortable rooms
We loved our stay here. The rooms were comfortable and so close to Disneyland. The staff is very friendly and professional. Would definitely recommend
Good Value...Nice place to stay.
Very comfortable room. Not overly fancy, but clean and we'll appointed with fridge, safe, hair dryer etc. Climate control worked nicely. Very comfortable beds! Friendly and very accommodating Staff. Close to the Disney Resort.
Wonderful hotel, pleasant staff, walking distance to Disney Parks
Derelyne G. on 03/29/2016
Fairfield Inn, Anaheim is exceptional. I've read previous reviews that raved about the hotel, so I had above average expectations. Customer service from front desk to house cleaning agents and shift managers were professional, eager to please, and friendly. Our room with 2 queen size beds were spacious (disclaimer there were only 3 of us), and always freshly cleaned. The beds were comfortable and what my chiropractor would say, the type of beds you should have. Our trip's intention was to spend as many hours at the Disney Parks and use the room for rest. The proximity of the hotel is about 700 steps (yes, my 10 year old and I counted every day as a fun activity). From our room you could enjoy the fireworks. We didn't have time to venture to the pool, Pizza Hut or any other perks of the hotel, so I do not have a review for that. We had such a great time during our Disney vacation and maybe we were lucky, but using Get AWAY today made the experience run smoothly so that we could enjoy our time together instead of worrying about other matters. I highly recommend booking this hotel.
My family arrived earlier than the check in time and they got us into a room within 30 minutes. We stayed facing Harbor so we got to see the fireworks at night and could see space mountain and Matterhorn from our beds. The room was clean, the beds were comfy and the pillows were amazing. We all slept great and woke up rested. The pool was clean and always had kids swimming in it. We used the self park option and had no problem finding a close parking spot. The room's had a hidden mini fridge but no microwave. A community microwave was located on the 3rd floor. Would have like having one in the room. We were restocked with mini shampoo and conditioners daily that were Paul Mitchell brand and facial bars and bath bars of soap. Since we have little ones we went back to our room for afternoon naps and watched TV. Plenty of channels including cartoon network and 2 Disney channels for the kids. The wifi was strong and we could connect to it with multiple devices at once. We were always greeted with a good day-welcome back from the valet parking attendants which was very unexpected but a nice welcome. Panera sits right on the property and McDonald's is right next door. The we ate at the pizza hut, located on the 3rd floor, the very first day of arriving. It was ok, something to eat. They are vending machines next to the ice machines on every floor. Although convenient, they were extremely pricey. $2.00 for a soda and the snacks were $ 1.50-2.50. Our room was a 2 queen with a pull out. The pull out with only fit 1 person and i believe is smaller than a twin but fit our preteen just fine. We barely heard our neighbors and if we heard someone walking outside it was in the morning on their way out of the hotel which wasn't a problem. My only cons are the microwave situation, the 2 trash cans in our room could be a bit bigger and the parking cost is crazy at $18 a night. Since we went through getawaytoday.com our parking was included, which was a nice surprise upon our arrival, an extra $108 in our pockets.
Kimberly H. on 03/20/2016
Very friendly staff, valet parking & conierge at no extra cost, very clean, comfortable, close to the park but still felt private and removed from the crowds. Two favorite moments: 1) my boys walking in and seeing the Cars decor and 2) on our last night (the only night we were actually in our room at fireworks time) we heard the giant booms and went out to investigate. We were able to watch the fireworks (and even hear some of the music) from the balcony outside our room. That was a truly amazing experience. I've stayed at other hotels in the area, but this WILL be my first choice again on our next visit. Couldn't have been happier with this stay.
My family has stayed at this hotel 3 different times and have been impressed every time. The staff is very friendly and the hotel is so close to the park. We enjoy the Pizza Hut inside the hotel and the rooms are always nice and clean.
We really loved the convenience and location of this hotel. There were plenty of food options near and in this hotel. The beds need upgraded. We were pretty sore after four nights in them. Loved the friendly service of the staff. Was very inviting and comforting every night when we walked up to our hotel with staff to greet us. Rooms just need a bit of an update. Other than that we loved our trip!
Easy Walk, Needed to get a suite
Just a thought about the room - There were 5 of us in one room and it was a bit crowded when we need to use the mirror area. Paying a little more for a suite would have been better for us. It was however a nice, easy to walk to the park.
Best deal close to Disneyland
I love this hotel, I have stayed here twice and think it is great. The value you get for how close you are to the park is amazing. The hotel is one of the closest to the park, just right across the street from the main entrance.The rooms are kept very clean, they have the day-bed sofa bed for small kids, and they have comfortable beds. Plus, we got free parking by booking through Getaway Today, so that was nice.