Four Points by Sheraton Anaheim
2 blocks from DISNEYLAND®, lush landscaping, renovated rooms.
1221 South Harbor Blvd.
Anaheim, CA 92805
Located two (2) blocks from the DISNEYLAND® Resort, this property was designed with a true Southern California flair. Four Points by Sheraton Anaheim has lush landscaping and a newly renovated restaurant, lobby and pool area. The hotel is just minutes away from DISNEYLAND®, Disney California Adventure, Downtown Disney and the Anaheim Convention Center.
3.1 out of 5 Rating (43 Reviews)
56% of guests recommend this hotel
Pricing and availability subject to change until booked.
Please enter travel dates to view pricing and availability
Please enter travel dates to view pricing and availability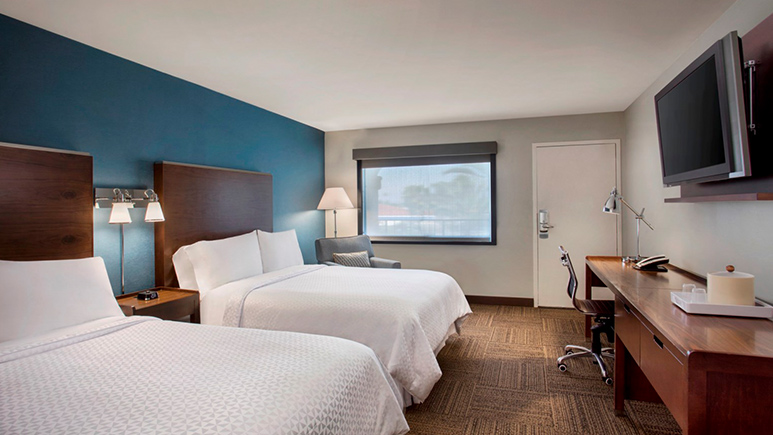 Maximum Occupancy: 4
Check-In Time: 3:00 PM
Check-Out Time: 11:00 AM
ART: $6.00 (Available)
Distance to DISNEYLAND® Resort (.6 mile(s))
Handicap Access
Parking Fee: $0.00 per night; payable to hotel at checkout (a $11.00 per night savings)
Crib (Upon Request)
Distance to Universal Studios Hollywood (35.4 mile(s))
Shuttle: Available ($6.00)
Distance to Knott's Berry Farm (7.3 mile(s))
Distance to LEGOLAND® (63.4 mile(s))
Distance to SeaWorld (91.7 mile(s))
Outside Room Access
Coffee Maker
Refrigerator
Kids Eat Free
Outdoor Pool
In-Room Internet Access
Cable TV
Hot Tub
Exercise Room
Laundry
In-House Restaurant
Please enter travel dates to view pricing and availability
Please enter travel dates to view pricing and availability
1 King, Sofa Bed Standard King Room
Please enter travel dates to view pricing and availability
Please enter travel dates to view pricing and availability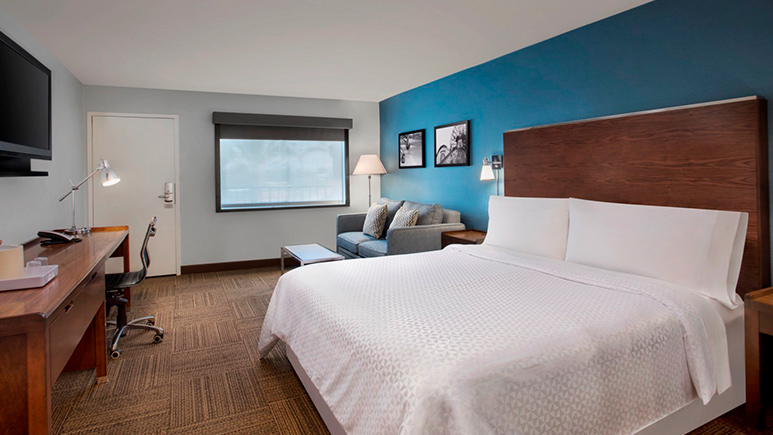 Maximum Occupancy: 2
Check-In Time: 3:00 PM
Check-Out Time: 11:00 AM
ART: $6.00 (Available)
Distance to DISNEYLAND® Resort (.6 mile(s))
Handicap Access
Parking Fee: $0.00 per night; payable to hotel at checkout (a $11.00 per night savings)
Crib (Upon Request)
Distance to Universal Studios Hollywood (35.4 mile(s))
Shuttle: Available ($6.00)
Distance to Knott's Berry Farm (7.3 mile(s))
Distance to LEGOLAND® (63.4 mile(s))
Distance to SeaWorld (91.7 mile(s))
Outside Room Access
Coffee Maker
Refrigerator
Outdoor Pool
In-Room Internet Access
Cable TV
Sofa Bed
Roll-Away Fee
Hot Tub
Exercise Room
Laundry
In-House Restaurant
Please enter travel dates to view pricing and availability
Please enter travel dates to view pricing and availability
---
Alexander S. on 04/29/2023
The room was passable since I spent so little time there being in the parks all day everyday, but it could definitely use a refresh. Some cracked paint, a small roach in the tub one day, housekeeping only came once in a 5 night stay. But honestly for the very low price and walking distance to the parks, it was fine as a place to collapse at night before heading back to the parks bright and early.
It's good size room. You can hear the freeway cars. Your car is in a safe parking place. But need better special offers on breakfast.
The noise from the Freeway echoed to the very back of the hotel. There was noise coming from the walls like the sound of pipes heating up.
The hotel and grounds are really nice. The staff is very welcoming and helpful. The location is a 10-12 minute walk to Disneyland. I loved being on the less busy side of Harbour Blvd. No foot traffic. The rooms have very comfortable beds. It's clean. It's nice having a fridge. I do wish there was a microwave. But I did love the in shower shampoo, conditioner and body wash. Very nice stay! This is my 4th time staying here. Highly recommend when on a budget.
The staff were wonderful, the rooms are just mediocre, the bathroom is small and inconvenient. The description says 2 blocks from Disney, but you have to walk a mile to get to an actual entrance. And you cross both an off ramp and a on ramp to freeway. Then the hot tub is a Luke warm tub. I would not stay here again.
The quick breakfast burrito in the lobby Cafe made our getting out for the day easy and it was yummy!
Hotel is clean, basic , loud but we didn't mind. The room was actually well insulated and I always hear white noise due to my husbands CPAP bit if your are a light sleeper this is not the hotel for you.
Location was great and 24 hr pool. They are doing construction in rooms though and room was not clean. Our feet turned black after a shower from walking in room. Also the was blood on comforter in room.
Pros: easily walkable to the parks, wonderful staff, pool open 24/7, complimentary parking when you book with Get Away Today, not too loud even though it's close to the freeway (we did have a room away from the freeway, so that may have made a difference) Cons: the walk to the parks, while doable, was long after a full day; bathroom could have used some upgrades, our fridge was more of a freezer
I will return again in the future
I would ask for the side not facing the street, it can get loud during the day and at night. The only quiet time is in the middle of the night. But the room was pleasant, comfortable and clean, I will return again in the future.
This hotel is a 15 minute walk to security. We left at 7:30 and made it for rope drop with time to spare. The room is decent but even on the quiet side of the hotel you hear the fireworks loud and clear. It is definitely worth it when it is the off season and prices are lower. The staff was amazing and so kind. They even have a small shop to buy snacks and souvenirs. Art is also available so it gives you options.
Love the 24 hr hot tub and pool. We watched the fireworks from our room and from the pool. Staff is friendly and helpful. It was nice and quiet even though it was the Christmas holiday. I expected to hear commotion every morning but we didn't.
I would not recommend the four points. They don't clean the rooms because of covid but never sent clean towels when we asked and everything was very old and outdated.
We loved the hotel! We are pretty sure it's by the launch pad of the fireworks and if you're at your hotel and have kids that might get hard. It woke us up one night! Also, having to go over the freeway with kids wouldn't have been our favorite but for just me and my husband it was perfect! The walk was great!
One of the nicest I've been to
The hotel was one of the nicest I've been to so far going to Disneyland. It had a restaurant/bar, 24 hour fitness and pool, free parking. The staff was very friendly and helpful 🙂. Be aware 9f the ART bus if your not going 3 days in a row then get one day at a time. We found it faster to walk and got screwed out of a day.
Great location and comfotable beds
Pros: The bed was comfortable. The pool was pleasantly warm and was surrounded by a beautiful tropical area. We could walk to the parks in less than 15 minutes. We were on the top floor (5th) and enjoyed the fireworks on the nights we weren't in Disneyland. Con's: The bathroom door would stick and not shut all the way but we didn't have mixed company so it didn't bother us. The shower handle wasn't tight enough so it would slowly drop to the hot setting so we had to work with that too. No microwave. The refrigerator didn't have a freezer for us to keep our frozen water bottles and ice packs frozen to use in our small cooler.
It was clean, but the bathtub/shower faucet had to be cranked really hard to turn off and still leaked. The fridge made a high pitch noise every now and then and the walls are thin. It wasn't awful, but I wouldn't stay there again.
I read quite a few negative reviews and was a little worried. I decided to bite the bullet and book our stay here, and I am so glad!! We loved our stay. The rooms were clean, and very cute. We loved coming back each night and being able to relax and rest for the next day. Our trip was great and we will be coming here again.
Great food in the restaurant, friendly employees (minus the maid staff)
The hotel has a great pool area and outdoor bar. You can watch the nightly Disney firework show at the pool which was very nice. I loved that the pool was open 24 hours a day. The restaurant Trugrits has great food at reasonable prices. The overall hotel is ok but lacks in the cleanliness category. The lobby smelled like sewage our entire 8 night stay. When I inquired about it I was told the hotel was addressing the issue. The maid service is the worse I ever experienced. They do not change your sheets unless you ask. when I finally asked I was told it was done but all they did was turn the sheets upside down and turn the comforter over. I know because I spilled some powder make up and saw the stains at the bottom of my sheets and the underside of the comforter. The spots on the bathroom mirror remained our entire visit and the sink and tub were never cleaned. I order food from the restaurant and the dirty dish stayed on the desk for two days. Finally I took it downstairs to the restaurant. The bartenders went out of their way to make non alcoholic drinks and were very pleasant. There is a great coffee bar and gift shop in the hotel lobby with reasonable prices.
Great location and comfortable beds.
This was a great experience for our family. Only a 10 minute walk to Disneyland or a $6 Uber/Lyft to Downtown Disney to ride the monorail. The beds were comfortable and the pool was great. Perfect viewing for late night swims during the fireworks. The hotel is dated and they have recently updated the rooms. Don't let the negative reviews scare you, it's a great value. One of the affordable options within walking distance to Disney.
This hotel was so PERFECT for our Disney vacation. We went 2/26-3/2. It was such a great experience that I just had my entire family book their vacation (we booked ours too) for Aug 20-24th! We can't wait to be back. Hanny, (sp?) the manager, was so kind! He allowed us to check in early and offered us a quieter room! The walk to Disneyland was a breeze. It was at MOST, two blocks. The pool/spa area was so tropical! We can't wait to experience it in August! The staff was so kind. The coffee/snack bar was super convienent for purchasing a coffee in the morning before our walk to Disney. But it was also nice to have the option of Starbucks right across the street! Leaving my car parked there didn't worry me once. You have to have a room key to get into the parking of the hotel so not just anyone can go in and park. We had a great time at this hotel and already have our countdown going! (4 months and 27days to be exact!)
Clean, Comfortable and close to Disneyland!
We enjoyed our stay here. The rooms were very nice and clean, the staff was helpful. The walk to Disneyland isn't too bad (I figured we walk all day in the park, what's another 2 blocks?) But they do have the option of purchasing a shuttle ticket (which leaves every 20 minutes) for only $5/day. You can buy the shuttle tickets easily from a machine, but it accepts cash only. We didn't get a chance to eat at the restaurant in the hotel, but it looked like a nice place. My husband loved the fitness center and said they had a great variety of machines. We will definitely stay here again!
Not bad. Good for what they offer.
This hotel fit our needs for our vacation. It is about a 15-20 walk to the entrance of Disneyland. Once the renovation is complete, i think it'll be better. The carpet is a little older and needs to be replaced, but the beds are comfy and the pool is good size. It was worth what we paid.
Shellyce K. on 05/01/2017
They have been working on renovated the whole hotel. The room we were in was renovated and the beds were great, it was close. It was great and they took care of us.
Concrete floors and bug problem?
Jeanette B. on 04/20/2017
We've stayed here before and really had no problems which is why we always returned. But this last time might be our last ever staying there. I'm not sure if all the lower level rooms are like this (we always stayed in the upper level) but we wanted to leave the moment we got into our room because there was no carpet at all! It wasn't even tile, it was basically just the concrete in our room. That was annoying and made the room just look cheap and undesirable. But since we were going to Disneyland we knew we wouldn't be in the room much so we decided to let that go. Everything was ok, the AC temp was ok, the bed was ok, and shower/tub looked very old and was in need of being replaced. On our last day as we were packing to leave we found two bugs on the floor!! A dead roach and some other bug we had to kill. We have no idea how the dead roach got there or how long it was in our room because it was right by the door and we didn't see anything the whole 5 nights being there, because if we found the bugs before we for sure would have left on the spot. So the concrete flooring and finding the dead bugs put a really bad taste in my mouth for this hotel and we won't be staying here again. And after this stay, I would not recommend this hotel.
Don't let the negative views fool you!!
I read most of the reviews on here and I have to say, they are pretty unwarranted. First, I just have to say that me and my family which there is a total of four of us. Have been traveling to Anaheim every year for over 10 years now and we've stayed at Hotel Menage for the past five trips (twice in one year). We travel from Scottsdale, AZ every year and if the Hotel Menage was even an inkling of what some of the reviews have said we'd NEVER stay there again. First off, the review that stated "Rats" really?? We've also have had a pool side view room every time we've visited and I know exactly what tables, chairs, and bar you're referring too. And never have we've seen nor any of our friends have seen RATS! And believe me we've also have brought two of our dogs twice, which is another reason I LOVE Hotel Menage. Because they accomodate our furry loved ones too! The grounds are always neat and clean, I've never seen nor stepped in any dog messes. Also if there were rats hiding on the premises or even in the beautiful landscape, my American Bulldog / Pitbull would definitely go crazy. The smell of rodents alone would make our dogs go nuts! That part is absolutely not true! So the grounds are beautiful, the pool side is always clean and well taken care of. I've witnessed three weddings there in the past number of years. Do you think a bride and groom would want to have their special day, at a place that is "ugly" and "outdated"? The staff have always been very friendly and accomodating. Then BLACK MOLD!!! Are you serious! Do you know how dangerous black mold is?!?!Causes major health problems, and if the staff seemed of "no interest to it" you should have reported it to the State Board of Health, because it can kill people as well. But I'm thinking because you didn't seemed that concerned about it yourself, you didn't call them. Their bathrooms are always throughly cleaned, love coming back from Disneyland, or the beach to clean sheets, towels, and a spotless room. And believe me with three woman in our family there's LOTS of hair floating around in the bathroom area after we get ready to go out and every time we've come back from being out our bathrooms, the beds, every thing looks as if we just arrived for the first time again. We love that the pool is open 24 hours, I work in a hospital and I've worked nights for over 18 years. So we are very use to being up all hours of the night, and going down to the pool and taking a swim or relax in the jacuzzi is the very thing that can lull you right to sleep. We are also late sleepers as well, and we've had no problems sleeping through the morning hustle and bustle noises. I think in all five trips we heard people twice, and that was because they were going to Disneyland, so who wouldn't be excited! And that goes for our two dogs as well! Then you can not beat the SPECTACULAR view you have each night by the pool side of the Disneyland fireworks! It's like your own personal viewing! Then there's the food! Their burgers at the restaurant are so delicious! And their prices are bargain to middle of the road, but if you saw the burger and their fries the price is well worth it! And their beds are super comfortable! My husband has been disabled for 16 years now, which is ANOTHER ACCOMODATION this HOTEL MENAGE HAS, for the handicap. And we are very selective because certain beds hurt his back very easily. He has severe Spinal Stenosis and he has always gotten the best sleep while staying at Hotel Menage. So these negative reviews about light fixtures, and rust are silly in comparison to all the other things that are great!!!
Worn out beds and the fire alarm!
Don't be suckered in by the lower price. I don't usually take the time to complain, but I hope I can save someone else from the poor experience. The beds were awful! They were so worn out that there was literally a mound in-between my wife and I. If you looked at the mattress it no longer held it's shape. The sides looked like an accordion.The rooms are simply old and run down. The hotel is big part of our vacation and I wish I would have booked one of the nicer more updated hotels. There is no restaurant. They call it a restaurant, but it basically it's a couple of tables in the lobby. The large room was cleared out from what appeared to be a leaking roof. One day of our trip the fire alarm went off in the morning and we had to evacuate. It was because of the steam room malfunctioning. I was talking to a housekeeper about it and she said that it happens every so often. What? I couldn't believe it. I thought maybe it was a one time deal, but to find out that it happens on the regular I was shocked. So, be warned. If you stay here you may be lucky enough to evacuate due to a faulty steam room. Pay the extra money stay in a nicer hotel and enjoy your vacation!
Outdated and uncomfortable
My whole family has bruises on their legs from the bed frames that stick out. The beds were uncomfortable and our bath tub had a constant drip. We reported this to the front desk and they did nothing about it. Also, the water temperature was cold. Plus some of the staff is really unfriendly! We will not stay here again even though the price was great.
As someone that goes to Disneyland quite often, I will NEVER stay at this hotel again. My family was the only ones on our floor...Rooms 414, 416, and 418. The management apparently "forgot" to disclose that they were renovating every room between us . Every day when my two young children needed naps, they couldn't sleep because of the drill, and banging going on the walls right at their heads. I'm not sure what time the housekeeping cleans rooms b/c when we would return for naps no one had came into the rooms to make up beds or give fresh towels. The buffet was over priced for what little food they offered. They do have two ART shuttles to the parks, however, all three days, the two buses showed up at the exact same time. There wasn't a consistent schedule.
Great Hotel! READ THIS REVIEW!!
We have been going to Disneyland for over 12 years & have stayed at a lot of different hotels in the area. This Hotel was, by far, one of the best! Don't pay attention to the bad reviews! Here are some things to know: Starbucks, Taco Bell & 2 convenience stores are across the street. The walk to DIsneyland is 10-15 minutes. There are 2 ART buses that pull up to the front door (passes sold in the lobby). Uber ride is about $5. The Hotel valet was super friendly & parked our car right up front. The beds are comfy. There is a restaurant & bar on site. There are tons of places that deliver food right to your hotel room..Pizza, Chinese, Mexican food (Carolina's pizza was the best Italian). Yes, there are places where some paint was chipping or some rust on a fixture but they are in the process of remodeling & I'm sure when they're done the prices will be higher. Believe me, most of the hotels have the same issues. We only heard someone hammering 1 day for about 30 minutes. Our room was by the Freeway & the pool & we had no issues with noise!
I would not even give this hotel a 1 if I did not have to. It is by far the worst hotel I have stayed at. The first room they checked us into was being "renovated". When we opened the door, there was nothing on the ground. Not carpet, no tile, just foundation with rebar sticking out. I requested a second room, and the carpet was soaking wet, there was white stains all over the carpet, the bathtub did not look clean. By that time after driving 8 hours I just settled. I was very disappointed paying more for this versus the Castle Inn or the Quality Inn. Go somewhere else, it looks nothing like the pictures, I am not being sarcastic or over dramatic either. Motel 6 looks better in person compared to this place. DONT WASTE YOUR TIME
I'm so upset because we checked out yesterday and left my husband's jacket hanged in the closet when i called 5 hrs after checking out they said they didnt found any jacket in the room.
Great location 15 minute walk from Disneyland park and other attractions, close to restaurants and shops. Loved that pool area easy access, opened 24 hours and plenty of towles. However we saw rats near the pool and on top of the bar near the pool. The rooms are outdated no carpet, old furniture and very little lighting. Housekeeping only made the beds the 4 days we stayed ,never ones did they change the bed, mop or even cleaned the the sink or bathroom. The day front desk clerk were very nice and caring unfortunately I can't say the same for the night front desk staff.
My room on the 5th (518) was in need of a makeover. As we walked into the hotel we notice that the stucco was dirty and damage. When we got to our room the walls had shoe prints and the furniture seen better days. There was a large crack in the ceiling the dry wall was splitting apart. In the bathroom, the ventilator was not working. After the 3rd person showed the walls were dripping wet. Our room was not cleaned for 2 days. On the 3rd day Get Away Today called and made sure our room was cleaned and restocked. I WILL NEVER STAY AT HOTEL MENAGE.
Don't let the pictures fool you
We will never stay at this hotel again!! We avoided being there as much as possible. The bathroom was falling apart, the shower would not turn off completely and there is black mold in the bathroom as well. We let the front desk know but it did not seem to phase them. The pictures of the hotel make it look beautiful but don't let that fool you. Also they only have 1 working elevator so be prepared to wait awhile to get to your room! Disappointed is an understatement!
The employees at this hotel are great. The pool and spa are open 24/7, which is nice. However, the hotel is located right next to the freeway so you can hear cars all night long. The beds here were so uncomfortable that we actually ended up checking out of the hotel 1 day early because we could not sleep.
FUZZY BLACK MOLD AROUND WINDOWS! THIS HOTEL SHOULD BE A BIOHAZARD!
Of course we did not discover the mold until our last day because we avoided our hotel room like the bubonic plaque. It's unfortunate I can not post pictures or somehow share the smell to go along with this review, this hotel is a complete and total dive. This is our 3rd time booking a Disney trip with Getaway Today, the first 2 trips were great but after this experience it will most likely be our last. Lets start with our booking, Getaway Today asks the age of our 3 children, a teenager and 2 younger ones, they offer the Hotel Menage "a boutique hotel" that was capable of sleeping 5 people comfortably. We do not typically spend a bunch of time at our hotels when on vacation so we booked the 2 queens with a rollaway thinking it would work fine and the price seemed right, done. After a day of flights, rental cars and everything else that goes along with cross country travel and small children, we arrive at the hotel around 9pm to discover it is surrounded by freeways and looks like a converted motel complete with gang graffiti on the ice machines and coin laundry machines by the elevators. Come to find out later, it was a converted motel, even the phones still had the old hotel name "Casa Resort," boutique was not the first word that came to mind. I pull up to the valet in hopes of getting some assistance with our 5 suitcases, I received a cart and was told where check in was, classy. When I get to check in they find our reservation, 2 queens with a rollaway, I am then told that "we do not have rollaways, I am not sure why they said we did" they claim Getaway Today is wrong, the blame game begins. After insisting this request was on the reservation I am told I am pretty much screwed and we have no other options, awesome, my kids are mere hours away from going to Disneyland and I am not going to spend my Sunday night trying to hunt down a new hotel, we decided to stay. I can not express how much my wife and I regretted this decision. The clerk asks for a credit card for incidentals, standard fare of $50 I figured, she proceeds to tell me it will be $200 and then authorizes my card for $350, the night is only getting better. I begrudgingly take the keys to my "boutique" room with a "city view" where I am routed the long way around the hotel, they couldn't even give me proper directions to my room, mind you I am still pushing a giant luggage cart around, wonderful. On our way there we realize this motel, with exterior entry doors, conveniently omitted on all of the pictures, is surround by freeway on one side and freeway on/off ramps on the others, the constant screams of sirens and roars of cars racing by makes for a wonderful nights sleep. As we crack the door to our new found musty dungeon we realize this is a mistake but we are going to suck it up for the kids, the mouse waits for no one. Beyond the musty smell, the room was far from clean, the carpet feels greasy and overall disgusting, I flat out refused to sit in the stained, nasty yellow chair, there was hair in the sink, a mini fridge next to the loud AC under the window, I believe it was built and designed by Caterpillar although it may have been a Cummins, either way it was loud. One of the things that caught me by surprise were the beds, besides the stained mattress cover, the frames extend 10" beyond the mattress for no apparent reason other than to bruise your shins in the middle of the night, I can't make this stuff up. I think the best way to grade or review any hotels level of cleanliness would be the bathroom, sufficed to say I was not all that surprised. You walk straight into the room and the sink is right there, the water is scalding hot and the lighting is non-existent, there is also zero privacy as you are in the middle of the room, maybe a bit critical so I will give them a pass, the shower and toilet are something else all together. You take a right and there is a tiny room with stained grout, a shower, and a toilet, it gave a whole new meaning to the term water closet. Now one would rightfully expect an exhaust fan of sorts being you are sharing such a tiny space with other people, nada, nothing, zip, zero, zilch, need to use the toilet and the whole room is right there with you sharing in that experience, pleasant. I can honestly say I am an experienced hotel goer, my previous career required an immense amount of travel and I have stayed in hundreds of hotels, some good, some bad. One of the cardinal rules I always live by is never take a bath in a hotel, well here at Casa Resort, sorry, Hotel Menage, that is not an option as the water doesn't drain. Your feet are constantly standing in at least 4-5" of your own dirty shower water, yup, boutique they called it. Well at least when you are done you can grab a towel off the rusty rack that sits just above the toilet, but not high enough above the toilet to keep your towel from resting on it, and remember the part about no ventilation, 5 people showering in the morning will turn your hotel room into a steamy August night in Biloxi, not fun. As we are put through this daily torture I am reminded that we are here for our kids, we are here for Churros and ears, because of this we drag ourselves out early and come back late making this hotel a place we spend the least amount of time possible. Being we left early and arrived late the windows were always closed, until our final morning there, this is what pushed me over the edge. I do not like to spend my time doing reviews, I would much rather take my business elsewhere and move on, but I am now on a personal mission to protect other families and their vacation from this motel. When we were packing up on our last morning we decided to open up the windows to let a bit of light in, this is where I discovered the entire window sill covered in fuzzy black mold, not a few specs or spots, big fuzzy sections of black mold, I have plenty of pictures to share if anyone is interested. One of my children has asthma and is very sensitive to allergens, especially to things like black mold, if I had discovered this was in the room before I would not have even let them walk in there, who would have thought. I was pissed, no two ways about it, there was absolutely no excuse for this on any level, you can not tell me that housekeeping does not open the windows when they are cleaning and not notice this, it is a real health hazard. As I got downstairs to check out I complained to the clerk who really could care less, this is when the manager on duty walked out and listened in. I explained to her my major complaint about the mold and she was not the least bit concerned, I also explained about the rollaway issue, she asked so why not tell her, this is when the second round of the blame game began. Instead of her being concerned about the mold colony growing in the room she was more interested in telling me that Getaway Today was solely responsible for the rollaway issue and she was going to call them first thing and someone would get back to me, none of this has yet happened. Just to be clear, I am a very reasonable person and I asked for nothing back from this hotel, yet I feel like they are not the least bit concerned and this bothers me much more then their simple lack of customer service. I am now on a mission to share this experience with anyone willing to listen, including Sheraton, the new owners, Disneyland, the California health board, and every travel/hotel site and blog I can find, there is no reason anyone else should have to experience this. Albeit we had a great time at Disneyland when dealing with the hotel we tried to put on a happy face on for the children's sake, this was an expensive lesson learned we will be sure not to repeat.
Find a different place to stay
With so many hotels in this price range find a different place to stay. The price and location were the only good things about this hotel. The customer service was terrible and the rooms were plain dirty and nothing on the property seemed well kept. When we checked in the front desk girl didnt even greet me with a Hello or anything else, just can I have your credit card. When we checked out they did not ask how the stay was. If you were interested in having room service or really knowing anything else about the hotel good luck getting that information, there is no standard booklet about hotel amenities in the room. It was clear from my stay there that this hotel likes to cut corners they think no one will notice, I sure noticed. The base boards were filthy in the room and not once during our stay did housekeeping dust. I have stayed at many properties near Disney over the years and this will be my only stay at the Hotel Menage.
We got a great deal. The room was OK, but we thought the location was great. It would be nice if they had a breakfast. I would recommend this hotel to someone who is looking for a good deal, but doesn't spend a lot of time at the hotel.
Get away today was great. The customer service was top notch. But the Hotel Menage was just ok. I would probably rate it as a 2.7 to 3 star hotel.
Your company was great. The hotel was ok. It would not be by first choice next time we go.
The hotel was nice. We didn't like the sofa bed, but the Hotel Ménage was nice to upgrade us to a room with 2 queen beds at no cost.