The Great Wolf Lodge features a full indoor water park, activities for the entire family and guest rooms with the comfort of a home.
12681 Harbor Blvd.
Garden Grove, CA 92840
Your family will have so much fun at the Great Wolf Lodge they may never want to leave! A fully indoor 84 degree water park with slides, pools, splash areas and a lazy river is included for four guests per room. Kids will love special activities just for them like PJ parties, character meet-n-greets and more. There's also an onsite arcade, mini golf, a mini bowling alley, Build-a-Bear workshop and more all available to guests. Guest suites come equipped with two queen beds, a sofa pull out, and a mini fridge and microwave for ultimate convenience. Our hotel rates include up to four water park passes per day. If the 5th and/or 6th guest is age three or older, a $50 per person per day charge will be billed at the hotel front desk - no exceptions. ART Shuttle services are currently not available at this hotel.
4 out of 5 Rating (7 Reviews)
100% of guests recommend this hotel
2 Queen, Sofa Bed Standard Room - Family Suite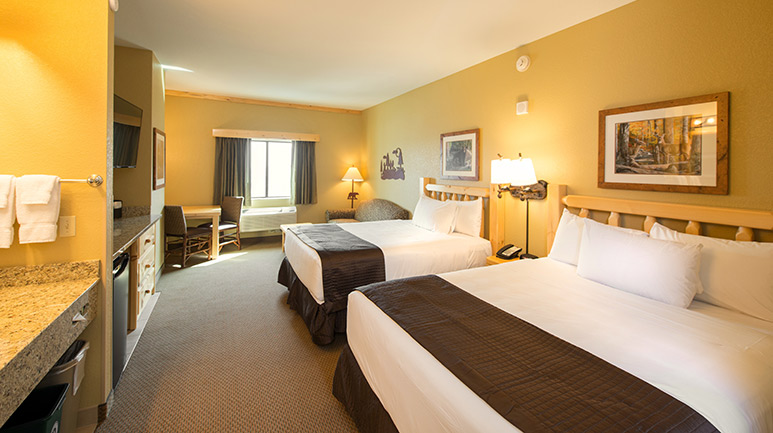 Maximum Occupancy: 6
Check-In Time: 4:00 PM
Check-Out Time: 11:00 AM
Parking Fee: $20.00 per night
Resort Fee: $34.99 (Per night; payable to hotel at checkout)
Coffee Maker
Microwave
Refrigerator
Indoor Pool
Outdoor Pool
Wading Pool
Exercise Room
In Room Internet Access
Cable TV
In House Restaurant
---
The rooms are very outdated. The water park was awesome!
The room was nice and they had a lot to do for the kids. Ours are 7 and 14 and I think they're a little too old for this hotel. It was fun, but we won't be staying there again. Their resort fees were high and they didn't tell us how much ahead of time. We were disappointed when we got an additional bill to pay for them at the end when we thought we already had them paid for.
It was absolutely phenomenal! All the amenities as well as the stat itself was an experience of its own.
Great experience overall!
This is our second stay and we really enjoyed our time here. The food is excellent at The Lodge. My daughter loved playing MagiQuest. The character breakfast was really good and a good value to start the day. You could stay here and never have to leave the property. Currently the hotel is Halloween themed and there is trick or treat nightly and a family dance each night.
The water park was AMAZING, the kids wanted to stay and play all day! We also loved the rooms, we felt like we were at a lodge in the woods. It was such a fun place for our little kiddos and we felt comfortable and well taken care of.
This was a really nice hotel but it was really crowded in the lobby as well as the waterpark. There weren't enough seats in the waterpark area. It is a perfect place for parents with younger children. My two teenagers and I would of rather stayed in a hotel with a private pool and free breakfast.
My family could not say enough amazing things about this property! We all had so much fun that we only made it to Disney one day. There was a flow rider in the hotel, amazing full fledged waterslides, and tons of things to do! If you are looking for a WOW factor, this is it. This was one of the coolest hotel experiences we have ever had. We will FOR SURE be going back soon! Loved, loved, loved everything about this hotel!